Why Touting 2021 as NASCAR's 'Best Season Ever' Might Not Be That Crazy
New celebrity owners, diverse talent and a schedule shake-up has NASCAR feeling good, even amid second pandemic season
Key Takeaways
29% of sports fans said they're more likely to watch a NASCAR race based on the new Michael Jordan-Bubba Wallace team.

62% of NASCAR fans approve of the addition of road courses to the 2021 schedule.

Roughly 1 in 4 NASCAR fans say they're rooting for Kyle Larson this season after his suspension for using a racial slur in 2020.
Any other year, Fox Sports' promotional spot billing the upcoming NASCAR Cup Series campaign as the "Best Season Ever" would seem hyperbolic. 
But ahead of Sunday's Daytona 500, there are reasons to believe NASCAR's 73rd season could be a transformative one for the sport: the introduction of two celebrity owners, new opportunities for young, diverse drivers and a popular scheduling shake-up that features the series' first dirt race since 1970.
NASCAR was also among the only sports properties not to suffer a double-digit viewership loss in 2020 amid the COVID-19 pandemic and finished the year as one of the fastest-growing brands among Generation Z, according to a 2020 Morning Consult report.
"You mix all that up in a bowl and we're incredibly enthusiastic and excited about new growth opportunities and new audiences coming to our sport," said Daryl Wolfe, NASCAR's chief operations and sales officer. 
New polling shows the introduction of two high-profile new teams led by minority owners and drivers has a significant share of Black and Hispanic adults more interested in watching the sport than in the past as leadership seeks to reach new audiences. At the same time, many established fans of the sport are ready to welcome back a high-profile driver who was pushed out of the sport last year for his use of a racial slur. 
In a new Morning Consult survey, 21 percent of U.S. adults and 29 percent of sports fans said they are more likely to watch a NASCAR race this season based on the launch of 23XI Racing, a team co-owned by former basketball star Michael Jordan and NASCAR veteran Denny Hamlin with Bubba Wallace driving. 
In addition, 16 percent of adults and 29 percent of sports fans expressed the same sentiment about another new team, Trackhouse Racing, which is partially owned by Latin music artist Pitbull and features driver Daniel Suárez behind the wheel.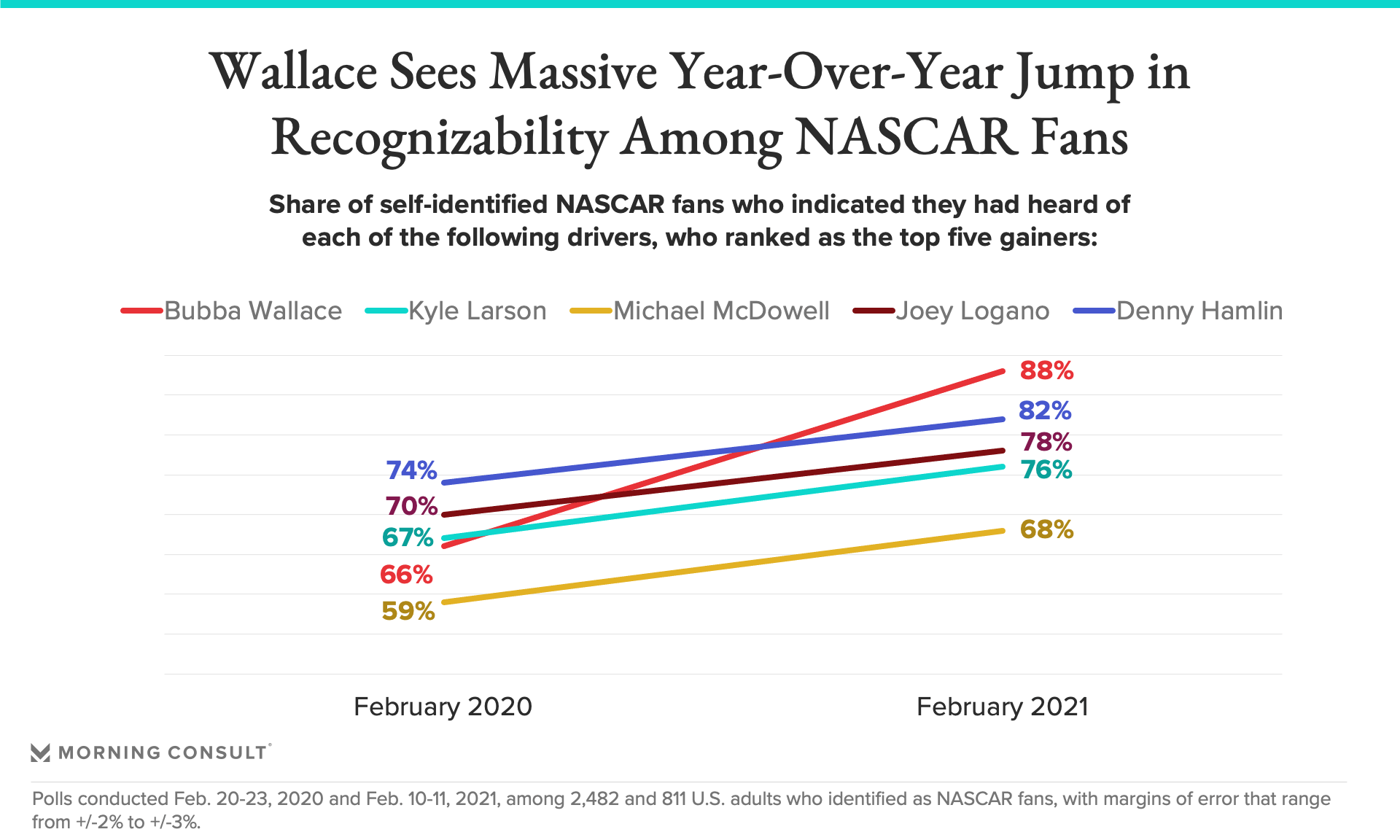 Wallace, NASCAR's lone black driver, has seen his star skyrocket over the past year based on his activism in the wake of the police killing of George Floyd and, as a result, earned a rush of new corporate sponsorship. In the preseason survey, the 27-year-old ranked as the most well-known driver in the Cup Series among both the general public, in a tie with Joe Gibbs Racing's Kyle Busch, and self-identified NASCAR fans.
Wallace's emergence as a face of NASCAR has provided the sport with a visible element of diversity it has sought to foster for years, particularly through its Drive for Diversity program aimed at developing female and minority drivers.
NASCAR also earned plaudits for its support of Wallace last season, particularly amid the controversy resulting from an incident in which officials believed they found a noose in his garage stall at Talladega Superspeedway in late June, as well as its decision to ban the display of the Confederate Flag at all of its events.
"The sport wants to be welcome and inclusive to all, our stance has been very clear on that," Wolfe said, adding that the way Wallace and the sport handled social justice issues last year has resonated with diverse and younger demographics.
Its efforts to promote inclusion also led NASCAR to suspend a previous graduate of its Drive for Diversity program, Japanese-American driver Kyle Larson, for the bulk of last season after he used a racial slur during a virtual race last season. He was simultaneously dropped by Chip Ganassi Racing and lost all of his sponsorship support, but has since been signed by Hendrick Motorsports and will return this season.
Asked about Larson's return, 24 percent of NASCAR fans surveyed said they would root for him this season, compared to 8 percent of fans who said they would root against him and 35 percent who said they wouldn't root for or against him.
The share of survey respondents who said they had heard about Wallace and Jordan teaming up has actually declined slightly since a survey taken immediately after the September announcement, as the team has been fairly quiet in the offseason as it rushed to become operational, but a strong showing at Sunday's Daytona 500 would make national headlines. Pitbull's involvement with Trackhouse, with whom Suárez had already signed, became public last month.
Both Wallace and Suárez will start in prime position at Daytona, with Suárez in the top 15 -- two spots behind Larson -- and Wallace likely in the top five, his best career starting position for a Cup Series race.
Suárez, a native of Mexico and the only Latino driver in the sport's top circuit, is still one of the lesser-known figures in the sport, according to the survey, but could see his profile grow this season based on the presence of Pitbull and the potential for on-track success with Trackhouse.
Racing fans are also excited about NASCAR's revamp of its schedule, including six races on road courses — twice as many as last season — and the first dirt race in the Cup Series since 1970 at Bristol Motor Speedway. These moves, Wolfe said, were primarily made possible by NASCAR's acquisition of facility owner and operator International Speedway Corp. in 2019 and the simultaneous privatization of Speedway Motorsports Inc.
Sixty-one percent of NASCAR fans surveyed viewed the moves favorably, compared to just 10 percent who had a negative view of the changes.
Like other sports properties, NASCAR will continue to endure the pandemic this season with limited attendance, though it is able to host larger, socially distanced crowds than any other sport based on the size of its outdoor facilities. A crowd of 30,000 is reportedly expected at Daytona this weekend. The sport has also condensed most of its events, which historically are full-weekend affairs for fans and sponsors, into one-day shows for at least the time being.
But despite the hit to its attendance-related business, NASCAR has thrived amid COVID-19 relative to other sports, from its successful embrace of virtual racing featuring Cup Series drivers to essentially sustaining viewership amid an industry-wide decline.
"I think the sport is really poised for some continued significant growth in '21 and beyond," Wolfe said.
Alex Silverman previously worked at Morning Consult as a reporter covering the business of sports.
We want to hear from you. Reach out to this author or your Morning Consult team with any questions or comments.
Contact Us