Why Trump Will Weigh on Ducey's Decision to Appoint Successor to McCain
84% of Arizona GOP voters approve of president; 64% approve of state's governor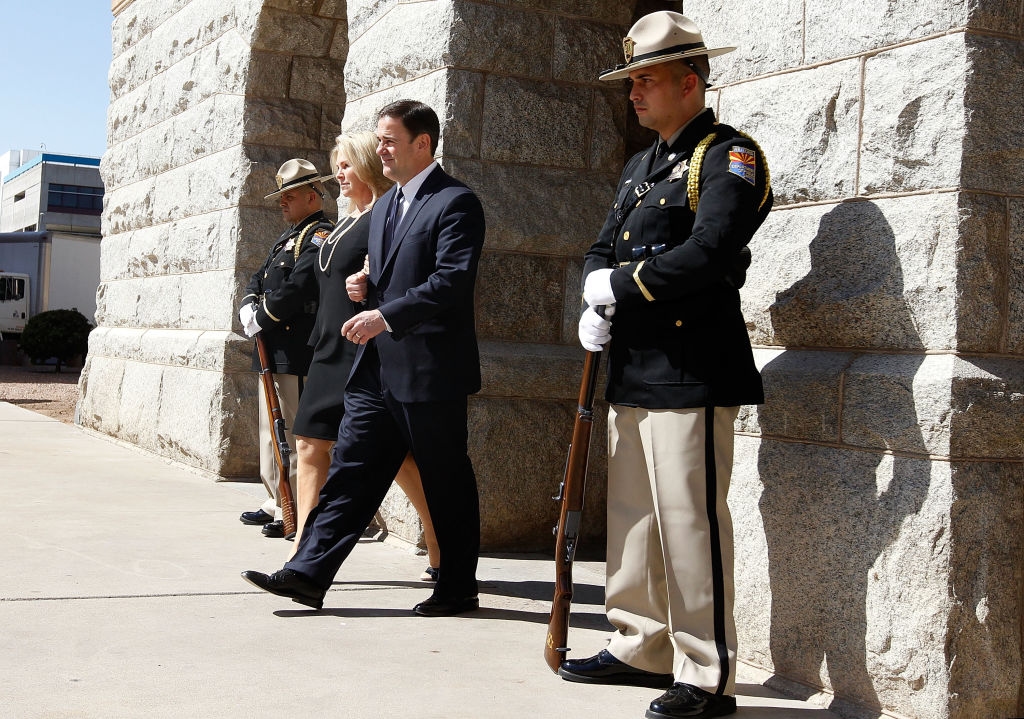 As Arizona Gov. Doug Ducey (R) weighs whom to appoint to fill the Senate seat that was occupied by the late Republican John McCain for over three decades, one objective may need to reign supreme: not enraging President Donald Trump, a McCain foe.
Trump is very popular among Republicans in the state, with 84 percent approval, according to the latest edition of Morning Consult's Midterm Wave Watcher, based on an average of surveys from June 1 through Aug. 27.
That's higher than the 64 percent approval enjoyed by Ducey – a man Republican strategists describe as nationally ambitious and mindful about turning out the party's base when he faces re-election this November.  
Republican strategists involved in Arizona said the governor has kept his cards close as his state and the nation have mourned McCain's passing this week.
"Governor Ducey will not be making any announcements about an appointment until after the Senator is laid to rest," Daniel Ruiz, a spokesman for Ducey, said in an email Friday.
But the strategists, noting the names that are rumored to be in contention, described a series of decisions that Ducey must make, the top one being whether to appoint a placeholder to fill out the final two years of McCain's term and who would not run in 2020 -- or elevate someone who will later run to represent the seat.
This is one where you don't want to screw it up.
Gibson McKay, an Arizona Republican strategist
Ducey's decision could be made shortly after McCain is buried on Sunday at the U.S. Naval Academy in Annapolis, they said.
Gibson McKay, an Arizona Republican strategist who worked for McCain, said in an interview that if the governor were to appoint someone who would run in 2020, it would need to be someone ready to hit the ground running as a senator – and able to start raising money for a campaign.
"This is one where you don't want to screw it up," he said of the appointment. 
Republican strategists said the appointed senator would likely be expected to support Trump's Supreme Court nominee, Judge Brett Kavanaugh, and not be overly vocal in his or her criticism of the president.
Otherwise, Ducey would risk the wrath of Trump's Twitter account, jeopardizing the governor's GOP support and his chances to seek higher office in the future.
Barrett Marson, an Arizona political strategist, said he expected Ducey to pick a business-minded conservative who could honor the spirit of McCain without alienating the president.  
"You can have a McCain conservative and a Trump conservative all in the same person," he said.
Morning Consult polling found 56 percent of GOP voters disapproved of McCain and 58 percent disapproved of Flake, about the same as when Morning Consult conducted its surveys in the second quarter.
FiveThirtyEight found the two senators voted with Trump's positions more than 80 percent of the time – a record near the bottom of the list of Republican senators, and about 10 percentage points under the Republican conference's average.
Overall, Arizona voters are split, 48 percent to 49 percent, on whether they approve or disapprove of the president, but Trump's favorability ranks higher than that of Ducey, at 42 percent, and McCain, at 44 percent.
McKay said despite the raucous Republican primaries, Arizona's general election electorate is divided roughly into thirds – among Republicans, independents and Democrats – leaving a place for another McCain-style politician to emerge.  
"Arizonans have always taken this attitude – whether you're talking about Carl Hayden or Mo Udall or Barry Goldwater or John McCain, there's one kind of common theme: They're all a bunch of maverick, independent, kiss-my-ass types," he said.
Eli Yokley is Morning Consult's U.S. politics analyst. Prior to his current role, Eli was Morning Consult's senior reporter covering U.S. politics. Eli joined Morning Consult in 2016 from Roll Call, where he reported on House and Senate campaigns after five years of covering state-level politics in the Show Me State while studying at the University of Missouri in Columbia, including contributions to The New York Times, Politico and The Daily Beast. Follow him on Twitter @eyokley. Interested in connecting with Eli to discuss his analysis or for a media engagement or speaking opportunity? Email [email protected].
We want to hear from you. Reach out to this author or your Morning Consult team with any questions or comments.
Contact Us