Why Warren's Edge Over Sanders Is Likely to Grow
Warren leads Vermont senator by 11 points in hypothetical primary matchup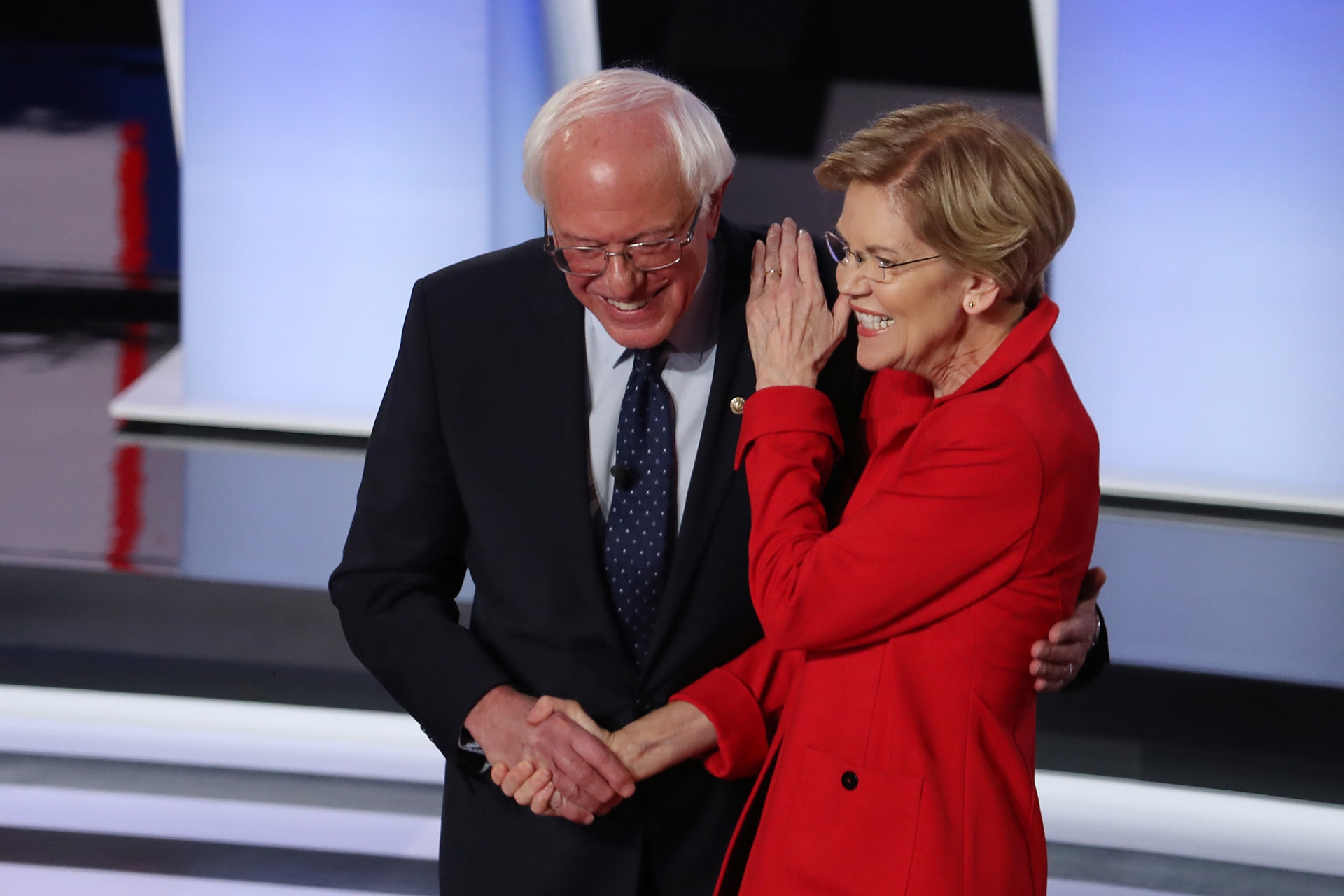 Key Takeaways
49% of Democratic primary voters said they'd back Sen. Elizabeth Warren (D-Mass.) in a head-to-head scenario vs. 38% who opted for Sen. Bernie Sanders (I-Vt.).

Sanders trails former Vice President Joe Biden by 15 points (37% to 52%), while Warren trails by 7 points (38% to 45%).

Sanders and Warren coalitions are somewhat similar, but Warren's supporters tend to be older, whiter, more likely to identify themselves as liberal and more interested in politics.
Sen. Elizabeth Warren (D-Mass.) has inched past Sen. Bernie Sanders (I-Vt.) in the Democratic presidential primary, and new data suggests her momentum is likely to continue as the race moves into its next phase. 
Asked to pick between the two candidates in a hypothetical matchup, 49 percent of Democratic primary voters said they'd opt for Warren, compared to 38 percent who said they'd vote for Sanders, according to a new Morning Consult/Politico poll. 
Kyle Kondik, managing editor of Sabato's Crystal Ball at the University of Virginia Center for Politics, said the finding is another indicator that Warren has either surpassed Sanders with the Democratic electorate, or is in a good position to do so.
"They have generally been polite to each other, and even mutually supportive, but if Sanders wants to truly vie for the nomination, he may have to try to find ways to undermine Warren," he said in an email. "Likewise, Warren's path would be clearer if Sanders was not in the race, even though their bases of support are not identical." 
Nathan Gonzales, a nonpartisan political analyst who publishes Inside Elections, said the deficit speaks to Sanders' challenge in securing the Democratic nomination as an outsider candidate. 
"I think the numbers show that when given a choice between two candidates with similar messages, Democratic voters will choose the Democratic candidate," he said in an email. However, he said as long as both remain in the race, there is potential for them to divide the party's more liberal voters, benefiting President Barack Obama's former No. 2.
The survey, conducted Sept. 20-22 among 635 Democratic voters who indicated they may vote in the Democratic primary or caucus in their state, had a margin of error of 4 percentage points.
The latest Morning Consult poll tracking the 2020 Democratic primary contest found that, for the first time, Warren has passed Sanders in the race, taking second place at 12 points behind former Vice President Joe Biden, the current front-runner. 
Her edge over Sanders is reflected in the RealClearPolitics average of primary polling. And in the early states, Warren has a slight advantage in New Hampshire, is essentially tied in Nevada and leads both Sanders and Biden in Iowa, according to the polling averages.
Morning Consult's latest tracking poll suggests the makeup of both the Sanders and Warren coalitions share some similarities, though there are notable differences. Among voters who selected either Sanders or Warren as their first-choice candidate in the party's nominating contest, Warren's supporters tended to be older and whiter, and more likely to identify themselves as liberal. 
"There were a lot of people supporting Bernie Sanders in 2016 who were 'Draft Warren' people first," said Sean McElwee, co-founder of Data for Progress, a liberal think tank. 
Warren also has an advantage over Sanders with voters who describe themselves as "extremely" or "very" interested in politics. They make up roughly a third of her supporters compared to less than a quarter of his. 
Sanders has an advantage with the least politically engaged, which McElwee said could provide another avenue of growth for Warren if those voters learn more about her as they become more politically engaged. 
Sanders' campaign did not respond to a request for comment.
Along with her head-to-head lead over Sanders, Warren also performed better than her Senate colleague against Biden. While Sanders trails Biden by 15 points (37 percent to 52 percent), Warren's deficit is just 7 points (38 percent to 45 percent).
McElwee said Biden's nomination is not inevitable, but he "is not going to be beaten without some sort of shift in the field as it currently is."
"You need a consolidation of the progressive vote and to have an authentic breakthrough with a large enough bloc of people of color that you can be competitive in South Carolina and Nevada," he said. "If you get crushed there, Biden wins."
Eli Yokley is Morning Consult's U.S. politics analyst. Prior to his current role, Eli was Morning Consult's senior reporter covering U.S. politics. Eli joined Morning Consult in 2016 from Roll Call, where he reported on House and Senate campaigns after five years of covering state-level politics in the Show Me State while studying at the University of Missouri in Columbia, including contributions to The New York Times, Politico and The Daily Beast. Follow him on Twitter @eyokley. Interested in connecting with Eli to discuss his analysis or for a media engagement or speaking opportunity? Email [email protected].
We want to hear from you. Reach out to this author or your Morning Consult team with any questions or comments.
Contact Us