With Podcasts Having a Moment, a Little Star Power Could Help Scripted Audio Bloom
COVID-19 has increased celebrity interest in the genre
Key Takeaways
60% of frequent podcast listeners said they were interested in long-form scripted fiction podcasts that tell a story over multiple episodes.

News and comedy were the most popular genres among frequent listeners.
Read more stories about podcasting in Morning Consult's special report, 'The Public's Perceptions on Podcasts.'
Scripted fiction podcasts have not gathered as large of a following as other podcast genres. But as famous faces take their talents to audio, those working in the industry say the genre will continue to grow and become an attractive opportunity for platforms and creators looking to gain creative control and test new methods of storytelling.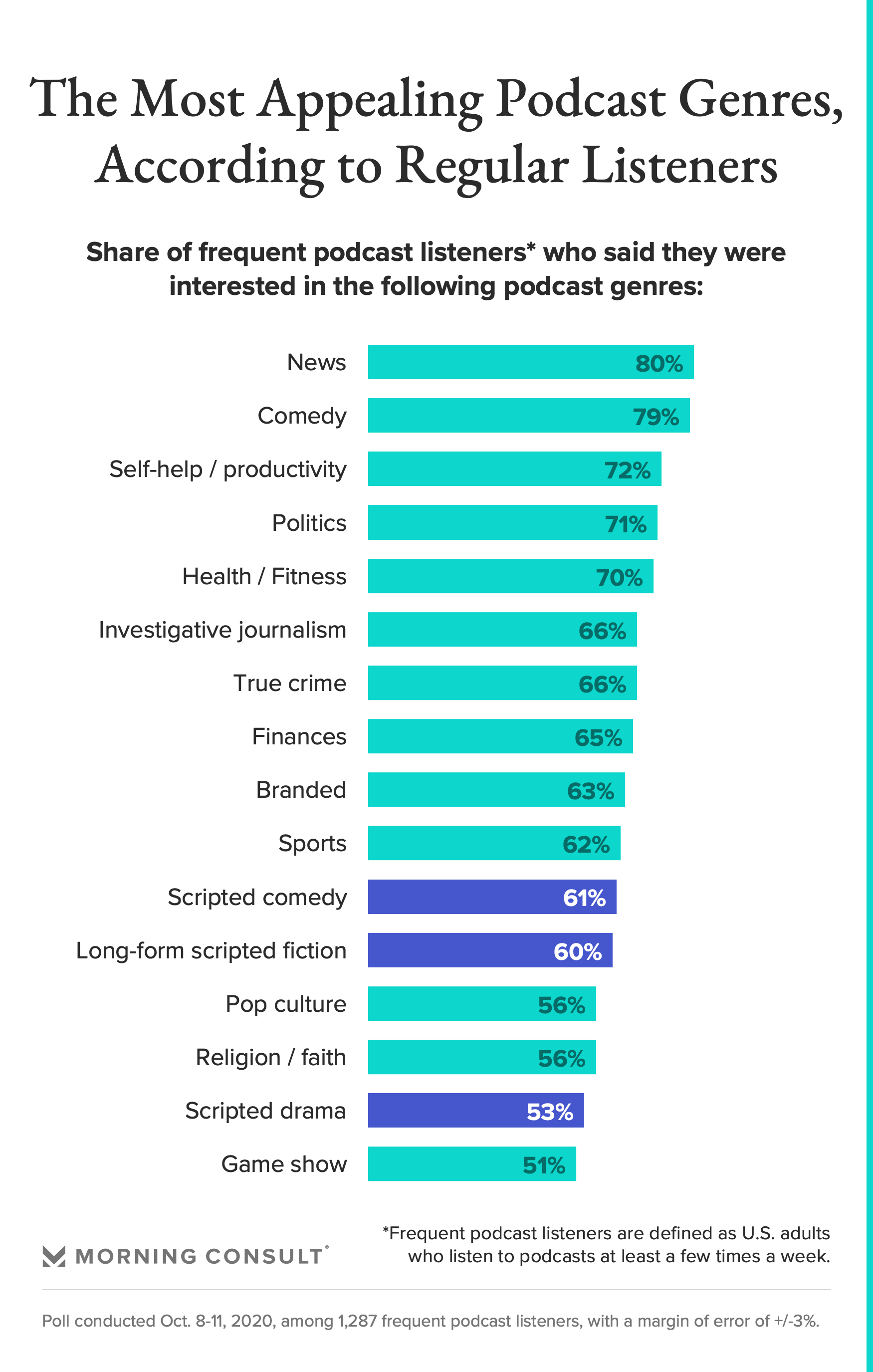 An Oct. 8-11 Morning Consult survey found that among 1,287 frequent podcast listeners, defined as U.S. adults who listen to podcasts at least a few times a week, scripted podcasts drew less interest than genres such as news and comedy. That statistic is somewhat unsurprising to those working in the scripted podcast space, which includes short-form scripted comedy or drama and long-form scripted fiction that tells a story over multiple episodes. 
Scripted fiction podcasts are an "emerging market within an emerging market," said Ben Davis, a partner with talent agency WME. According to Davis, scripted fiction is less developed than other genres in part because of economics, as the budgets for scripted productions vary widely but are typically more expensive to produce than news or politics shows. 
Davis added that the number of scripted fiction shows is dwarfed by content in other genres, because of a crowded and competitive marketplace. As of early November, two of Apple's top 100 podcasts are scripted fiction titles. 
But even in their nascency, scripted titles have found a small but passionate following. "Welcome to Night Vale," one of the first scripted fiction shows of the podcast era, launched in 2012 and is still releasing new episodes today. Joseph Fink, who created the podcast with Jeffrey Cranor, said one of the pair's main reasons for launching a scripted fiction podcast was that "there just didn't seem to be anyone else doing it. It was this huge gap in podcasting at the time."
Fink says that in its first year, "Welcome to Night Vale" was downloaded 150,000 times, with the podcast garnering 2.5 million downloads in July 2013 and 8.6 million in August 2013, after gaining a passionate following on Tumblr.
In the wake of the success of "Welcome to Night Vale," other scripted titles launched and resonated with listeners. "Limetown" debuted in 2015 and Gimlet Media's "Homecoming" premiered in 2016, with both shows eventually spawning television adaptations. But beyond these anecdotal examples, scripted titles are still looking to break into the mainstream. 
"The fiction space has not yet had its breakout podcast or moment that catches the real cultural zeitgeist," said Rob Herting, chief executive of QCode Media. 
An audio studio that focuses on scripted and narrative podcasts, QCode Media has recruited stars to help tell its stories, such as actor Rami Malek lending his voice to "Blackout," an apocalyptic thriller that served as the company's first production. They've also worked with actor Cole Sprouse and actress and singer Cynthia Erivo, and are partnering with actor Matthew McConaughey on a scripted show for kids. 
"Celebrities, or talent, are viewing it as a new medium," Herting said. "They've done voice-over work, most of them for animated films and things like that, but the radio drama is a new outlet." 
There's no perfect candidate to voice a scripted fiction show, Herting said in a follow-up email, but leveraging a celebrity's existing fanbase and social media channels is certainly a valuable resource for podcast companies to consider.
Davis, of WME, said that work stoppages in the film and television industry due to the COVID-19 pandemic has possibly contributed to increased interest from performers who may not be working in their typical mediums. 
"This is an opportunity to have a creative project and try something new in a time where they can be more flexible and experimental," he said. 
During the pandemic, QCode took on its first remote production with "Dirty Diana," a six-part erotic audio drama starring actress Demi Moore. Herting said he's seen greater interest in scripted podcasts during the pandemic, and that after working on "Dirty Diana," which premiered July 13, QCode may continue to use the remote process post-pandemic.  
Herting said he thinks the impact of the pandemic will be felt for months to come, with production in the genre and the amount of content available seeing a "significant increase."
Davis added that he expects to see an increase in the number of projects that have notable talent attached. And that could lead to the breakthrough the genre has been waiting for.
Sarah Shevenock previously worked at Morning Consult as a reporter covering the business of entertainment.
We want to hear from you. Reach out to this author or your Morning Consult team with any questions or comments.
Contact Us