Would You Want Your Favorite Team to Sign Colin Kaepernick? NFL Fans Are Divided
Among fans of the league, an equal split over how signing the quarterback would impact favorability of their preferred team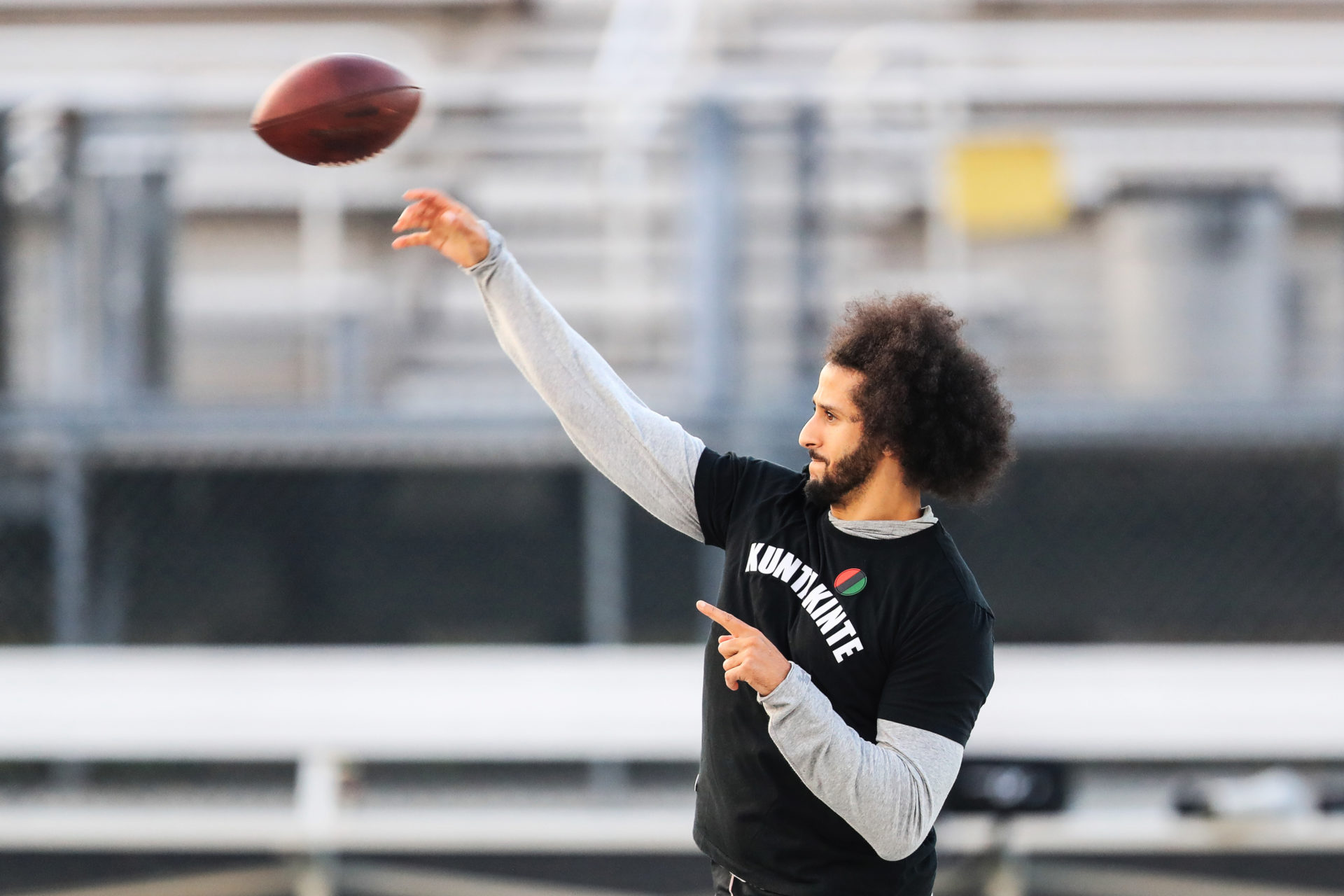 Key Takeaways
32% of NFL fans said they'd view their favorite team more favorably if it signed the free agent quarterback; another 32% said they'd have a less favorable view.

63% of black fans would view their team more favorably following a Kaepernick signing, compared with 25% of white fans, who were divided along party lines.

51% of white NFL fans who identify as Democrats view Kaepernick favorably, while 72% of white Republican NFL fans view him unfavorably.
Amid the drama surrounding Colin Kaepernick's workout for NFL teams, fans of the league were divided along political and racial lines about the prospect of their favorite team signing the free agent quarterback to a contract, according to a Morning Consult poll.
The Nov. 15-17 survey found that 32 percent of self-identified NFL fans would feel more favorably about their favorite team with Kaepernick on board -- regardless of their team's current quarterback situation -- while another 32 percent said they would have a less favorable view of their preferred franchise.
Nearly half of Democrats who expressed at least some interest in the NFL said they would view their favorite team more favorably if it signed Kaepernick to a contract, with only 13 percent saying it would negatively impact their view of the team. On the other end of the political spectrum, 59 percent of Republicans who expressed that level of fandom said a Kaepernick signing would turn them off to their team, including 42 percent who would have a "much less favorable" view. The poll's margin of error for NFL fans is 3 percentage points.
The potential of signing Kaepernick was most popular among black NFL fans, with 63 percent saying they'd view their team in a more positive light. White NFL fans were more divided, mainly along party lines, with 25 percent coming out in favor of their team signing Kaepernick and 38 percent opposed. Only 17 percent of white fans who identified as Democrats, however, said they'd view their team more negatively for signing the quarterback, with 31 percent saying it wouldn't impact their fandom either way and 39 percent expressing a more favorable view.
While Kaepernick has remained unsigned since he opted out of his contract with the San Francisco 49ers after the 2016 season, the NFL's invitation for the quarterback to work out for team representatives last weekend offered some supporters hope for his return to the league. Amid disagreements between Kaepernick's camp and the league over media access and a liability waiver, however, the quarterback made a last-minute decision to hold his own workout Nov. 16 at a high school outside Atlanta. Only seven teams attended the impromptu showcase, compared to the roughly 25 that were reportedly planning to attend the league-sanctioned workout at the Atlanta Falcons' practice facility.
NFL fans were similarly divided regarding the optics of the tryout, with roughly a third coming down on either side of whether it was a legitimate effort to see if Kaepernick was ready to return, or just a publicity stunt.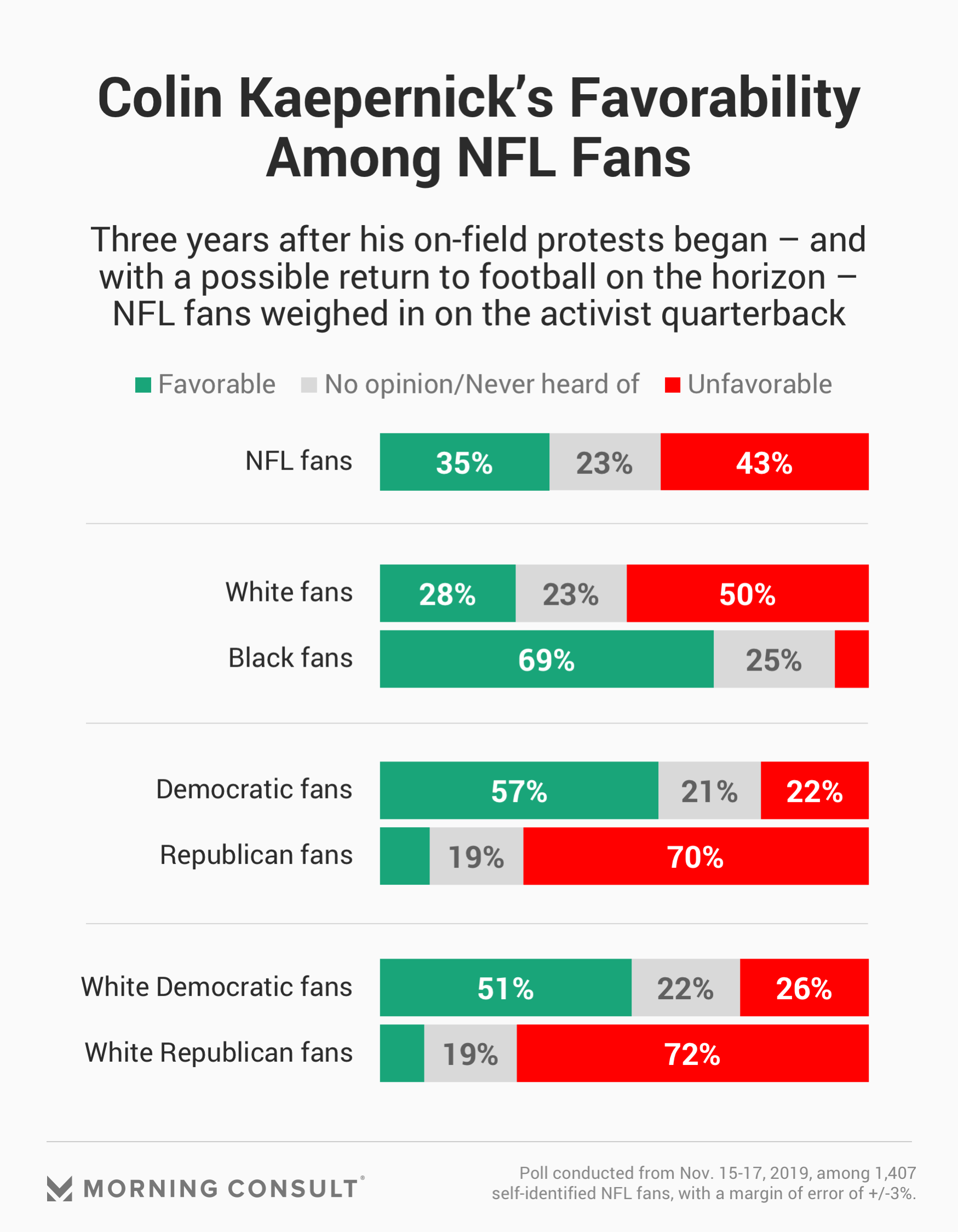 The 36th pick in the 2011 NFL draft has been a polarizing figure among football fans -- and the broader public -- since 2016, when he started protesting police brutality against black Americans by kneeling during the national anthem prior to games. Roughly a third of NFL fans had a favorable view of the signal caller, compared with 43 percent who had an unfavorable view. Divides on that question were also driven largely along racial and political lines.
The quarterback opted out of his contract with the San Francisco 49ers during the 2017 offseason and has remained unsigned ever since. Demonstrations by NFL players and the surrounding controversy reached a fever pitch the following season when President Donald Trump tweeted that players who don't stand for the national anthem should be fired. Kaepernick and former 49ers teammate and current Carolina Panthers safety Eric Reid reached a settlement with the NFL earlier this year after the duo accused league brass of colluding to keep the players unsigned.
Given the tumult of the past three years, NFL fans were much more likely to agree on one thing when it came to Kaepernick: 61 percent said that if he signed with an NFL team, controversy would likely follow before season's end.
Alex Silverman previously worked at Morning Consult as a reporter covering the business of sports.
We want to hear from you. Reach out to this author or your Morning Consult team with any questions or comments.
Contact Us