Younger Consumers Are Most Likely to Subscribe to Disney+
But the majority of people likely to watch Disney's 'Captain Marvel' don't plan to wait until it's streaming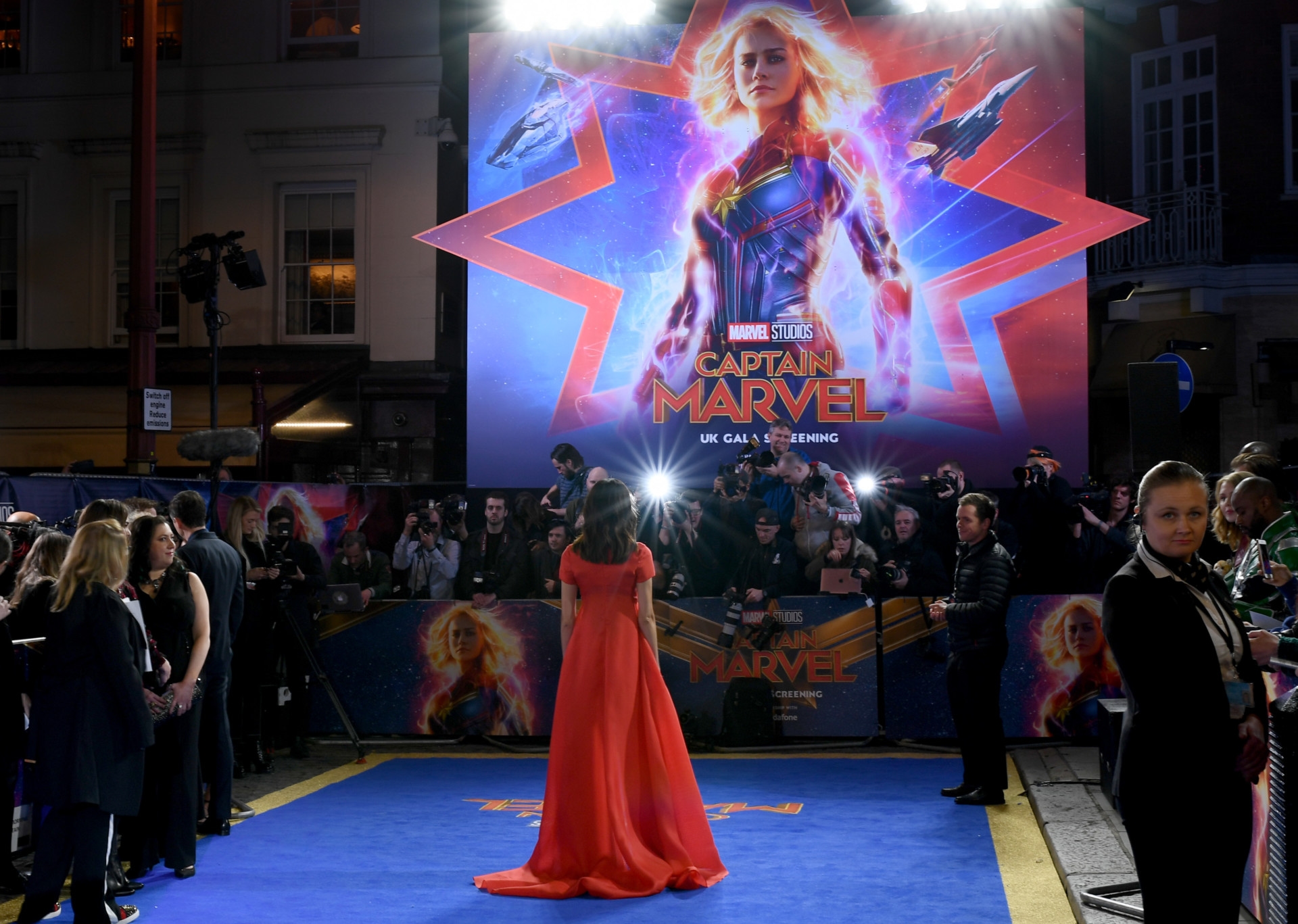 Key Takeaways
29% of adults are likely to subscribe to Disney's upcoming streaming service, Disney+.

64% of people who say they're likely to see "Captain Marvel" plan to watch it in theaters.

32% of parents said they were likely to subscribe to Disney+.
As The Walt Disney Co.'s latest Marvel film "Captain Marvel" prepares to fly into movie theaters, the film is making history in two ways: Not only is it the first Marvel Studios LLC film to feature a female lead, but it will also be the first film from the studio to stream exclusively on Disney's upcoming new streaming service. And new polling finds that young consumers are the most likely to say they'll subscribe to the service.
A Feb. 21-24 Morning Consult/The Hollywood Reporter survey of 2,203 adults found that 29 percent of respondents said they were very or somewhat likely to subscribe to the Disney+ streaming service, which is set to launch later this year and will reportedly feature films from Disney's catalog, as well as new, exclusive shows set in the Marvel and Star Wars universes.
When compared to the general population, those ages 18-29 were most likely to subscribe (46 percent) followed closely by those ages 30-44 (45 percent). Parents were also slightly more likely than their childless counterparts to subscribe, with 32 percent saying they were likely to sign up, compared to 26 percent of those without children.
Thirty-six percent of U.S. adults who currently subscribe to a streaming service said they were likely to subscribe to Disney+, more than adults overall (29 percent) and those who had never subscribed (15 percent).
But knowledge that "Captain Marvel" will be a Disney+ exclusive did not seem to sway consumers' opinion on whether or not to subscribe: Twenty-eight percent of adults overall said they would be likely to sign up for Disney+ with that information, compared to 29 percent without. For those ages 18-29, 45 percent said they would be likely to subscribe knowing that "Captain Marvel" would stream exclusively on the service -- also 1 percentage point less than without knowing that information. The poll's margin of error is plus or minus 2 percentage points.
Whether or not consumers subscribe to Disney+, most don't intend to wait to see "Captain Marvel" via streaming. Sixty-four percent of U.S. adults who say they're likely to see the film say they're planning to see the movie in theaters, while 26 percent are planning to see it when it is streaming online.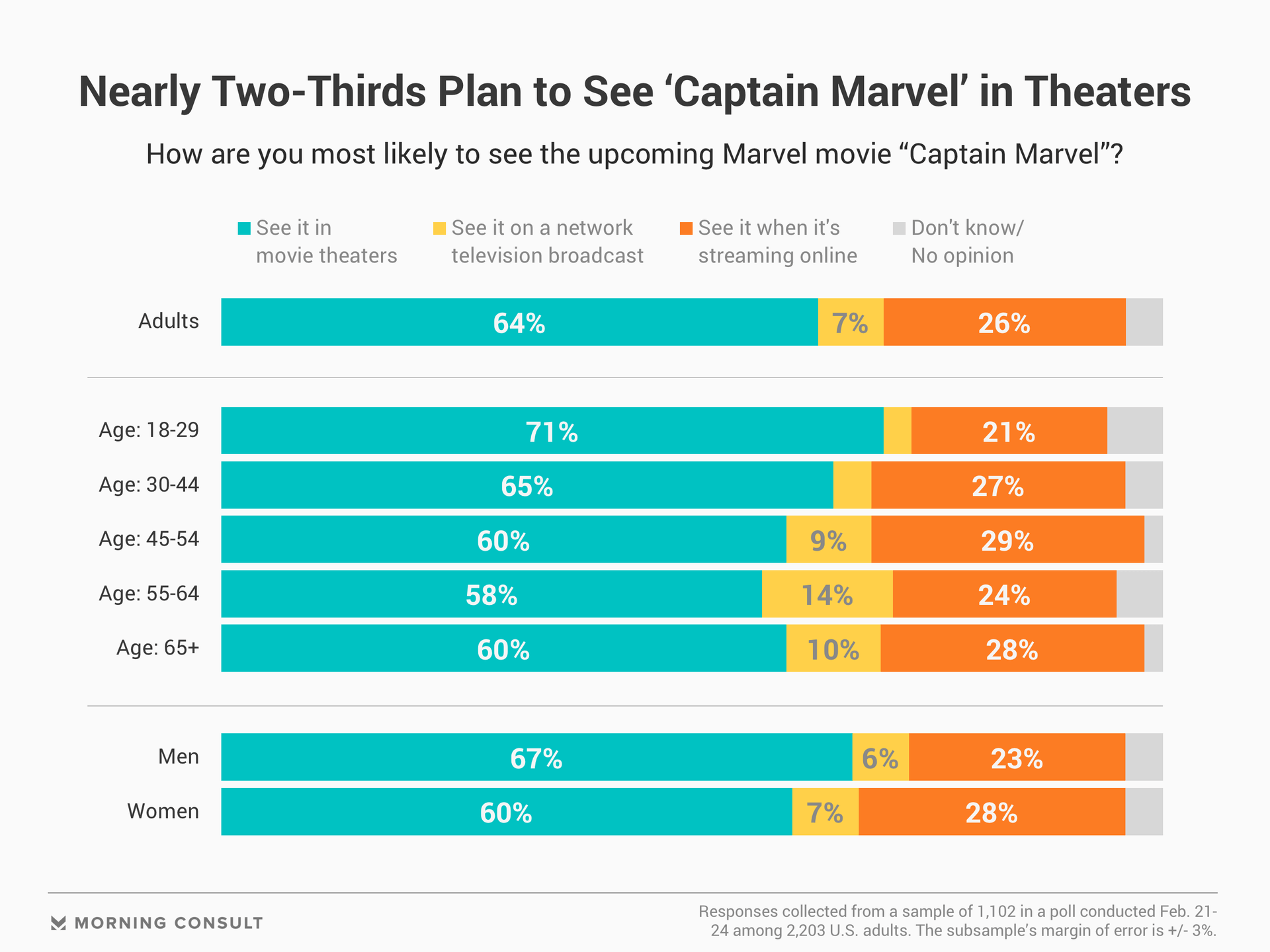 Adults ages 30-44 were most eager to see the film, with 66 percent likely to see the movie and 65 percent of that group likely to see it in theaters. Men were also slightly more likely to see the film in theaters (67 percent) compared to women (60 percent).
"Captain Marvel" is the first of three films set to be released by Marvel Studios this year. The film is tracking for a successful run at the box office, becoming the second-highest advance ticket seller for a superhero origin movie according to Fandango, besting 2017's "Wonder Woman" and just behind 2018's "Black Panther." According to CNBC, some analysts are predicting the film could bring in $100 million to $120 million on opening weekend.
Sarah Shevenock previously worked at Morning Consult as a reporter covering the business of entertainment.
We want to hear from you. Reach out to this author or your Morning Consult team with any questions or comments.
Contact Us