As Late-Night Hosts Get Political, Audiences Get Divided
Democrats and Republicans split on political content on late night, but Jimmy Fallon is America's favorite host
Key Takeaways
58% of the public has a favorable opinion of Jimmy Fallon, and 55% have a favorable opinion of "The Tonight Show."

62% of Republicans don't like when late-night hosts discuss politics, while an equal share of Democrats do.
As Stephen Colbert's more political "Late Show" begins to top Jimmy Fallon's "Tonight Show" in the ratings, new polling shows Democrats and Republicans almost diametrically opposed on their views of late-night political content, indicating that it might be difficult for networks to find a late-night show to please all audiences.
The March 7-10 Morning Consult/The Hollywood Reporter survey found that Fallon was the fan favorite among 2,201 adults, having the highest favorability at 58 percent. Fallon was also the most popular late-night host among Republicans, with 48 percent viewing him favorably, and the second-most popular among Democrats, coming in 1 percentage point behind Jimmy Kimmel of "Jimmy Kimmel Live," who had a favorability of 73 percent. The margin of error for the Democratic subsample was 3 percentage points, and the margin of error for the Republican subsample was 4 percentage points.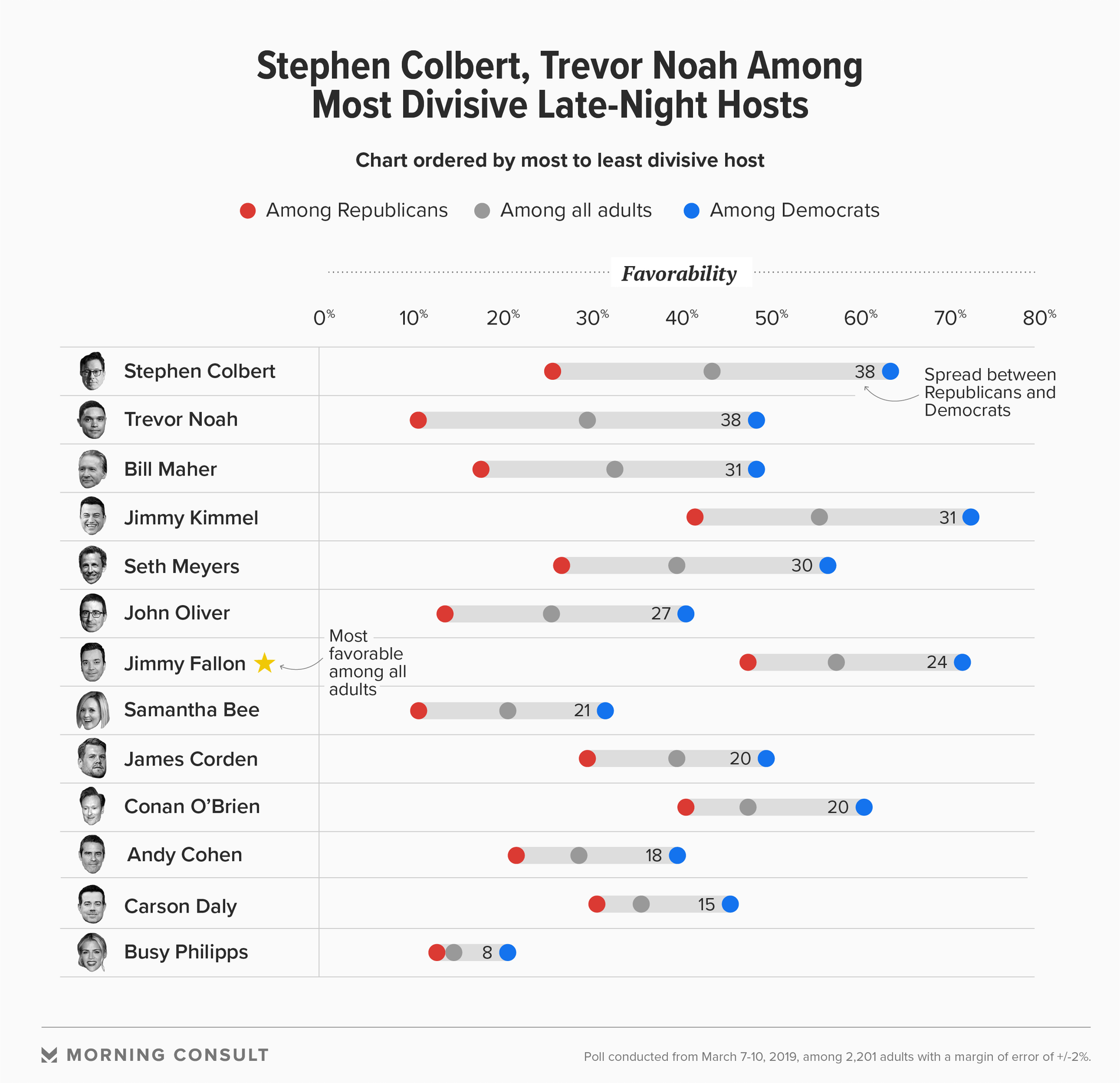 Fallon's "Tonight Show" had the highest share of talk-show favorability among the public (55 percent), as well as among Democrats (69 percent) and Republicans (45 percent).
But despite Fallon's bipartisan popularity, recent Nielsen data shows that Colbert's "The Late Show" has been drawing in slightly more viewers than "The Tonight Show" in the 2018-19 season, with "The Late Show" averaging 692,000 adult viewers under the age of 50, compared to 686,000 for "The Tonight Show." Meanwhile, Colbert's show averaged 3.8 million total viewers per episode compared to Fallon's 2.5 million.
Data from the survey could offer an explanation as to why: Fifty-four percent of Democrats said they watch late-night talk shows, compared to 26 percent of Republicans -- and Democrats were more likely than Republicans to say they liked late-night hosts to discuss politics (62 percent) or personal political views (63 percent), with 51 percent of Democrats saying they would be more likely to watch a late-night talk show if a politician made a guest appearance. Sixty-four percent of Democrats had a favorable view of Colbert, and an equal share had a favorable opinion of "The Late Show," which regularly features political guests and candidates, and served as a vehicle for New York Sen. Kirsten Gillibrand's announcement that she was forming an exploratory committee to run for president.
Republicans, by contrast, seem to prefer less political discourse in their late-night viewing: Sixty-two percent of Republicans said they did not like when late-night hosts discuss politics, and 61 percent said they did not like it when when hosts shared personal political opinions. Fifty-six percent said they would be less likely to watch a show that included a politician's guest appearance. Twenty-six percent of GOP viewers had a favorable opinion of Colbert, and 24 percent viewed "The Late Show" favorably.
One thing the parties were able to agree on was the perceived political leanings of late-night talk show hosts: Fifty-seven percent of Republicans and 53 percent of Democrats said that they thought late-night talk show hosts tended to lean more liberal.
And the president agrees: Over the weekend, President Donald Trump accused late night of political bias, tweeting that it was "truly incredible" that shows such as "Saturday Night Live" and late-night shows "can spend all of their time knocking the same person (me), over & over, without so much of a mention of 'the other side.'"
Colbert is not the only host featuring political and personal discourse in late-night television: Seth Meyers often features a segment known as "A Closer Look" during his show, doing a deep dive into a political issue or current event, while Jimmy Kimmel has shared his personal feelings about the health care system on several occasions. However, Fallon, by his own admission, has tried to avoid discussing politics on his show, even though he had both Trump and Hillary Clinton on as guests when they were candidates in the 2016 presidential election.
Sarah Shevenock previously worked at Morning Consult as a reporter covering the business of entertainment.
We want to hear from you. Reach out to this author or your Morning Consult team with any questions or comments.
Contact Us