Most 'Bachelor' Viewers May Be in It for the Drama
Half say they tune in to reality dating shows to make fun of them
Key Takeaways
67% of adults who watch reality dating shows watch the shows for the drama between contestants.

82% of adults overall said they have not watched any of the 23rd season.
For 22 seasons, "The Bachelor," as well as its spinoffs, have featured contestants looking for love and hoping for an engagement. But as the 23rd season enters the second night of its finale, new polling finds that viewers aren't necessarily watching just to see these relationships blossom.
A Feb. 28-March 2 Morning Consult/The Hollywood Reporter survey found that roughly two-thirds (67 percent) of respondents who watch reality dating shows said that they tune in to the programs to see the drama between the contestants. Other popular reasons for viewing included enjoying seeing the relationships form between contestants (59 percent) and poking fun at the show (50 percent). The subsample of 575 had a margin of error of 4 percentage points.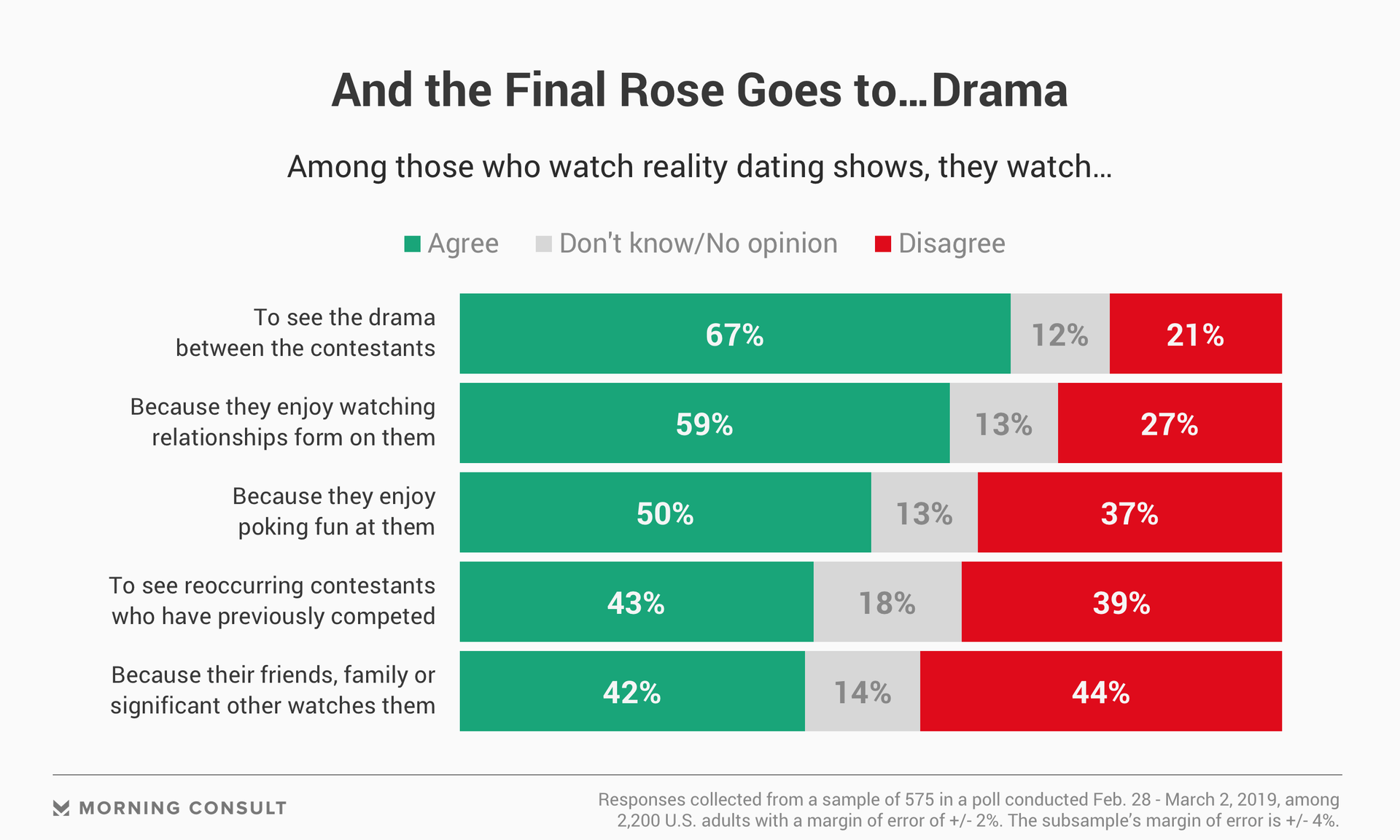 Almost equal numbers of men (65 percent) and women (68 percent) watch these kinds of reality shows for the contestant drama -- but more than half of men (51 percent) said they watch reality dating shows because their friends, family or significant other watches them, compared to 36 percent of women who said the same thing.
Seventy-three percent of viewers ages 45-54 said they watch the genre because they enjoy watching the relationships form between contestants, the highest percentage among all age groups. An equal share of those ages 18-29 said they enjoy these shows for the drama.
For most reality dating show viewers, watching those programs to see contestants who have been featured before -- such as "Bachelor" Season 23's Colton Underwood, who appeared on both "The Bachelorette" and "Bachelor in Paradise" -- was not a motivating factor, with 43 percent saying that was the reason why they watched. However, a slim majority of those ages 45-54 (52 percent) watch to see recurring contestants. "The Bachelor" will often bring back fan-favorite contestants to star in subsequent seasons or spinoffs.
Eighty-two percent of the 2,200 adults in the overall poll say they have not watched any of the current season featuring Underwood, including 83 percent of men and 82 percent of women. Of those who do watch, 58 percent watch the show when it airs live. Just over 5 million people tuned in to the season premiere of "The Bachelor" in January, with the show seeing slight upticks in viewership throughout the season.
Sarah Shevenock previously worked at Morning Consult as a reporter covering the business of entertainment.
We want to hear from you. Reach out to this author or your Morning Consult team with any questions or comments.
Contact Us