Biden Launches Campaign With Narrow Lead Over GOP Rivals, But His Standing Has Diminished Since Taking Office
Morning Consult surveys show Biden would benefit by bolstering his backing among his party's base
To get our reporting and data on the 2024 presidential election delivered straight to your inbox, sign up for our Washington newsletter.
President Joe Biden has launched his re-election campaign as an unpopular incumbent who is nevertheless slightly outperforming the two current favorites for the Republican Party's presidential nomination: former President Donald Trump and Florida Gov. Ron DeSantis. 
Biden has an all but lock on the Democratic Party's presidential nomination, but Morning Consult tracking surveys show he has work to do for the general election: His standing among the broader electorate has eroded since taking office, and his base isn't as fervently enthused about him as Trump's was four years ago. 
How Biden looks against Trump, DeSantis among the overall electorate
Biden holds a narrow, 1-percentage-point lead over Trump, the front-runner among potential Republican primary voters, in line with his standing since Morning Consult began tracking the hypothetical head-to-head matchup in December. Biden also leads DeSantis, the second-highest polling Republican who has yet to launch his own bid, by 4 points. 
Biden's support against both potential Republican nominees is bolstered by his standing among Democrats, given lackluster backing among independent voters — though roughly 3 in 10 unaffiliated voters don't support either the Democratic or Republican candidates at this point in the campaign.
Biden also has solid backing among Black voters, a key part of the coalition that won him the White House in 2020, but he trails both Trump and DeSantis among white voters, driven in large part by a big deficit to either Republican among those without a college degree.
As Trump has campaigned throughout this year, he has closed his popularity deficit against the incumbent.
Biden Has No Favorability Advantage Over Trump
Net favorability — the share with favorable views minus the share with unfavorable views — of President Joe Biden, former President Donald Trump and Florida Gov. Ron DeSantis.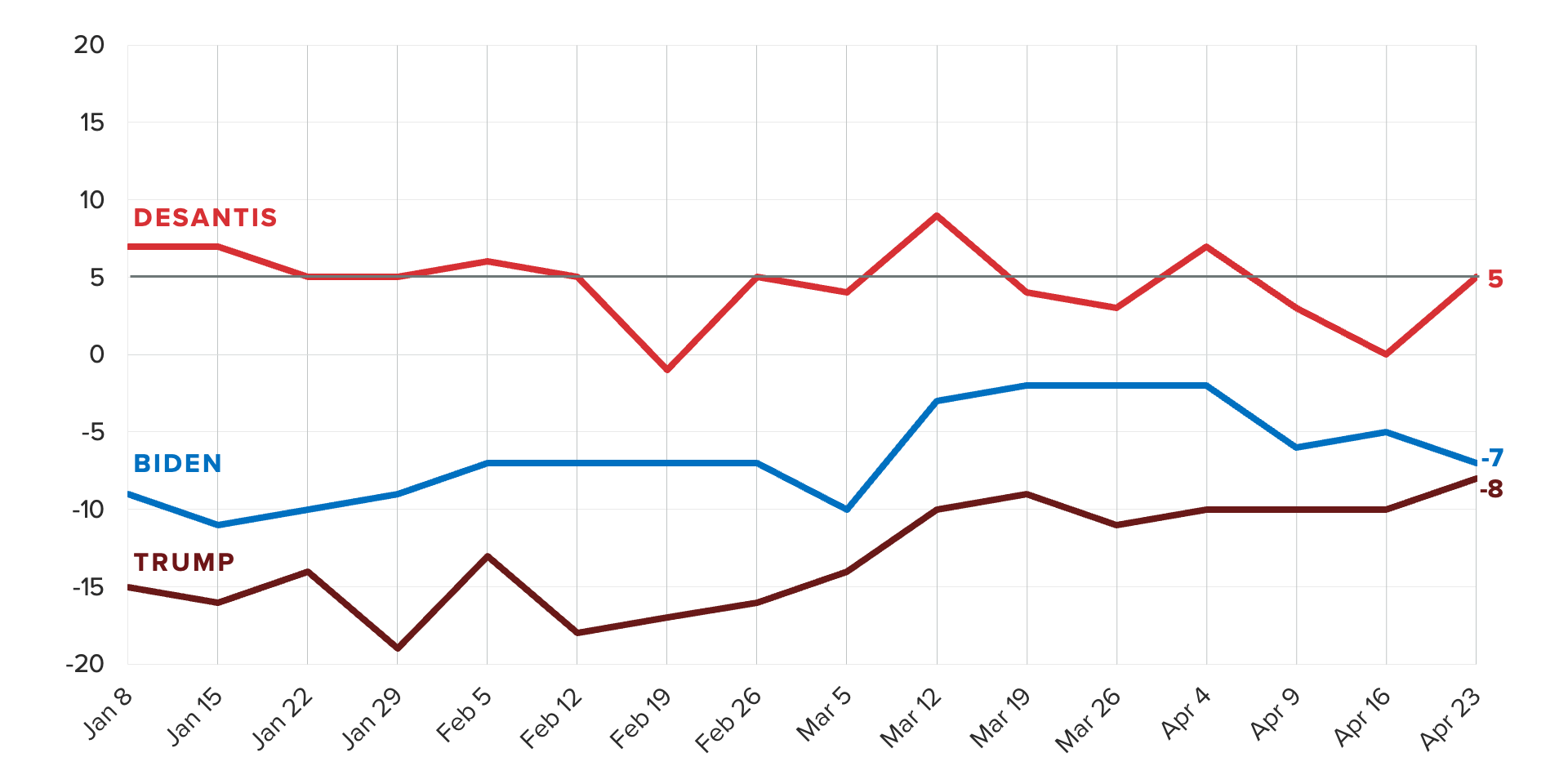 Surveys conducted in 2023, among representative samples of roughly 2,000 registered voters each, with unweighted margins of error of +/-2 percentage points.
A Morning Consult survey conducted April 20-23 found that Trump and Biden have nearly identical favorability ratings among the overall electorate (45% to 44%) while 52% view both men unfavorably. Trump's net favorability rating — the share who hold favorable views minus the share who hold unfavorable views — has improved 7 points since January, while Biden's has improved 2 points during that time.  
The share of voters who hold favorable views of Biden is similar to the share who approve of his job performance on a range of issues, from health care to voting rights — numbers that have held steady throughout his presidency after a major decline in support at the end of his first year in office.  
Less Than Half of Voters Approve of Biden's Handling of Major Issues
Shares of voters who approve of how President Joe Biden has handled the following issues:
Surveys conducted among representative samples of roughly 2,000 registered voters, with unweighted margins of error of +/-2 percentage points.
Around 2 in 5 voters (41%) approve of Biden's handling of the economy, voters' top voting issue, up slightly from the beginning of the year. Biden does best with voters on his handling of Medicare and Social Security (48%) — an issue that's likely to be a key point of contention between Biden and his eventual Republican rival.
Slightly fewer voters approve of how Biden's handled education (44%), climate change (44%) health care (45%) and voting rights (46%), figures that are similar to those in surveys conducted one and two years into his term. On all of those issues, Biden's backed by at least 3 in 4 Democrats.
How Biden looks among his Democratic base
That there is some dissent among Democrats for their party's president is not unheard of, though Biden is slightly weaker among voters of his own party than Trump was among Republicans four years ago. 
Biden's Base Approval is Weaker Than Trump's Four Years Ago
Shares of voters who approved of President Donald Trump's job performance in April 2019 and of President Joe Biden's job performance in April 2023
Surveys conducted April 21-23, 2019, and April 21-23, 2023, among representative samples of 16,358 and 9,085 registered voters, respectively, with unweighted margins of error of +/-1 percentage point.
Morning Consult Political Intelligence tracking surveys conducted April 21-23 show that 80% of Democratic voters approve of Biden's job performance, which is less than the 84% who said the same of Trump four years ago. What's more, 52% of Republican voters "strongly" approved of Trump's job performance at that time, while only 41% of Democratic voters say the same of Biden now. 
Biden's approval rating has remained steady over the past several months after improving from a low point last summer. However, he has faced some intraparty attrition on a number of perceived personal and professional traits since the honeymoon phase of his first 100 days in office. 
Under 7 in 10 Democrats (68%) say Biden is in good health, down from 81% in an April 2021 survey. Three in 4 Democrats say Biden is mentally fit, down from 87% two years ago. The bulk of his party's voters also see him as a strong leader (76%), trustworthy (80%) and capable of leading the country (80%), but all of those numbers have fallen since the survey conducted early in his term.
As he begins to make his re-election case, in part against a Republican Party he sees as against Americans' fundamental freedoms and democracy but also to "finish the job" of his first term, the survey suggests there is room to improve his standing with the Democratic base by highlighting his accomplishments.
Democratic Men Are More Likely Than Women to See Biden Keeping Promises
Share of Democratic voters who said President Joe Biden has or has not been keeping the promises he made during the 2020 campaign

Survey conducted April 20-23, 2023, among 810 Democratic voters, with an unweighted margin of error of +/-3 percentage points.
Roughly 3 in 10 Democratic voters either do not think Biden has been delivering on the promises he made during his 2020 campaign or are unsure. That figure is exaggerated among Democratic women, who are notably more motivated by issues such as crime, gun policy and abortion and are 12 points less likely than Democratic men to say Biden has kept up his end of the bargain. 
Despite these challenges, Biden is blowing his two declared Democratic challengers out of the water.
The latest survey found that Biden is backed by 75% of potential Democratic primary voters, compared with the 9% who back anti-vaccine activist Robert F. Kennedy Jr., the 3% who support self-help author Marianne Williamson and the 6% who are in support of someone else. That's similar to the share of Republicans who said the same of Trump in 2019.
Eli Yokley is Morning Consult's U.S. politics analyst. Prior to his current role, Eli was Morning Consult's senior reporter covering U.S. politics. Eli joined Morning Consult in 2016 from Roll Call, where he reported on House and Senate campaigns after five years of covering state-level politics in the Show Me State while studying at the University of Missouri in Columbia, including contributions to The New York Times, Politico and The Daily Beast. Follow him on Twitter @eyokley. Interested in connecting with Eli to discuss his analysis or for a media engagement or speaking opportunity? Email [email protected].
We want to hear from you. Reach out to this author or your Morning Consult team with any questions or comments.
Contact Us