Slim Majority of Voters Approve of Trump's Indictment, Though Few GOP Primary Voters Do
51% of all voters back the grand jury's decision to indict Trump; 70% of potential GOP primary voters disapprove of it
To get our reporting and data on the 2024 presidential election delivered straight to your inbox, sign up for our Washington newsletter.
Former President Donald Trump's indictment on fraud charges related to his role in an alleged scheme to pay hush money to adult film star Stormy Daniels is popular with the wider electorate, per a Morning Consult survey conducted immediately after the legal action, but there's broad support for his attacks on the probe among the GOP's prospective 2024 electorate.
Voters More Likely Than Not to Back Trump's Indictment, but Split on Grand Jury's Motivation
Voters' views on the Manhattan grand jury's decision to indict former President Donald Trump over alleged hush-money payments to adult film actress Stormy Daniels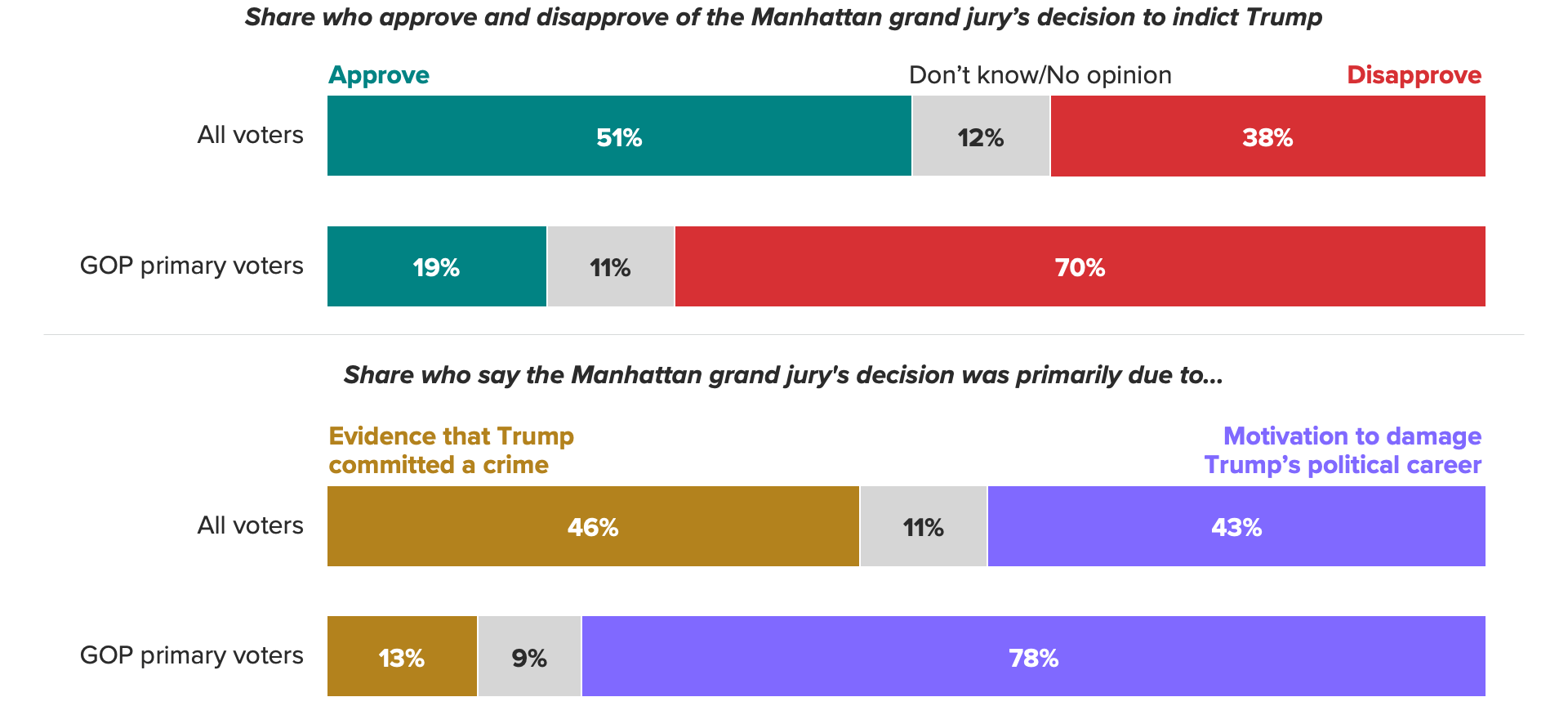 Survey conducted March 31, 2023, among a representative sample of 2,034 registered voters, with an unweighted margin of error of +/-2 percentage points.
What voters think about Trump's indictment
A slim majority of voters (51%) approve of the Manhattan grand jury's decision to indict Trump, driven by 83% of Democrats and 49% of independents, according to the Friday survey. 
Another 38% disapprove of the decision, including 7 in 10 potential Republican primary voters, those who said they plan to participate in the 2024 GOP nominating contest in their state.
While 46% of voters think the grand jury's decision was primarily informed by evidence that Trump committed a crime, another 43% say the overriding cause for its conclusion was motivation to damage the former president's political career. The latter sentiment is held by 78% of potential GOP primary voters. 
The initial political implications of Trump's indictment
About 4 in 5 of voters (82%) said they had seen, read or heard at least "some" about Trump's indictment by Friday, including a similar share of potential Republican primary voters. The news is certain to penetrate more voters' minds in the coming days as more is learned about the specific charges and with Trump expected to appear at a Manhattan courthouse to be arraigned on Tuesday.
Following Thursday's news, Trump took aim at New York County District Attorney Alvin Bragg, who's overseeing the hush-money case, casting the investigation as "Political Persecution and Election Interference at the highest level in history." Republicans on Capitol Hill have been targeting Bragg's probe since even before the indictment was announced.
The survey shows that Trump's attacks resonate with the Republican base, and the news cycle on the indictment, which has percolated for weeks, has yet to shake his standing among Republican voters, similarly to what happened after the FBI raided his Mar-a-Lago home as part of a separate federal investigation into his handling of classified documents.
Republican Appetite for Trump 2024 Campaign Endures Post-Indictment
Shares of voters who said former President Donald Trump should or should not run for president in the 2024 election, before and after news of his Manhattan indictment
Surveys conducted in 2023 among representative samples of roughly 2,000 registered voters each, with unweighted margins of error of +/-2 percentage points.
Republicans overwhelmingly still think Trump should run
Two in 3 Republican voters say Trump should run for president, nearly unchanged from  a Morning Consult survey conducted in early March.
Among the overall electorate, 58% say Trump should shut down his campaign, including 60% of independents and 84% of Democrats. 
Trump's own fueling of speculation about his indictment earlier this month before he was indicted did nothing to shake his status as the GOP's presidential front-runner, and he continued to poll close to President Joe Biden in a hypothetical general-election matchup, according to Morning Consult's 2024 GOP Primary Tracker. Check back early next week for the latest tracker update. 
The Morning Consult survey was conducted March 31, 2023, among a representative sample of 2,034 registered voters, with an unweighted margin of error of plus or minus 2 percentage points.
Eli Yokley is Morning Consult's U.S. politics analyst. Prior to his current role, Eli was Morning Consult's senior reporter covering U.S. politics. Eli joined Morning Consult in 2016 from Roll Call, where he reported on House and Senate campaigns after five years of covering state-level politics in the Show Me State while studying at the University of Missouri in Columbia, including contributions to The New York Times, Politico and The Daily Beast. Follow him on Twitter @eyokley. Interested in connecting with Eli to discuss his analysis or for a media engagement or speaking opportunity? Email [email protected].
We want to hear from you. Reach out to this author or your Morning Consult team with any questions or comments.
Contact Us