Trump's 2024 Primary Support Reaches New Heights After FBI Raid
58% of Republican voters said they'd back Trump in a hypothetical 2024 contest, up from 54% in July
Former President Donald Trump has used the intense investigative scrutiny he is facing to energize his supporters. It's working with Republicans, according to a new Morning Consult/Politico survey conducted after the Federal Bureau of Investigation's raid of his Mar-a-Lago home, but much of the broader electorate isn't buying his claims of a political "witch hunt."
Roughly 3 in 5 GOP Voters Now Say They'd Vote for Trump in 2024 Primary
Share of Republican voters who said they would vote for former President Donald Trump if the 2024 Republican primary were held today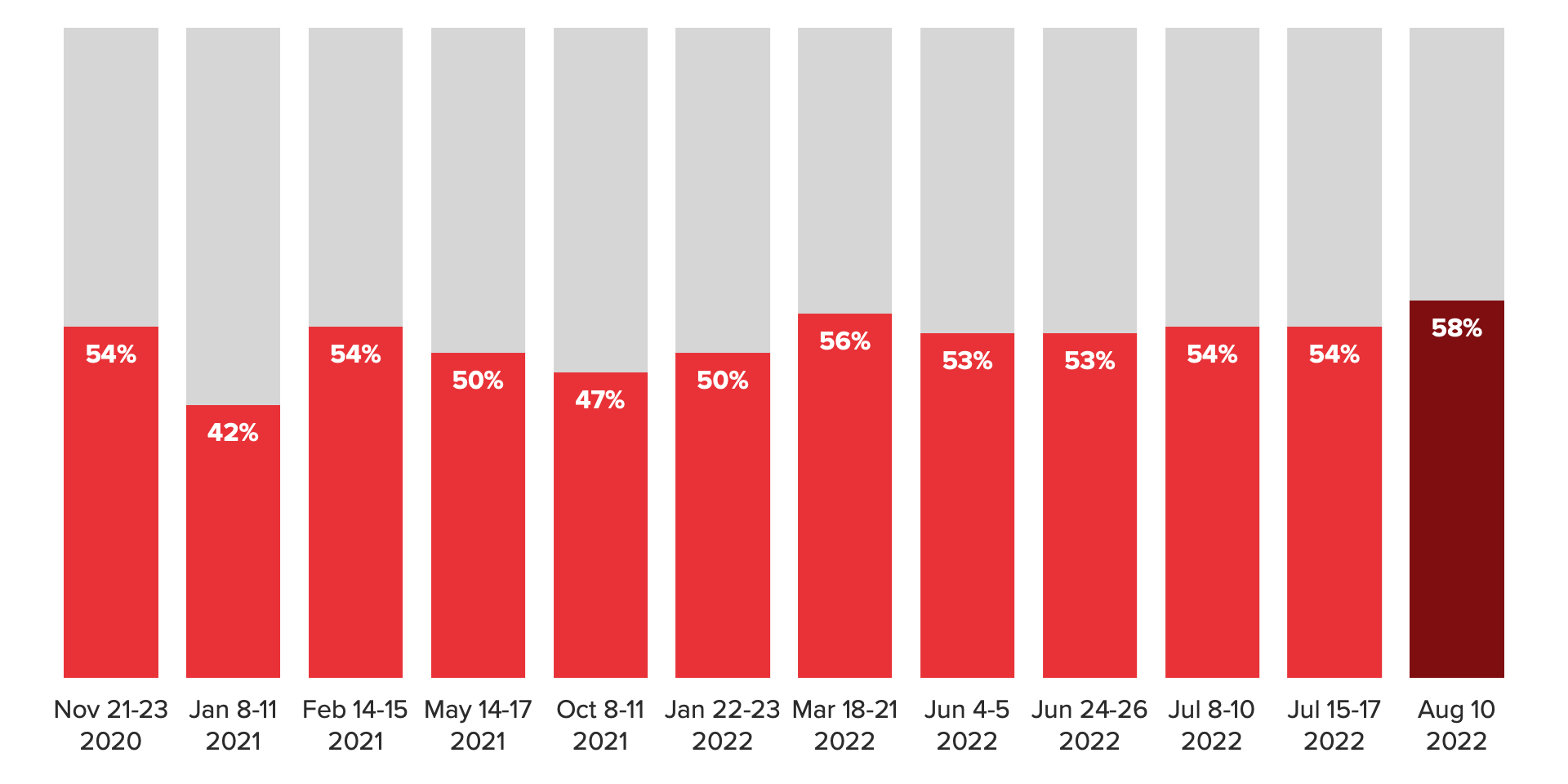 Surveys conducted among at least 332 Republican voters each, with margins of error of +/-4-5 percentage points.
Trump's 2024 standing after the FBI raid
In the Aug. 10 survey, 58% of Republican voters said they would support Trump if the 2024 Republican presidential primary were today, the highest on record since his 2020 loss. The share of support is up from 54% in July and 53% in June amid the high-profile congressional Jan. 6 hearings.
Trump's improvement has come to the detriment of Florida Gov. Ron DeSantis, whose 2024 support has slumped 5 percentage points since late July, to 16%.
Similarly, a record-high 71% of GOP voters say that Trump should run for president in 2024. 
How the FBI's activity is being framed
The FBI's activity on Monday in Palm Beach — acting on a warrant reportedly related to a probe involving Trump's handling of top secret documents — provided a dramatic picture of the unprecedented examination of a former president by federal, state and local investigators on the civil and criminal front.
Three in 4 voters said they had seen, read or heard at least something about the FBI's raid by the time of the survey, with little variation by political affiliation. In turn, most voters (54%) aligned with reporting that the search was related to mishandling of classified information, compared with 32% who thought it was related to Jan. 6 and 14% who said it was "something else." 
In a statement, Trump called the FBI's search an act of "political persecution" and a "Witch Hunt" designed to harm the political movement he leads. While much of the Republican electorate buys that charge, the message does not appear to have legs with the broader public.
Most Voters Don't Believe the FBI's Mar-a-Lago Raid Was Politically Motivated
Voters were asked if the FBI executed a search warrant at former President Donald Trump's Mar-a-Lago resort primarily because of…
Survey conducted Aug. 10, 2022, among a representative sample of 2,004 registered voters, with an unweighted margin of error of +/-2 percentage points. Figures may not add up to 100% due to rounding.
How voters feel about the FBI's raid
About half of voters (49%), including 81% of Democrats and 48% of independents, said the search of Trump's property was primarily due to evidence that he committed a crime. Roughly 4 in 10 voters (39%), driven by 69% of Republicans, said investigators were motivated to damage Trump's political career.
Voters are generally inclined to believe Trump is a criminal: 58% think he broke the law while he was president, including 90% of Democrats, 59% of independents and 24% of Republicans.
While House Minority Leader Kevin McCarthy (R-Calif.) has vowed to probe the FBI in retaliation for the raid, voters approved of the search by a 12-point margin (49% to 37%). And while 63% of Republicans say the raid was an abuse of power that should be investigated, 62% of Democrats say it was not an abuse of power. Independents were narrowly more likely to say that the raid was not an abuse of power than to say it was, 42% to 35%.
The latest Morning Consult/Politico survey was conducted Aug. 10, 2022, among a representative sample of 2,004 registered voters, with an unweighted margin of error of plus or minus 2 percentage points.
Eli Yokley is Morning Consult's U.S. politics analyst. Prior to his current role, Eli was Morning Consult's senior reporter covering U.S. politics. Eli joined Morning Consult in 2016 from Roll Call, where he reported on House and Senate campaigns after five years of covering state-level politics in the Show Me State while studying at the University of Missouri in Columbia, including contributions to The New York Times, Politico and The Daily Beast. Follow him on Twitter @eyokley. Interested in connecting with Eli to discuss his analysis or for a media engagement or speaking opportunity? Email [email protected].
We want to hear from you. Reach out to this author or your Morning Consult team with any questions or comments.
Contact Us