Fashion, Tickets to Concerts and Movies: Gen Zers Are Most Eager to Increase Their Spending on These Items
Consumers ages 13-24 also prioritize self-care, domestic travel and restaurants as pandemic restrictions begin easing
For some members of Gen Z, the time for browsing and window shopping is nearly over — they're ready to shop.
While the rising number of delta variant cases complicates the retail industry's path to recovery, one-third of Gen Zers are poised to increase their spending as pandemic restrictions are lifted, according to a recent Morning Consult poll, though some categories are better positioned to capture those pent-up dollars than others. 
Forty percent of the young generation said they anticipate spending more on clothes and accessories, the largest share of the dozen categories listed in the survey, which was conducted July 1-6 among 1,018 Gen Zers ages 13 to 24. 
"Gen Z cares about individuality and self-expression," said Jenna Isken, associate director of experience at Omnicom Group Inc. branding agency Siegel+Gale, whose work for brands such as Alphabet Inc.'s Google and Adobe Inc. focuses on digital strategies. "They want to find ways for that to come through in the way they dress, and now there's more opportunities for them to do so," given the recent loosening of dress codes in spaces such as schools and offices.
Thirty-six percent of Gen Zers said they'll increase their spending on concerts and movies as restrictions are removed, and 32 percent said they'll invest more in self-care, from therapy to gym memberships, according to the survey, which has a margin of error of 3 percentage points.
Domestic trips and meals at restaurants are also fairly high up on Gen Z's list of things to spend more on as the world reopens, although comfort levels with vacations and dining out among all U.S. adults have been declining for several weeks.
Matt Kleinschmit, founder and CEO of Reach3 Insights, which works with agencies and consumer-facing brands including Snap Inc. and Diageo PLC, said that during the pandemic, Gen Z consumers had plenty of time to reassess themselves as they were sequestered from their usual in-person activities such as work and school. 
That introspection resulted in a heightened concern about health and wellness, he said: Reach3's research found that 40 percent of Gen Zers were planning to increase their spending on self-care in the next six months, compared to 26 percent of the general population. 
With the rise of meditation apps and virtual fitness classes, digital-native Gen Zers are particularly well-suited to take advantage of these options while stuck at home, he said, and it appears those habits formed during the pandemic could stick around.
But Morning Consult's poll from last month suggests Gen Z, known for its obsession with technology, might not be so hooked to their devices as the pandemic wanes. Spending on streaming services noticeably trailed other categories, with 20 percent of Gen Zers planning to spend more on them, and the same share planning to spend less.
Streaming companies are already experiencing the negative effects of people resuming socializing and other activities in public, with subscription growth slowing down for Netflix Inc. and a quarterly decrease of roughly 1 billion viewing hours among Roku users, according to each company's latest earnings reports.  
To keep the attention of Gen Zers, these brands have to be proactive in connecting with consumers without being too disruptive or pushy in their marketing efforts, Isken said.
"This is a group that wants moments of organic creation of need," she said. "What I mean by that is that they'll sniff out inauthenticity, particularly because they all have degrees in Google sleuthing. You cannot pull one over on them."
Some Gen Zers, however, might be resistant to any efforts to encourage them to open their wallets.
While one-third of the up-and-coming generation said they plan to spend more as restrictions are lifted, a similar share (29 percent) said they don't plan to change their spending at all, and 22 percent said they'll spend less, according to the Morning Consult survey.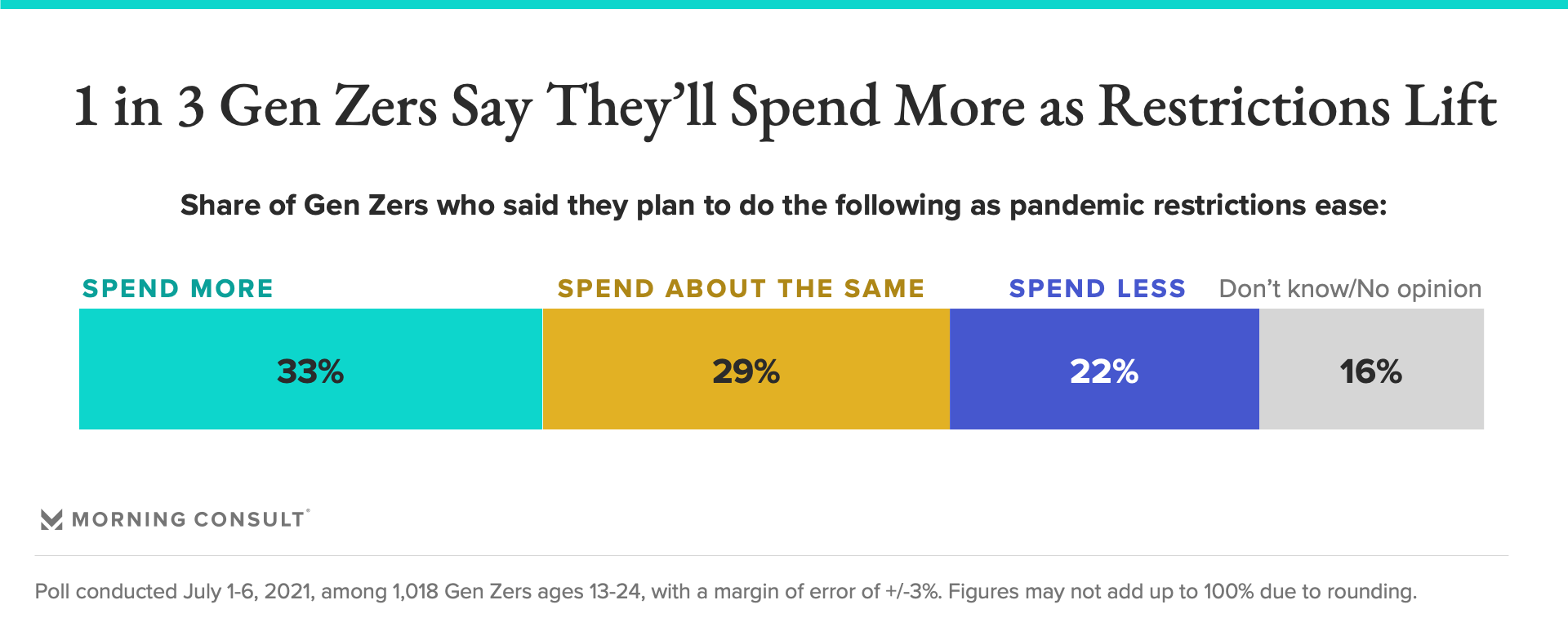 The data also comes with a caveat that many have become familiar with over the course of the pandemic: The situation regarding COVID-19 cases and subsequent restrictions on public activities is rapidly changing. With the delta variant sparking a new wave of uncertainty, its potential impact on spending, especially among Gen Zers, is yet to be seen.
"That's the billion-dollar question," Isken said. "Gen Z is trying to figure out so many curveballs that have been thrown at them. They don't want to commit to anything, because they don't know what is going on."
For the teens and early 20-somethings, the pandemic came at a time when their lives were likely in flux anyway, Isken said. Some might have been moving away for home, or starting college and new jobs. Others found themselves moving back in with their parents, without a job straight out of school or suddenly taking classes online. 
Perhaps that's why, when thinking about their spending habits from the height of the pandemic, Gen Zers were fairly evenly split. While 32 percent said they're spending more now than they were when COVID-19 cases were peaking, roughly the same share (29 percent) said they're spending less.
The split is slightly bigger when it comes to spending now versus before the pandemic, but not by much: 31 percent of Gen Zers said they spend more money now than they did before COVID-19 hit the United States, and roughly 1 in 4 (26 percent) said they now spend less. 
Those numbers are roughly in line with the shares of all U.S. adults who said they're spending more (27 percent) and less (24 percent) since the coronavirus first spread around the country, as of Morning Consult's latest Return to Normal trend survey. 
Alyssa Meyers previously worked at Morning Consult as a reporter covering brands and marketing.
We want to hear from you. Reach out to this author or your Morning Consult team with any questions or comments.
Contact Us