GOP Governors' Interstate Migrant Maneuvers Divide Voters
There's no consensus among voters regarding whether the expulsion of migrants to blue states is appropriate, moral or effective
Voters are split on whether moves by Republican governors such as Ron DeSantis to send undocumented migrants to liberal enclaves are appropriate or even moral, according to a new Morning Consult/Politico survey, which saw the Florida governor's standing in a hypothetical 2024 presidential contest modestly improving.
Electorate Split on Propriety of GOP Governors' Migrant Expulsions
2 in 3 GOP voters said it's appropriate that some Republican governors have sent thousands of migrants to liberal states and cities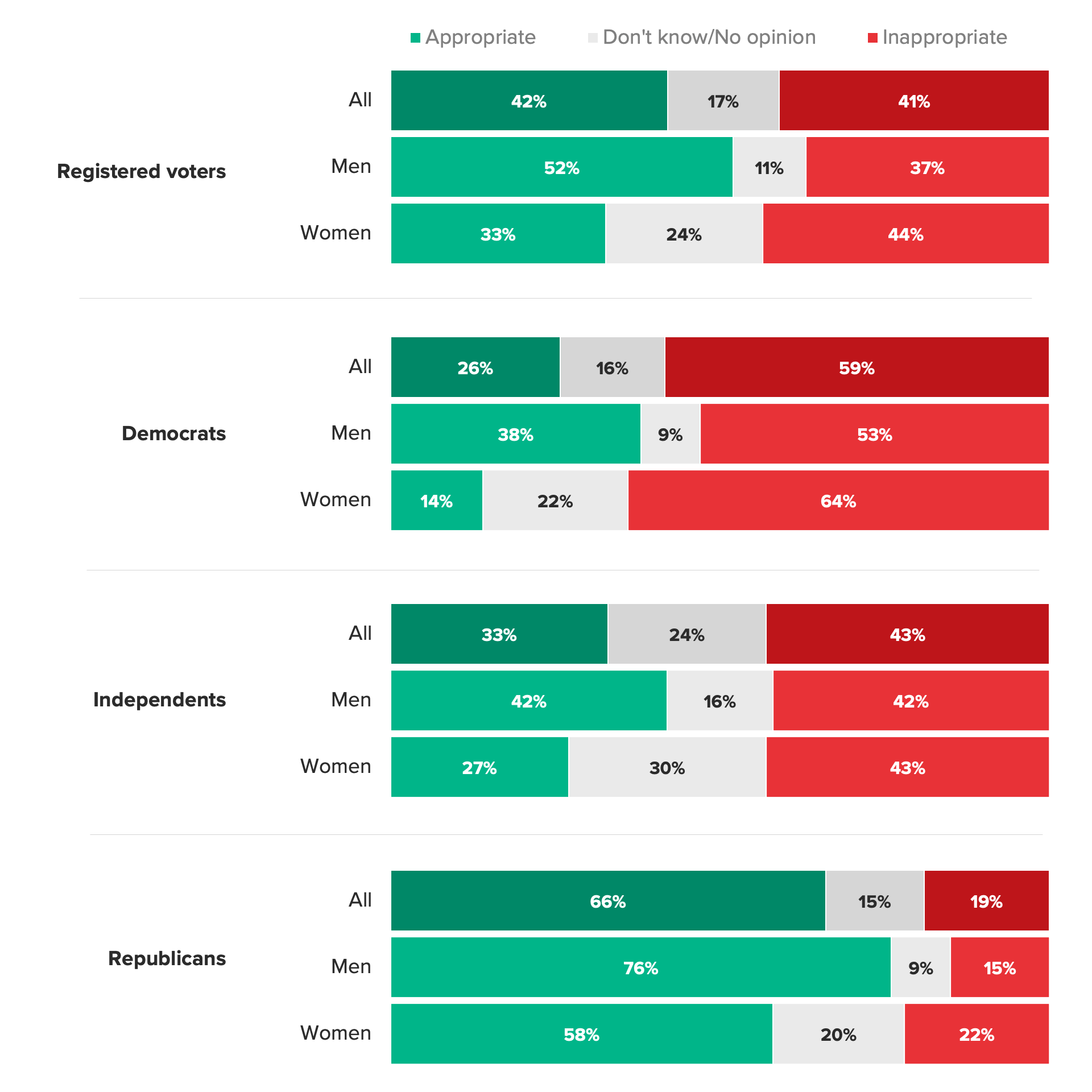 Survey conducted Sep. 16-18, 2022, among a representative sample of 2,005 registered voters, with an unweighted margin of error of +/-2 percentage points. Figures may not add up to 100% due to rounding.
How voters feel about the transport of migrants to liberal places
Roughly 2 in 5 voters said it was appropriate (42%) for Republican governors to move thousands of immigrants from border states to more liberal enclaves, while 41% who said it was inappropriate. The figures are in line with voters' views on whether the actions were moral. 
The survey found that regardless of party affiliation, men were more likely than women to say the governors' actions were appropriate or moral.
The bulk of voters (44%) described the movement of migrants and asylum seekers to blue states as "ineffective for addressing immigration reform," compared with 38% who said it was effective.
Immigration's midterm salience
Republican Govs. Greg Abbott of Texas and Doug Ducey of Arizona have made news in recent months by moving undocumented migrants from their states to bluer pastures. Last week, DeSantis found a way to join that conversation: Planes chartered by Florida's government picked up a group of mostly Venezuelan migrants in Texas and flew them to Martha's Vineyard, an upscale summer island hangout for the wealthy. That, coupled with his own apparent presidential ambitions, drew scrutiny from the press — and he's suggested that similar ploys may be in the offing.
After the Martha's Vineyard drop-off, roughly 2 in 5 voters (39%) said they saw, read or heard "a lot" about the interstate migrant transfers by Republican governors, more than the 3 in 10 who heard the same about last week's inflation report. 
The White House has panned the governors' actions, which have left migrants stranded in places such as New York City and Washington, D.C., as "cruel" political stunts. But the governors' moves have turned the national conversation toward immigration and more favorable ground for the Republican Party ahead of the midterms, with Democrats in Congress seeing their trust deficit on the issue worsen over the past month. 
Still, it's not clear that the Martha's Vineyard incident had a material impact on what voters are hearing about the topic, or how important it is to their vote in November, according to Morning Consult's midterm elections tracker.
That could change, especially if the GOP is able to elevate the recent report of record arrests at the U.S.-Mexico border. But setting that question aside and looking toward 2024, DeSantis' latest machinations provide more evidence that the Florida governor seeks to corner the segment of the GOP base that handed Donald Trump the nomination in 2016.
GOP Support for Trump 2024 Bid Declines From Post-FBI Raid High
Share of Republican voters who said they would vote for the following candidates if the 2024 Republican presidential primary were held today: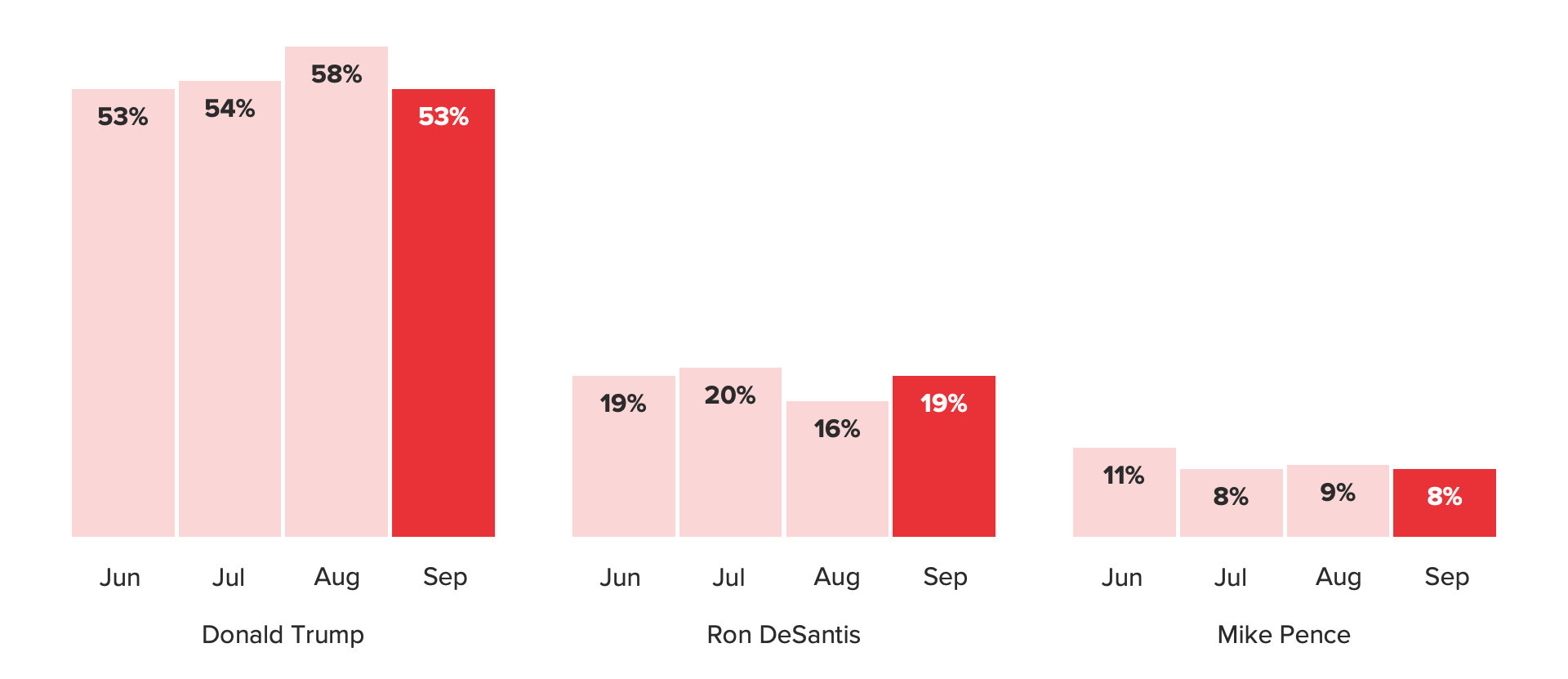 Roughly a dozen other potential candidates were also included in the surveys.
Monthly averages taken from surveys conducted among at least 694 Republican voters each in 2022, with unweighted margins of error of +/-4 percentage points.
How voters see DeSantis and 2024
About 1 in 5 Republican voters (19%) said they would back DeSantis in a hypothetical 2024 primary, up from 16% in two August surveys. It puts him in second place behind Trump, the party's presumptive 2024 front-runner. 
More Republican voters have become aware of DeSantis this year as he's gone after Democrats on a range of issues, including immigration and culture war topics such as race and LGBT rights. The share of GOP voters who have yet to form views about him fell from 36% in January to 26% in the latest survey, while 58% view him favorably — up from 51% at the beginning of the year.
Trump is backed for another run by 53% of Republican voters, down from a 58% high set last month in the aftermath of the FBI's raid at his Mar-a-Lago home. 
The latest Morning Consult/Politico survey was conducted Sept. 16-18, 2022, among a representative sample of 2,005 registered voters, with an unweighted margin of error of plus or minus 2 percentage points.
Eli Yokley is Morning Consult's U.S. politics analyst. Eli joined Morning Consult in 2016 from Roll Call, where he reported on House and Senate campaigns after five years of covering state-level politics in the Show Me State while studying at the University of Missouri in Columbia, including contributions to The New York Times, Politico and The Daily Beast. Follow him on Twitter @eyokley. Interested in connecting with Eli to discuss his analysis or for a media engagement or speaking opportunity? Email [email protected].
We want to hear from you. Reach out to this author or your Morning Consult team with any questions or comments.
Contact Us