Net Neutrality Important to Democratic Voters -- but Not to Democratic Campaigns
59% of Democrats say the issue plays a significant factor in deciding whom to vote for in the midterm elections
Key Takeaways
54% of voters ages 18-29 say a candidate's support for net neutrality is somewhat or very important when determining their vote, up from 49% in a May poll.

58% of registered U.S. voters say they support net neutrality.
After the Federal Communications Commission's Republican majority voted in December 2017 to repeal Obama-era net neutrality rules that prohibited internet service providers from blocking online content, Democratic lawmakers' efforts to undo the repeal have faded, with one attempt passing the Senate in May but stalling in the House.
And with only a few weeks to go to the midterm elections, the issue of net neutrality is absent from many Democratic candidates' campaigns, which are largely focused on topics such as immigration, health care and President Donald Trump.
But a new Morning Consult/Politico survey shows that support for net neutrality remains strong among Democratic voters, although it's uncertain whether that support is enough to get people to vote.
The survey, conducted Oct. 11-14 among a national sample of 1,959 registered voters, found 59 percent of self-identified Democratic voters considered support for net neutrality to be a somewhat or very important factor when deciding which candidate to support during the midterm elections -- a figure that was unchanged from polling conducted May 17-19. Among all voters in the latest survey, 50 percent said the issue would be an important consideration when choosing a candidate.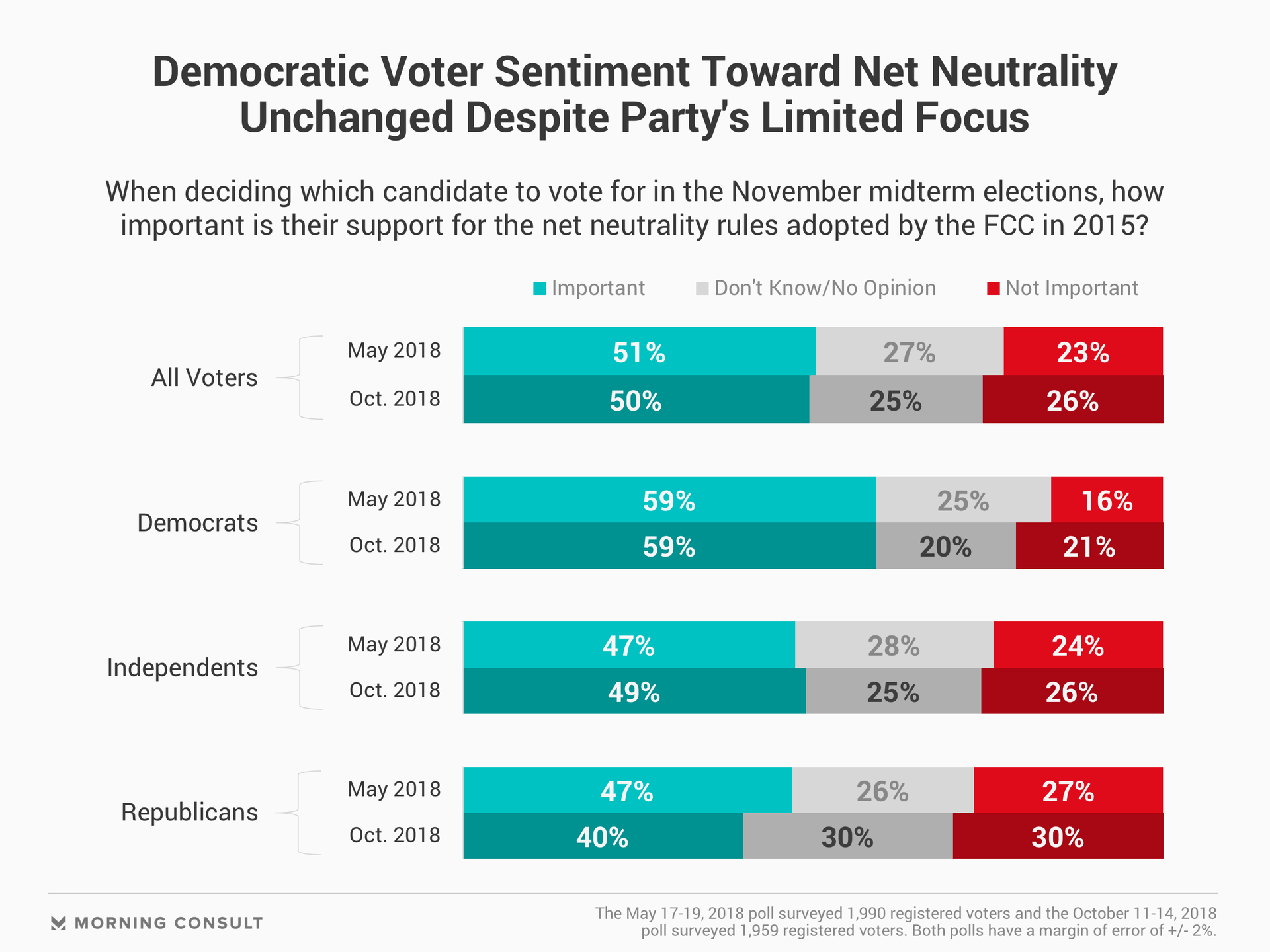 The survey also found that 61 percent of Democratic voters backed net neutrality, just above the 58 percent of all registered voters said the same.
The issue is important to 54 percent of voters ages 18-29 as well, an increase from the 49 percent of such voters who were asked the same question in May, but turnout from young voters tends to be smaller compared to turnout from older age groups. Both polls have a margin of error of plus or minus 2 percentage points.
Chris Lewis, the vice president of Public Knowledge, a public-interest advocacy group that supports net neutrality, said the public's support for net neutrality shows that candidates who support the Obama-era rules could benefit in the voting booth.
"Net neutrality hasn't gotten a lot of headlines in the last few months, so for a new candidate, that's why they might not dive into it," Lewis said in a Tuesday phone interview. "The ones who have though are smart, because there's a lot of support for it."
Josh Harder, the Democratic challenger to GOP Rep. Jeff Denham in California's 10th Congressional District, called net neutrality "an important mobilizer for younger voters."
"Making sure that we're talking to them about an issue that really has a lot of resonance is really impactful," Harder, who has included net neutrality as part of his campaign platform, said in a Saturday phone interview. The Denham-Harder race is rated a "tossup" by Sabato's Crystal Ball as of Thursday.
But most Democratic candidates aren't highlighting the issue in their campaigns as they choose to prioritize other, more immediate concerns for voters, Democratic strategists say. 
"Democrats are simply meeting voters where they are," Jeb Fain, communications director for the pro-Democrat House Majority PAC, said by email Wednesday. "It's not that net neutrality isn't an important issue – it absolutely is, and it has a place in the conversation. That said, health care is the overriding top concern of voters in district after district."
And a belief that net neutrality support is important for choosing a candidate may not translate into enthusiasm or votes.
"It's frustrating, quite frankly, because it's an issue that we should be able to win on," Achim Bergmann, a Democratic strategist and partner at Bergmann Zwerdling Direct, said by phone Wednesday. "But it's not something that people bring up in their top list of concerns, and it's not something that they're getting riled up about and emotional about at the moment."
California Gov. Jerry Brown (D) signed legislation at the end of September that would have restored net neutrality protections across the state, but the Department of Justice quickly filed suit to block the law.
Harder said the confrontation between California and the DOJ has the potential to further stoke voter passions about net neutrality.
"The reality is that some voters, at least, are able to connect that and say 'OK, well that means that the only way we're going to be able to make permanent progress on this issue is if we elect members of Congress who are going to fight for it,' " Harder said.
Edward Graham previously worked at Morning Consult as a reporter covering tech.
We want to hear from you. Reach out to this author or your Morning Consult team with any questions or comments.
Contact Us