Pentagon Leak Causes Concern in South Korea, but Few Want Change in U.S. Relationship
More than half of South Korean adults also say U.S. snooping on allies is expected
For the latest news and analysis on how business, politics and economics intersect around the world, sign up for our daily global news briefing.
More than three-quarters of South Koreans are concerned about leaked Pentagon documents showing that Washington spies on Seoul, but a majority believes such behavior is expected and few want to see a change in their country's relationship with the United States, according to a Morning Consult survey.
Despite Concern Over Leaks, Few South Koreans Want Change in U.S.-South Korea Relationship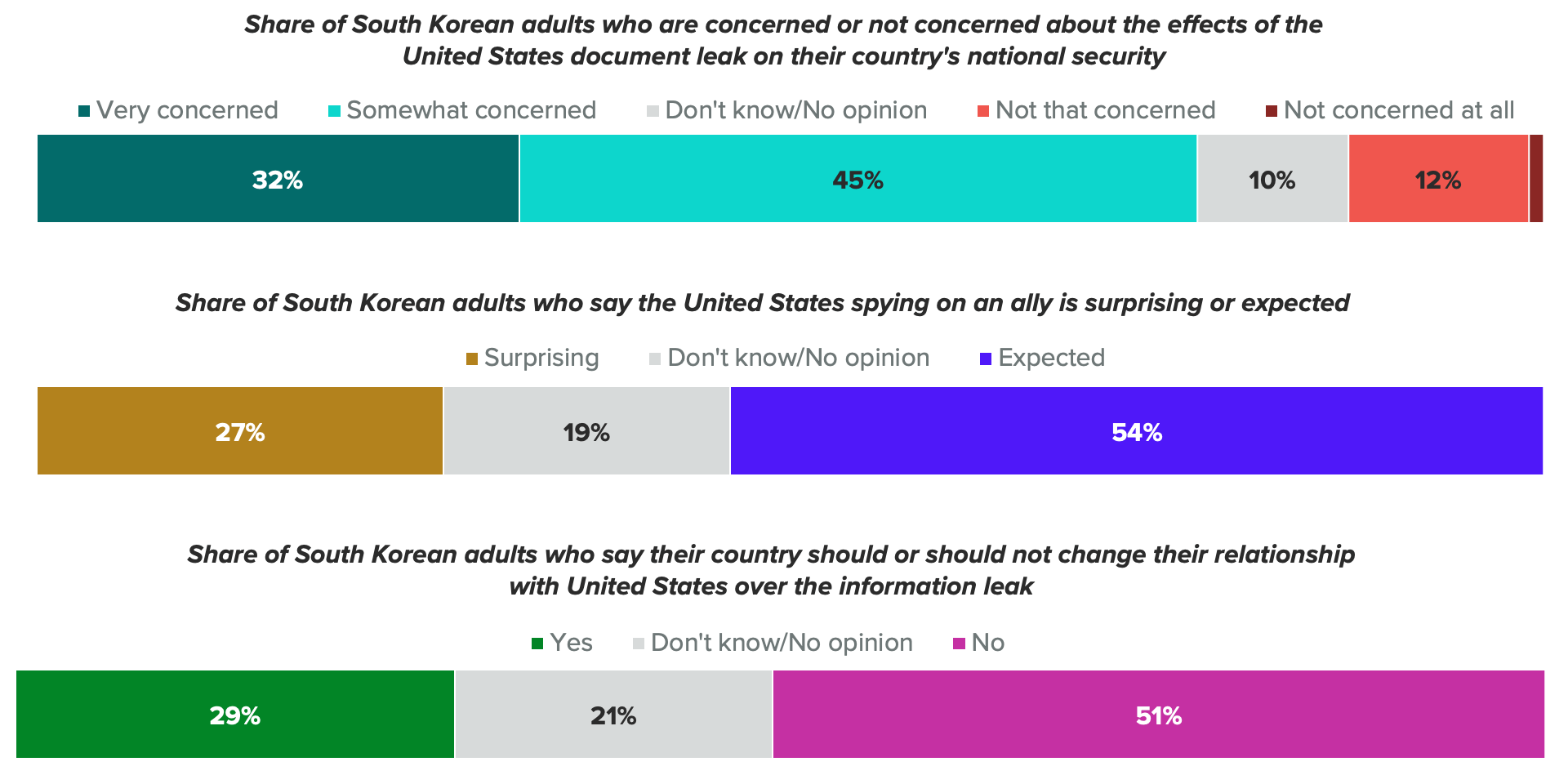 Survey conducted from April 21-23, 2023, among a representative sample of 1,000 adults in South Korea, with an unweighted margin of error of +/-3 percentage points. Figures may not add up to 100% due to rounding.
Many South Koreans aren't surprised by the spying revelations 
An overwhelming 77% majority of adults in South Korea say they're at least somewhat concerned about the effects of the leak of highly classified U.S. documents on their country's national security. The leak by Massachusetts Air National guardsman Jack Teixeira suggests that the United States spied on senior Korean officials as they debated arming Ukraine in its war against Russia.
Despite widespread concern in South Korea, the news is hardly earth shattering: 54% view such behavior as expected from the United States and only 27% say it's surprising. South Koreans may not have taken the news with much shock because Edward Snowden's leaks in 2013 already revealed that the United States had wiretapped the South Korean embassy in Washington.  
Furthermore, just 29% of South Koreans say their government should re-evaluate its relationship with the United States.
Spying concerns didn't dampen Yoon-Biden summit
While the revelations of U.S. snooping earlier this month had cast concern over South Korean President Yoon Suk-yeol's state visit to Washington, the trip appears to have gone off without a hitch. South Korea laid the groundwork by downplaying the revelations, with Seoul's deputy national security director saying ahead of the trip that there was no evidence of "malicious intent," according to the Associated Press. 
Yoon and President Joe Biden reached a major agreement to counter North Korea's nuclear threat, and they demonstrated considerable personal rapport to boot. Yoon even sang a few bars of "American Pie" for Biden during a state dinner on Wednesday night. 
The survey was conducted April 21-23, 2023, among a representative sample of 1,000 adults in South Korea, with an unweighted margin of error of +/-3 percentage points. 
Matthew Kendrick previously worked at Morning Consult as a data reporter covering geopolitics and foreign affairs.
We want to hear from you. Reach out to this author or your Morning Consult team with any questions or comments.
Contact Us