Democratic Voters' Enthusiasm for Midterms Spikes in Wake of Supreme Court's Abortion Ruling
But Republicans remain slightly more likely to express excitement about voting in November
Democratic voter enthusiasm for participating in the midterm elections this November has increased, according to a new Morning Consult/Politico survey, following last week's Supreme Court decision to overturn the Roe v. Wade ruling that's protected abortion rights nationwide for 49 years. 
Midterm enthusiasm following Supreme Court's striking of Roe
According to the June 24-25 survey conducted after the court's ruling, 56% of Democratic voters said they are "extremely" or "very" enthusiastic about voting in the midterm elections, up from 48% in a survey conducted June 17-20. That week-over-week increase represents a slightly larger enthusiasm boost than was measured after the court's draft Roe decision leaked in May.
The level of enthusiasm on the left is slightly less than the share of Republicans (58%) who expressed the same excitement about voting. The small margin is a relative rarity: In dozens of surveys conducted since September, Republicans have typically maintained a larger advantage on the question.
Women (44%) remain less motivated to vote in November than men (61%), though both figures increased from the previous survey.
The Roe decision's impact on the midterms
While the ruling appears to have caused a jolt, Republicans' persisting enthusiasm edge suggests the decision may not be the game-changer that Democrats need to keep control of Congress past 2022. However, the longer-term political impact of the Supreme Court's decision will take time to flesh out. 
Just over 2 in 5 voters (41%) said they had seen, read or heard "a lot" about the news over the weekend, including 46% of Democrats and 40% of Republicans. As more voters become aware of the decision, many will also face the repercussions of state-led policies to restrict access to the medical procedure.
The striking of Roe could potentially put the GOP in uncomfortable territory with an electorate that generally supports abortion rights, including with voters not aligned with either political party whom Republicans are banking on to help them flip the House and Senate this fall.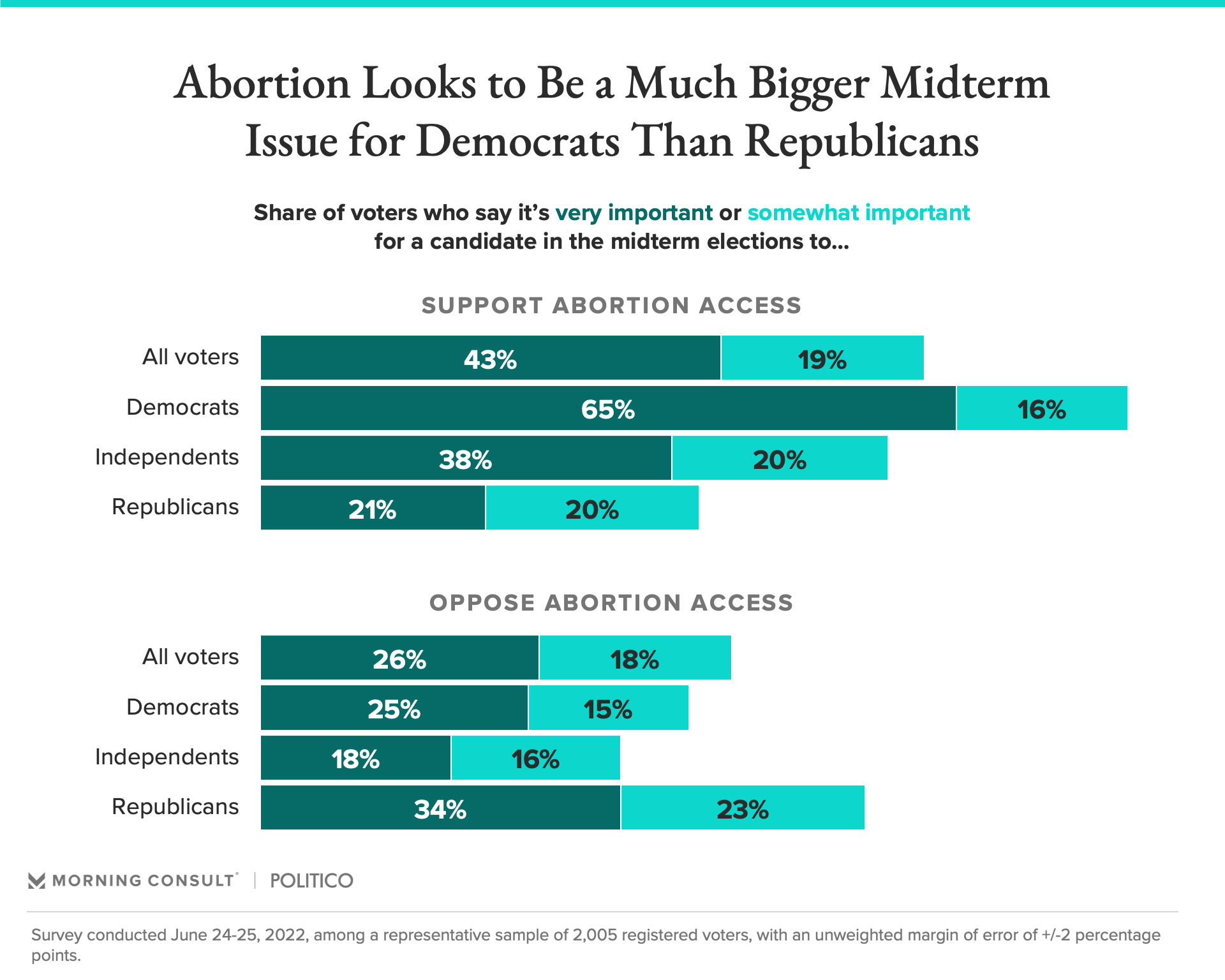 Three in 5 voters – including 59% of independents – said it is very or somewhat important for a candidate in the midterm elections to support abortion access, compared with 44% who said it's equally important to oppose abortion access.
Democratic voters (65%) were nearly twice as likely to say it's "very" important for candidates to support abortion access as Republicans (34%) were to say it's "very" important to oppose it, suggesting the issue could be a bigger base motivator for President Joe Biden and his party than the Republican Party.
Democrats have a narrow, 45% to 42%, advantage over Republicans when voters were asked which party's candidates they plan to vote for in the midterm elections, compared with a 42%-42% split the previous week.
The latest Morning Consult/Politico survey was conducted June 24-25, 2022, among a representative sample of 2,005 registered U.S. voters, with an unweighted margin of error of plus or minus 2 percentage points.
Eli Yokley is Morning Consult's U.S. politics analyst. Prior to his current role, Eli was Morning Consult's senior reporter covering U.S. politics. Eli joined Morning Consult in 2016 from Roll Call, where he reported on House and Senate campaigns after five years of covering state-level politics in the Show Me State while studying at the University of Missouri in Columbia, including contributions to The New York Times, Politico and The Daily Beast. Follow him on Twitter @eyokley. Interested in connecting with Eli to discuss his analysis or for a media engagement or speaking opportunity? Email [email protected].
We want to hear from you. Reach out to this author or your Morning Consult team with any questions or comments.
Contact Us