Ukrainians Identify Strongly With the West, and a Majority Would Vote to Join NATO
Ukrainians reject Putin's claims their independence was a bureaucratic mistake and identify strongly with the Western world
A majority of Ukrainians would vote to join NATO if a referendum were held today, according to a Morning Consult survey fielded in the country following Russia's invasion, and the population is four times more likely to describe itself as Western-aligned than Russian-aligned.
Slim Majority of Ukrainians Would Vote to Join NATO in a Referendum
Ukrainian adults were asked how they would vote if a referendum on Ukraine's NATO membership were held today
Survey conducted Feb. 24-March 1, 2022, among a representative sample of 829 Ukrainian adults, with an unweighted margin of error of +/-3 percentage points.
On the numbers
A slim majority (53 percent) of Ukrainian adults would vote to join NATO if a referendum were held today, according to a Feb. 24-March 1 survey. However, respondents who took the survey in the Russian language were split, with 38 percent in support of joining the Western alliance and 41 percent opposed. Two-thirds of those who answered in Ukrainian would vote in favor.
Russian President Vladimir Putin justified the invasion of Ukraine by characterizing it as an accident of history, citing early Soviet decisions he says bureaucratically separated it from Russia. But just 9 percent of Russian speakers surveyed in Ukraine say they identify as "Russian," while 58 percent identify as "Ukrainian" and 28 percent claim both identities.
A 56 percent majority of Ukrainians say they were more aligned with Western interests than Russian, compared to 13 percent who chose Russian. Among Russian speakers, 42 percent said they identified with Western interests, compared to 18 percent who said they identified with Russian interests.
Three in 4 Ukrainians disapprove of Putin's handling of foreign policy in Ukraine and Eastern Europe, including 64 percent of Russian speakers, and two-thirds say he holds a "great deal of responsibility" for the situation in Ukraine, compared to 29 percent who say the same about U.S. President Joe Biden.
The big picture
The images of ordinary Ukrainians from all walks of life preparing Molotov cocktails and strapping Kalashnikovs to their backs to defend their democracy has done much to neutralize Putin's claims about Ukraine's identity, and the surveys completed by Morning Consult in Ukraine show its people identify much more strongly with Western interests than Moscow's.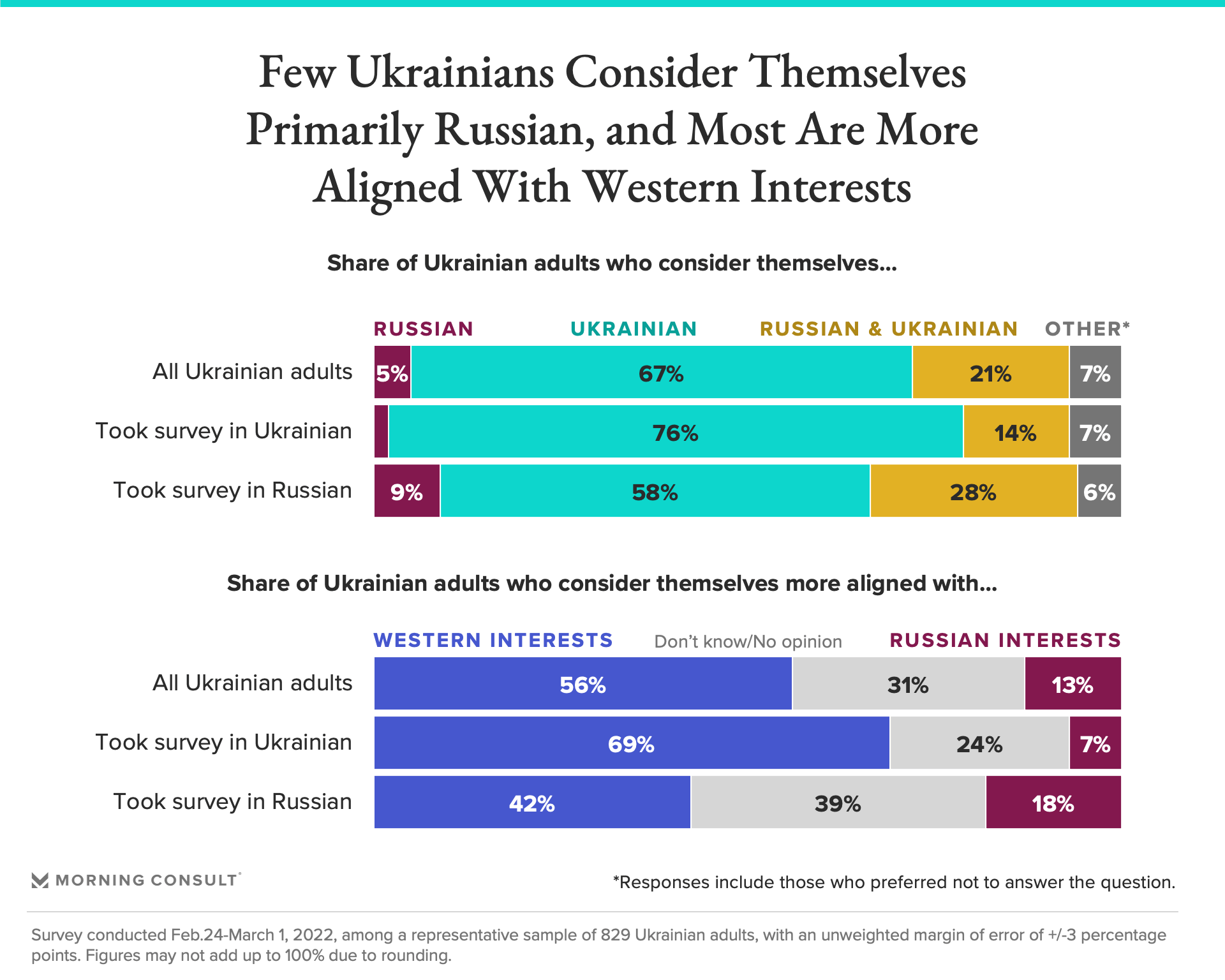 Ukrainians are also clear about who they feel is responsible for upending their lives with war: Nearly two-thirds say Russia catalyzed the crisis with its provocative actions compared to just 17 percent who blamed NATO for infringing on Moscow's sphere of influence. 
Western leaders are largely backed by the Ukrainian public, with majorities saying they approve of how Biden, French President Emmanuel Macron and British Prime Minister Boris Johnson have led over the past months. German Chancellor Olaf Scholz, whose government has been markedly more hesitant to strike hard stances against Russia, received 48 percent approval on his handling of the crisis. 
However, Ukrainians are not entirely prepared to let the West off the hook, with 53 percent saying the United States did not do enough to prevent a Russian invasion and 59 percent saying the same about NATO and the European Union. 
Ukrainians reserved their highest admiration for their President Volodymyr Zelenskyy, with 62 percent expressing approval of his handling of their nation's life-or-death situation. Zelenskyy delivered an impassioned speech to the European Parliament via video call on Monday in which he called for the bloc to immediately accept Ukraine as a member, citing the sacrifice of his nation's people on the battlefield to defend the union's democratic values.
What else you need to know
Morning Consult's survey was in no way exempt from the chaos of war: Following the imposition of U.S. and European sanctions on the Donetsk and Luhansk regions declared independent by Putin, fielding operations were shuttered, though not before questionnaires from 392 people in those areas had already been completed. Morning Consult also decided to pull the survey out of the field early due to a significant drop in responses on Feb. 28 as the situation in Ukraine deteriorated further.
The Morning Consult survey was conducted Feb. 24-March 1, 2022, among a representative sample of 829 adults in Ukraine, with an unweighted margin of error of plus or minus 2 percentage points.
Matthew Kendrick previously worked at Morning Consult as a data reporter covering geopolitics and foreign affairs.
We want to hear from you. Reach out to this author or your Morning Consult team with any questions or comments.
Contact Us