What the Public Thinks of AI's Potential Future in Hollywood
Americans are mostly split on whether AI-produced entertainment will have a negative or positive impact, per a new Morning Consult survey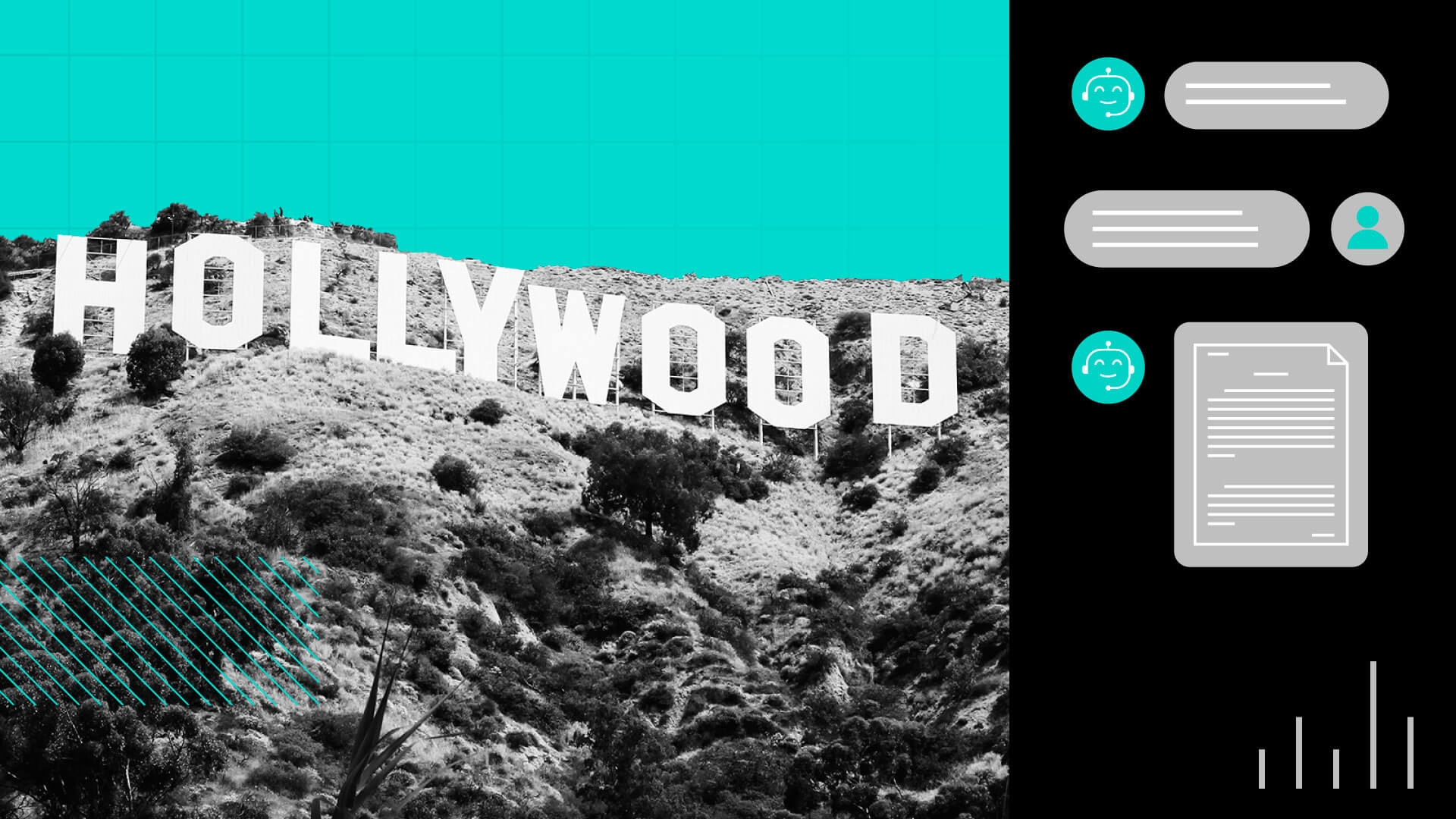 This story is part of Morning Consult's ongoing coverage of generative artificial intelligence, aimed at creating a foundational understanding of consumer attitudes on the emerging technology.
Read more of our coverage: Anxiety Over AI | AI Awareness | AI Marketing Language
Key Takeaways
Only 27% of U.S. adults said AI-written movies will have a positive impact on the industry. 

More than half of millennials (54%) are interested in watching a movie or TV show written partially by AI.

65% of U.S. adults are concerned about deepfakes being mistaken as real images and videos of public figures that misrepresent or defame them in some way. 
Artificial intelligence has finally come to Hollywood — and not just as plot points in the movies you watch. 
Discussions about how the emerging technology will impact production and content creation in the entertainment industry are dominating boardrooms and writers' rooms in Los Angeles and New York as tools like Open AI's ChatGPT, Google's Bard and Dreamix display potential to assist — or even completely take over — tasks ranging from video editing to screenwriting to voice acting. Mainstream Hollywood content made in part or entirely by artificial intelligence is a near-future possibility. 
Americans are somewhat divided on if that's a good or bad thing, according to a new Morning Consult survey. About 2 in 5 U.S. adults (42%) said AI-generated movies will have a negative impact on the industry, compared with 27% who think the opposite. Younger Americans were generally more interested in and favorable to the idea of AI-produced art than their older counterparts.  
"I don't really consider AI to be a threat to writer primacy in the present day," Marc Guggenheim, writer, producer and co-creator of hit TV shows like the CW Network's "Arrow" and "Legends of Tomorrow," told Morning Consult. "I'm still forcing myself to wrap my brain around and get comfortable with the idea that AI could potentially be a tool." 
The Writers Guild of America proposed last month that writers can use AI tools to write scripts as long as it does not impact writers' credits or residuals. The proposal would treat ChatGPT like a tool similar to the software application Final Draft, though the proposal does not explicitly address a situation in which an AI program writes a script entirely by itself.  
Guggenheim said it's difficult to predict how AI will ultimately be used in the industry since it's still in the early stages. 
"One thing we've seen is that it actually grows much faster and gets much better and quicker than any of us have been able to anticipate," he said. "It's all well and good to use it as a tool today, but we need to be constantly vigilant about how it's going to affect writing tomorrow."
Perhaps no one is as attuned to the potential benefits and dangers of artificial intelligence than Damon Lindelof and Tara Hernandez, creators of Peacock's new sci-fi series "Mrs. Davis," a genre-spanning dramedy about a nun who wages war against a seemingly benevolent AI.
"People can write a term paper or write an obituary for a loved one. People can file their taxes and all these things," Lindelof said of AI's uses. "What went from being very difficult to explain became intuitive in the course of a month. It's no longer theoretical and it's here — and along with it comes the anxiety." 
As a way of jokingly incorporating AI into their own creative process, the "Mrs. Davis" writers room designed their own crude AI program (which named itself "Larry Bel-Air") to generate the show's episode titles. Spoiler alert: They don't make any sense. The pilot, which was released on Peacock last week, is titled "Mother of Mercy: The Call of the Horse." Though the "Mrs. Davis" experiment was tongue-in-cheek, it's easy to see how something similar could be used in more serious ways.
"We are leaning into AI more than ever as a way to help us navigate our lives," Hernandez said. "We're turning to it to recreate life's miracles. Despite all that, we still have the same concerns that anyone who's depicted AI as nefarious has."
America's thoughts on AI-infused entertainment
Americans Are Split on Impact of AI-Generated Content on Entertainment Industry
The shares of respondents who said they think the following will have a positive or negative impact on their respective industries:
Survey conducted April 5-8, 2023, among a representative sample of 2,201 U.S. adults, with an unweighted margin of error of +/-2 percentage points. Figures may not add up to 100% due to rounding.
About a quarter (26%) of adults said AI-written TV shows will have a positive impact on the industry, per the Morning Consult survey, which was conducted earlier this month. Millennials, at 40%, were much more positive about the technology's impact than was the general population.
Kaaveh Shoamanesh, CEO of technology platform Plaiced, which uses an AI algorithm to help advertisers reach online communities, said the immediate reaction he receives from writers and directors about AI is concerns about their livelihood. 
"They can't get off the fact that they would be threatened to use AI as an assistant," Shoamanesh said. "Because they think eventually, it will gain enough traction to replace them and are weary that it would reduce their salary or make them disposable."
The legal implications of using AI to produce content will likely be tricky for companies to navigate. Shoamanesh said studios that want to consider using AI to write a script might have to deal with allegations of plagiarism, for instance, since there is the possibility of the technology pulling from existing works that already have rights.
"If someone else can prove [plagiarism], there's no way of them knowing until it comes out how many laws might have allegedly been broken," he said. 
Tim Friedlander, president of the National Association of Voice Actors (NAVA) and an actor whose voice credits include "One Punch Man" and "The Minions of Midas," said his main concern is tech companies' training AI to use actors' voices without proper compensation or without permission, which are in some contracts.
"Voice actors get paid off licensing our voice," Friedlander said. "If somebody has our voice, and they can just use it for free, then that puts us out of business." 
He said NAVA's goal is to help educate actors on the technology. The group wrote guidelines on identifying the risks of AI technology and creating contract clauses that protect members from it.
"We're not anti-technology, we're not anti-AI — we're pro-voice actor," Friedlander said. "We want to have the ability to work in this medium and help this technology grow, but not at the expense of artists, which is what it feels like." 
Rudy Gaskins, co-founder, chairman and CEO of the Society of Voice Arts and Sciences, echoed Friedlander's concerns, saying he's working on how his organization can address AI through panel discussions and by inviting professionals to speak at their events. 
"It's the only way to stay aware of what's going on and to prepare for it, because AI is here," Gaskins said. "It's going to evolve. It's going to be a force, and we'll have to adapt to it."
Brandon Jarratt, executive board member of the Animation Guild and a technical director at Walt Disney Animated Studios who worked on films like "Moana" and "Encanto," said the guild recently launched an AI Task Force. 
"Members have expressed concern about the future impact of AI on the animation industry," Jarratt said. "The board has a responsibility to investigate how to protect the membership from the potential negative effects of automation and explore the ethical implications and potential drawbacks of using these techniques."
The task force will have its first meeting in May, with plans to meet regularly throughout the next six months, he said.
The potential of AI moviemaking 
Others are trying to figure out how AI can improve their work. Director and producer Jim Morrison IV, who uses AI for previsualization, storyboards and pitch decks in his projects, said the technology could be particularly helpful on independent films, which aren't backed by major production companies and might not have the funds for human storyboard or concept artists. 
"If a creative is able to figure out a way to use AI as a tool rather than as competition, they're going to be much more successful," Morrison IV said. 
Millennials, Gen Zers Are Driving Interest in AI-Generated Entertainment
The shares of respondents who said they would be interested in watching or reading the following:
Survey conducted April 5-8, 2023, among a representative sample of 2,201 U.S. adults, with an unweighted margin of error of +/-2 percentage points. Figures may not add up to 100% due to rounding.
Americans are skeptical about consuming AI-generated content. Morning Consult data found that 38% of adults said they would be interested in watching a movie or TV show written entirely by AI, while 41% said they would be interested in watching a movie or show that was partially written by AI. 
Millennials, however, were more interested, followed by Gen Zers. Gen Xers and baby boomers were significantly less likely to report interest in watching content made with the technology. 
"Today's generation have filters on Instagram from a young age, and that's like a proxy of AI, so I think the gateway is already there," Morrison VI said. "It's more of a curiosity, but the appreciation for what AI has to offer is stronger among the younger crowd."
A video reimagining the characters of Harry Potter in a Balenciaga campaign recently went viral, while an animated short film titled "Critterz" released earlier this month garnered some headlines. But there aren't yet any major pieces of Hollywood content created by artificial intelligence. At least, none that we know of. 
"Fully AI-generated entertainment content will not be the best entertainment out there," said Alex Perks-Stern, CEO of Waymark, an AI platform that helps with video creation and production. "We definitely believe that the best work will be done by humans using AI."
Celebrity deepfakes remain a major concern
Outside the content creation space, the industry remains very concerned with the rise of deepfakes, or digitally altered images and videos that can graft someone's face onto another's. While they can potentially target anyone, famous people have to be the most weary.
Most Americans Are Concerned About Deepfakes
The shares of respondents who said how concerned they are about deepfakes being mistaken as real images and videos of public figures
Survey conducted April 5-8, 2023, among a representative sample of 2,201 U.S. adults, with an unweighted margin of error of +/-2 percentage points. Figures may not add up to 100% due to rounding.
Morning Consult data found that 65% of Americans are concerned about deepfakes being mistaken as real images and videos of public figures that misrepresent or defame them in some way. Avid film fans were even more concerned, at 72%.
A talent agent at a major Hollywood agency told Morning Consult that safety and protection is their priority in the age of AI, especially as videos use the likeness of public figures to create content with it. 
"Deep fakes are the worst game of whack-a-mole," he said. "How can you manage it? How do you work with companies to wade into these waters carefully? We're going to have these problems." 
Earlier this year, an AI-generated image surfaced of Pope Francis wearing a white puffer jacket, which some social media users believed to be real. Other deepfakes have featured faces that resemble actresses like Emma Watson and Scarlett Johansson in compromising situations. Companies like Getty Images Holdings Inc. have already started taking action, suing the creators of AI art tool Stable Diffusion for scraping its content.
While some films have used technology similar to deepfakes to de-age actors in films (think Robert De Niro in Martin Scorsese's "The Irishman"), some high-profile actors like Robert Pattinson and Keanu Reeves are speaking out against the tech. Reeves reportedly has a clause in his film contracts that prevents studios from digitally editing his performances.
"We're still looking to see how the government reacts to some of this," said Angelina Eng, vice president of measurement, addressability and data center at IAB. "There's things around who owns the content if it's generated by AI. Is it the AI tool itself or the person who makes the query? What are they doing with whatever the outputs are after? What are the copyrights? What are the trademarks?" 
Morning Consult data found that 59% of adults said there should be federal, state or local restrictions around AI's ability to replace humans in creative entertainment careers, while the same share said there should be restrictions around the advancement of AI technology in general. 
Italy became the first country to temporarily ban ChatGPT due to a data breach. Despite demands from some lawmakers, the United States has yet to implement any laws or regulations as drastic. Hollywood is still figuring it out, too.
"The only thing you can predict is that when it comes to this technology," Guggenheim said, "there'll be stuff that's unpredictable."
Saleah Blancaflor previously worked at Morning Consult as a data reporter covering the business of entertainment.
We want to hear from you. Reach out to this author or your Morning Consult team with any questions or comments.
Contact Us