Ukraine War Dominates 2022's Global Headlines
Only Queen Elizabeth II's death got more attention than Russia's invasion of Ukraine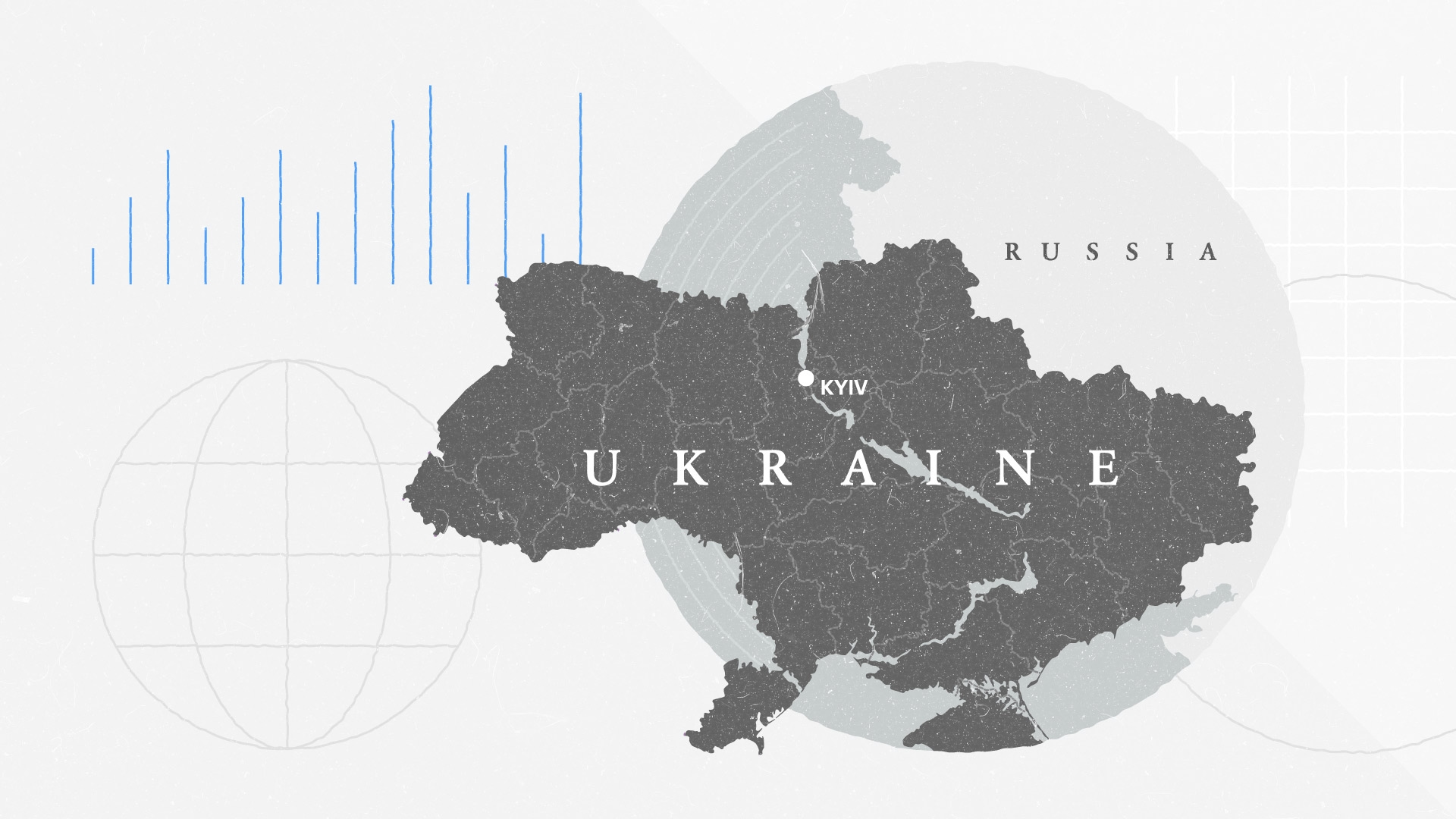 Key Takeaways
A majority of U.S. voters heard "a lot" about just four international stories, all related to the war in Ukraine or the British monarchy, illustrating the low salience of foreign affairs to the U.S. audience. 

Aside from those two topics, the only other type of story that reached the top 20 were migration-based with a U.S. focus.
Russia's invasion of Ukraine dominated U.S. voters' consumption of news stories on global affairs in 2022, with 16 of the 20 most-heard-about items related to the war. 
The findings, based on Morning Consult's Seen Read Heard project that measures contemporaneous news salience for hundreds of news events throughout the year, underline a lack of interest in foreign affairs among Americans outside issues such as migration and terrorism, with only a few other stories breaking through to even a quarter of U.S. voters. 
The analysis is based on the share of voters who said they saw, read or heard "a lot" about a particular news item in the days after it appeared in the news cycle. See here for an interactive, curated list of roughly 140 news items that we found most noteworthy to the U.S. audience.
Stories About Russia and Ukraine Dominated Global Interest in 2022
News of Queen Elizabeth II's death and U.S.-focused immigration are the only other items that came close to generating as much interest
Share of voters who saw, read or heard "a lot" about each of the following at the time of their occurrence:
Surveys conducted weekly in 2022 among representative samples of roughly 2,000 registered U.S. voters, with unweighted margins of error of +/-2 percentage points.
Russia-Ukraine war crowds out most other global stories
Voters were most likely to have heard a lot about the death of Queen Elizabeth II and Russia's invasion of Ukraine, two events that symbolize the end of the Cold War-era of geopolitics and the start of a new chapter in world affairs. 
However, many stories that embody this new paradigm – involving multilateral diplomacy, shifting global supply chains and balancing conflicting interests – often received scant attention among U.S. voters.
Instead, fear ruled the headlines. Five of the 20-most widely consumed global stories were about either Russian atrocities in Ukraine or potential nuclear threats, and another was about U.S. warnings that Russia was creating a pretext for its Feb. 24 invasion. 
Another seven stories about the U.S. response to the invasion broke into the top 20. All of them occurred early in the war, as the world was most anxious to see how Washington and its allies would respond — and before easy options for punishing Moscow were exhausted.  
Most Global Stories Struggle to Gain Traction in America
Share of voters who contemporaneously saw, read or heard "a lot" about each of the following:
Surveys conducted weekly in 2022 among representative samples of at least 2,000 registered U.S. voters, with unweighted margins of error of +/-2%.
Interest in Russia's invasion fades over time
The only Russia-related stories to break into the top 20 after April were about Russia's monthslong detainment of WNBA star Brittney Griner on drug charges. Griner's return home on Dec. 8 as part of a swap for convicted Russian arms dealer Viktor Bout was the fourth- most-read global story of the year. That may be in part because of how politicized the deal to secure her release became amid Republican criticism of the Biden administration. 
Interest in other Russia-related stories faded as the year drew on, with even national security issues such as nuclear risks getting less attention in the second half of the year.
'Zero-COVID' and Taiwan lead China stories
China's image in the United States was defined by draconian COVID controls and spikes in tensions over Taiwan. 
Only 11% of U.S. voters said they heard a lot about the closing of the Winter Olympics in Beijing, while COVID-19 lockdowns in Shanghai, Beijing and other cities attracted about twice as much attention overseas. 
The lockdowns also led to historic mass protests, which received more attention in the United States than other China issues, reaching 30% of voters. 
The other major point of interest was House Speaker Nancy Pelosi's visit to Taiwan, which 28% of U.S. voters said they heard a lot about. Stories about export controls on Chinese technology, secret illegal Chinese police stations abroad or of Beijing's treatment of Uyghur minorities received little attention among U.S. voters, as did Chinese President Xi Jinping's clinching of an unprecedented third term in office.
British drama dominates in Europe
This was a transformational year for Europe, with multiple elections and a great deal of high-stakes negotiating in Brussels to organize the continent's refugee, energy and financial plans. Nonetheless, such events break through with few U.S. voters, as stories about E.U. gas consumption cuts, trade spats with France and Germany and Hungary's imposition of obstacles on Russia sanctions got scant attention. 
Similarly, French President Emmanuel Macron's securing of an unprecedented second term in office and Italian Prime Minister Mario Draghi's resignation and replacement by far-right politician Giorgia Meloni got little notice among U.S. voters. 
By contrast, resignations by Prime Minister Boris Johnson and his successor, Liz Truss, the latter of which followed her exceptionally brief and chaotic tenure, were the only non-Ukraine-related European stories to break through to at least 30% of U.S. voters. Rishi Sunak's ascendance was a little quieter, but still got more interest than continental contests. 
In the Indo-Pacific, even North Korea struggles to get attention
The further one strays from the conflict with Russia, the lower the probability of finding a story that resonated with U.S. audiences. Protests in Sri Lanka that ended with the ouster of their president barely registered, and only 5% said they heard a lot about Anwar Ibrahim's election as prime minister of Malaysia.
North Korea had a series of missile launch tests this year, including the firing of a nuclear-capable missile over Japan for the first time since 2017. But for all the Hermit Kingdom's bluster, the tests received about half as much attention as the nuclear brinkmanship that resulted in multiple summits between North Korean leader Kim Jong Un and former President Donald Trump in 2018 and 2019. 
The assassination of former Japanese Prime Minister Shinzo Abe stands alone in Indo-Pacific stories in breaking through to a third of U.S. voters. But the tragic incident's political ramifications did not break through in the United States, with just 8% of U.S. voters hearing a lot about a dominant performance by Abe's party in subsequent legislative elections. 
Saudi Arabia and Iran make biggest splash in Middle East and Africa
U.S. President Joe Biden's fist bump with Saudi Crown Prince Mohammed bin Salman and their subsequent rift over oil prices were among the few stories from the region that received a significant amount of attention among U.S. voters. 
Even nuclear stories that resonated so strongly in the Russia context found little audience, with just 7% and 11% of voters hearing a lot about talks to resume the 2015 Iran nuclear deal and Iran's expansion of its nuclear enrichment program, respectively.
Protests against Iran's regime, however, got much more attention, with about 21% of voters hearing a lot about the spread of protests in September and 18% about the crackdown by Iranian security forces in October.
But otherwise, global news had a very limited audience among U.S. voters in 2022. Removing stories that involve the United States or Europe, no story from Africa or Latin America broke through to more than 6% of voters.
Matthew Kendrick previously worked at Morning Consult as a data reporter covering geopolitics and foreign affairs.
We want to hear from you. Reach out to this author or your Morning Consult team with any questions or comments.
Contact Us