U.S. Conservatives Are Uniquely Inclined Toward Right-Wing Authoritarianism Compared to Western Peers
Global Morning Consult data reveals a distinctive authoritarian bent in the American right
Key Takeaways
A scale measuring propensity toward right-wing authoritarian tendencies found right-leaning Americans scored higher than their counterparts in Australia, Canada and the United Kingdom.

26% of the U.S. population qualified as highly right-wing authoritarian, Morning Consult research found, twice the share of the No. 2 countries, Canada and Australia.

The beliefs that voter fraud decided the 2020 election, that Capitol rioters were doing more to protect than undermine the government and that masks and vaccines are not pivotal to stopping COVID-19 were similarly prevalent among right-leaning Americans and those that scored high for right-wing authoritarianism.
This article is part of a deep dive on the Jan. 6 riot in Washington and creeping authoritarianism in America. See all of our work here. To see how we conducted our study and for more methodological information, click here.
The Jan. 6 insurrection at the Capitol gave the country a striking wake-up call to the alarming rise in undemocratic behavior on the right side of the political aisle, and new global Morning Consult research underscores the prevalence of authoritarian attitudes among U.S. conservatives.
The research, which used longtime authoritarian researcher Bob Altemeyer's right-wing authoritarianism test and scale and builds on recent work he conducted with the Monmouth University Polling Institute, found that U.S. conservatives have stronger right-wing authoritarian tendencies than their right-of-center counterparts in Australia, Canada and the United Kingdom. 
Altemeyer defines authoritarianism as the desire to submit to some authority, aggression that is directed against whomever the authority says should be targeted and a desire to have everybody follow the norms and social conventions that the authority says should be followed. Those characteristics were all on display in the wake of the 2020 presidential election, culminating earlier this year in the attack on the Capitol by supporters of then-President Donald Trump. 
The findings come from Morning Consult polling conducted from late April into early May in seven foreign countries, which in addition to the aforementioned trio included France, Germany, Italy and Spain. Responses were gathered among 1,000 adults in each of the seven countries, and were compared with a domestic poll of 1,001 U.S. adults conducted concurrently. (See more about how we conducted the study and produced our findings here.)
While America's right flank scored higher on Altemeyer's RWA scale than any of the other countries' right flanks measured, it's important to note that the test was designed for a North American audience. Setting aside cultural differences, language barriers provide a significant challenge, with translations only going so far to bridge that gap. However, measures used to examine the test's cross-nation coherency determined that the comparison between the United States and Australia, Canada and the United Kingdom is valid.
"Despite the cultural differences that undoubtedly exist, the core of right-wing authoritarianism is being captured by this test to equal extents," Altemeyer said in an interview after reviewing the Morning Consult survey findings. 
The test found a number of other striking results: The 39-point gap in right-wing authoritarian scores between America's left and right was more pronounced than it was in any of the other countries included, though the test also revealed a 30-point gap between the right and left in Canada and 28-point differences between the two groups in Australia and the United Kingdom.
Morning Consult also used the Altemeyer scale to categorize segments of the surveyed populations in each country as scoring high or low on the right-wing authoritarianism scale. Adults in each country who scored in the top 15th percentile among all respondents in all countries were defined as "high RWA," while respondents who scored in the bottom 15th percentile were defined as "low RWA."
A comparison across the eight countries polled showed that the share of the U.S. population that scored as "high RWA" was twice the size of the next largest population: 26 percent of U.S. respondents met that designation, compared with 13 percent of Canadians and Australians and 10 percent of those in the United Kingdom.
Using these "high RWA" and "low RWA" designations, Morning Consult was able to parse how respondents on either side of America's right-wing authoritarian divide view the events of Jan. 6, the conduct of the country's former president and other political flashpoints — and how those views compared with those of self-identified liberals and conservatives. There was significant overlap between respondents on the left and those who scored low on RWA, and among the right and those who scored high on RWA, as indicated by a demographic profile.
Most high-RWA respondents identified as right-leaning and were at least 45 years old. Most low-RWA respondents were under 45 and identified as left-leaning. 
High-RWA respondents also were more likely to reside in rural communities than adults overall, and they were slightly more likely to report having no college degree. 
Across a range of questions — some of which were included in Monmouth's research with Altemeyer — both right-leaning and high-RWA Americans held views that were starkly different from their left-leaning and low-RWA counterparts.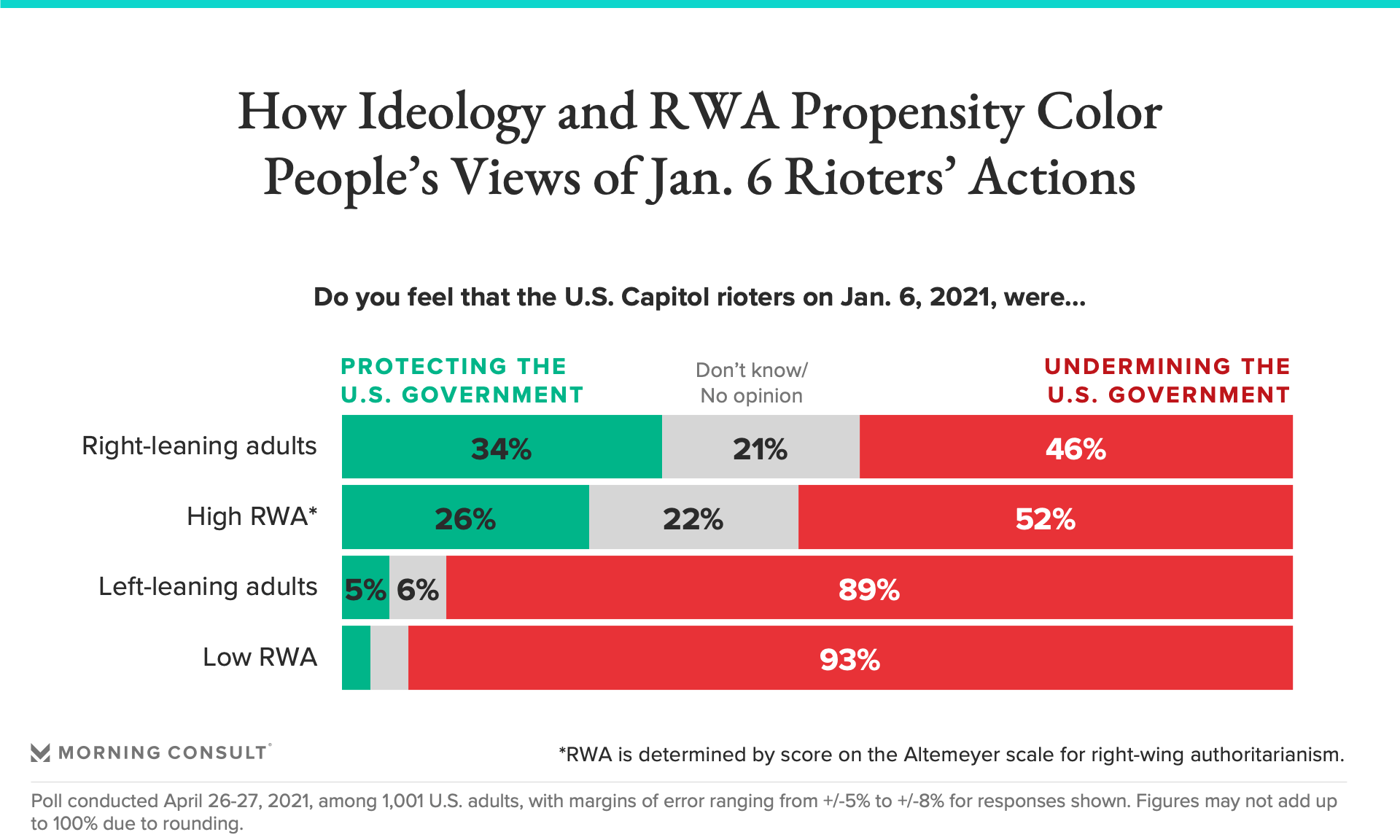 Take views on the rioters themselves, for example: More than a quarter of high-RWA respondents and conservatives said those that broke into the Capitol on Jan. 6 were protecting the U.S. government rather than undermining it, compared with roughly 9 in 10 liberal or low-RWA respondents who said the opposite.
Similar divides cropped up on the questions that helped lead to the Jan. 6 riot, with most right-leaning and high-RWA Americans agreeing that Joe Biden won the presidential election due to widespread fraud. A slim majority of those respondents also said they were more likely to believe Trump than U.S. judges when it comes to the existence of evidence of voting irregularities.
And while over half of right-leaning and high-RWA Americans disagreed that Trump should have refused to leave office, that paled in comparison to the approximately 9 in 10 liberal and low-RWA respondents who said the same.
The survey findings also show how the right-wing authoritarian divide reveals itself in matters of public health, although these differences were smaller. Right-leaning and high-RWA respondents were more likely than left-leaning and low-RWA respondents to disagree that masks and vaccines are necessary to stop the spread of COVID-19.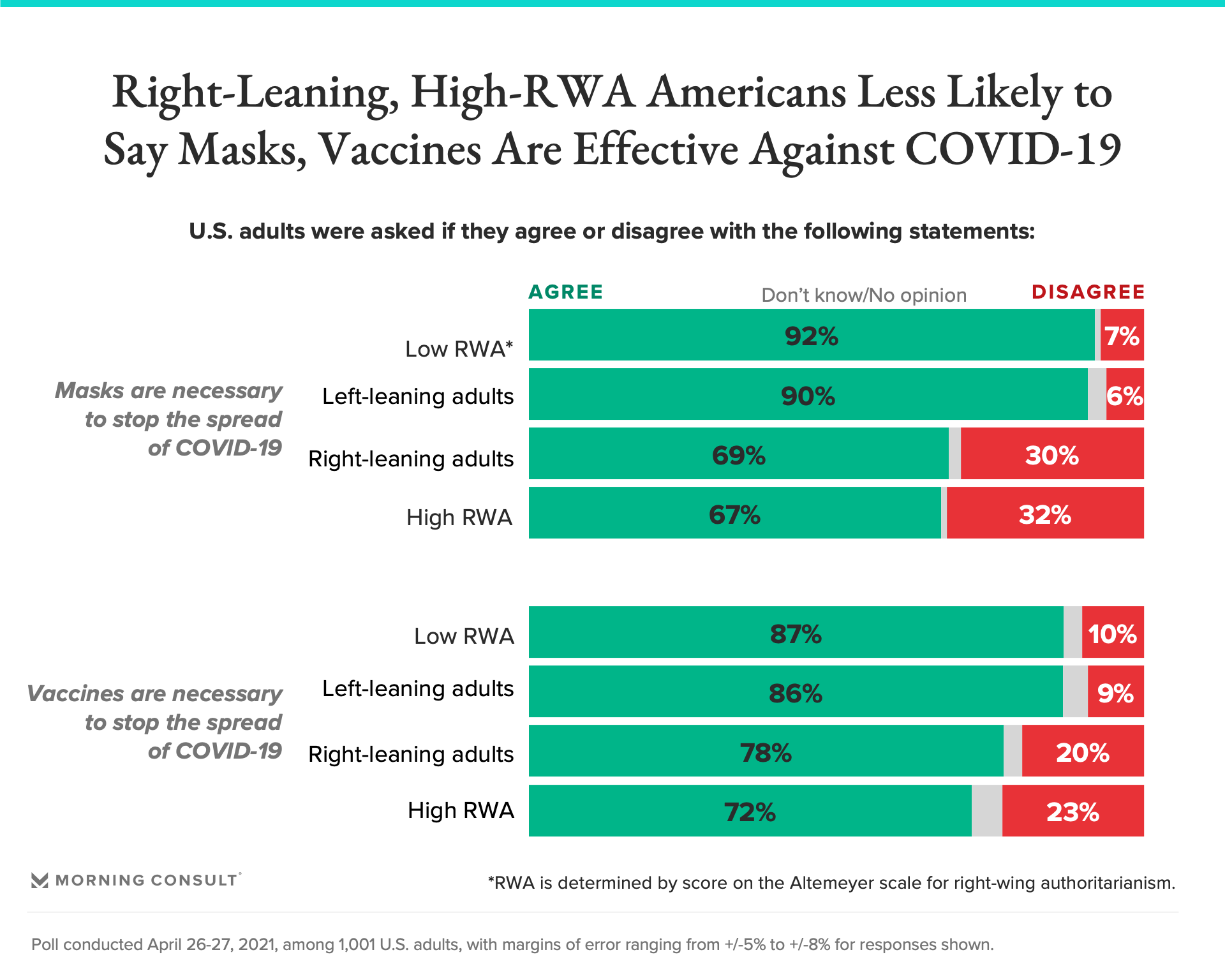 The divides over the use of masks, especially, illustrate the challenges involved in de-escalating the right-left tension in American society and lowering the authoritarian temperature. 
In the interview, Altemeyer raised a number of potential long- and short-term solutions that could reduce authoritarian tendencies in the populace. One of those short-term solutions he mentioned was "superordinate goals, where you have things where everybody has to cooperate and work with each other."
"You can't solve problems independently, and that has a remarkable effect on letting people who are enemies understand each other better and decrease the tension," he said. "The business of masks could have been that, but it was effectively trumped by Trump, who made wearing masks a sign of weakness."
These divides all seem to stem from the same dynamic: leaders in the political and media spaces exacerbating tensions and differences for political gain. That's a difficult problem to stop, especially when the political incentives and inertia of the moment suggest that voters may just move on to "the craziest son of a bitch in the race," as dubbed by conservative Rep. Thomas Massie (R-Ky.) in a March 2017 Washington Examiner article.
Thomas Costello, a psychological scientist at Emory University who studies authoritarianism, said "it seems like there is just a small minority of the population that is really sensitive" to alienation and fear toward people of different ethnicities and political and religious views, and "it exacerbates latent authoritarian tendencies."
"I don't know if you can change that in the same way that I don't know that you can change someone's height, or their level of extraversion," he said. "But what you can do is try to mitigate the sense of the threat and the sense of difference that exacerbates authoritarianism."
Rachel Venaglia, Laura Maxwell and Joanna Piacenza contributed. Special thanks to Monmouth University Polling Institute Director Patrick Murray and Bob Altemeyer, who each provided feedback to the study, and again to Murray, who also shared Monmouth's data.
Cameron Easley is Morning Consult's lead analyst for U.S. politics. Prior to moving into his current role, he led Morning Consult's editorial coverage of U.S. politics and elections from 2016 through 2022. Cameron joined Morning Consult from Roll Call, where he was managing editor. He graduated from the University of North Carolina at Chapel Hill. Follow him on Twitter @cameron_easley. Interested in connecting with Cameron to discuss his analysis or for a media engagement or speaking opportunity? Email [email protected].
We want to hear from you. Reach out to this author or your Morning Consult team with any questions or comments.
Contact Us