Joe Manchin's Approach to Biden's Presidency Is Paying Off in West Virginia
Over the past year, Manchin has seen the largest job approval rating improvement of any senator
Key Takeaways
57% of West Virginia voters approve of Manchin's job performance, up from 40% during the first quarter of 2021.

Over the past year, Manchin has doubled his approval rating among West Virginia Republicans, to 69%.

Minority Whip John Thune (R-S.D.) is America's most popular senator; Senate GOP leader Mitch McConnell of Kentucky is the most unpopular.
Sen. Joe Manchin has faced the wrath of progressives nationwide during Joe Biden's presidency for killing a range of domestic agenda items on voting rights, social spending programs and climate change. But at home in West Virginia, Morning Consult Political Intelligence data suggests the moderate Democrat knows exactly what he's doing. 
In surveys conducted Jan. 1-March 31, 57% of West Virginia voters approved of Manchin's job performance, up from 40% during the first quarter of 2021 — the biggest increase of any senator over that time frame.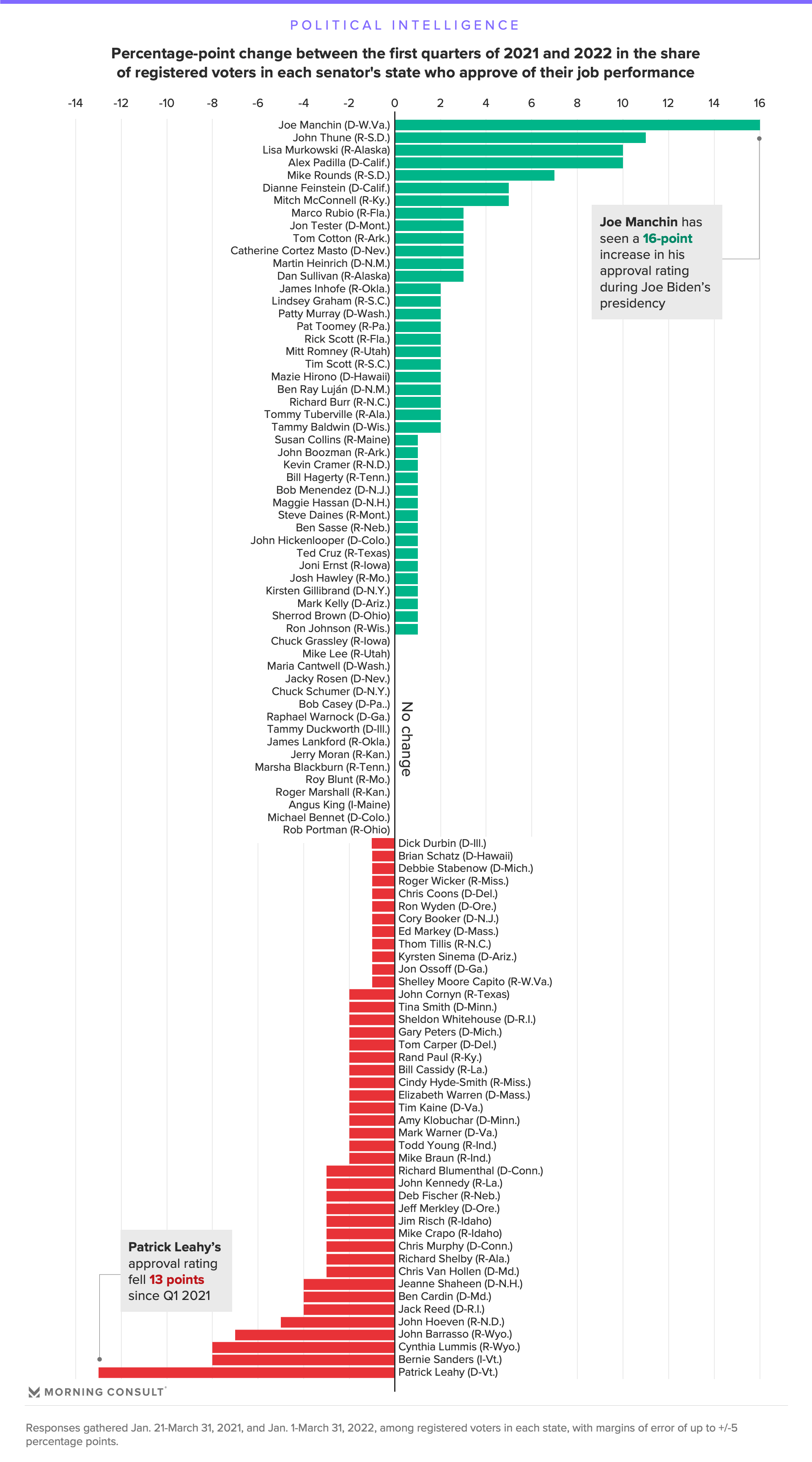 Manchin's double-digit approval rating improvement over the course of Biden's tenure is a rarity when compared with other incumbents: Just three of them — John Thune (R-S.D.), Lisa Murkowski (R-Alaska) and Alex Padilla (D-Calif.) — have seen comparable improvement in their standing.
Where Murkowski saw upticks among independents and Republicans, Thune received improved marks across the board and Padilla's standing got better due to more voters becoming aware of him, Manchin's boost stands out due to the dramatic shift in the coalition supporting him, which has reddened to a staggering extent.
Manchin's shifting coalition back home 
Manchin's increased popularity is driven primarily by Republican voters: 69% now approve of his job performance, doubling his rating from the first quarter of last year, when 35% approved. Most of that improvement has come since the third quarter of 2021 — before he killed the Democrats' "Build Back Better" domestic policy legislation.
While Manchin has made up ground on the right, he's angered West Virginia Democrats, 54% of whom now disapprove of him, up from 32% around this time last year. However, he's also made large gains with independents over that time frame, with an approval rating rising from 31% to 50%.
"It turns out that Joe Manchin knows more about West Virginia voters than D.C. strategists," said former Manchin aide Jonathan Kott. "The amount of interactions he has with his voters I don't think can be paralleled by other members."
Manchin's numbers in West Virginia stand in contrast to those of Sen. Kyrsten Sinema, the Arizona Democrat who has joined Manchin in blocking key pieces of Biden's agenda. Despite a similar coalitional shift, her approval rating has dropped to 46% to 44%, while the share who disapprove increased from 35% to 42%, due to souring among Democrats and a lack of bounce among independents.
For Manchin, the increased support from the other side of the aisle could come in handy as he is said to be plotting a 2024 re-election campaign in a state Biden lost by nearly 39 points to former President Donald Trump.
According to Morning Consult tracking conducted in each state, Manchin's high marks place him among America's 10 most popular senators for the first time since Biden took office.
Senate superlatives 
The West Virginia Democrat clocks in at No. 8 on the list, which was topped by Thune, Bernie Sanders (I-Vt.) and John Barrasso (R-Wyo.). Using net approval — the share of approval minus the share of disapproval — to break ties puts Thune as the nation's most popular senator for the first quarter of 2022.
America's Most Popular and Unpopular Senators
Voters in each state were asked whether they approve or disapprove of the following senators:
Most popular and unpopular senators are ranked by the largest approval and disapproval shares, respectively. Net approval rating — the approval share minus the disapproval share — is used to break ties.
Surveys conducted Jan. 1-March 31, 2022, among representative samples of registered voters in each state, with margins of error of up to +/-5 percentage points.
At the other end of the spectrum, Senate Republican leader Mitch McConnell remains America's most unpopular senator, with 60 percent of Kentucky voters disapproving of his job performance.
For Morning Consult's state-level survey data, weights are applied to each state separately based on age, gender, education, race, home ownership, marital status, presidential voting history and — for a subset of states — race by education as well as an age-by-gender interaction.
Margins of error for responses from all voters in each state range from 1 to 5 points. For more detailed information, you can download the 50-state dataset for senators' approval ratings among all voters here.
Eli Yokley is Morning Consult's U.S. politics analyst. Prior to his current role, Eli was Morning Consult's senior reporter covering U.S. politics. Eli joined Morning Consult in 2016 from Roll Call, where he reported on House and Senate campaigns after five years of covering state-level politics in the Show Me State while studying at the University of Missouri in Columbia, including contributions to The New York Times, Politico and The Daily Beast. Follow him on Twitter @eyokley. Interested in connecting with Eli to discuss his analysis or for a media engagement or speaking opportunity? Email [email protected].
We want to hear from you. Reach out to this author or your Morning Consult team with any questions or comments.
Contact Us