Lisa Murkowski Experiences a Rarity for Senators: A Mid-Campaign Approval Bump
Alaskan's net approval rating is up 22 points during Biden's presidency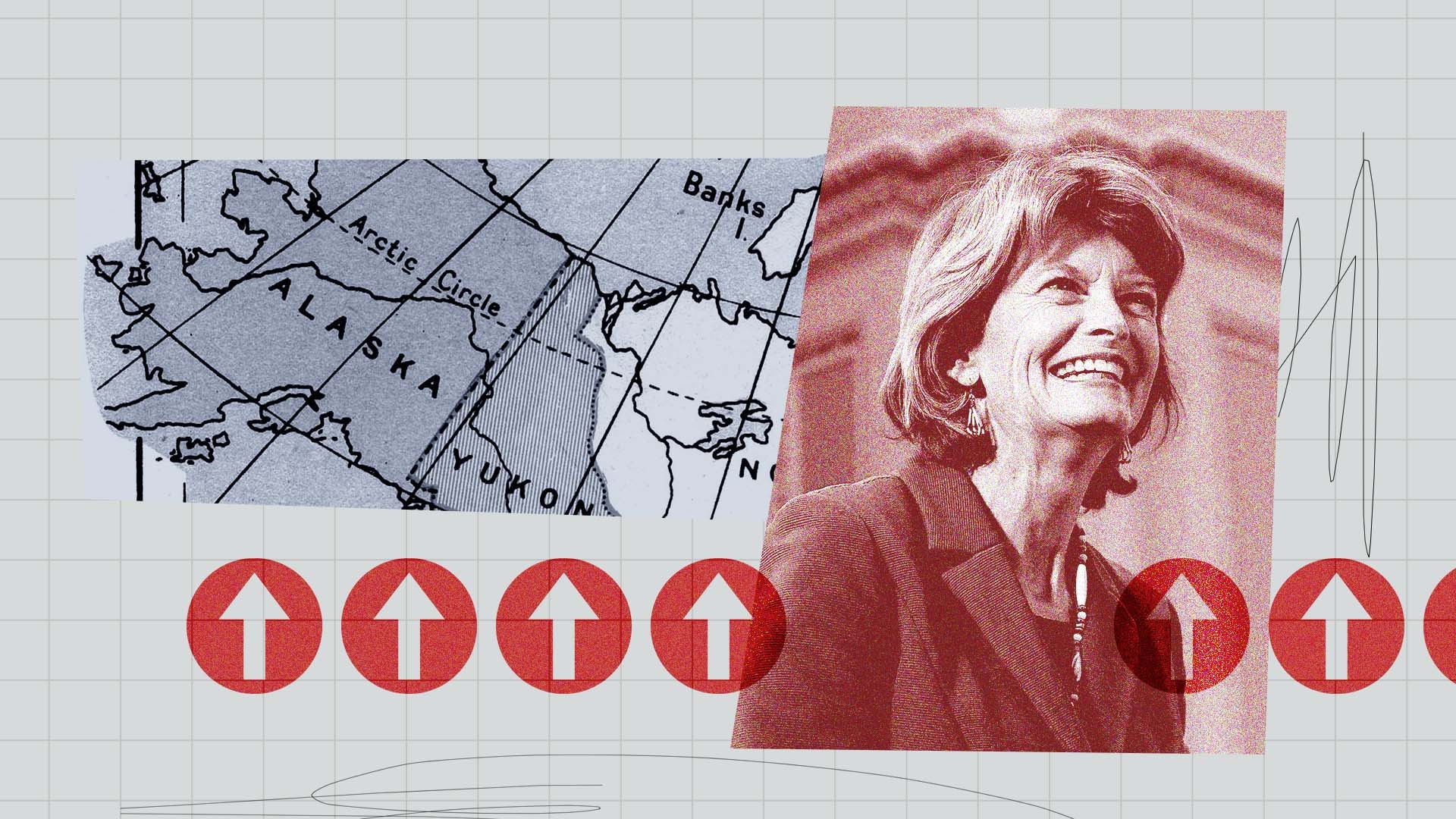 Key Takeaways
46% of Alaska voters approve and 39% disapprove of Sen. Lisa Murkowski's job performance ahead of her Aug. 16 primary.

With a 70% approval rating, Sen. John Barasso (R-Wyo.) was America's most popular senator in the second quarter of 2022.

Biden's net approval rating has dropped in such states as Colorado and Washington, but most Democratic incumbents continue to defy the laws of political gravity.
Sen. Lisa Murkowski is experiencing a rarity at home compared to most other senators: an improved job approval rating.
According to Morning Consult Political Intelligence data, the Alaska Republican, who is facing a fierce primary challenge over her vote to convict former President Donald Trump in his second impeachment trial, has seen her popularity improve more than almost any other senator throughout Joe Biden's presidency. 
Murkowski's improvement raises her approval rating to a level similar to many of the most vulnerable Democratic incumbents facing re-election this year, none of whom made the list of America's 10 most popular senators.
Murkowski's approval rating in Alaska
According to the latest quarterly data from responses collected April 1-June 30, 2022, 46% of Alaska voters approve and 39% disapprove of Murkowski's job performance, placing her net approval rating — the share who approve minus the share who disapprove — above water for the first time since Biden took office.
Murkowski's Popularity Improves Amid Re-Election Bid
Voters in Alaska were asked if they approve or disapprove of the job performance of Sen. Lisa Murkowski (R-Alaska)
Quarterly surveys conducted Jan. 20, 2021-June 30, 2022, among a representative sample of at least 431 registered voters in Alaska, with unweighted margins of error of +/-4-5 percentage points. "Don't know/No opinion" responses are not shown.
As she faces a list of candidates that includes Kelly Tshibaka, a Trump-backed former Alaska Department of Administration commissioner, in a complicated top-four Aug. 16 primary and ranked-choice general election, Murkowski is popular with Democrats while independents are almost evenly divided.
Republicans in Alaska remain slightly more likely to disapprove (46%) than approve (41%) of Murkowski's job performance. But the spread between those two figures has narrowed dramatically since the first quarter of 2021, when, after her vote to convict Trump for his role in the Jan. 6 insurrection, 76% of her party's voters held negative views and just 20% held positive ones. 
The size of improvement to Murkowski's net approval rating over Biden's presidency — up 22 percentage points — is eclipsed only by the 27-point boost that conservative Democratic Sen. Joe Manchin of West Virginia, who has almost single-handedly blocked much of Biden's progressive agenda, has seen over that time frame. 
Driven by a 61% approval rating from Republicans and 50% backing among independents, 54% of West Virginia voters approve of Manchin's job performance and 38% disapprove, only slightly weaker than his standing in the first quarter of 2022. But a modest decline in support for Manchin among Republicans wasn't counterbalanced by a slight improvement among Democrats, and it was enough to pull him just outside the list of America's 10 most popular senators.
America's most and least popular senators
State-by-state surveys of a total of 356,705 registered voters across the United States found that, with a 70% approval rating, Wyoming Republican John Barasso was America's most popular senator in the second quarter of 2022, followed by the state's junior senator, Republican Cynthia Lummis.
Both of South Dakota's senators, Republicans Mike Rounds and John Thune, are also more popular than most of their colleagues — as were Vermont's Patrick Leahy, a Democrat, and Bernie Sanders, an independent who caucuses with the Democratic majority. But Sanders' standing among Vermonters has diminished over the course of Biden's tenure, from a 70% approval rating at the start of 2021 to a rating of 56% in the latest round of surveys. 
At the other end of the rankings, Senate Republican leader Mitch McConnell of Kentucky retained the distinction of being America's most unpopular senator in the second quarter. In the Bluegrass State, 62% of voters disapprove and 31% approve of his job performance, slightly worse than his standing in the first quarter — driven by slight declines across the political spectrum. 
But McConnell is not up for re-election until 2026, and none of the other most-disliked senators are on the ballot this fall with one exception: Sen. Ron Johnson (R-Wis.).
The vulnerable Republican is disapproved of by 53% of voters in his state, worse than any other point over the past year and a half, while just 37% approve, a figure lower than any other incumbent up for re-election this fall.
How Democratic incumbents up for re-election stand with voters
Other than the Wisconsin contest, the most contested Senate races featuring incumbents this fall are putting Democrats on the defensive. In these states, which feature tossup races in Georgia, Nevada and Arizona as well as bigger reaches for the GOP in Colorado and Washington, Democratic senators are continuing to outpace Biden's severely bruised image.
Biden Weighs on Environment in Contested Senate States
Quarterly net approval* ratings of the following among registered voters in each state: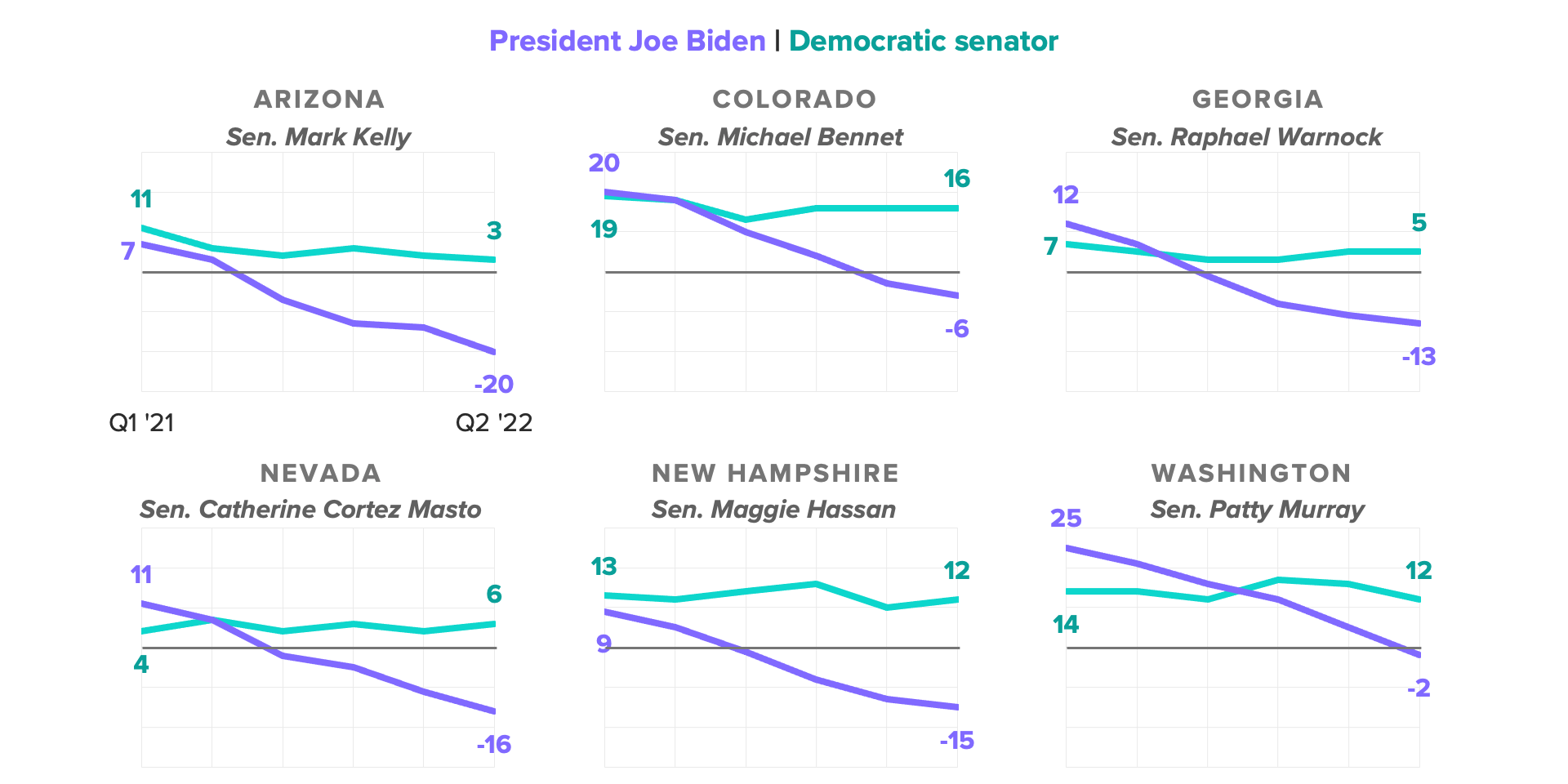 *Net approval is the share who approve minus the share who disapprove.
Quarterly surveys conducted Jan. 20, 2021-June 30, 2022, among a representative sample of at least 1,659 registered voters in each state, with unweighted margins of error ranging from +/-1-2 percentage points
In terms of net approval, Sen. Maggie Hassan (D-N.H.) has the largest advantage over Biden, who is 15 points underwater in the Granite State. Biden's tug on the political environment is similar in Nevada, but he appears to be the greatest drag on Democratic Sen. Mark Kelly of Arizona: While 46% of voters approve of the freshman's job performance, his disapproval rating has increased from 35% to 43% over the course of the president's and his own term.
Across the map of seats Republicans are contesting, Biden's decline has been almost uniform, and isn't limited to purple states. In Washington, for example, where Democrats have spent money to protect Sen. Patty Murray in the face of a challenge by Republican Tiffany Smiley, a former nurse, Biden's net approval rating is now underwater. 
Washington voters are far more likely to approve than to disapprove of Murray's job performance (48% to 36%), but her approval rating roughly matches Biden's, which is at 47%. It places Murray in a similar political situation to what Democratic Sen. Michael Bennet faces in Colorado, where Republicans believe they have a formidable candidate in businessman Joe O'Dea.
For Morning Consult's state-level survey data, weights are applied to each state separately based on age, gender, education, race, home ownership, marital status, presidential voting history and — for a subset of states — race by education as well as an age-by-gender interaction.
Margins of error for responses from all voters in each state range from 1 to 5 points. For more detailed information, you can download the 50-state data set for each senator's approval ratings among all voters here.
Eli Yokley is Morning Consult's U.S. politics analyst. Prior to his current role, Eli was Morning Consult's senior reporter covering U.S. politics. Eli joined Morning Consult in 2016 from Roll Call, where he reported on House and Senate campaigns after five years of covering state-level politics in the Show Me State while studying at the University of Missouri in Columbia, including contributions to The New York Times, Politico and The Daily Beast. Follow him on Twitter @eyokley. Interested in connecting with Eli to discuss his analysis or for a media engagement or speaking opportunity? Email [email protected].
We want to hear from you. Reach out to this author or your Morning Consult team with any questions or comments.
Contact Us