On-Demand Telehealth Is Booming Even as a Fierce Competitor Remains: the Doctor's Office
Most telehealth users praise virtual care, but they're split between using the service or visiting their provider in-person going forward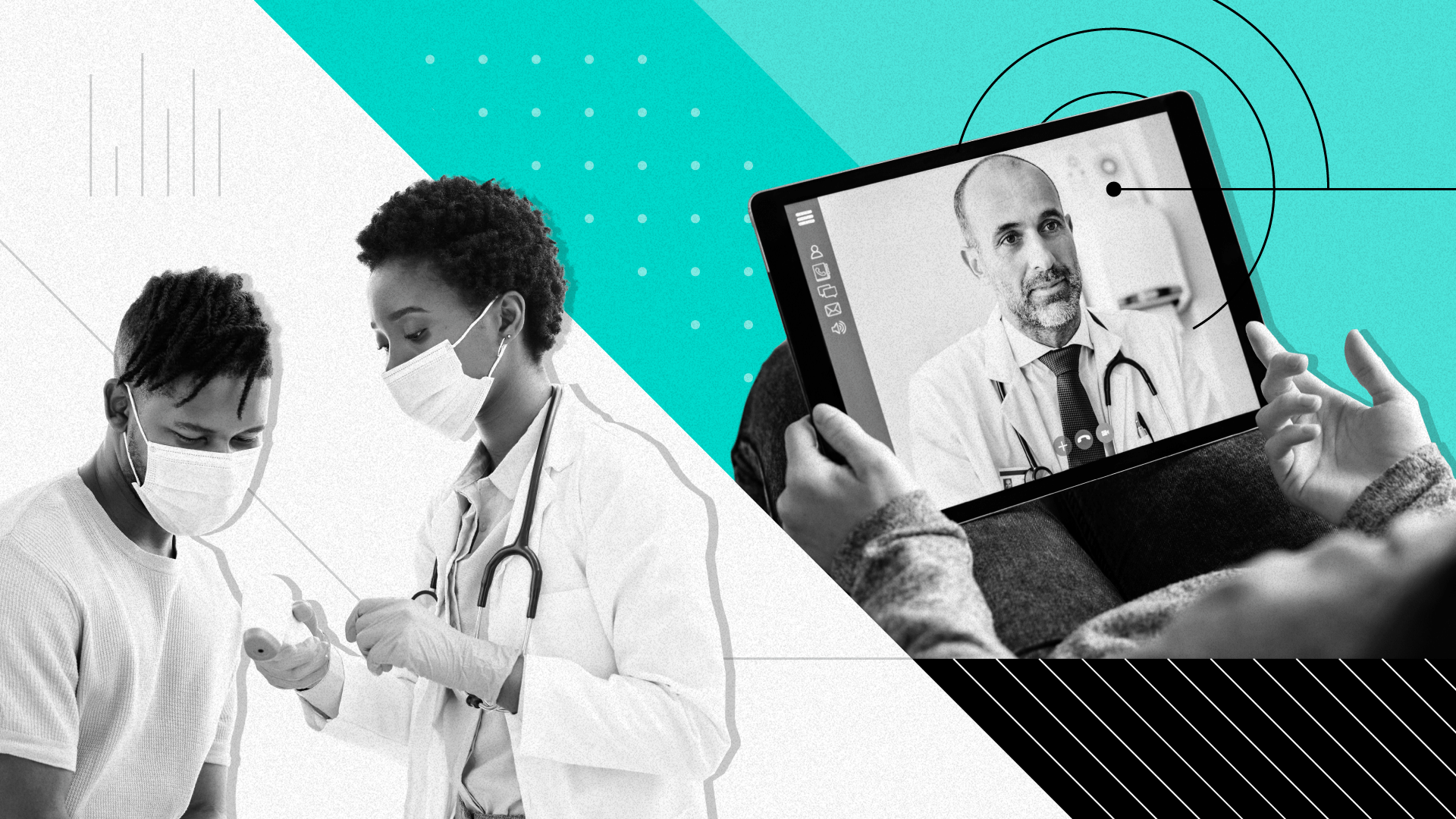 Key Takeaways
72% of U.S. adults who have used telehealth said they've accessed virtual care through their regular provider or health plan, while another 17% have gotten care through a direct-to-consumer platform and 11% have used both types of services.

53% of U.S. adults said they'd rather use in-person health care than telehealth moving forward, but that share fell to 45% among those who have used telehealth in the past.

Among the challenges for on-demand telehealth is getting coverage for the services, as traditional payers and providers roll out their own virtual care options.
Americans have more ways than ever to access health care virtually, with direct-to-consumer companies popping up to treat minor issues on-demand and traditional health plans and providers offering their own telehealth services.
Yet it's not always clear how the booming direct-to-consumer platforms stack up against the more established offerings — a missing link that means patients can be left guessing on the quality of the services for which they're paying.
Even so, new Morning Consult polling indicates that for now, most adults who use telehealth are sticking with virtual care from their doctors over on-demand services. Nearly 3 in 4 U.S. adults who have used telehealth said they've accessed virtual care through their regular provider or health plan, while another 17 percent have gotten care through a direct-to-consumer, on-demand platform and 11 percent have used both services, the survey found.
Roughly 9 in 10 Telehealth Users Describe Experiences as 'Friendly,' 'Easy' and 'Affordable'
The share of U.S. adults who have used telehealth who said the following described their experiences "very" or "somewhat" well:
The survey was conducted Oct. 21-23, 2021, among 1,138 U.S. adults who have used telehealth services, with a margin of error of +/-3%.
"People are using their own doctors, and there aren't these fly-by-night operations setting up to just bill Medicare for these services," said Krista Drobac, executive director of the Alliance for Connected Care, which represents large companies and advocates for increased access to virtual care.
On-demand virtual care projected to grow rapidly
Even so, the direct-to-consumer market is growing as Americans look for more flexibility in their health care and companies realize they're willing to pay for it, sometimes out of pocket. In 2021, on-demand telehealth companies brought in $3.4 billion in venture capital funding through the third quarter, dwarfing the $2.8 billion raised in all of 2020.
"We'll continue to see a trend of these companies growing," said Sari Kaganoff, general manager of consulting at Rock Health, a health tech investment group. "Hopefully over time, insurance will cover them and then it won't really be a burden on the patient to pay for it."
There are a couple of trends to watch, she said. First, new on-demand companies are launching to treat specific conditions that patients may have trouble finding care for, or those serving specific populations like the LGBTQ community. More mature virtual care companies, meanwhile, are expanding their offerings to push into primary care.
Another variable: Traditional health care companies are increasing their telehealth offerings. Insurers UnitedHealthcare and Cigna Corp. recently announced they will offer virtual-first health plans. Cigna acquired telemedicine provider MDLive Inc. earlier this year.
General Public Prefers In-Person to Virtual Care, But Telehealth Users Are Split
U.S. adults were asked if they'd generally prefer to see a doctor in-person or use telehealth going forward
The survey was conducted Oct. 21-23, 2021, among 2,200 U.S. adults, with a margin of error of +/-2%.
Telehealth is well-regarded, but in-person appointments still popular
User experience is key, regardless of the type of virtual care offered. Adults who have used telehealth largely cite positive experiences with it, with about 9 in 10 describing it as friendly, easy and affordable in the survey. Roughly 1 in 4 called their telehealth experiences expensive, uncomfortable or confusing.
Another challenge with direct-to-consumer telehealth is that patient data doesn't always connect back to their electronic health record, which providers use to store clinical notes, prescriptions, test results and more.
And while just over half of adults said they'd prefer to seek in-person care over telehealth going forward, telehealth users were more divided on their future health care plans, though 84 percent said their virtual care was good or excellent compared with in-person services.
Nearly 3 in 4 Telehealth Users Have Accessed Services Through Regular Doctor or Health Plan
U.S. adults who have used telehealth were asked what kind of services they've used
The survey was conducted Oct. 21-23, 2021, among 1,138 U.S. adults who have used telehealth services, with a margin of error of +/-3%.
Despite patients' apparent satisfaction with telehealth, though, there's no standardized way to measure the quality of the myriad services on the market, meaning it can be difficult for consumers to sort through what's backed by clinical evidence and what just has flashy marketing.
"How do you allow either individuals or plans, payers, to decide, 'Yeah, I think that's quality care because they meet these standards, or ideally, because they can demonstrate positive outcomes?'" said Frank Micciche, vice president of public policy and external relations at the National Committee for Quality Assurance, which sets quality standards for health plans. "The ability to do that with telehealth is, I think, what you'd need to close that loop."
Virtual care's biggest growing pains: cost and coverage
How much patients are paying out of pocket for these services is another gray area. In the survey, about 2 in 5 telehealth users said they think billing and payment for their virtual care was more convenient than it had been for in-person medical services, while another 36 percent said there was no difference and 13 percent said it was less convenient.
Questions remain about the cost-effectiveness of virtual care, though. A Health Affairs study, for example, noted that while direct-to-consumer telehealth services could curb costs in the short term by keeping people out of more expensive settings like the emergency room, on-demand virtual services could lead to higher costs in the long term if it leads to more follow-up care.
Micciche notes that's not a problem unique to telehealth: "Consumers, especially if they're outside their plans, don't know what they're paying for in-person any more than they do in telehealth. It is a really murky experience."
Drobac's group, for one, is trying to get permanent Medicare coverage for more advanced primary care telemedicine companies like Teladoc Health Inc., American Well Corp. and MDLive, which connect patients to physicians virtually.
That's because Medicare coverage "sends a market signal, and it also ensures that more physicians will implement telehealth in their practices," she said.
Going forward, Kaganoff expects to see more on-demand telehealth companies try to make inroads in traditional health care, both digital and in-person. In 2019, for example, Hims & Hers partnered with Louisiana-based Ochsner Health System to refer patients to its providers if their conditions weren't treatable through the Hims & Hers platform.
That includes getting covered by private insurance. Ro, a successful direct-to-consumer platform that got its start treating erectile dysfunction and now offers virtual fertility and behavioral health care, is eyeing a foray into the payer world, an executive recently suggested.
And Lemonaid Health Inc., a virtual primary care company that was acquired by DNA testing firm 23andMe Holding Co. last month, originated as a direct-to-consumer provider but added insurance capabilities over time.
"The reason that they start as direct-to-consumer is it's just simpler," Kaganoff said. But as these companies grow, "I think there's going to be a settling period where we see who matches up with who."
Gaby Galvin previously worked at Morning Consult as a reporter covering health.
We want to hear from you. Reach out to this author or your Morning Consult team with any questions or comments.
Contact Us