Fiji, Aquafina, Evian or Dasani? U.S. Consumers Pick Their Favorite Water Brands
New Morning Consult data highlights major generational and regional differences in U.S. bottled water preferences as industry experts weigh in on the role marketing plays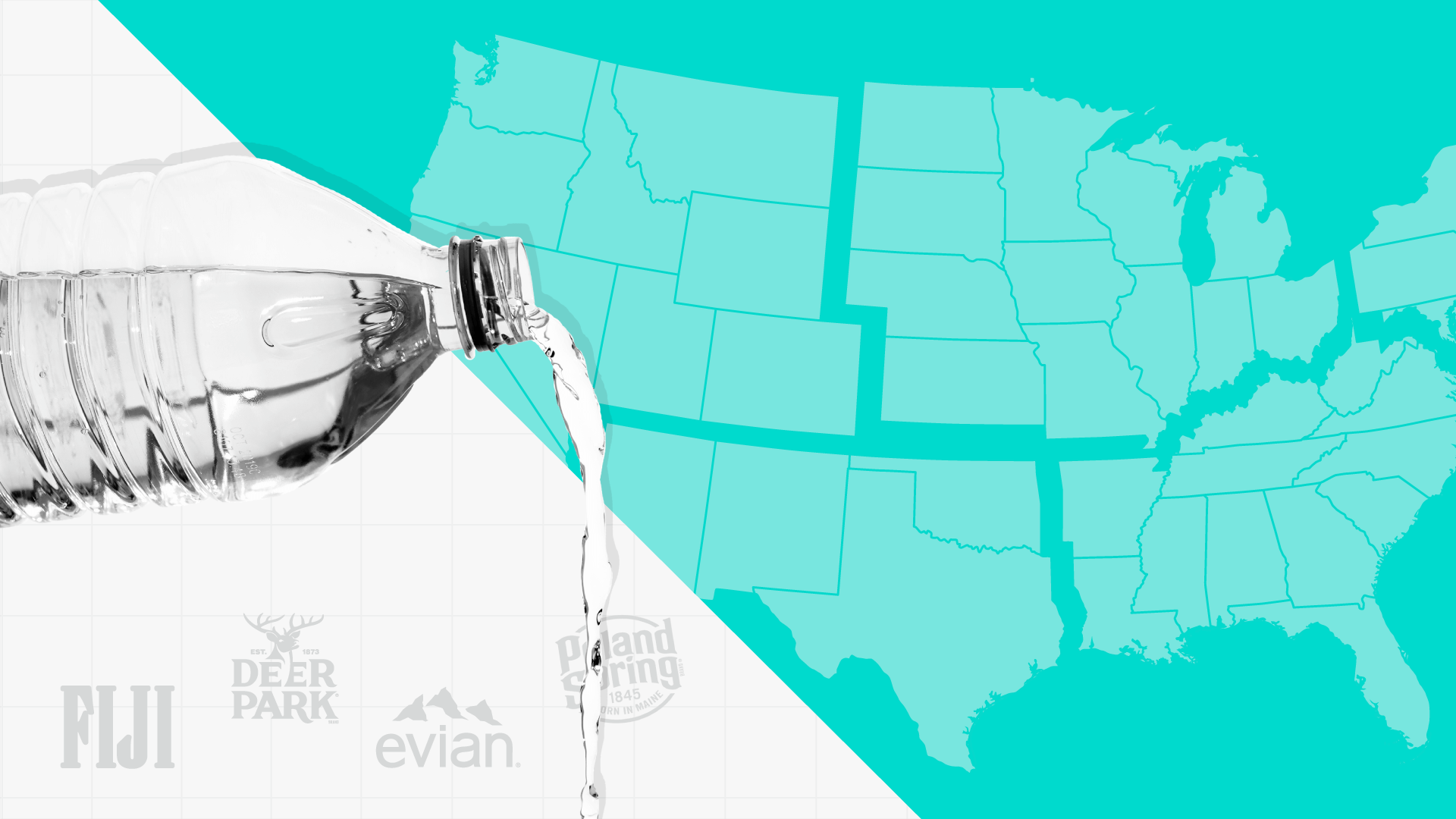 Key Takeaways
Nearly 3 in 4 Americans (72%) said they prefer bottled water, while 28% said they prefer tap. 

70% of U.S. adults cited taste as a major factor when choosing a bottled water brand, followed by price (61%), convenience (49%) and source (38%). 

Out of 26 bottled water brands, Fiji Water earned the highest net favorability rating (57) among adults, besting second-place Aquafina by 13 percentage points.
For the latest global brand, media and marketing news and analysis, sign up for our daily brands news briefing.
Water makes up more than half of the average human's body weight and more than two-thirds of the Earth's surface. So it comes as no surprise that it has long been the subject of our collective fascination — and, apparently, obsession. Americans, it turns out, have strong opinions about their water. 
While the U.S. bottled water market experienced a series of ups and downs in the last century, its prospects have taken a positive turn in the last two decades as more consumers prioritize their health and avoid sugary beverages. In 2016, bottled water surpassed soft drinks as Americans' most-purchased packaged beverage for the first time. It's continued to hold that title every year since. 
Today, the United States is the largest global market for bottled water, with revenues expected to reach almost $95 billion this year. Debates over the product — from the best and worst brands to its intrinsic value (or lack thereof) — continue to be waged around the country. 
A new Morning Consult survey answers some of these questions. Out of 26 major bottled water brands, The Wonderful Co.'s Fiji Water earned the highest net favorability rating (57) among all U.S. adults, beating out the second-place brand, PepsiCo Inc.'s Aquafina (44), by a huge margin. Danone SA's Evian, BlueTriton Brands' Nestle Pure Life and the Coca-Cola Co.'s Dasani all tied for third (42). (Net favorability rating is the share of respondents with a favorable opinion minus the share with an unfavorable opinion.)
The survey revealed significant differences in preference by both generation and geography, highlighting water's polarizing nature.
The research — alongside interviews with water brand leaders and consumer packaged goods experts — also made clear how the ubiquity of water products often leads consumers to exhibit brand-switching and other paradoxical behavior. It's why "positioning for uniqueness at the point of purchase" is paramount for these brands, said Kelly Reedy, chief executive officer at Common Good Agency, which oversaw Evian's major packaging redesign.
U.S. Consumers Universally Prefer Bottled Water to Tap
Respondents said which type of water they prefer and how often they purchase bottled water
Survey conducted between Feb. 16-19, 2023, among a representative sample of 2,202 U.S. adults, with an unweighted margin of error of +/-2 percentage points. Figures may not add up to 100% due to rounding.
America loves its bottles. Gen Z adults and millennials reported the strongest preference for bottled water over tap and subsequently buy it most often. One in 4 Gen Z adults and 27% of millennials said they buy water at least once a day, compared with 17% of Gen Xers and 9% of baby boomers. 
Given younger consumers' documented preference for companies that prioritize sustainability, this penchant for bottled water, which most often comes in single-use plastic containers, may seem surprising. However, according to Morning Consult food & beverage analyst Emily Moquin, that's not necessarily the case.
"Sustainability initiatives typically fall into consumers' second or third tier of purchase factors for food and beverage offerings," Moquin said. "Our need to interact with these products every day makes decisions around them both deeply personal and highly cost-sensitive, so taste and price tend to trump all else." 
Taste and price ranked highest on adults' list of purchasing factors, well ahead of sustainability — even for Gen Zers and millennials, per Morning Consult data.
Taste, Price and Convenience Drive Bottled Water Purchase Decisions Across Generations
The shares of respondents who said to what extent the following are reasons why they might choose one bottled water over another:
Survey conducted between Feb. 16-19, 2023, among a representative sample of 2,202 U.S. adults, with an unweighted margin of error of +/-2 percentage points. Figures may not add up to 100% due to rounding.
The water's source, the presence of additives like electrolytes and a brand's reputation each hovered around the top five purchase factors among every generation. In a separate survey question, an overwhelming majority (79%) of adults said they drink water mainly "for hydration," while 21% reported drinking water mainly "to look and feel better."
Touting water's health benefits has long been a tactic of bottled brands, frequently done by leveraging credible endorsers like professional athletes. But tapping into water's aesthetic appeal is also becoming an increasingly popular strategy as many social media communities have propelled the everyday drink to cure-all status.
"Water has become a mainstay in online content around beauty, anti-aging and general lifestyle, and many brands are taking note," said Elizabeth Rodriguez, associate director of strategy at Siegel+Gale, an Omnicom Group Inc.-owned global brand experience firm. 
Coca-Cola's Glaceau Smartwater recently used this approach in a brand campaign for its new antioxidant-infused drink, in which comedian Pete Davidson details how his daily life and routines are "elevated" by the product's extra supplements.
Earth's finest water  
Brand luxuriousness, meanwhile, ranked at the bottom of every generation's purchase factor list, setting up yet another consumer contradiction as Americans overwhelmingly identified Fiji — known for its frequent placement in resorts and at prominent events — as their favorite bottled water brand.
Fiji Is Resoundingly Americans' Favorite Bottled Water Brand
Net favorability rating* of the following bottled water brands:
*Net favorability rating is the share of respondents with a favorable opinion minus the share with an unfavorable opinion.
Survey conducted between Feb. 16-19, 2023, among a representative sample of 2,202 U.S. adults, including a subset of between 1,053 and 1,166 adults who were shown a portion of a complete list of 26 brands, with an unweighted margin of error of +/-3 percentage points.
Fiji was the top-ranked brand in net favorability rating among every generation except baby boomers (they preferred Aquafina), as well as among respondents in the South and West regions. 
Martin Riese, one of only a handful of professional water sommeliers in the world, offered an explanation for this runaway win: "Because Fiji is a naturally filtered water, it features a high level of a mineral called silica, which creates a sweet profile that fits the American palate very well." 
Aquafina, Evian, Nestle Pure Life, CG Roxane LLC's Crystal Geyser and Dasani were also consistently among the top five brands across most demographics. However, Dasani, frequently the subject of online memes over its quality, also earned the highest unfavorability levels of all tested brands. 
BlueTriton's Poland Spring took the top spot in the Northeast, while its Ice Mountain brand tied Fiji for first in the Midwest, likely reflecting the outsized presence of bottling hubs in those respective regions.  
Coca-Cola's Vitamin Water and Topo Chico, Primo Water Corp.'s Mountain Valley Spring Water and PepsiCo Inc.'s Lifewtr performed much better with younger consumers than with older ones. Brands best known for sparkling products, such as Nestlé Waters' Perrier, Acqua Panna and San Pellegrino, generally landed in the mid or bottom tiers. 
When asked to elaborate on why certain bottled water brands were their favorite and least favorite, respondents cited taste most often, with descriptors like "crisp," "smooth," "fresh" and "pure" frequently used to describe their favorite brands, and "flat," "dirty" and "acidic" used for their least favorite. Consistency of taste experience, cost and bottle quality were also mentioned. 
Still, a significant portion of respondents said they did not have a single favorite or least favorite bottled water brand, highlighting the importance of creative differentiation in the space. 
The price paradox and the power of branding 
So why do consumers have largely positive opinions of premium brands like Fiji and Evian if they also identify price as a primary factor in purchase decisions? Common Good's Reedy said it comes down to advertising.
"To communicate a distinctive position in a category where there is only an incremental difference in most options, you have to solve for brand identity," Reedy said. "And with bottled water, that typically comes down to product packaging and placement." 
Riese echoed this sentiment, noting that most consumers wouldn't be able to tell the difference between bottled water brands within an average range of minerality in a blind taste test.
The outsized value of packaging is reflected in the category's relatively low traditional ad spend compared with other beverage products like beer and soft drinks. The bottle itself, when viewed on store shelves, needs to do a lot of the talking.
In the sea of pastel blue hues and cylindrical bottles, "any uniqueness goes a long way to creating endearment in consumers' minds," Reedy added. 
With its square bottle, Fiji does just that. In emailed comments, Clarence Chia, senior vice president of marketing for Fiji, noted the brand's container is its "own fashion staple, making it the preferred choice of celebrities and tastemakers."  
Fiji and other top water brands have made strategic partnerships a big part of marketing efforts, too. It has a presence on the red carpet for many Hollywood award shows, including the Grammys and the Golden Globes (remember the "Fiji Water girl"?). Evian has been a longtime sponsor of major tennis and golf events. PepsiCo's water brands also have a history of relationships with major sports organizations, including the NFL and NCAA. 
Through these alignments, water brands move beyond the grocery store shelf and "create meaningful connections with the cultural experiences people love," Reedy said. 
And while the bottled water industry is dominated by a few beverage giants, one brand has emerged with a roar in recent years by leveraging packaging and placement strategies in a radical way: Liquid Death. 
White (or blue) space
Founded in 2019, canned water brand Liquid Death is reportedly already valued around $700 million after its irreverent ads — they frequently feature boundary-pushing and unexpected tropes like hard-partying kids or rockstar grandmas — earned the brand a cult following. The product is available in more than 60,000 retail stores nationwide, and is one of the top-selling drinking waters on Amazon. 
Packaged in a tallboy-style can with branding reminiscent of an energy drink or beer, Liquid Death targets a renegade persona previously untapped by the water market, which recently has focused on appealing to more health and wellness-conscious consumers. 
In media interviews, Chief Executive Mike Cessario has said he sees Liquid Death as an entertainment brand first and a water brand second, believing that humorous, culturally relevant creative is the key to engendering brand loyalty in a category where functional product differences are limited. 
Despite its rapid rise, most adults (65%) said they have not heard of Liquid Death, according to the survey. The brand landed near the bottom of the net favorability rankings among most generations and regions, likely due, in part, to its young age compared with the rest of the bottled water market.
Other brands could look to Liquid Death's success on Amazon as a way to carve out their own niche in the market.
"Food and beverage has been much slower to adopt direct-to-consumer trends because of freshness and perishability concerns," Moquin said. "But without those issues, delivery services offer water brands another opportunity to differentiate." 
Putting a cap on things
Though consumers prefer bottled water to tap, the industry likely has some challenges ahead that could tip the balance. Questions surrounding the industry's environmental impact aren't going anywhere as consumer concerns about climate change remain high. 
More than a quarter of Gen Z adults (26%) and millennials (27%) said they feel "guilty" about drinking bottled water, while 22% of all adults said the same. Reusable water bottles are growing in popularity, and some communities where bottling occurs are pushing back against the nearby water companies. Calls for banning single-use plastics globally are also gaining momentum. 
As a result, many water brands are incorporating sustainability into products and marketing materials. According to Chia, Fiji has transitioned nearly 65% of its bottle volume to recycled plastic, and is investing $2.5 million into energy efficiency initiatives on the islands from which it sources. In 2021, Nestlé Waters announced a similar commitment to regenerate the water cycles.
Industry experts expect this push-and-pull dynamic to continue to shape the industry. Ultimately, though, the top water brands have shown resilience amid a rapidly changing global economy.
"One would think brands that put water in a bottle and ship it worldwide would burn out so quickly in this consumer environment," Reedy said. "It's just not happening though. Water truly sits in its own category in consumers' minds."
Ellyn Briggs is a brands analyst on the Industry Intelligence team, where she conducts research, authors analyst notes and advises brand and marketing leaders on how to apply insights to make better business decisions. Prior to joining Morning Consult, Ellyn worked as a market researcher and brand strategist in both agency and in-house settings. She graduated from American University with a bachelor's degree in finance. For speaking opportunities and booking requests, please email [email protected].
We want to hear from you. Reach out to this author or your Morning Consult team with any questions or comments.
Contact Us