Brand Love, Byron Sharp and the Beauty of Big Brands
Morning Consult Managing Director Victoria Sakal explains why some of America's most divisive and underrated brands are also its most loved.
Nearly a decade ago, Kevin Roberts of Lovemarks fame predicted that "the future would be won on relationships, not just transactions. If people loved something, they would be loyal beyond reason, beyond price, beyond recession." Brand growth, and in turn business growth, would come from not only extending reach but also from "deepening the feeling."
Building on years of tracking Brand Love and set against the backdrop of a global pandemic, Morning Consult recently released its latest edition of Most Loved Brands, which ranks top performers on the Brand Love Index. Four metrics comprise this index: favorability, trust, community impact, and NPS scores combine to indicate consumers' positive sentiment, loyalty and key perceptions toward brands.
This year's top brands range from those that have always been there for us to industry disruptors changing the way we live, work, and entertain ourselves. But even amid turmoil in consumers' professional, personal and financial lives, many of the rules of brand growth -- and the power of brand love -- remain in place despite buckling economies and the scourge of a global health crisis. 
Here, we revisit key laws of marketing espoused by Byron Sharp and his colleagues at the Ehrenberg-Bass Institute and highlight a few perhaps surprising but decidedly most-loved brands to demonstrate the role love plays in driving business growth, and the potential all brands have for fostering such high-value relationships with today's consumers.
Marketing Fundamentals: Revisiting How Brands Grow
Availability -- mental, related to both awareness and salience, and physical, largely reliant on distribution -- leads to brand usage, which in turn drives growth, Byron Sharp has argued repeatedly in his ongoing research and his seminal "How Brands Grow." He further emphasizes that light users are key to driving brand growth, a truth reflected in this year's "biggest gainers," the brands which improved most on their Brand Love Index score between March 1, before the coronavirus outbreak, and the end of July 2020.
Each of Morning Consult's biggest gainers satisfied some combination of rational (groceries without leaving home) and emotional needs (self-care and stress relief) in the context of evolving use cases brought about by the pandemic, which led people to consider them as options. But importantly, their growth was in no small part fueled by previously light or non-users suddenly experiencing an entirely new need state -- again, whether functional (needing to video conference colleagues, friends and family), or emotional (needing a beacon of national optimism, hope, and progress; needing levity, entertainment and distraction).
Importantly, none of the categories in which these brands operate are overdeveloped or overcrowded. (Though some social media players are defending themselves against accusations of monopolistic behavior, TikTok is notably unique in its offer and reach versus alternatives.) This created a critical opportunity for these players to quickly establish mental and physical availability around newly-emerging consumer needs: Demand for each of these solutions rose rapidly and was, in many cases, essential while digital operations ensured people could find, engage with, and use each brand (with the exception of SpaceX). With fewer competing options, escalating needs and extreme ease of access, these brands enjoyed perfect conditions for becoming top of mind -- and heart -- among Americans.
Even without the added complexity of a pandemic leading consumers to lean especially strongly on brands they love and trust, it's been proven that big brands will necessarily continue to get bigger. By Byron Sharp's law of double jeopardy, higher penetration and in turn loyalty come with higher market share. The greater a brand's penetration, the more heavy buyers it has; the more that consumers buy from a category, the more those consumers will tend to return to the same brands when making additional purchases. In turn, brands with significant market share enjoy a greater number of heavy buyers who not only buy more of the category overall, but are also more likely to have formed an affinity for a specific brand -- likely one of the biggest brands in that category. 
An added benefit of this law is the halo effects generated among lighter category consumers: As heavier category consumers continue to support the category's biggest players, and in doing so fuel the usage flywheel, this momentum increases awareness and mental availability among less developed and more impressionable audiences.
Due to a combination of this established law, a global health crisis nudging consumers towards their most loved brands and these circumstances heightening demand for certain categories, Morning Consult data provides evidence of this "big get bigger" phenomenon. Among this year's Top 50 Most Loved Brands, the biggest gainers in Brand Love since "pre-pandemic" times (before March 1) are also the brands with some of the greatest year-over-year improvements in Brand Love.
Even with further adjustments to remove any potential effects of the pandemic, this holds. Comparing pre-pandemic 2020 Brand Love scores to 2019 scores reveals that this year's leading brands including USPS and Clorox as well as other large, established brands -- namely Amazon Prime, Colgate, PayPal, and Oreo -- saw year-on-year gains more than double that of the top 50 average gain.
Changing needs can catalyze category growth, abundantly evident in the context of COVID-19. People switch brands or expand their existing repertoire due to a combination of rational reasoning and emotional desire. In addition, 2020 has led to significant changes in consumers' need states, use cases and purchase occasions (why they buy) as well as significant decreases in both availability and ease of purchase (where and how they buy). Together, these circumstances are leading buyers heavily active in a given category, particularly those relevant to key needs during this unique time, to lean further into brands they know best, whether out of emotionally-fueled loyalty to their go-to brands or a rationally-minded openness to expand repertoires given stockouts and other accessibility issues. 
As discussed above, lighter category buyers also lean into known, go-to-brands whether because they are now buying a given category more and migrating to larger, better-known brands within that category, or because they default to their own already-known and -trusted brands. Either way, both heavy and light buyers are open to new brands for both rational, functional reasons such as availability, price, convenience, being a legacy or well-known brand with higher name recognition, and emotional reasons such as comfort, trust, reliability, and consistency. 
Considering the past five months and the range of functional and emotional needs surfaced by the pandemic and stay-at-home orders, it's no surprise that 48 percent of this year's Most Loved Brands are either Food & Beverage or Household & Personal brands. These categories both addressed top needs all Americans have experienced -- likely with great frequency -- since March, but they also comprise some of the largest and best-known brands in the U.S. which heavy and particularly light category consumers undoubtedly flocked to. 
In fact, three Household & Personal brands, two Food & Beverage brands and the only ranking Health Services brand wouldn't have ranked in the top 50 based on pre-pandemic Brand Love levels, before the onset of the pandemic transformed the nature of consumer demand.
Adding in distribution setbacks, barriers to access, a health crisis, financial pressures and mounting stress and anxiety driving people towards certain categories, it's unsurprising that certain brands within those categories enjoyed gains.
What's Love Got To Do With It?
The combination of greater category activity and greater brand awareness necessarily results in higher purchase consideration, which translates to higher usage for brands within rising categories. Category activity is driven by changing consumer needs and context, but Morning Consult research finds that, as expected, top drivers of brand awareness include sentiments such as "is a brand I love," "is a well-known brand," "is a brand I use often" and "has been recommended to me by someone I trust." Each of those holds a 0.74 or greater correlation. Brand Love index scores have an equally strong relationship with brand awareness (0.75), but the relationship grows even stronger when comparing Brand Love Index scores to KPIs further down the funnel, particularly critical for efforts to drive brand and business growth.
Awareness is table stakes for brand purchase let alone any degree of affinity, but Morning Consult Brand Intelligence data reveals the magnifying effects of feeling something toward a brand, above and beyond just being aware of it.
Looking across the nearly 1,500 B2C brands that Morning Consult tracks on a daily basis, favorability and trust have the strongest relationship with Brand Love (correlations of 0.96 and 0.97, respectively), followed by purchase consideration (0.88) and, further down the funnel, usage (0.77). Loyalty, as indicated by NPS, has a weaker relationship with Brand Love than these other metrics, but the connection is still strong (0.75). It's also worth noting that community impact is also very strongly related to Brand Love (0.94), likely reflecting the emphasis that today's consumers place on brands' local involvement, service and impact amid a global health crisis, significant social unrest, and a flailing economy. 
To be sure, many of the factors that Brand Love most strongly correlates with, such as favorability and trust, are components in the Brand Love Index formula. 
Taken together, Love strongly represents positive emotional connection -- whether generally, as indicated by favorability, or more specifically via trust, the holy grail of brand-consumer relationships -- as consumers move from awareness to purchase and even advocacy.
Spotlight on Trust: Love's Enduring Wingman 
Trust might be expected as a particularly powerful driver of Brand Love this year as consumers look to brands to provide solutions where the public sector is failing, and also rely on companies to keep them stocked, sane and safe. Given trust is one of the four components of Brand Love, the 0.97 relationship between Brand Love and trust is somewhat expected. But the relationship is nearly as strong (0.91) when comparing Brand Love Index scores to "is a brand I trust," one of 48 brand attributes Morning Consult evaluated to determine the top drivers of Brand Love. In this drivers analysis, trust proved to be not only a top driver of Brand Love, but also one of the largest differentiators between most-loved and less-loved brands: Top 50 brands scored an average of 57 percent in net performance on this trait, while other brands scored an average of 5 percent, a 52 point gap.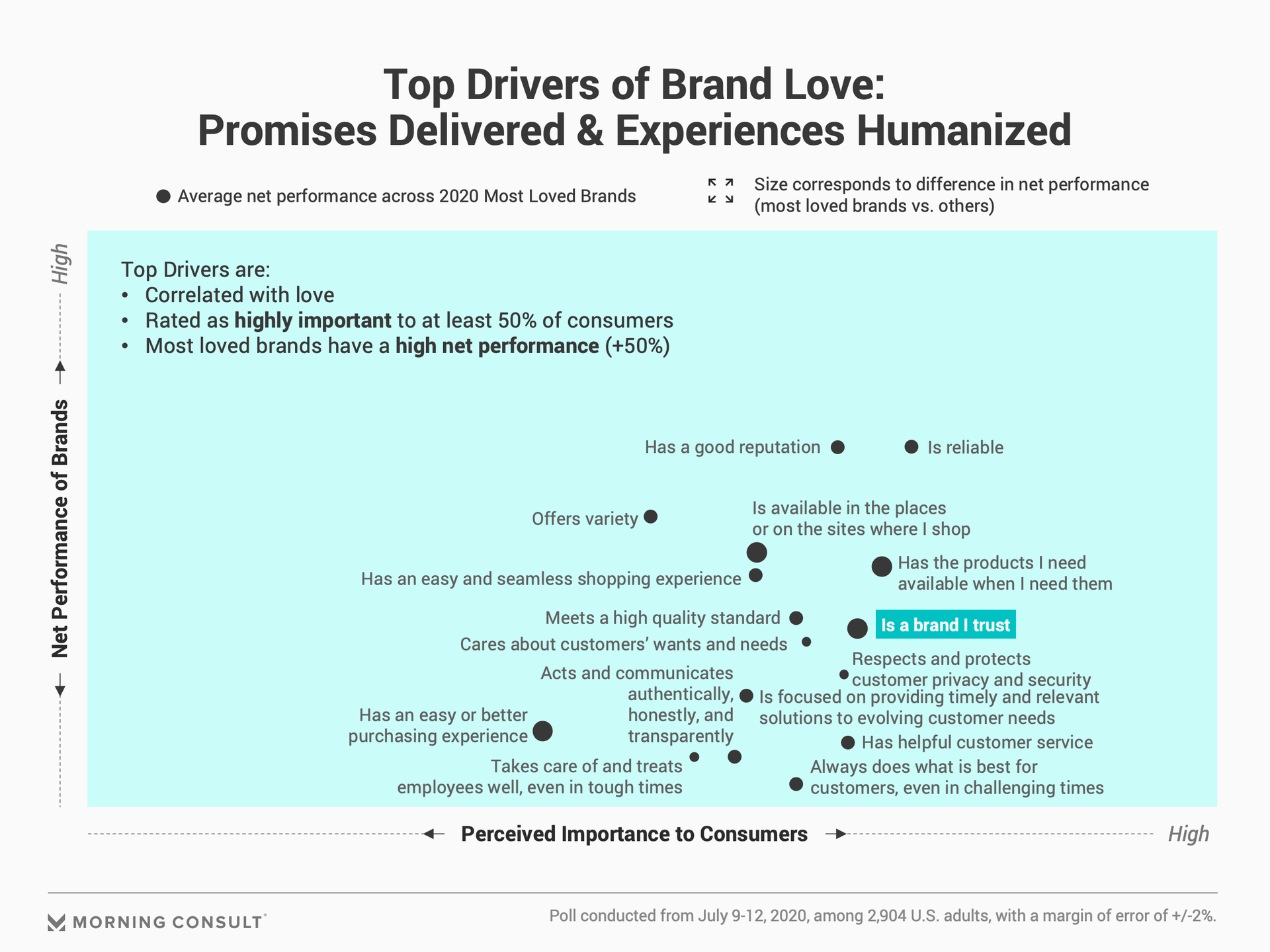 But Morning Consult data also confirms that this relationship was strong even prior to the coronavirus outbreak: 38 of this year's Top 50 Most Loved Brands were also identified as Americans' Most Trusted Brands in January 2020.
To better understand this close relationship, it's worth noting trust's many manifestations -- particularly reliability, availability and consistency. Like any trusting relationship, brands present where and when consumers need them and which also sufficiently deliver on consumers' needs will foster a strong emotional connection. This connection will then supersede other options and stand the test of time, pandemic or otherwise.
Drivers of Brand Love Explain Hotly-Debated and Underrated Most Loved Brands 
Trust is not the only brand KPI with important component parts. Looking a level deeper than funnel KPIs to the underlying drivers of Brand Love reveals further insight and strategic implications for brands looking to either maintain or nurture strong brand love. 
To determine drivers, Morning Consult first ran a qualitative, AI-powered analysis on more than 13,000 open-end responses detailing reasons behind favorability towards this year's most loved brands. This was supplemented with quantitative research on 48 potential drivers of Brand Love to derive the relationship between brand qualities that consumers rate as highly important to their purchasing decisions with leading brands' performance on those attributes.
Brand Love drivers fall into four categories. Drivers within each category show a statistical relationship with Brand Love, but the strength of that relationship and the extent to which different drivers matter to consumers and translate to brand performance varies. Find more detail on each of these categories here. 
Attributes most strongly correlated with Brand Love are related to:
Recommendations, either as a brand consumers would recommend, or as one recommended to them;
Meeting needs, whether quicker than or better than alternatives; and
Ease of access, whether an easy/better purchasing experience, or product availability
Beyond that, unsurprisingly, qualities such as generating positive emotions for consumers (whether by making them feel good, or making them feel appreciated) are also strongly related to Love. It's also worth noting that frequent usage feeds the flywheel and contributes to greater Love; value also plays a role, albeit lesser. 
But critically, these traits drive more than Love: Most also strongly relate to various levels of the purchase funnel and other important, well-established KPIs.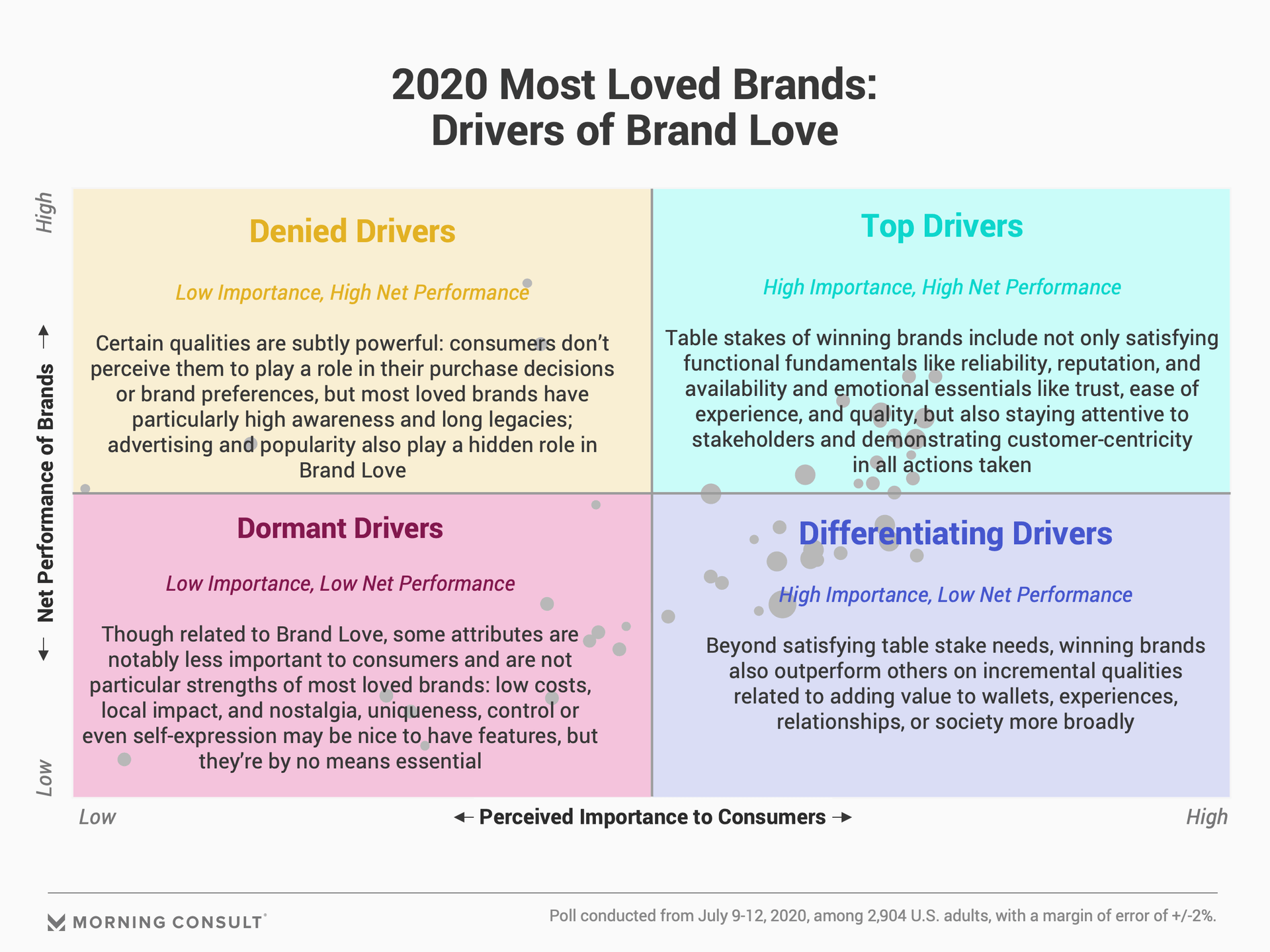 In assessing even the top five traits most closely related to KPIs critical to brand and business growth, the importance of trust reemerges. Qualities around meeting needs are strongly related to multiple KPIs, particularly usage: Functionally, consumers can trust the brand to deliver a helpful solution either quicker or better than alternatives. Recommendations also play an important role, suggesting a degree of relational trust is necessary for a consumers' willingness to either recommend the brand, or rely on a trusted peer's word. 
The additional insight provided by these underlying qualities help to explain why some underrated and other seemingly less-loved brands are among 2020's Most Loved Brands. According to consumer evaluations of brand performance on each of these attributes, Scotch Tape is a top performer on six of the above; Clorox and Kraft are on four. 
While USPS, 2020's most loved brand, is a top performer on just two of the above ("is a brand I'd recommend to a friend or colleague" and "is a brand I use often"), its rank is best explained by its position as the most trusted brand among this year's Top 50 and its near-top performance on having a positive community impact. Given the strong relationship these two attributes have with Brand Love -- particularly in 2020 when trust in institutions is low, desire for community impact is high, and fears of brand reliability, consistency and survival are rampant -- and the role this brand plays in Americans' personal and professional lives on a daily basis, it's no surprise that USPS continues to rank as such a well-loved brand year after year.
Of course, politically-motivated interventions in recent weeks may jeopardize this strong sentiment. Despite periodic ebbs, USPS has historically been trusted, well-regarded, and universally loved by most Americans and across party lines -- in part because of its ubiquity as the country's sole mail provider. But in recent weeks, as headlines around significant complications around the viability and reliability of mail-in voting have developed, Morning Consult Brand Intelligence shows early signs of divergences in sentiment along party lines towards USPS' trust and community impact. USPS was perfectly positioned to be a reliable conduit to safe, low touch, and socially-distanced elections via mail-in voting, but that position is now at risk of being undermined.
Even beyond the top five or so qualities highlighted per KPI, each driver of Brand Love has a strong relationship with purchase consideration: high performance on top drivers translates to likelihood to purchase. With regard to usage, no driver of Brand Love predicts (i.e. has a statistically significant relationship with) daily usage, but most predict weekly usage, differentiating and top drivers most strongly so, denied drivers slightly less so. A few exceptions exist, highlighting qualities largely inconsequential for more frequent usage:
Offering promotions, discounts or sales (a differentiating driver) and having a good reputation, meeting a high standard of quality and having helpful customer service (top drivers) only relate to rare use (i.e. once a month or less).
Being around a long time and being popular or trendy (denied drivers) and being customizable or personalized to better meet needs (a dormant driver) have no meaningful relationship with use across any time horizon.
Love Triangle: Functional Fundamentals, Emotional Essentials and the Laws of Marketing 
From early-stage consideration to later-stage usage and even loyalty, Brand Love demonstrates a strong relationship with important funnel metrics, validating Brand Love's viability as both an insightful window into consumer sentiment and a reliable indicator of future growth. In this way, Brand Love becomes a critical complement to retrospective metrics often cited as optimistic proxies for future performance.
Further, Brand Love and its components not only align with Sharp's myriad marketing rules of thumb, but do so even in the context of a truly unprecedented and unique consumer environment. In other words, just as business fundamentals by definition hold when the going gets tough, love -- and Brand Love in particular, an underrated but hugely powerful fundamental -- endures both the best of times and some of the very worst. 
Brands' ability to meet needs better than competitors, particularly as those needs evolve over time and expand across use cases, is foundational for a consumer relationship to exist; dimensionalizing that functional satisfaction with emotional connection creates a proven stickiness that lasts long past the first date.
Victoria Sakal previously worked at Morning Consult as a brands analyst.
We want to hear from you. Reach out to this author or your Morning Consult team with any questions or comments.
Contact Us