Consumer Comfort With In-Store Shopping Is Back
Consumers' level of comfort with in-store shopping has reached its highest point since the onset of the COVID-19 pandemic, writes retail and e-commerce analyst Claire Tassin
Consumers are largely comfortable shopping in stores again, but that comfort is not yet universal. While the return of store comfort means retail marketing strategy can shift from safety reassurances and touting the benefits of curbside pickup, shoppers may need a nudge to get off their phones and remember all the benefits of physical stores.
This is part of our retail series on the return of physical stores. Read our analysis on the drivers behind rural retail growth and a demographic breakdown of those who prefer in-store shopping.
Consumer comfort with in-store shopping is at its highest level since summer 2021, before the emergence of the delta variant, with roughly 3 in 4 shoppers saying they are comfortable spending time in department stores and boutiques.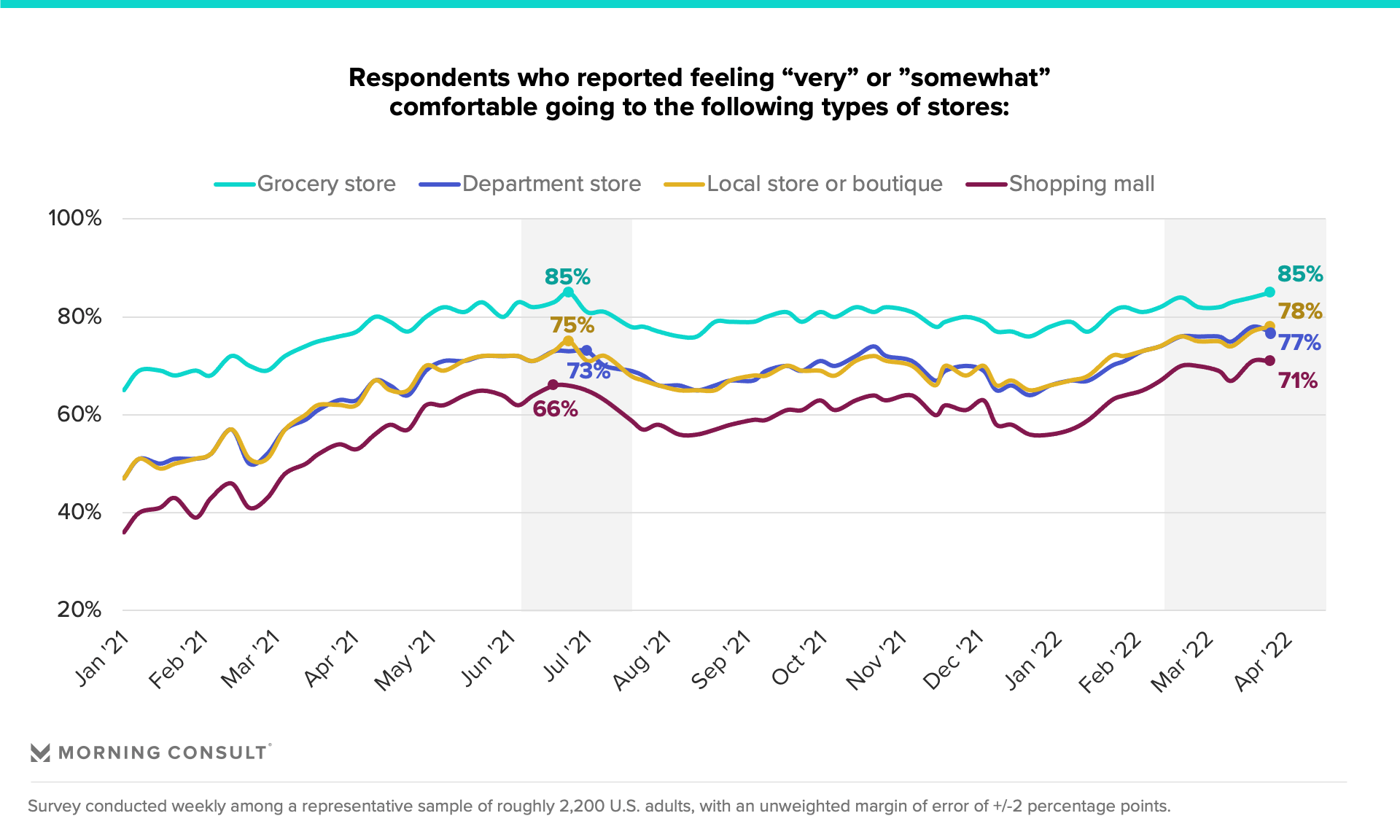 Retailers can invite digital shoppers to return to fitting rooms and encourage customers to explore new product lines in person or even via immersive experiences. Notably, consumer comfort is proving resilient against further COVID-19 variants, suggesting that future waves of the virus won't lead to the plummeting in-store comfort we saw after the delta surge.
However, regional differences in COVID-19 infection rates and related regulations mean retailers' communications plans can't drop health and safety entirely — especially as these comfort levels are not universal.
Baby boomers and low-income shoppers feel less comfortable visiting physical stores
Despite general comfort with returning to stores, consumers are less likely to be comfortable with shopping malls than they are with other store types. Extended time in crowded indoor spaces is unappealing, particularly to those who have had more challenging pandemic experiences, such as baby boomers and those with an annual household income under $50,000. Despite an overall preference for in-store shopping, these groups are more reluctant to return to stores. 
The latest wave of this dataset shows a drop in comfort with shopping malls among Gen Z adults, but this hasn't been consistent over time.
Discomfort isn't discouraging these shoppers from returning to stores entirely, but they are likely minimizing trips and the amount of time spent at physical retailers to mitigate potential risk factors.
Regardless, while comfort with in-store shopping should continue its slow climb, the convenience that consumers found with digital shopping over the course of the pandemic won't vanish. Leading retailers will be most competitive if they increasingly support blended shopping journeys by refitting stores to better serve online orders while integrating digital tools into the brick-and-mortar experience. 
Claire Tassin is the lead retail & e-commerce analyst on the Industry Intelligence team, where she conducts research, authors analyst notes and advises leaders in the retail & e-commerce industry on how to apply insights to make better business decisions. Before joining Morning Consult, Claire was an analyst at Gartner, where she conducted research on shifting consumer behaviors and expectations, as well as trends and technology relevant to marketing leaders in the retail sector. She graduated from Washington University in St. Louis with a bachelor's degree in psychology. For speaking opportunities and booking requests, please email [email protected].
We want to hear from you. Reach out to this author or your Morning Consult team with any questions or comments.
Contact Us