Discount and Off-Price Retailers Are Driving Rural Retail Growth
Discount and off-price retailers are leading the 2022 surge in physical store openings, writes retail and e-commerce analyst Claire Tassin.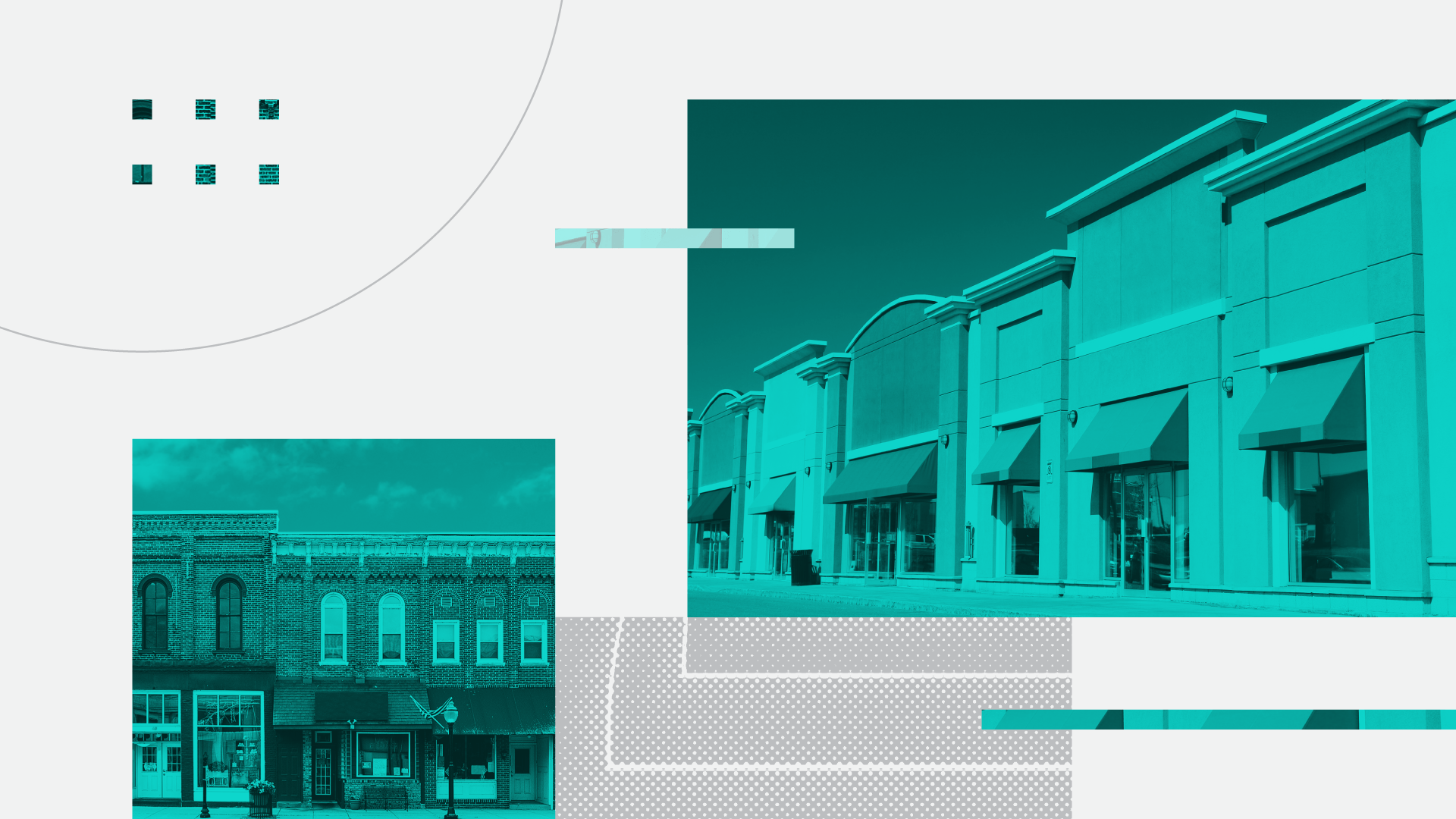 The concentration of the discount retail expansion in rural areas serves a deal-seeking consumer cohort, despite the lack of experience- or brand-related drivers attracting this group to in-store shopping. As discount retail continues to expand in brick-and-mortar locations, online retailers looking to win with this segment will be challenged to compete on price despite superior convenience.
This is part of our retail series on the return of physical stores. Read our analysis on the return of store comfort levels and a demographic breakdown of those who prefer in-store shopping.
More stores are opening than closing as brick-and-mortar retail finds its footing again. That might be hard to believe if you live in an area with high retail vacancy rates, but Coresight Research reports that as of January 2022, U.S. retailers announced 1,910 new store openings planned for this year. Many of these announced store openings are in discount and off-price retail spaces, with Dollar General leading the pack.
Despite the acceleration of online shopping in the last two years, physical stores are still important to shoppers, though different shoppers have different reasons for this. As part of Morning Consult's Q1 State of Retail and E-Commerce report, we conducted a drivers analysis to examine the value that different consumer cohorts find in online and offline retail channels in an effort to explain trends we're seeing in store openings and closures. The rankings represent how important different shopping attributes are in predicting whether someone is more inclined to shop online or in person (1 is the strongest predictor and 11 is the weakest predictor). These rankings were determined using a dual-model, regression-based method that quantifies the relative importance of a series of predictor variables in predicting an outcome variable.
Differentiating retail for rural and discount shoppers
Off-price and discount retailers lure customers with low prices, the promise of a treasure hunt, or both. While age and income demographics are a blunt instrument to define shopper segments, Morning Consult's drivers analysis reveals why the pursuit of a good deal outweighs the convenience of online shopping — especially for those in households earning under $50,000 annually.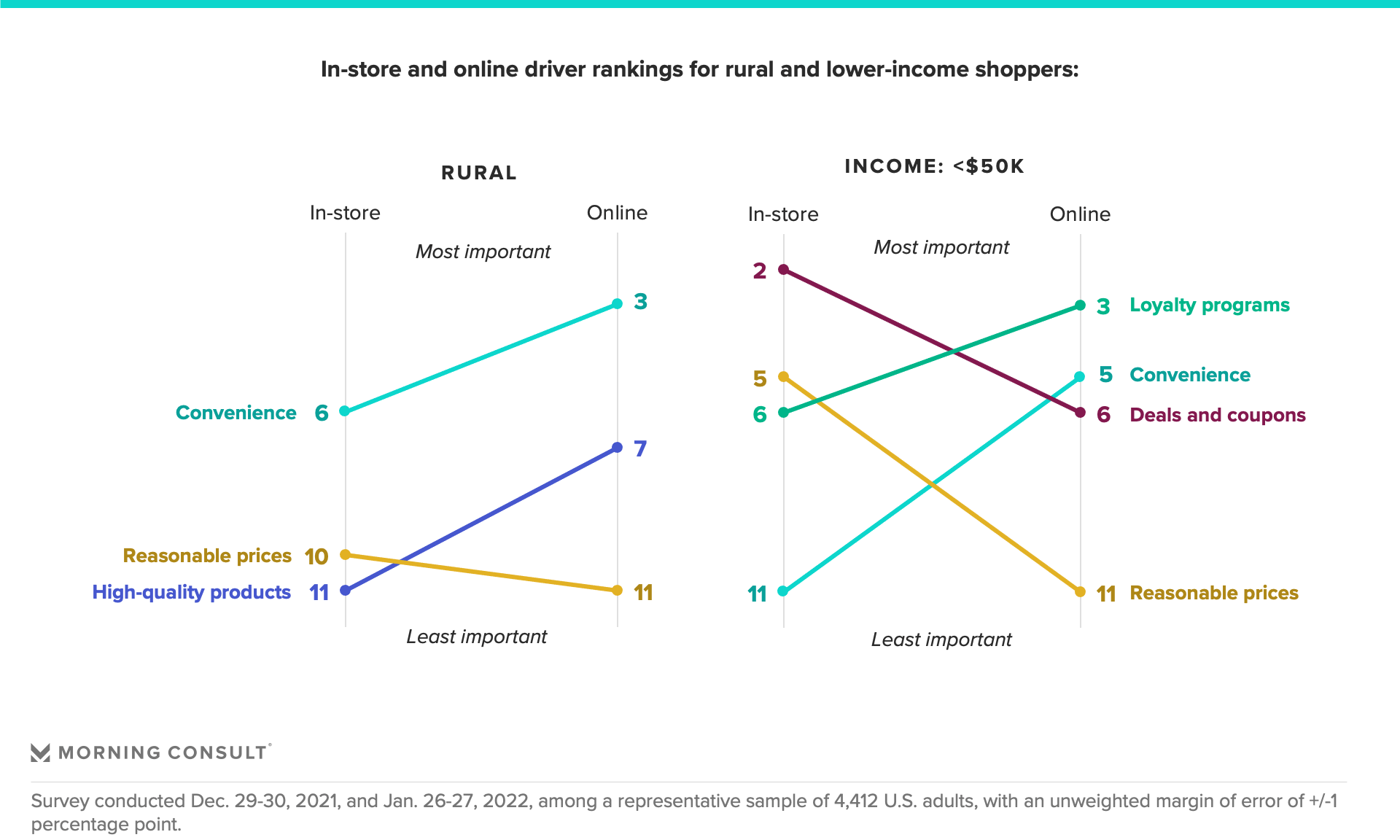 Consumers with household incomes under $50,000 are more likely than higher earners to shop in stores. The former cohort sees lower costs as a key advantage for stores, with reasonable prices and access to deals and coupons as differentiated drivers for in-store shopping. These shoppers are more likely to go out of their way for access to deals, given that online shopping wins on convenience.
Rural consumers still prefer to shop in stores over online (41% versus 29%), but physical stores lack meaningful differentiation: There's little to distinguish perceptions of the two channels when it comes to the value of promotions and prices. Conversely, online shopping is seen as more convenient, with access to higher-quality products not often found in discount stores. As discount retailers increase their push into sparsely populated areas, rural shoppers who are seeking higher-quality products or a more convenient experience might be left with little choice but to shift more of their shopping online.
For more analysis, including a drivers analysis for luxury and middle-of-the-road retail, read our full Q1 2022 State of Retail & E-Commerce report.
Claire Tassin is the lead retail & e-commerce analyst on the Industry Intelligence team, where she conducts research, authors analyst notes and advises leaders in the retail & e-commerce industry on how to apply insights to make better business decisions. Before joining Morning Consult, Claire was an analyst at Gartner, where she conducted research on shifting consumer behaviors and expectations, as well as trends and technology relevant to marketing leaders in the retail sector. She graduated from Washington University in St. Louis with a bachelor's degree in psychology. For speaking opportunities and booking requests, please email [email protected].
We want to hear from you. Reach out to this author or your Morning Consult team with any questions or comments.
Contact Us