Physical Stores Are Still King: Diving Into the Demographics of In-Store Enjoyment
As comfort with in-store shopping rises, retailers can make shopping trips fun again by promoting in-store experiences, writes retail and e-commerce analyst Claire Tassin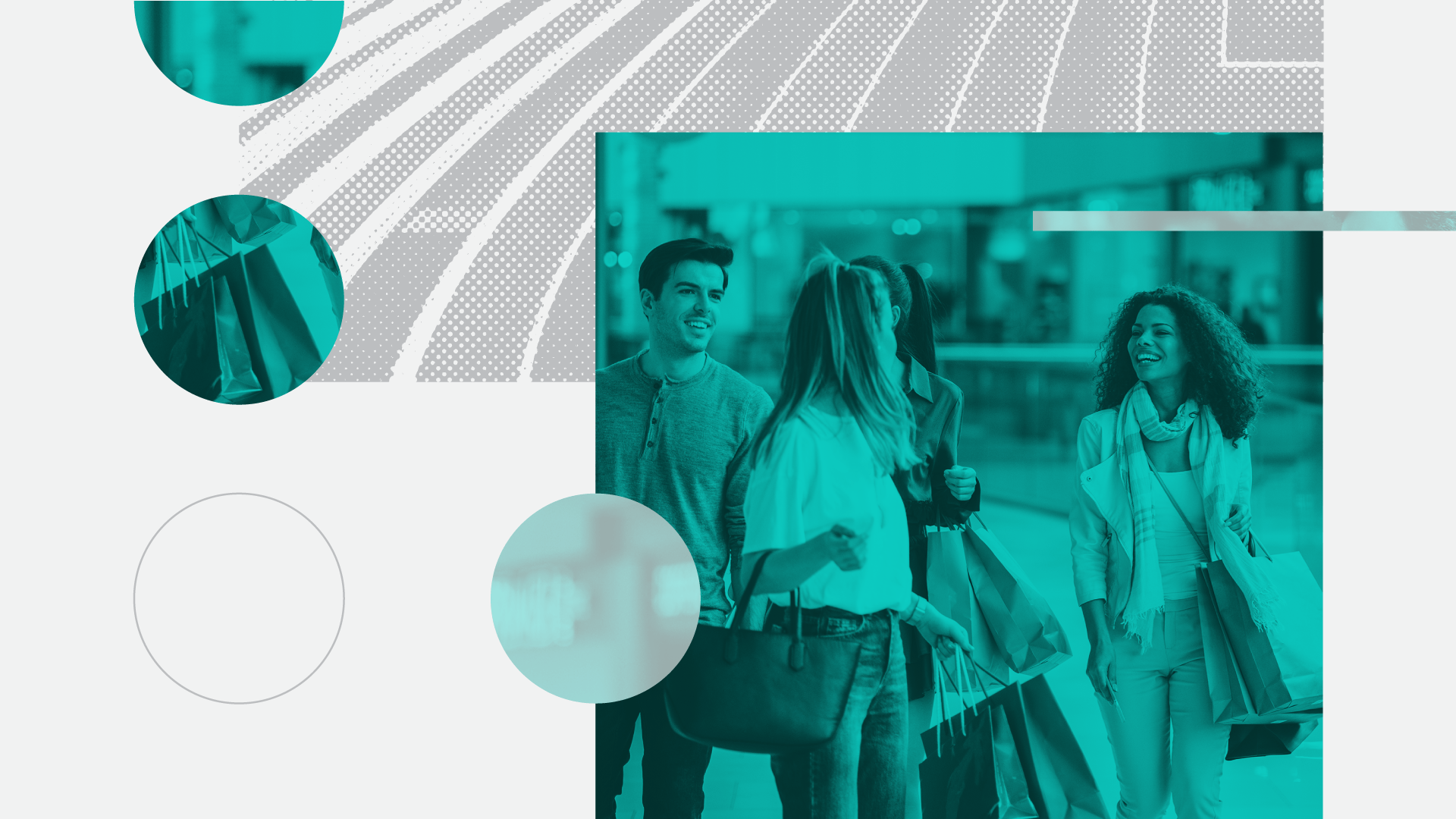 Despite the growth of e-commerce, shopping enjoyment is the leading reason consumers go to stores. Women, urbanites and younger shoppers are most likely to say they like shopping in stores, where tactile product discovery happens in a way that can't be replicated online. This is particularly important for retailers in categories where quality, texture and fit are primary consideration factors for purchasing.
This is part of our retail series on the return of physical stores. Read our analysis on the return of store comfort levels and the drivers behind rural retail growth.
Casual browsing, and the impulse shopping that comes with it, is back. Retailers were right to focus on safety messaging and omnichannel service promotion for the last two years. Now they should focus on promoting the full suite of services available in stores (such as fitting rooms and tailoring for department stores). Morning Consult's latest retail tracking data shows that more than 2 in 5 adults prefer in-store shopping to online, and even the plurality of Gen Z adults (37%) would rather shop in stores. 
Stores still win on enjoyable experiences and the ability to compare and understand products
Stores still have real advantages over online shopping, even as retailers continue to expand their digital shopping capabilities. Products aren't just compared on specs; consumers are visiting stores for the tactile experience that only in-person shopping offers. Retailers should use digital ad space to promote in-store experiences such as convenient omnichannel services and the ability to see new product lines in person.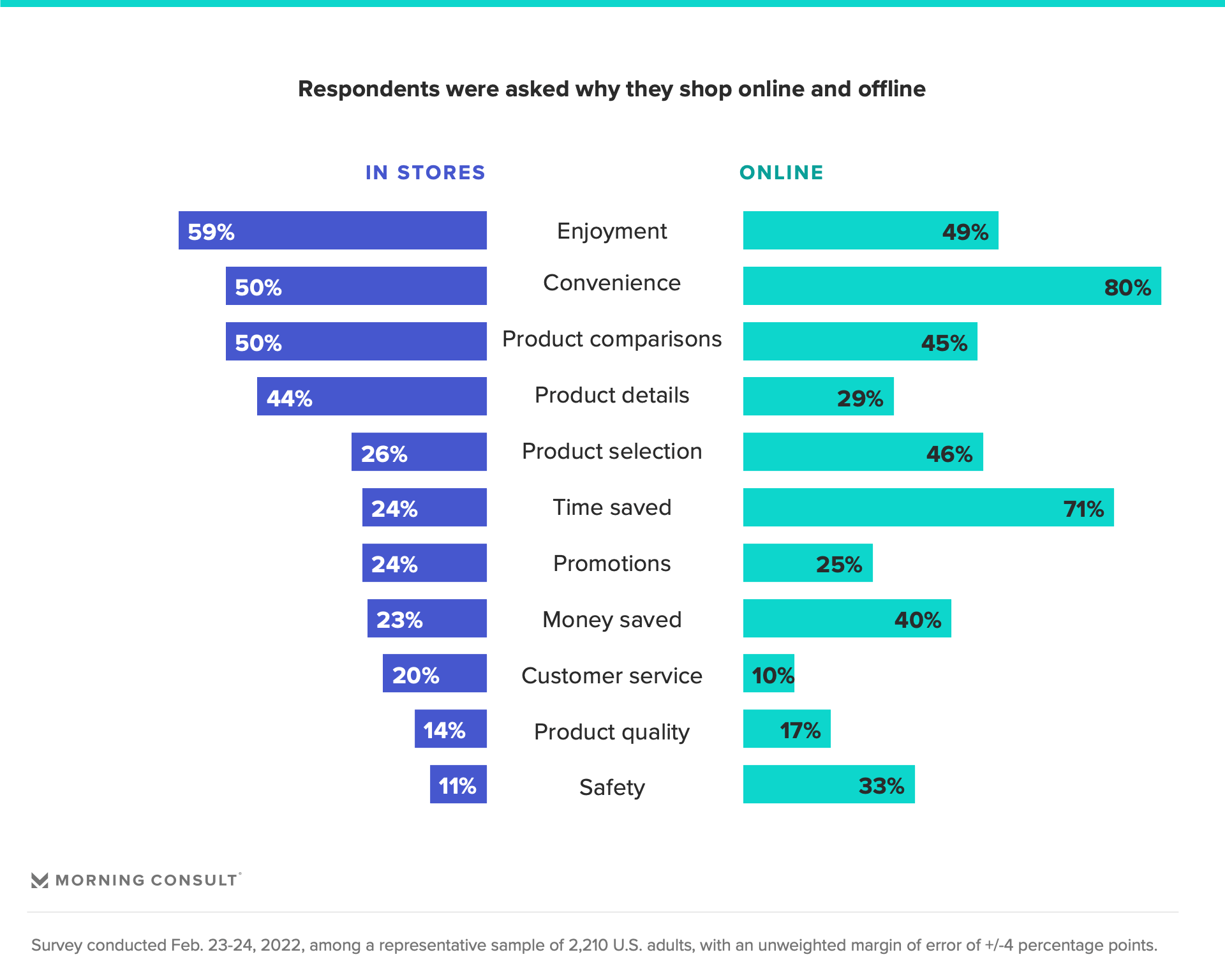 However, there's significant demographic variability within this data, highlighting the need to avoid a one-size-fits-all approach:
Gen Z's perception of online convenience is dampened relative to other generations. Having grown up in an e-commerce world, for this group online channels aren't as differentiated as they are for older generations.
Consumers from households earning less than $50,000 annually don't see the same time savings benefit from shopping online over shopping in stores, and are more likely to prefer in-store shopping.
Wealthy shoppers report better customer service experiences in stores: Higher-end retail comes with the expectation of high-touch service, though that's increasingly difficult to offer in the current labor market.
For some, in-store shopping is just plain fun
The leading reason people prefer stores to online shopping is that they consider the experience to be more enjoyable. Key demographics especially appreciate in-store shopping: Morning Consult Brand Intelligence psychographic profiles show that women, younger shoppers and urban shoppers are all more likely than the average consumer to enjoy the experience.
These groups line up well with brands' target audiences for in-store experiences and events, especially at flagship stores in urban areas. So while retailers should continue to avoid drawing big crowds, they can encourage shoppers to linger (and, of course, spend more) by depicting social shopping in marketing communications and promoting in-store experiences and events.
(For more on demographic drivers of in-store and online preferences, read Morning Consult's Q1 2022 State of Retail and E-Commerce report.)
Grocery shopping is still heavily weighted to physical stores, while personal electronics is much more internet-friendly 
There's significant category variability in consumers' in-store and online shopping preferences: 82% of U.S. adults prefer shopping for groceries in stores, compared to 52% who feel the same for personal electronics. Generally people want to select their own groceries, especially when it comes to selecting the best available produce. Conversely, electronics products tend to be relatively uniform and their individual details are better understood online. For beauty, furnishings and apparel, it's hard to convey texture, scent and fit without seeing these products in person. Hence, in-store purchases in these latter categories are returned far less frequently than online purchases.
Respondents were asked if they prefer to make purchases in stores or online in the following categories:
Survey conducted Feb. 23-24, 2022, among a representative sample of 2,210 U.S. adults, with an unweighted margin of error of +/-2 percentage points.
Consumers won't forget the convenience of online shopping as they return to stores, but leading retailers should further support blended shopping journeys by refitting their stores to better serve online orders and by integrating digital tools into the brick-and-mortar experience. 
Claire Tassin is the lead retail & e-commerce analyst on the Industry Intelligence team, where she conducts research, authors analyst notes and advises leaders in the retail & e-commerce industry on how to apply insights to make better business decisions. Before joining Morning Consult, Claire was an analyst at Gartner, where she conducted research on shifting consumer behaviors and expectations, as well as trends and technology relevant to marketing leaders in the retail sector. She graduated from Washington University in St. Louis with a bachelor's degree in psychology. For speaking opportunities and booking requests, please email [email protected].
We want to hear from you. Reach out to this author or your Morning Consult team with any questions or comments.
Contact Us