Consumers' Sensitivity to 'Shrinkflation' Is Leading Them to Switch Food & Beverage Brands
Food & beverage analyst Emily Moquin examines consumers' reactions to paying more for less at the grocery store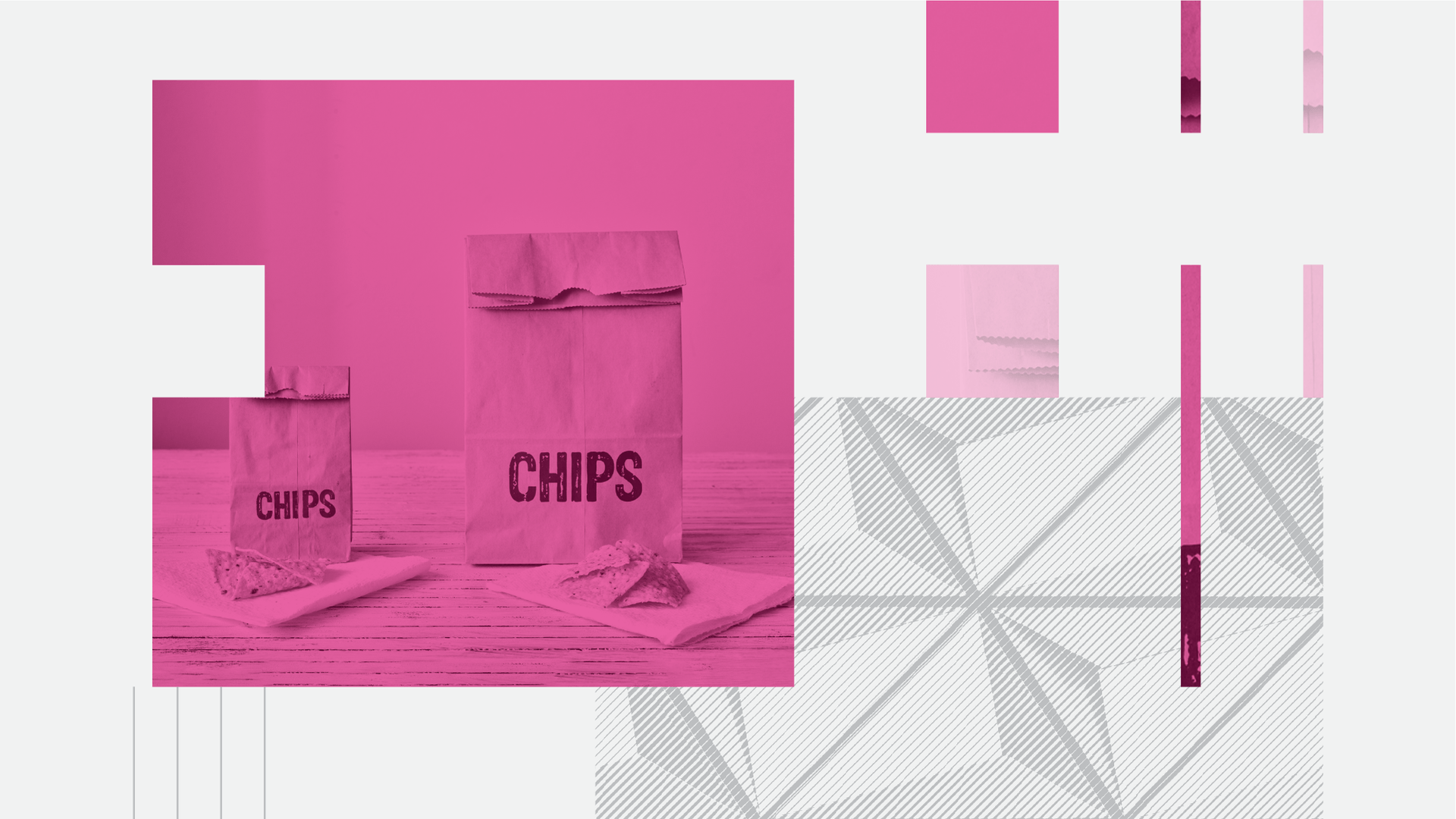 Consumers' sensitivity towards groceries' persistent price increases means they're more attuned to "shrinkflation," which is likely further driven by how much they've heard about the term. With a majority of U.S. adults saying that shrinking packages and portion sizes are sending them to alternative brands and products, food & beverage companies need to make sure they maintain positive consumer perception or risk losing goodwill forever.
No one likes to pay more for less. With consumers hyperalert to inflation, they're more vigilant than they otherwise would be about shrinkflation, where products are shrinking in size, weight or quantity as prices remain the same or even increase — a phenomenon that's particularly prevalent in the grocery category. 
These shrinking packages and products are especially frustrating when many shoppers are already working hard to save money by opting to buy fewer groceries and buying less expensive products — 79% of U.S. adults said in August that they often or sometimes made an effort to save on groceries.
Currently, levels of awareness about shrinkflation correspond to levels of concern: A majority of U.S. adults (54%) have seen, read or heard something about shrinkflation, and roughly two-thirds of all adults (64%) are worried about it. Younger cohorts have seen, read or heard less about shrinkflation than older ones (53% of Gen Z adults and 47% of millennials, compared with 62% of baby boomers), so younger consumers' overall concern is slightly lower, and a higher share said they don't know or have no opinion about the topic.
Respondents' level of concern about shrinkflation
Survey conducted Aug. 19-21, 2022, among a representative sample of 2,210 U.S. adults, with an unweighted margin of error of +/-2 percentage points. Figures may not add up to 100% due to rounding.
Across income groups, overall worry is relatively similar, but it's more intense among lower-income consumers, who were more likely to say they were very concerned, while those in the highest income range, with more spending power, were more likely to say they're only somewhat concerned. 
Consumers are picking up on shrinkflation across food categories
If brands were hoping shrinkflation would fly under consumers' radars, we have bad news: Only 25% of U.S. adults said they hadn't noticed shrinkflation in any grocery categories.
Categories where respondents have noticed shrinkflation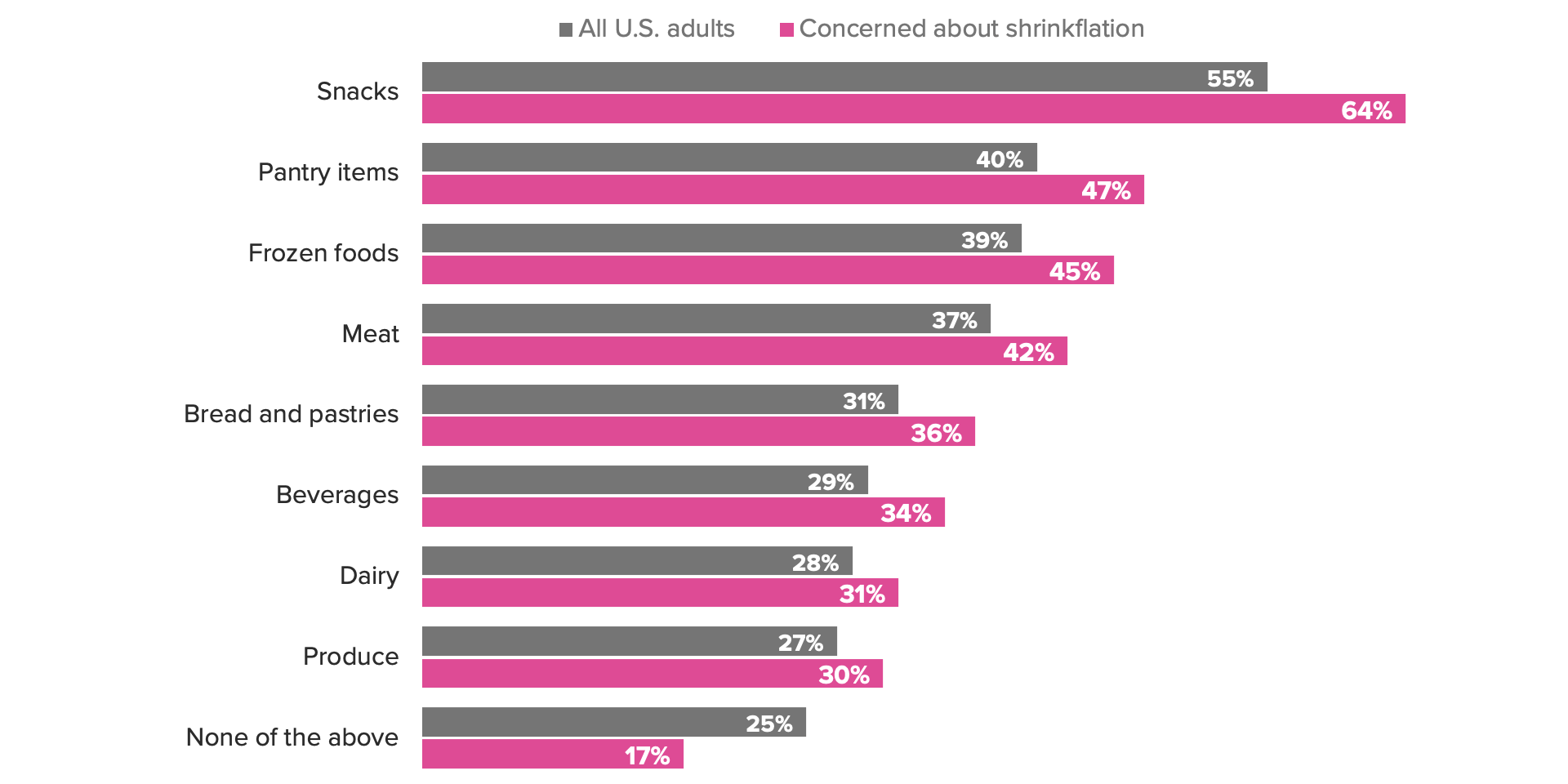 Survey conducted Aug. 19-21, 2022, among a representative sample of 2,210 U.S. adults, with an unweighted margin of error of +/-2 percentage points.
In consumers' minds, snacks are the biggest shrinkflation culprit: More than half of U.S. adults said they've noticed snacks decreasing in size or quantity while prices have either remained steady or gone up, and those who are concerned about shrinkflation are even more likely to say they've noticed it happening with their snacks. Going forward, shoppers are likely to be extra sensitive to perceived package or product changes in this category. 
The categories that certain demographics tend to buy more frequently are the ones in which they are more likely to notice shrinkflation than their counterparts. For example, millennials and Gen Xers are more likely than boomers to notice shrinkflation in produce and meat, whereas boomers are more likely to notice it in pantry items.
Consumers aren't putting up with shrinkflation — they're opting for different products
While there are some purchases where consumers feel like they have no choice but to absorb inflationary increases, our data shows that many are taking action to mitigate price pressures at the grocery store. Roughly half (48%) of consumers said they elected to buy a different brand when they encountered shrinkflation, and a similar share (49%) said they chose a generic product instead, which should be concerning to manufacturers and retailers since that translates to lost sales. Those in the lower and middle income ranges (52% and 48%, respectively) were more likely to opt for generic products than those in high-income households (41%). 
Share of respondents who took the following actions when they noticed shrinkflation:
Survey conducted Aug. 19-21, 2022, among a representative sample of 1,657 U.S. adults who said they had noticed shrinkflation, with an unweighted margin of error of +/-2 percentage points. The share who responded "other" is not shown.
Repeat purchases are a big concern as well, with 3 in 10 adults saying they stopped purchasing from specific brands when they noticed shrinkflation. This loss of loyalty might be hard for brands to recover, as our most recent research shows that while food & beverage as a category is highly trusted, it's also highly substitutable. Consumers named food & beverage first among the industries where they have switched brands when companies lost their trust.
Generationally, millennials and Gen Xers were more likely than baby boomers to say they decided to buy a product in bulk when encountering shrinkflation, likely because they are shopping for families and can make use of the larger sizes. The same is true of middle- and high-income consumers compared with those in the lowest income bracket, and wholesalers have an opportunity to reach these groups with communications about bulk savings.
Of those who noticed shrinkflation, only 19% said they didn't take any of these actions, and if concern around shrinkflation grows, that figure might soften even more as consumers make further trade-offs. With the consumer price index for food at home up 13.1% year over year in July, brands need to be paying extremely close attention to consumer sensitivity to these changes, or risk losing their favor at a time when many retailers and manufacturers are already weathering macroeconomic difficulties.
Emily Moquin previously worked at Morning Consult as a lead food & beverage analyst.
We want to hear from you. Reach out to this author or your Morning Consult team with any questions or comments.
Contact Us