Despite Inflation's Toll on Holiday Shoppers, Black Friday's Relevance Is Fading
Retail and e-commerce analyst Claire Tassin breaks down financially anxious consumers' holiday shopping plans, including what retailers can expect on Black Friday
Holiday sales are already in high gear, so what does that mean for holiday spending and shopping timelines? Shoppers feeling heightened financial anxiety due to inflationary pressure anticipate spending more than last year and aren't waiting for Black Friday or Cyber Monday to get the best deals.
This is part of Morning Consult's First Look: Consumers' 2022 Holiday Plans report, which provides an early analysis into the consumer trends that brands should anticipate ahead of the holiday season across the finance, retail, travel and food industries.
Download the First Look: Consumers' 2022 Holiday Plans report here.
The holidays are quickly approaching, and inflation shows no signs of falling. A vast majority (90%) of US adults say they're "very" or somewhat" concerned about inflation, and retailers answered their concerns (and their own inventory issues) with last week's early kickoff of holiday discounts in the form of Amazon.com Inc.'s second Prime Day of the year and the myriad copycat sales that came along with it. As retailers race to the bottom on prices, leaders are asking how consumers' elevated financial strain will affect when people will shop and how much they'll spend. 
Inflation's impact is uneven. About half of all shoppers report feeling anxious about their finances for the upcoming holiday season, rating their anxiety at 51 or higher on a scale of 0-100 — in particular, women, millennials and those with annual household incomes under $50,000 report elevated financial anxiety. Twenty-nine percent of anxious shoppers said they will go into debt to pay for holiday expenses, versus just 8% of the unanxious group, which has big implications for "buy now, pay later" offerings. Those with holiday financial anxiety are still prioritizing gift-giving and will be on the hunt for discounts, as well as alternative or lower-cost choices. 
Inflation might be frightful, but the holidays are still delightful: Those who report high levels of financial anxiety feel stressed and unprepared, but also excited and optimistic. Anxious and unanxious shoppers are equally likely to say they're looking forward to this year's holiday season more than they usually do. 
Shopping timelines are similar to past years, but the financially anxious will shop earlier 
A plurality of all shoppers who have yet to begin their holiday shopping plan to start in early November, essentially an identical pattern to past years. As of Oct. 9, 37% of shoppers said they've gotten started, and of those remaining, anxious shoppers are slightly more willing to get a head start this year than unanxious shoppers.
Respondents who have not yet begun their holiday shopping were asked when they plan to start
Survey conducted Sept. 24-25, 2022, among 582 to 694 U.S. adults who have not yet started their holiday shopping, with an unweighted margin of error of +/-4 percentage points.
Unanxious shoppers are slightly more likely to say they plan on waiting until December to start shopping. These shoppers, who tend to be wealthier, will likely have to absorb expedited shipping fees and navigate inventory challenges in December. They'll make a great audience for "buy online, pick up in store" offerings. 
Black Friday's relevance is faltering despite ongoing inflation strain
The once can't-miss sales event is losing its sparkle as retailers increasingly offer steep discounts all season long. This year's inventory challenges are pulling those discounts even earlier, giving the impression that the best prices aren't bound to the weekend after Thanksgiving. Finding great deals is still a top shopping priority (84% of shoppers say sales and promotions are a priority in gifting decisions), but shoppers aren't pegging those deals to Black Friday and Cyber Monday. In fact, anxious and unanxious shoppers are equally likely to plan to shop sales across both events. 
Share of respondents who believe discounts are important versus the share who plan to shop on Black Friday
Survey conducted Sept. 6-7, 2022, among a representative sample of 2,210 U.S. adults, with an unweighted margin of error of +/-2 percentage points.
Those earning $100,000 or more annually are more likely to shop on Black Friday (57%) than other income groups. This indicates Black Friday is better suited to unplanned impulse shopping depending on what's on sale, rather than attempts to fulfill gift lists from the sales. Other consumer cohorts with above-average Black Friday shopping intent are Gen Z adults and millennials, as well as Black shoppers. Baby boomers (specifically retirees) are least likely to plan to shop the annual event. Camping out in front of big-box stores on Thanksgiving night is a thing of the past; a plurality (40%) of U.S. adults believe they will get better Black Friday deals online than in stores. 
Going forward, as retailers kick off holiday sales earlier each year, specific holiday sale events will lose all relevance with shoppers who are growing accustomed to always-on fire sale marketing tactics. Impulse shoppers will still jump for discounts, especially during the predictable sale periods led by Amazon's Prime Day calendar, but even those sales have an overwhelming sense of sameness that is becoming easy to tune out. 
Anticipated gift spending is up 12 percentage points this year among anxious shoppers
The good news for retailers is that shoppers plan to pay higher prices, not give up on gifting. Roughly three-quarters (76%) of anxious shoppers say gifts are a priority for their holiday spending, and they plan to spend more than they did in 2021. Last year, 30% of anxious shoppers expected to spend more than $400 on holiday gifts, but this year that number is 42%. Unanxious shoppers aren't anticipating as steep of a rise in spending this year.
Shares of respondents planning to spend $400 or more on gifts during the holiday season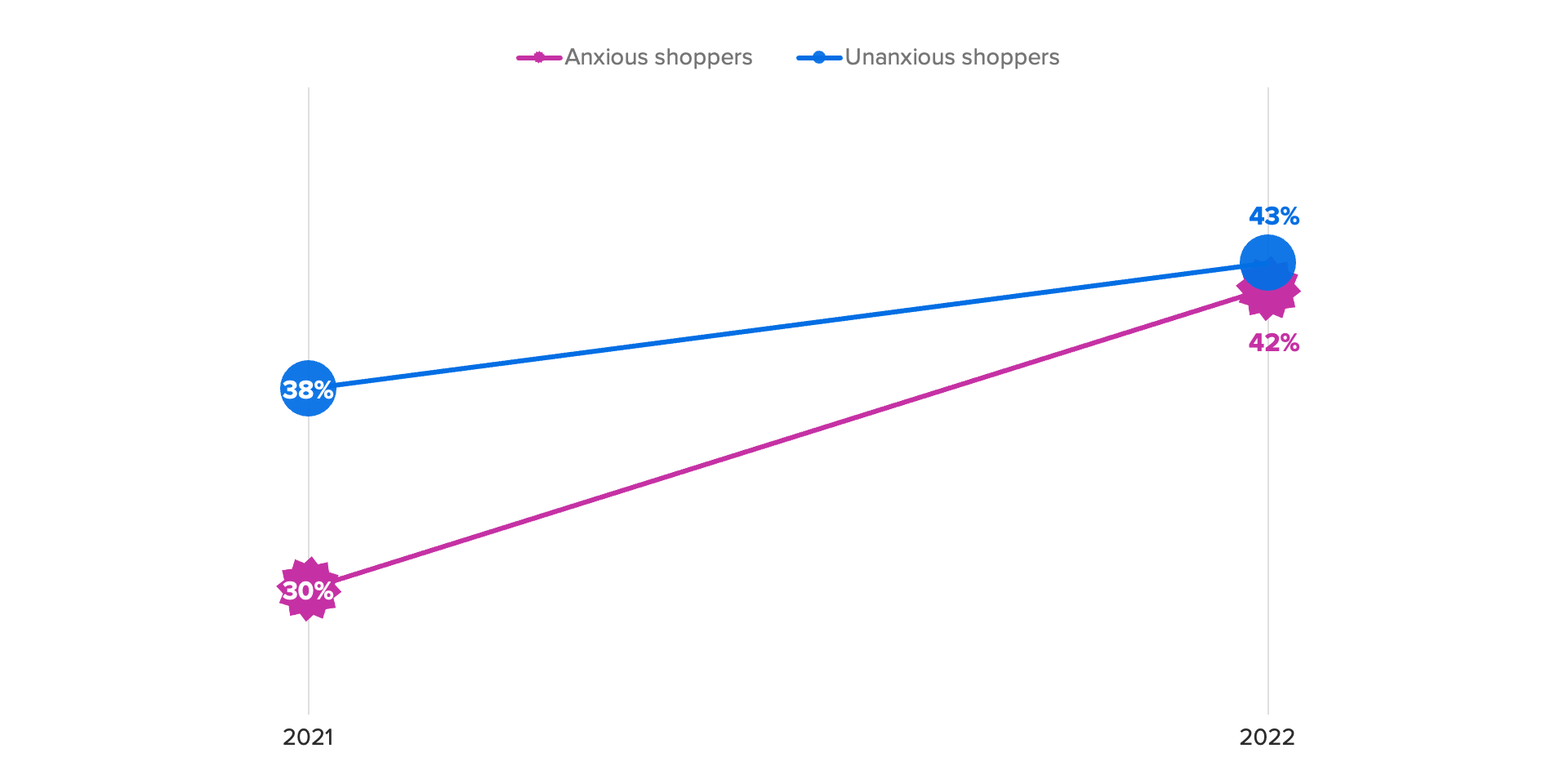 Surveys conducted Sept. 24-26, 2021, and Sept. 24-25, 2022, among at least 1,000 U.S. adults each, with unweighted margins of error of +/-3 percentage points.
Inflation's pervasive impact on U.S. consumers' day-to-day lives means people assume the holidays will be more expensive this year, and for those in more financially precarious positions, that is driving up financial anxiety. Those who have already begun their holiday shopping also anticipate spending more; this is due in part to their higher income, but also because they've seen current prices up close.
"Buy now, pay later" will see significant growth during the 2022 holiday season
With 29% of anxious shoppers planning to take on debt to make it through the holiday shopping season, retailers offering BNPL services are set up well. Nearly two in five anxious shoppers said they're considering using BNPL to cover holiday purchases, compared with just 19% of unanxious shoppers. One-quarter of anxious shoppers are considering opening a new credit card, versus 10% of unanxious shoppers.
Shares of respondents who are considering opening new credit cards or using "buy now, pay later" services to cover holiday purchases
Survey conducted Sept. 24-25, 2022, among 1,003 to 1,094 U.S. adults, with an unweighted margin of error of +/-3 percentage points.
BNPL usage spiked in the previous holiday season, but even after normalizing in early 2022, usage rates remain higher than they were at the same point in 2021, suggesting that this year's anticipated surge of new users will recruit more consumers into the BNPL ecosystem. Retailers not currently offering BNPL services will pay later for missing this growth opportunity. Inflation is of course driving increased credit utilization, but consumers feel that new credit cards are riskier than BNPL loans, which are constrained to one purchase with predictable payments over a defined period of time.
Download the First Look: Consumers' 2022 Holiday Plans report here. Morning Consult will continue to track consumer behavior throughout the holidays. To get the latest intelligence to inform your decision-making, subscribe to Our Best Intel, a daily briefing on the most important data, charts and insights from the Morning Consult team.
Claire Tassin is the lead retail & e-commerce analyst on the Industry Intelligence team, where she conducts research, authors analyst notes and advises leaders in the retail & e-commerce industry on how to apply insights to make better business decisions. Before joining Morning Consult, Claire was an analyst at Gartner, where she conducted research on shifting consumer behaviors and expectations, as well as trends and technology relevant to marketing leaders in the retail sector. She graduated from Washington University in St. Louis with a bachelor's degree in psychology. For speaking opportunities and booking requests, please email [email protected].
We want to hear from you. Reach out to this author or your Morning Consult team with any questions or comments.
Contact Us