Economic Outlook: Asia-Pacific Countries Lead the Global Consumer Recovery
As the global economic recovery continues, consumers in Asia-Pacific countries are closest to regaining their confidence, while consumers across the Americas remain a long way off, Morning Consult economist John Leer writes.
Key Takeaways
Asia-Pacific countries are the least likely to exhibit strong post-pandemic booms in confidence or spending, but they are also the least likely to suffer from long-term scarring effects from the pandemic.

Consumer confidence in France and Germany diverged over the past three months due to dramatically different policy approaches to containing the virus. Time will tell which approach was correct, at which point confidence in these countries is likely to converge.

Recent improvements in confidence in the United States and Canada provide support for a robust consumer recovery later this year.
The pandemic has affected virtually every corner of the global economy. Even countries that managed to control the spread of the virus face knock-on effects from sluggish global demand. And while the economic fall was relatively uniform, the rebound is increasingly country-specific. 
To compare the pace and scale for how global economic powers are recovering, we analyzed Morning Consult's Economic Intelligence tracking data on daily consumer confidence in 12 countries. This data provides a leading indicator of the strength of global consumer spending and sheds light on the future trajectories of the global economy.
Asia-Pacific
Consumers in Asia-Pacific countries are the closest to regaining their confidence: Consumers across China, Japan and Russia are all roughly as confident in the economy as they were prior to the pandemic, and consumer confidence in Australia is actually higher than it was before the pandemic.

China has stayed relatively stable, but there's room for growth: The stability of consumer confidence in China speaks to the success of the drastic measures to limit the spread of the virus during the early days of the outbreak. While Chinese consumers clearly grew less confident in November and December 2019,¹ they have not reacted as much as those in other countries. 

After stabilizing through March 2020, Chinese consumer confidence fell again in response to the broader global meltdown in global consumer confidence the following month, an indication of how the global economic environment affects Chinese consumer confidence.
Ongoing weaknesses in global economic activity remain the limiting factor in Chinese consumer confidence returning to its pre-pandemic level.

Little impact on Russian confidence amid unrest over the jailing of dissident Alexei Navalny: Russian consumers were little affected by the political protests in January and February of this year, with confidence sharply rebounding both months. This pattern is consistent with U.S. data, where we've seen social and political unrest having a limited impact on consumer confidence when macroeconomic conditions are improving. It signals that consumers in Russia do not believe that the protests are likely to materially alter the country's economic path. 
While Asia-Pacific countries are the least likely to exhibit strong post-pandemic booms in confidence or spending, they are also the least likely to suffer from long-term scarring effects from the pandemic. Confidence in all of these countries has essentially returned to where it was prior to the onset of the pandemic, providing consumers less room to bounce back to their pre-pandemic levels of confidence. By returning to normal sooner rather than later, these countries limited the likelihood of pandemic-induced economic problems such as decreases in employment becoming permanent.
Europe
In Europe, U.K. and France see rapid improvements while Germany lags: Consumer confidence in the United Kingdom and France rapidly improved in February, continuing trends in these two countries over the past few months. On the other hand, German confidence remains essentially unchanged since September.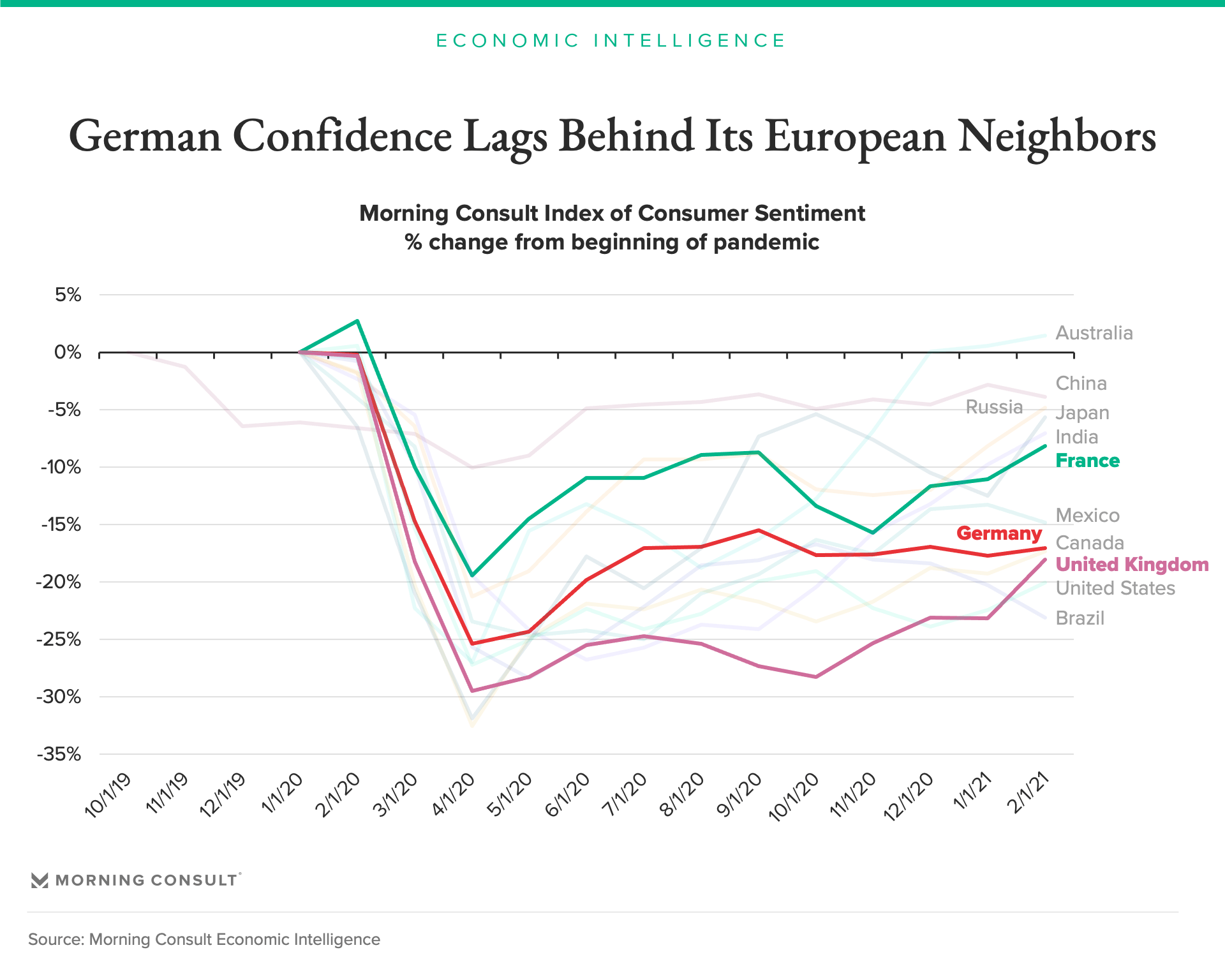 What's going on in Germany?: Two factors explain Germany's recent divergence from its European neighbors. First, unlike France, strict lockdowns remain in place in Germany, meaning that employment and leisure opportunities are more constrained in Germany than France. Second, unlike the United Kingdom, per capita vaccinations in Germany and France remain relatively low. Thus, German consumers are missing out on two sources of increased optimism available to its two neighbors: They aren't able to enjoy a return to normal in the short run, and they're not able to see the light at the end of the tunnel further down the road. 
The divergence is unsustainable. Going forward, the paths of consumer confidence in France and Germany are likely to converge. Either France will have to impose additional lockdowns to combat the spread of virus mutations, or Germany will be able to ease restrictions. Under both scenarios, consumers in both countries are likely to look more similar to each other over the next three months.  
Americas
Across the Americas, consumer confidence remains significantly below pre-pandemic levels.  Recent trends in the United States and Canada are encouraging, signaling that these countries are poised for a rebound in confidence over the course of the year. The turnaround in the United States began in January as the spread of the virus decreased and additional fiscal support helped Americans' finances. Assuming the rate of vaccinations remains constant and Congress passes another stimulus package, American consumer confidence is on pace to continue to increase this year.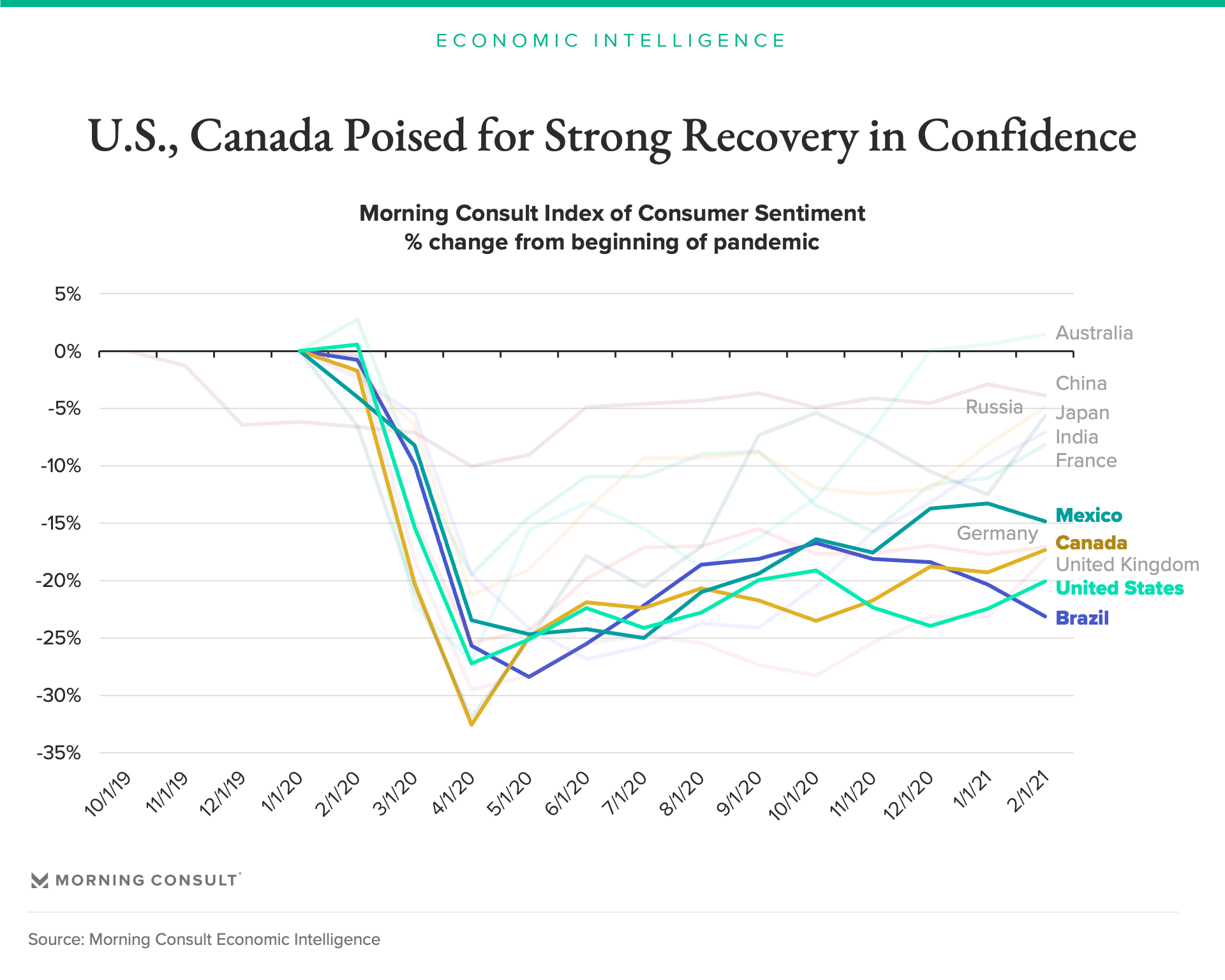 Brazil and Mexico exhibit concerning trends. Confidence in Brazil has consistently decreased since October 2020, coinciding with a decrease in government spending to support the economy. Unlike the United States, rising inflation and a high debt-to-GDP ratio limit the ability of monetary and fiscal authorities to reverse the path of the economy.

The outlook for Mexico is slightly brighter. While confidence in Mexico decreased in February, the broader trend remains positive. Mexico continues to gradually climb out of the pandemic-induced decrease in confidence. Additionally, given the close economic ties between the United States and Mexico, economic improvements in the United States should support the Mexican economy and drive Mexican consumer confidence higher over the next three months.
[1] Chinese consumer confidence significantly decreased in November 2019 and deteriorated further in December. However, the first official communication by the Wuhan Municipal Health Commission regarding cases of "viral pneumonia" was issued on Dec. 31, 2019. The timing of these events makes it difficult to definitively conclude that the drop in confidence in November and December was in fact caused by the growing concerns regarding the coronavirus. Other factors may be responsible for some or all of this decrease in consumer confidence. However, in an effort to capture the full extent of the possible impact of the virus on consumer confidence, this analysis uses October 2019 as the start date, acknowledging that some portion of the decrease in confidence in November or December may be attributable to other factors. (Go back to the article.)
John Leer leads Morning Consult's global economic research, overseeing the company's economic data collection, validation and analysis. He is an authority on the effects of consumer preferences, expectations and experiences on purchasing patterns, prices and employment.
John continues to advance scholarship in the field of economics, recently partnering with researchers at the Federal Reserve Bank of Cleveland to design a new approach to measuring consumers' inflation expectations.
This novel approach, now known as the Indirect Consumer Inflation Expectations measure, leverages Morning Consult's high-frequency survey data to capture unique insights into consumers' expectations for future inflation.
Prior to Morning Consult, John worked for Promontory Financial Group, offering strategic solutions to financial services firms on matters including credit risk modeling and management, corporate governance, and compliance risk management.
He earned a bachelor's degree in economics and philosophy with honors from Georgetown University and a master's degree in economics and management studies (MEMS) from Humboldt University in Berlin. 
His analysis has been cited in The New York Times, The Wall Street Journal, Reuters, The Washington Post, The Economist and more.
Follow him on Twitter @JohnCLeer. For speaking opportunities and booking requests, please email [email protected]
We want to hear from you. Reach out to this author or your Morning Consult team with any questions or comments.
Contact Us