Entertainment
How the Esports Industry Can Accelerate Audience Growth
Media & entertainment analyst Kevin Tran explains the esports industry's failure to live up to fandom expectations — and how video streaming services can help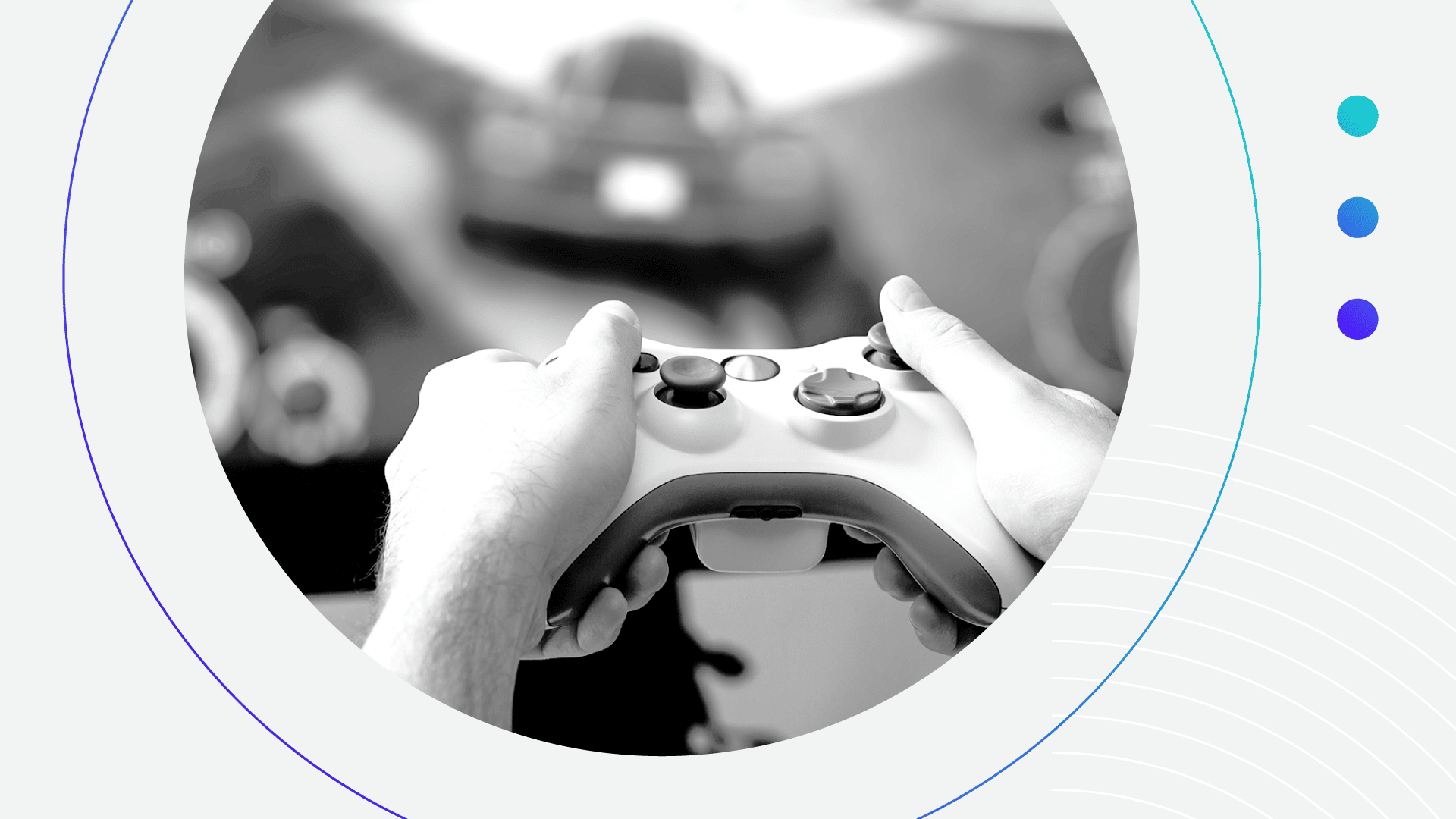 Key Takeaways
Despite lofty expectations, esports hasn't secured the U.S. audience that many in the 2010s thought it would.

Morning Consult data shows that 7% of U.S. adults surveyed in February said they were avid fans of esports, a figure significantly lower than that of all major North American sports leagues.

Esports could broaden its audience by striking new rights deals with leading subscription video streamers for live broadcasts and documentaries.
For more exclusive data on consumers' media consumption habits, download Morning Consult's latest State of Media & Entertainment report.
Some once heralded esports as the next big media trend, but it's fair to say that the industry hasn't developed domestically as quickly as advocates had hoped. Emblematic of the industry's recent troubles, 100 Thieves and Team SoloMid — two of the world's most valuable esports organizations — laid off dozens of employees late last year. Additionally, most esports teams still aren't profitable and rely on external funding to operate.
Esports' disappointing arrival highlights how pro gaming has yet to become mainstream in the United States. Morning Consult data from February shows that despite significant venture capital and sports league investments, esports has a smaller fandom in the United States than virtually all major traditional sports. This is likely due to esports' inability to strike meaningful carriage deals with broadcast TV networks and major streaming services because most big gaming tournaments are available to stream for free on Twitch and YouTube.
Still, there's an opportunity for gaming industry stakeholders to pitch esports media rights in new ways as sports-focused docuseries and live content become increasingly important differentiators in the streaming wars.
Esports' U.S. popularity is far lower than the likes of the NFL, MLB and NBA — but streamers could help with audience growth
In February, just 7% of U.S. adults said they considered themselves avid fans of esports, lower than the 21% who identified as avid fans of sports in general and the corresponding shares for all major North American sports leagues.
Share of U.S. adults who said they are a fan of each of the following: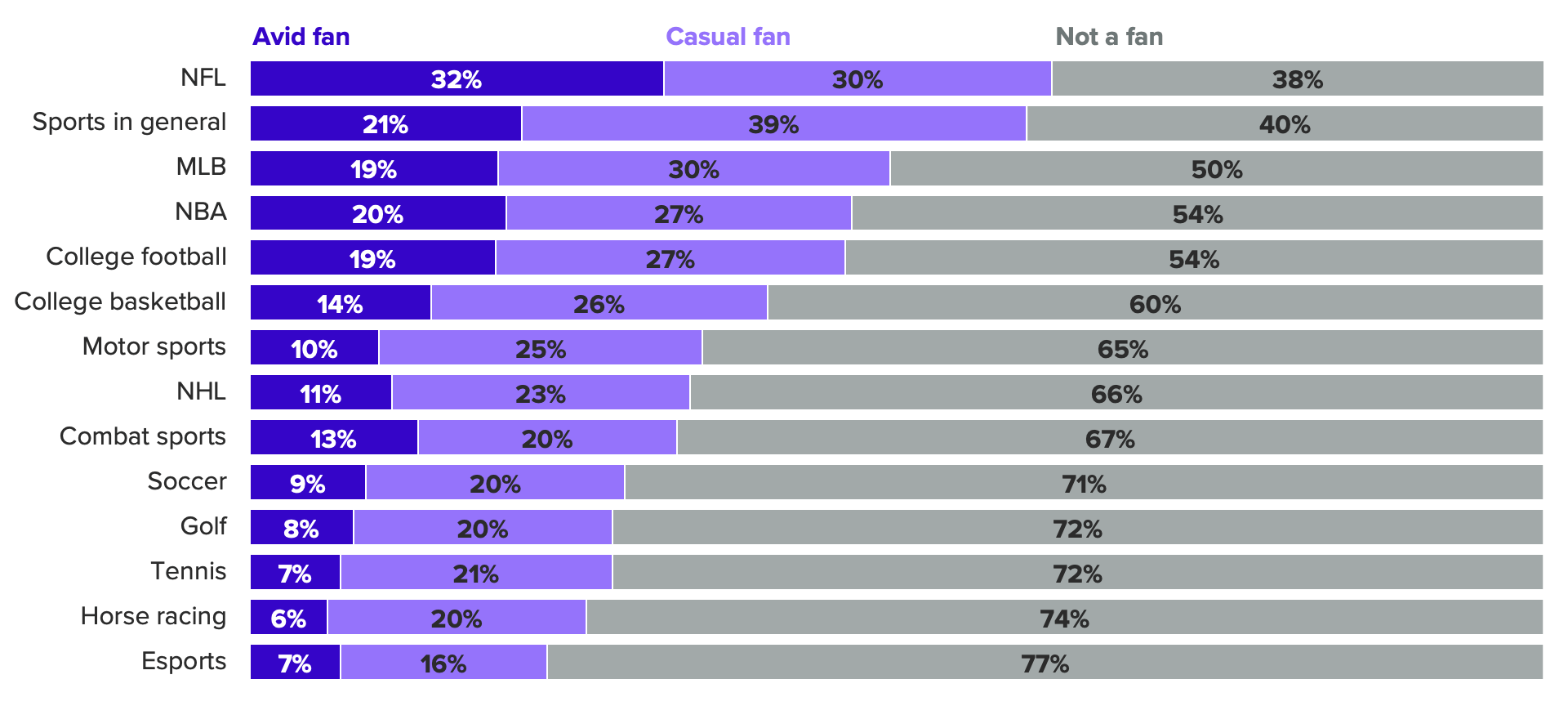 Survey conducted Feb. 22-27, 2023, among a representative sample of 2,212 U.S. adults, with an unweighted margin of error of +/-2 percentage points. Figures may not add up to 100% due to rounding.
The reasons for esports' low popularity are myriad. For one, many die-hard esports fans are outside the United States: China and South Korea remain two of the world's biggest esports markets, for example.
But just as important is the fact that the overall esports ecosystem is far too fragmented for the casual gamer to stumble upon major competitions. While there are a handful of major North American sports leagues, there are seemingly countless esports titles — many of which are much more complicated to explain than, say, basketball or baseball — that have premier tournament organizers scattered across the globe. This means it's easier to quickly get acquainted with the traditional sports landscape than it is with the esports landscape.
Meanwhile, many esports teams lack local geographic affiliations. City- and state-affiliated teams exist for the likes of the NBA's 2K League and the Overwatch League, though these are the exceptions rather than the rule. The common absence of geographic affiliations means many esports organizations have been missing opportunities to onboard consumers who would otherwise root for any team tied to their city or state.
This all helps explain why just 12% of U.S. adults in February said that they had watched an esports event in the past month, a figure that has remained relatively flat since June 2022. The shares of Gen Z adults (24%) and millennials (22%) watching esports have consistently hovered well above the share of all adults doing so, no doubt because younger folks are more likely to identify as gamers.
Shares who said they've watched an esports competition in the past month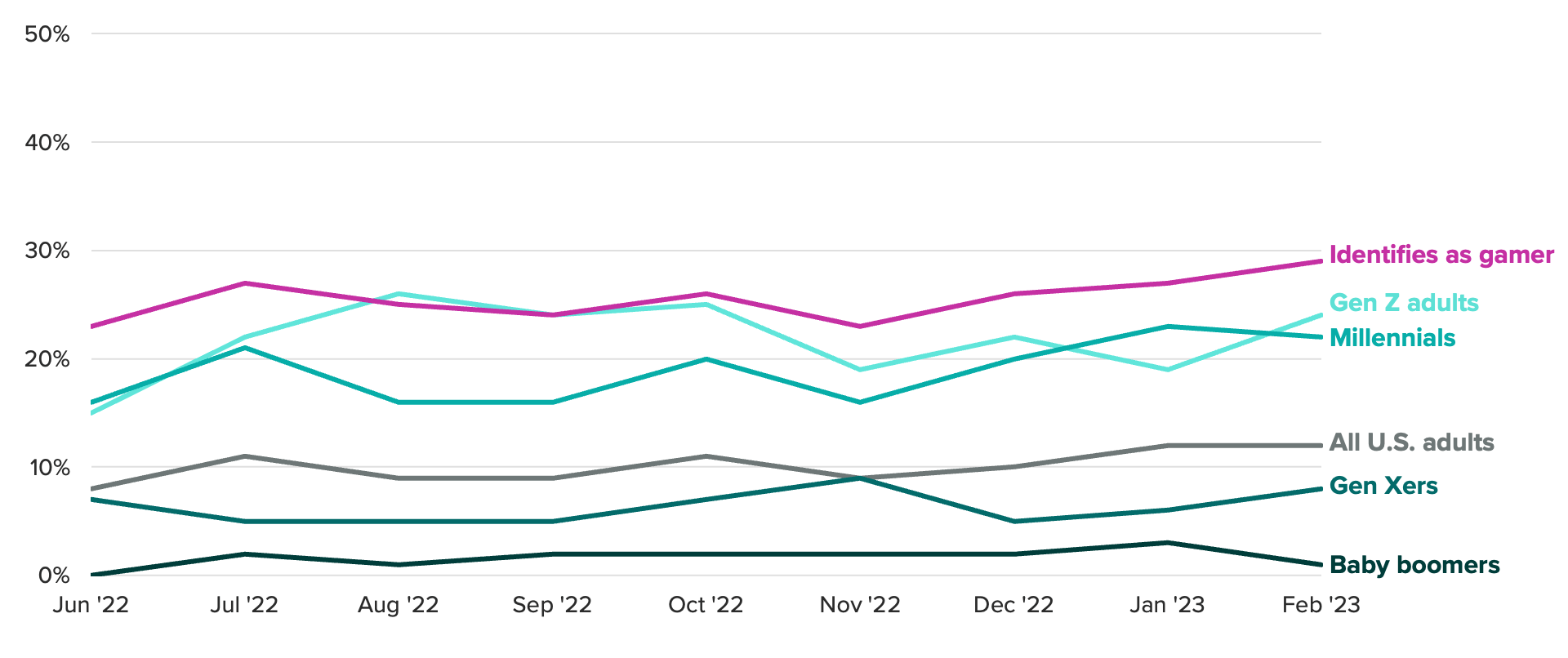 Surveys conducted monthly among representative samples of 2,212 U.S. adults each, with unweighted margins of error of +/-2 percentage points.
Still, prominent esports organizations aren't monetizing in the United States like they should be. But there can be a path forward for esports industry growth in 2023, and it involves video streamers.
Live content is as important as ever in the video streaming industry, which underwent a market correction that exposed how difficult it has become for players to differentiate on scripted and unscripted content alone. However, given our country's ongoing macroeconomic challenges, it doesn't make sense to try and secure any available marquee sports rights package at all costs. That's why Netflix has shown interest in investing in lower-profile sports leagues and sports documentaries.
This is where game publishers, which own the rights to gaming IP and can therefore control competitive scenes, should more firmly insert themselves into the conversation and pitch the streaming rights to new competitions involving their games to media companies and streamers like Netflix.
Not only would the cost of esports broadcasts be closer to what streamers are willing to pay relative to billion-dollar deals with traditional sports leagues, but these competitive gaming broadcasts would also have greater potential to travel internationally, aligning with streaming industry's increasingly global focus while also meshing with Hollywood's growing appetite for game adaptations.
Esports organizations should capitalize on Hollywood's growing interest in gaming
There's a virtually endless list of esports titles that developers could use to entice streamers to broadcast competitions of or use as documentary subjects. But video streamers should pay particular attention to working with the developers behind League of Legends, Mobile Legends: Bang Bang and Counter-Strike: Global Offensive.
Broadcasts involving these three games accounted for eight of the top 10 most-watched esports tournaments in 2022, according to Esports Charts. There are already established competitive scenes for these games, but the publishers could work with streamers to create a separate batch of matches airing live exclusively on video streaming services. This way, the broadcasts of the biggest esports events wouldn't lose out on the viewership they get through endemic streaming platforms like Twitch.
Netflix already has a relationship with Riot Games thanks to the 2021 series "Arcane" and the mobile game Hextech Mayhem, both of which are based on League of Legends IP, so looking for opportunities to broadcast some of the publisher's tournaments live seems like a natural next step.
While venture capital esports investment in 2022 was significantly down from previous years, heightened interest in esports among casual gamers in the year ahead, driven by additional large-scale broadcasts of pro gamers, could be one of the factors that helps reverse the recent misfortunes of the domestic esports sector.
Kevin Tran is the media & entertainment analyst on the Industry Intelligence team, where he conducts research, authors analyst notes and advises leaders in the media & entertainment industry on how to apply insights to make better business decisions. Prior to Morning Consult, Kevin was a media analyst at Variety Intelligence Platform, Variety's premium subscription service. Kevin graduated from the Haas School of Business undergraduate program at the University of California, Berkeley. @ktran223
For speaking opportunities and booking requests, please email [email protected].
We want to hear from you. Reach out to this author or your Morning Consult team with any questions or comments.
Contact Us