Why Millennials and Gen Zers Could Drive Discretionary Spending Down This Fall
Younger consumers propped up discretionary services spending over the summer, but they face increasing financial headwinds in the fall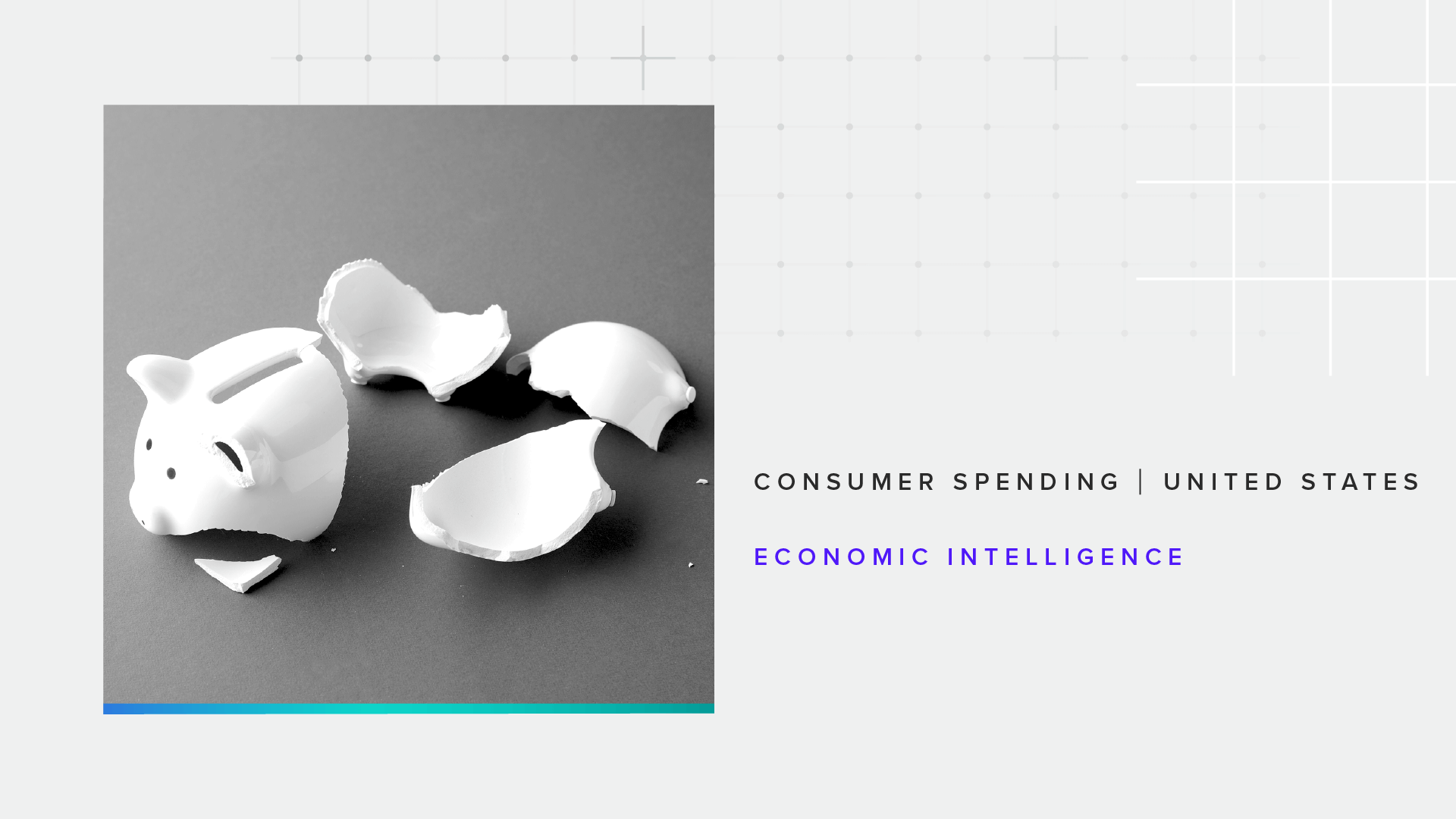 Key Takeaways
Discretionary services spending has been a tailwind to top-line spending growth this summer.

Millennials and Gen Zers have been primarily responsible for driving discretionary services spending growth in recent months.

Younger consumers are poised to confront growing budgetary pressures this fall from factors like the resumption of student loan payments and rising interest rates on credit card debt, potentially reversing the positive momentum discretionary services spending gained over the summer.
Sign up to get our latest data on the economy, including trends in consumer spending, job markets and consumer confidence.
Resilient consumer spending over the summer was supported in part by strong discretionary services spending. Consumers have continued to reallocate spending from goods to services, while slower inflation and real wage gains have helped boost sentiment and overall outlays in recent months. The combination of improving views on household finances and the prioritization of experiences over material goods benefited categories like travel, dining out and recreation (including concerts and events) throughout the summer.
However, discretionary spending is often the first to be cut when budgets come under pressure. Heading into the fall, Morning Consult's data suggests that younger consumers — who have been key to supporting top-line spending growth with buoyant discretionary purchases this summer — may be on the verge of pulling back. 
What we do that's different: We survey thousands of U.S. consumers monthly to measure their spending patterns and habits, asking questions on topics including household income, spending, savings, debt, housing payments and more.
Why it matters: Morning Consult's consumer spending data provides a detailed assessment of U.S. adults' self-reported household financial conditions and spending, as well as consumers' perception of inflation and supply chain disruptions and the impact of both on purchasing decisions.
Consumers Increasingly Prioritized Spending on Travel and Recreation This Summer
Share of monthly spending allocated to travel, recreation and dining out by all U.S. adults
Source: Morning Consult Economic Intelligence
Gen Zers and millennials are most responsible for driving discretionary spending growth 
Younger generations have largely been behind the increase in discretionary services spending, particularly in recent months. Gen Z adults exhibited a similar jump in discretionary services spending in summer 2022. However, the 2023 bump in outlays surpassed last year's level and included participation from millennials as well. These younger consumers are increasingly prioritizing services like travel and recreation, resulting in higher spending levels and a greater share of wallet allocated to these categories relative to a year ago.
Younger Americans Drove Summer Splurges on Discretionary Services
Total reported monthly spending on travel, recreation and dining out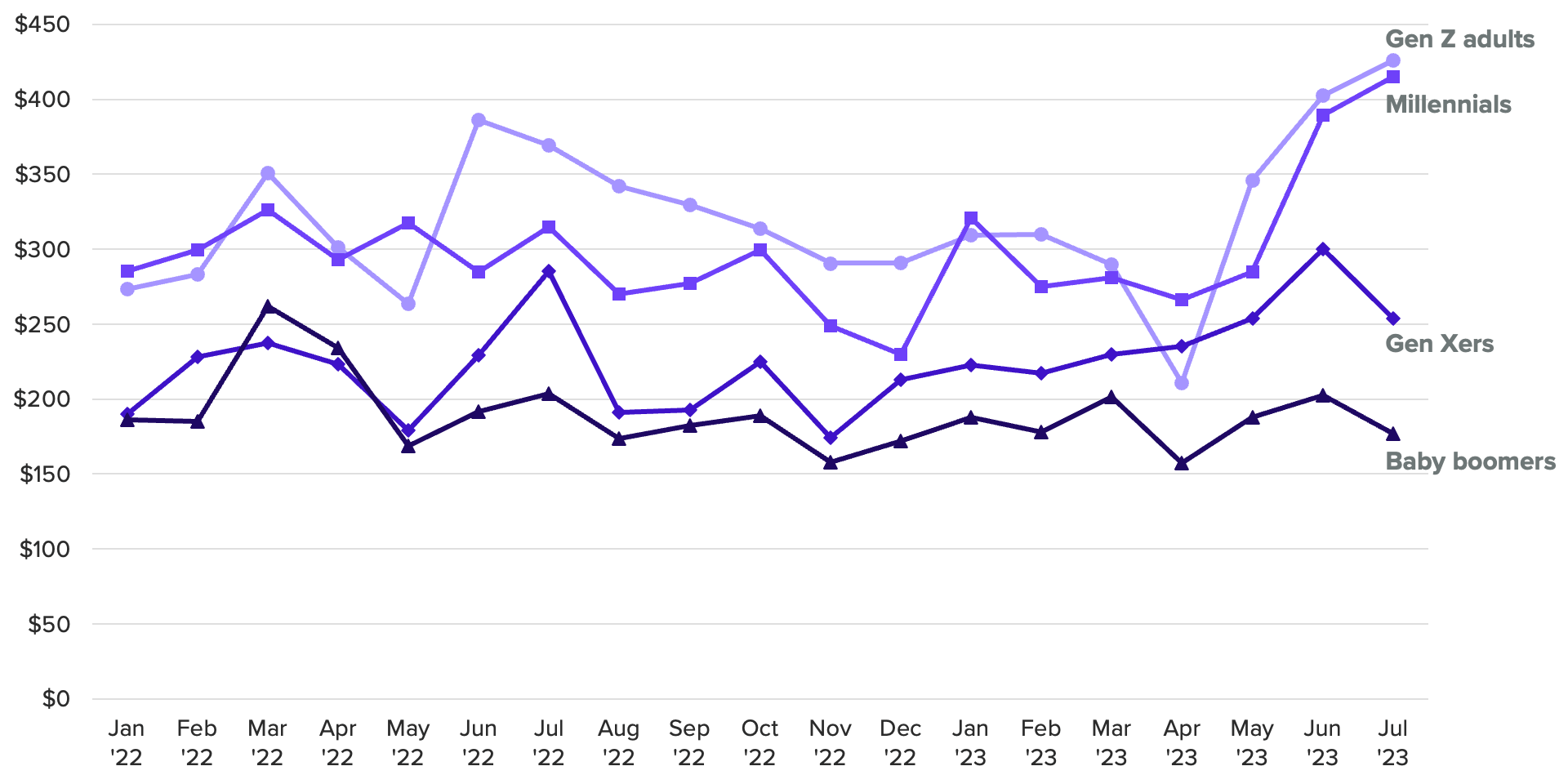 Source: Morning Consult Economic Intelligence
Younger consumers are facing growing debt burdens, threatening spending momentum
The recent strength in outlays from Gen Zers and millennials looks poised to encounter some speed bumps. Heading into the fall, younger consumers appear most likely to be impacted by tighter credit conditions and the resumption of student loan repayments. Morning Consult's monthly consumer credit tracker shows that in August, 43% of millennial consumers said they were carrying debt on credit cards, for which balances are rising and interest rates have spiked. Millennials are also close behind Gen Zers in terms of the share reporting having student loans, adding to the monthly cost burden for younger generations.
More Than a Quarter of Younger Adults Report Having Student Debt
Shares of U.S. adults who reported having educational or credit card debt in August 2023
Source: Morning Consult Economic Intelligence
On top of the added strain from an imminent jump in monthly debt servicing costs, many young consumers may have locked into other large monthly financial commitments when they had more space in their budgets. Major purchases made during the student loan repayment pause, such as homes and vehicles, may have saddled young adults with heavier monthly debt burdens than they had the last time they were on the hook for student loan payments. According to Morning Consult's data, young adults are most likely to have purchased a home or vehicle — both of which are typically financed — in the past few years while student loan payments were on pause. 
Younger Adults Most Likely to Have Made Home and Auto Purchases Since 2020
Average shares* of U.S. adults who said their household purchased the following items in the past 12 months:
*Average shares are calculated from monthly data gathered between January 2021 and June 2023.
Source: Morning Consult Economic Intelligence
Discretionary purchases may be first on the chopping block as younger consumers' budgets come under pressure
The same groups that have supported much of the recent spending boost are about to be facing tighter budgetary pressures from growing debt burdens. The strong labor market and associated income growth may ameliorate some financial pressure, but persistent high inflation over the past few years has worn down consumers' savings buffers. Even as inflation slows, enabling real income growth, the extended period of negative real wages means many consumers may be starting from a savings deficit. Furthermore, younger consumers have had fewer years in the workforce and less time to accumulate savings. It is therefore unlikely that spending among this group will be able to keep up its recent pace. 
The fact that discretionary services categories have been the main beneficiaries of strong spending by younger consumers renders them particularly vulnerable to a slowdown in demand, given the nonessential nature of these purchases. As a result, an important tailwind that supported top-line consumer spending growth this summer looks poised to retreat in the coming months. 
Kayla Bruun is a senior economist at decision intelligence company Morning Consult, where she analyzes consumer spending, inflation and household finance trends, leveraging the company's proprietary high-frequency data.
Prior to joining Morning Consult, Kayla was a key member of the corporate strategy team at telecommunications company SES, where she produced market intelligence and industry analysis of mobility markets. 
Kayla also served as an economist at IHS Markit, where she covered global services industries, provided price forecasts, produced written analyses and served as a subject-matter expert on client-facing consulting projects. 
Kayla earned a bachelor's degree in economics from Emory University and an MBA with a certificate in nonmarket strategy from Georgetown University's McDonough School of Business.
Follow her on Twitter @KaylaBruun. For speaking opportunities and booking requests, please email [email protected]
We want to hear from you. Reach out to this author or your Morning Consult team with any questions or comments.
Contact Us