U.S. Consumers Report Less Sticker Shock but More Unavailability in September
Cooler core inflation helped cushion the blow of higher gas prices in September
Key Takeaways
Morning Consult's indexes tracking consumers' demand response to prices showed improvement from August, suggesting that consumers are shrugging off higher gas prices for now.

Supply for most items has noticeably improved since a year ago, but early signs of potential tightening are beginning to show.

Even as many components of inflation cool, consumers' future price expectations are starting to tick higher.
Sign up to get our data on the economy, including trends in inflation and consumer spending.
Higher energy costs drove up inflation in August, but the impact of rising gas prices on consumers' purchasing decisions appeared relatively muted in September as core price growth continued to slow for most goods and services. However, persistently elevated prices are keeping consumers more price-conscious than they were a year ago. Looking ahead, early signs of tightening supply threaten to add some inflationary pressure to goods categories, presenting yet another obstacle to slowing inflation. 
Sticker Shock Is Discouraging More Everyday Purchases, With Fewer Consumers Seeking Out Lower-Priced Alternatives
Price Sensitivity (left) and Substitutability (right) index scores for selected categories
3-month moving average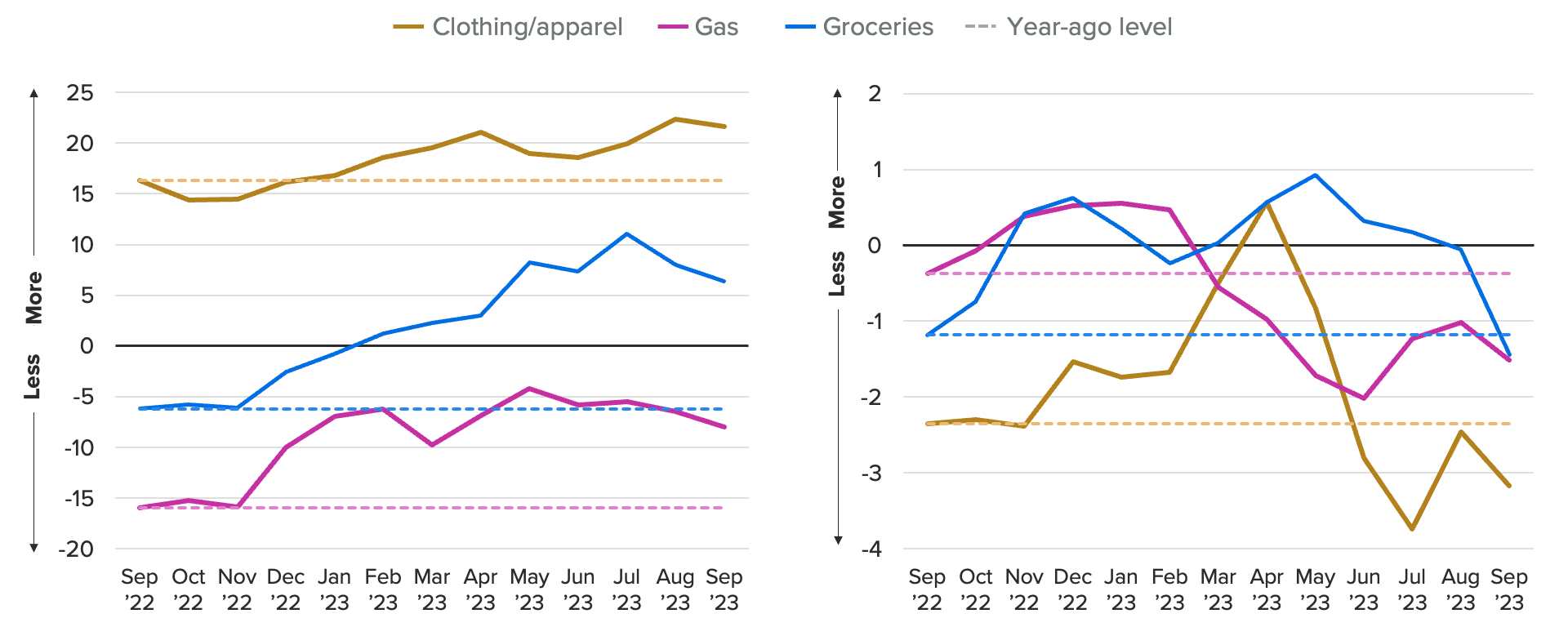 Source: Morning Consult Economic Intelligence
Looking at everyday purchases, shopping behaviors for frequently purchased items like gas, groceries and clothing have followed different trajectories over the past year, though all categories had higher levels of price sensitivity and lower levels of trading down in September compared with the same month a year ago. Clothing is the category consumers remain consistently more willing to walk away from but less likely to trade down on — likely because these purchases are more discretionary than groceries and gas, but also more differentiated and, consequently, harder to substitute. 
Trading down on gas had been falling as prices softened, but substitution has picked up in recent months as higher energy costs made consumers choosier about where to fill up their tanks. Still-elevated price sensitivity on groceries at a time when trading down for this category has fallen means more consumers are likely cutting nonessential food purchases without bothering to replace them with a substitute. 
At an aggregate level, Morning Consult's Purchasing Difficulty and Delivery Delays indexes both registered downward trends this year. However, the pace of inventory growth has been slowing as retailers seek to match supply with demand. Consumers in September reported an uptick in stockouts, search efforts and wait times when purchasing goods in stores and online. 
Even as many components of inflation cool, consumers' future price expectations are starting to tick higher. While energy, grocery and gas prices are top of mind for consumers expecting price increases, large durable goods like new cars and services like vacations were also subject to stronger inflation expectations. Higher price expectations could be a sign of renewed concern about inflation, which is likely to have a tempering effect on spending going forward.
This memo offers a preview of Morning Consult's October Inflation & Price Pressures Report. Morning Consult Economic Intelligence subscribers can access the full report here.
Kayla Bruun is a senior economist at decision intelligence company Morning Consult, where she analyzes consumer spending, inflation and household finance trends, leveraging the company's proprietary high-frequency data.
Prior to joining Morning Consult, Kayla was a key member of the corporate strategy team at telecommunications company SES, where she produced market intelligence and industry analysis of mobility markets. 
Kayla also served as an economist at IHS Markit, where she covered global services industries, provided price forecasts, produced written analyses and served as a subject-matter expert on client-facing consulting projects. 
Kayla earned a bachelor's degree in economics from Emory University and an MBA with a certificate in nonmarket strategy from Georgetown University's McDonough School of Business.
Follow her on Twitter @KaylaBruun. For speaking opportunities and booking requests, please email [email protected]
We want to hear from you. Reach out to this author or your Morning Consult team with any questions or comments.
Contact Us