Inflation, High Interest Rates Drive Down Sentiment in Europe
A broad uptrend in confidence in Europe has waned in recent months, but a resurgence in China helped lift global sentiment in August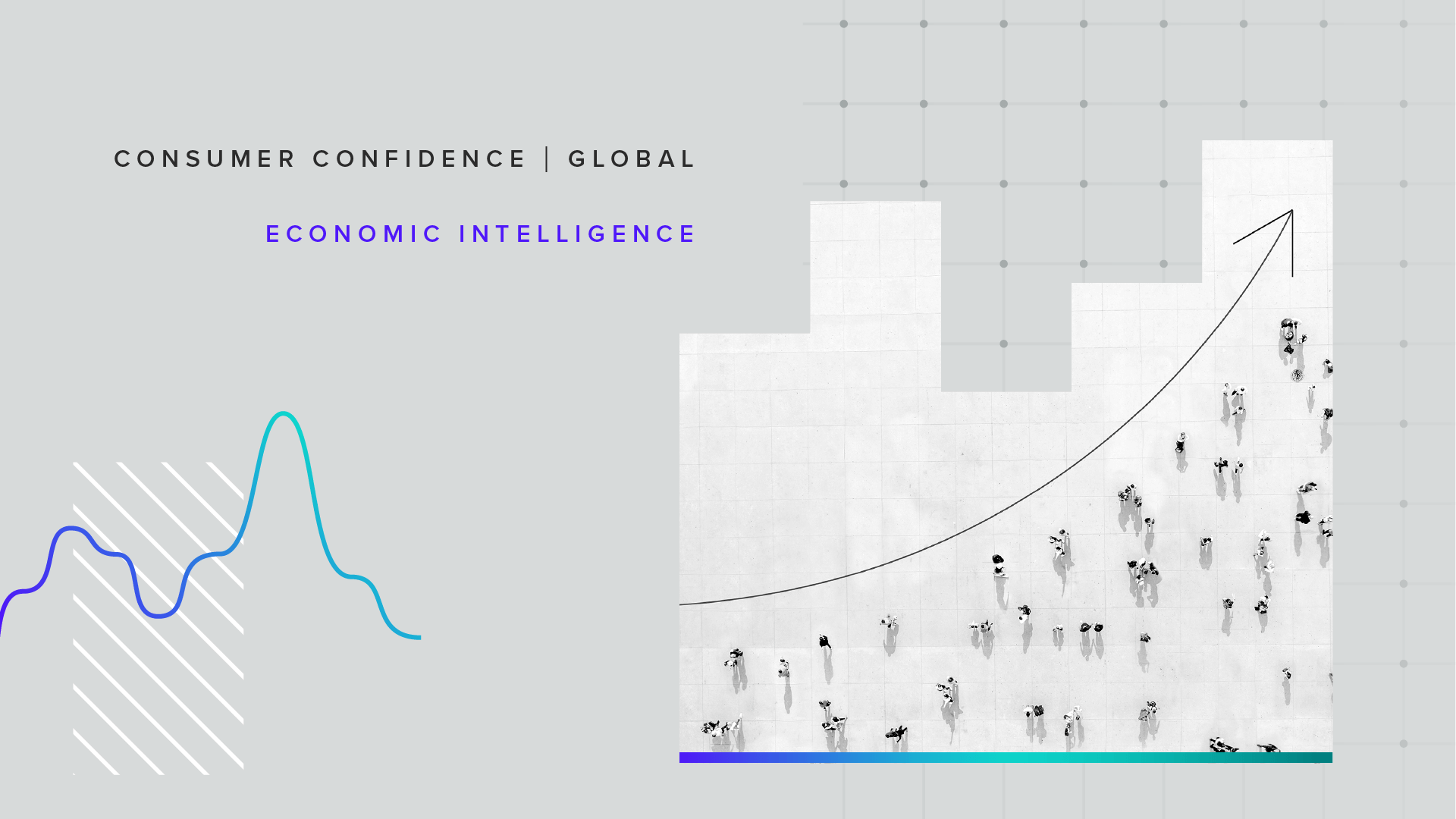 Sign up to get our data on the economy, including trends in consumer spending, job markets and consumer confidence.
On a GDP-weighted basis, global consumer confidence continued to trend higher in August, supported by a strong upswing in China. Other large economies played a part, with sentiment in Australia, the United Kingdom and Canada also averaging much higher in August than in July. However, the increase was far from broad-based, with many smaller economies and much of Europe showing declines — overall, sentiment fell in 24 of the 43 countries tracked by Morning Consult. 
After surging in July, consumer sentiment ebbed across much of the Americas in August, with Argentina, Chile and Peru experiencing the largest decreases. Consumer confidence fell furthest in Argentina, where inflation is soaring ahead of elections in which the front-runner, right-wing libertarian Javier Milei, has promised to dollarize the economy and shutter numerous ministries.
Across much of Europe, stubbornly high inflation is thwarting economic growth, leading the European Commission to revise down its forecast for real GDP growth in the eurozone in 2023 to a paltry 0.8%. In July, the European Central Bank raised its benchmark interest rate to the highest level since 2000 and left the door open for more monetary tightening. The economic outlook in Germany seems especially dire, with weak external and internal demand potentially leading to a recession this year. 
What we do that's different: Morning Consult's Consumer Confidence Survey is an exclusive high-frequency indicator of consumers' economic and financial outlooks – the only daily measure of consumer confidence in more than 40 countries available today
Did you know? Our global consumer confidence data sets have been adopted by central banks around the world, including Germany's Bundesbank and the Federal Reserve Bank of Chicago.
Morning Consult's Index of Consumer Sentiment shows that the uptrend in confidence in place in Europe since late 2022 has waned in recent months. Disinflation, especially in energy prices, helped drive confidence higher, but with inflation still elevated despite aggressive monetary tightening by the ECB, consumers are growing wary. In Germany, France and the United Kingdom, sentiment remains well below pre-pandemic levels. 
Europe's Recovery in Sentiment Is Waning
Morning Consult Index of Consumer Sentiment: Europe
(5-day moving average)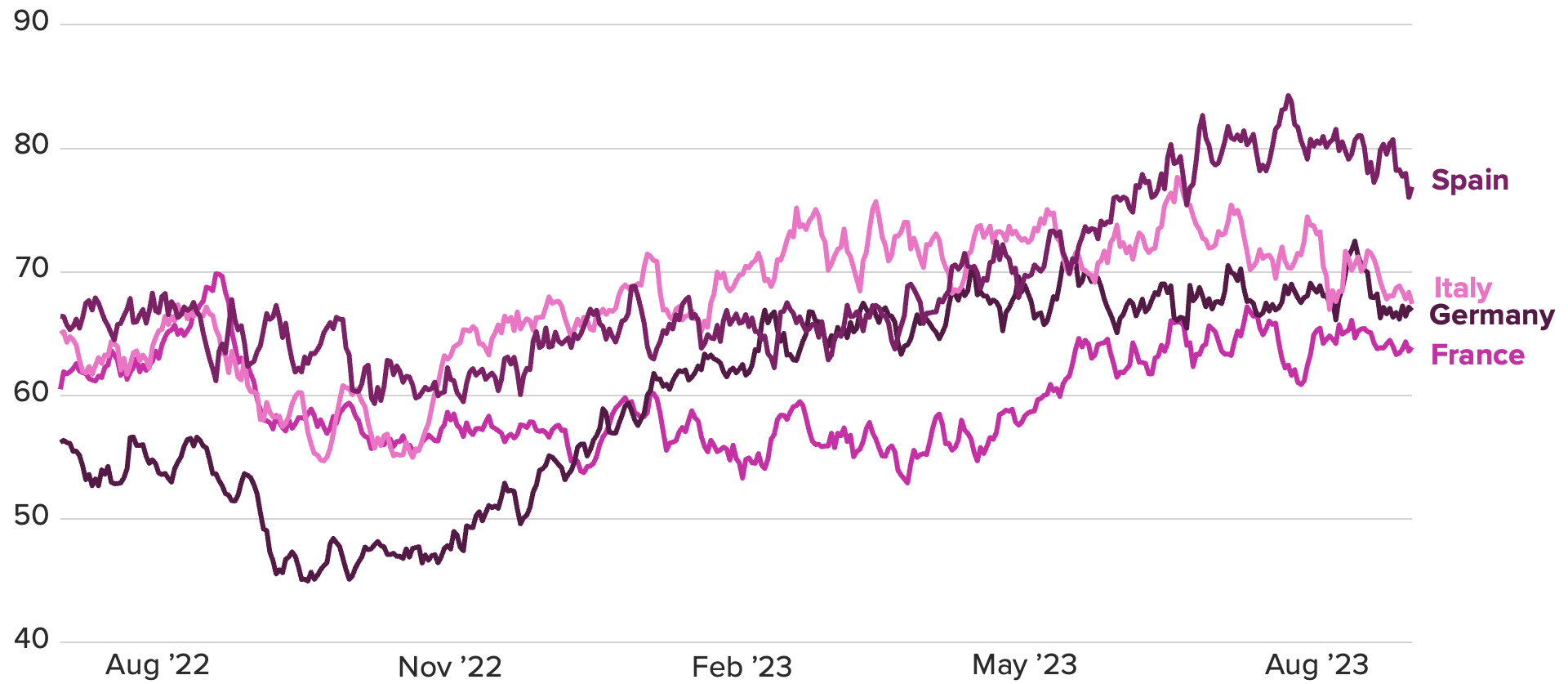 Source: Morning Consult Economic Intelligence
Shifting to China, we see the Morning Consult China Index of Consumer Sentiment has bounced higher recently. The Chinese consumer hasn't lived up to expectations for strong consumption-led growth this year. Beijing had hoped that consumer spending would fill in for weaker external demand and a reeling property market, but thus far, consumers are still opting to save much of their rising incomes. Climbing sentiment seen in Morning Consult's high-frequency data offers some hope that things will shift going forward. 
This memo offers a preview of Morning Consult's September Global Consumer Confidence Report. Morning Consult Economic Intelligence subscribers can access the full report here.
Akber Khan is an economist at decision intelligence company Morning Consult, where he supports the research efforts of the Economic Intelligence team by applying a combination of data science, data engineering and econometric forecasting methods to deliver insights into global macroeconomic trends. Previously, he worked for the Federal Reserve Board as a financial analyst, covering issues such as banking and finance, short-term funding markets, and monetary policy. He received a bachelor's degree in economics from Bentley University.
Follow him on Twitter @AKhanMC. For speaking opportunities and booking requests, please email [email protected]
Jesse Wheeler is a senior economist at decision intelligence company Morning Consult, where he delivers insights on economic and geopolitical trends impacting the United States and major global markets.
Prior to joining Morning Consult, Jesse worked as an economic and political risk analyst at MUFG Bank, where he focused on U.S. fiscal, monetary and foreign policy, and at Fitch Solutions, where he conducted macroeconomic research and forecasting for Latin American markets.
Jesse received a bachelor's degree in history and environmental science from the University of South Carolina and a master's degree in international economics from George Washington University.
Follow him on Twitter @JesseSprWheeler. For speaking opportunities and booking requests, please email [email protected]
We want to hear from you. Reach out to this author or your Morning Consult team with any questions or comments.
Contact Us