Entertainment Expenses Have Been Hit by Economic Pressures, and Consumers Aren't Done Downsizing
Morning Consult analysts Kevin Tran and Kayla Bruun explain how entertainment budgets have been impacted by macroeconomic pressures as inflation remains historically high
Key Takeaways
Recession fears have yet to be realized, but consumers have still made efforts to trim entertainment expenses.

Consumers have generally cut back more on one-off entertainment purchases like movie tickets and video games than on subscription expenses over the past year, Morning Consult data shows. 

Media companies will need to become even more diligent in their budgeting, as Morning Consult data suggests consumers want to spend less on telecom expenses like entertainment subscriptions in the months ahead. 
Sign up to get the latest entertainment industry news and analysis delivered to your inbox every morning.
With the first-quarter media earnings season just around the corner, there's hope that Hollywood's 2023 won't be a repeat of 2022, when macroeconomic pressures led to an increase in production costs, depressed ad revenues and the shedding of hundreds of billions of dollars in value from media giants. 
But the industry's ability to improve topline revenue is dependent on consumers' willingness to spend on entertainment, which has wavered ever since inflation hit a historic high last summer. Morning Consult data shows that U.S. adults have consistently made efforts to save money on entertainment, largely because it's much easier to trim discretionary spending than it is to cut back on household staples. 
The good news for certain media sectors is that consumers have reported cutting down more on one-off purchases than on subscriptions. But at the same time, consumers are looking to minimize more essential monthly expenses like internet and mobile in the next year, which should galvanize media companies to strengthen their bundled offerings in the months ahead.
Entertainment expenses are being dinged by inflation — especially one-off purchases
Over the last year, real spending declined for recreational and entertainment activities (including concerts, sporting events and museums) and telecom services (including internet, mobile plans and streaming subscriptions) as inflation discouraged discretionary spending. 
According to Morning Consult Economic Intelligence data, between February 2022 and February 2023, recreation/entertainment was among the categories with the sharpest year-over-year decline in spending as consumers facing elevated price growth across a variety of goods and services were forced to make trade-offs. (MCEI consumer spending data is based on findings from our monthly Household Finances and Spending Survey, a leading indicator for credit card payments and retail sales. It is adjusted for inflation using the Consumer Price Index and seasonality using the Census Bureau.)
Year-over-year change in real monthly spending in February 2023, seasonally adjusted
Source: Morning Consult Economic Intelligence
As with other discretionary categories, the lingering impacts of the pandemic and shifting consumer priorities likely played a role in determining how entertainment and recreational budgets were allocated. MCEI data shows that overall, consumers have reallocated a growing share of spending away from goods and toward services such as travel, for which there was pent-up demand due to the pandemic. This desire to splurge on travel may have taken away from budgets for closer-to-home entertainment like concerts and sporting events. 
Within the entertainment category, consumers said in March that they have cut down on all aspects over the past year, with more discretionary items taking a bigger hit. If we look at the net difference between those who cut spending and those who didn't in a particular category over the last 12 months, the hardest-hit categories were one-off entertainment expenses like purchases of movie tickets, video games and sporting event tickets.
Share of U.S. adults who said whether they've cut spending in each category in the past 12 months due to inflation: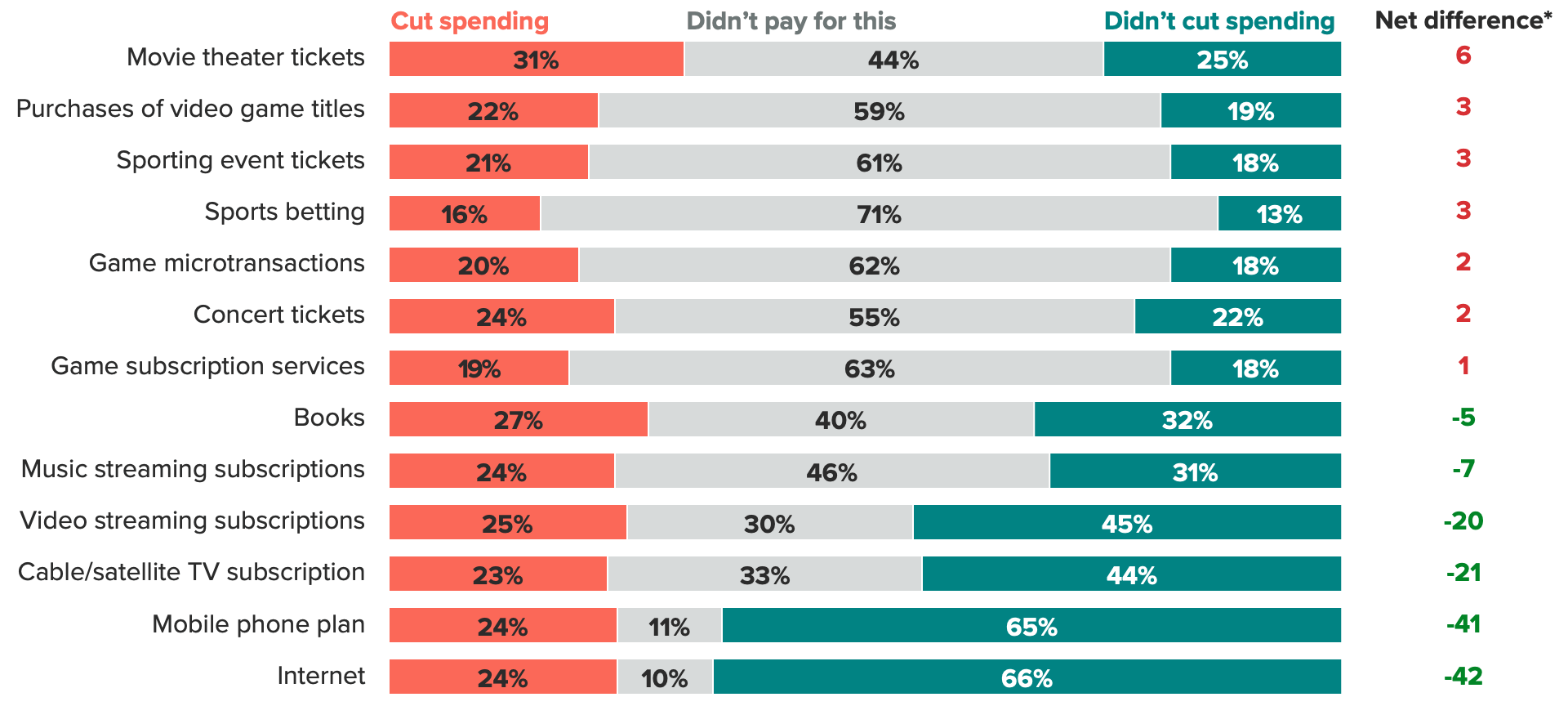 *Net difference is the share who said they cut spending in each category minus the share who said they didn't cut spending.
Survey conducted March 24-26, 2023, among a representative sample of 2,200 U.S. adults, with an unweighted margin of error of +/-2 percentage points. Those who cut spending said they either spent less on or stopped paying for each category entirely. Figures may not add up to 100% due to rounding.
This doesn't mean recurring media and entertainment expenses like internet, mobile plans and video streaming weren't hit: About 1 in 4 U.S. adults said they either spent less on or stopped paying entirely for each of those categories. 
It's just that consumers are less willing to walk away completely from these subscription expenses than from one-off purchases like movie tickets and sports betting, as evidenced by the shares of consumers who said they didn't cut spending for each category above.
This implies that categories with lower net difference values are seen as more essential. It also suggests that consumers are more likely to cut costs by switching to cheaper alternatives, rather than eliminating spending entirely, on essential entertainment categories, which MCEI data also confirms. 
Our Substitutability index showed a sharp uptick in early 2023 in the telecom category, suggesting that more consumers who are purchasing telecom services are opting for cheaper alternatives. MC's Substitutability index is based on our survey data on consumers who have selected cheaper alternatives within a purchase category amid decreasing spending power.
Notably, our Price Sensitivity index for the same category has been more stable. That index is based on our survey data on consumers who have forgone purchases due to higher-than-expected prices. Together, these findings suggest that while price concerns may be encouraging consumers to reduce telecom spending, they are less willing to abandon these purchases altogether, given the essential day-to-day functions enabled by mobile phone and internet services. 
How the macroeconomic picture could impact entertainment expenses in the second half of 2023
It should be noted that dips in reported consumer spending are not proportional to changes in media giants' revenues. Peacock, a U.S.-only streaming service, more than doubled its subscriber count in 2022, while Disney+ gained 3.7 million subscribers last year. Meanwhile, 2022 domestic box office revenue was up 65% year over year. 
But more favorable economic conditions over the past year would have led to higher discretionary spending by consumers. And this would have meant even bigger year-over-year gains for certain companies, which are badly needed in an industry that now seems perpetually in cost-cutting mode. 
Macroeconomic industry pressures won't abate soon: Despite already having cut entertainment spending, consumers are indicating they'll continue to minimize those expenses in the months ahead. 
In March, around 3 in 5 U.S. adults said it was important to them to spend less on their internet and mobile phone plans in the year ahead. This suggests that even staples within the category are in cost-cutting jeopardy in U.S. households, though the net difference values above suggest most consumers will likely cut costs on music and streaming subscriptions prior to mobile and internet. 
Share of U.S. adults who said whether spending less on each category within the next 12 months is important to them:
Survey conducted March 24-26, 2023, among a representative sample of 2,200 U.S. adults, with an unweighted margin of error of +/-2 percentage points. "Don't know/No opinion" responses not shown.
On the flip side, consumers by and large indicated that it was less important for them to cut down on one-off purchases, likely because those who needed to minimize those nonrecurring purchases have already done so. 
Entertainment giants would position themselves well to reduce churn by creating new bundled deals that span far beyond video streaming to areas like music streaming and theme park savings — perks consumers might not typically expect to receive in these discounted offerings. Disney has stopped development of an Amazon Prime-like bundle that would span its video streaming and theme park offerings, though NBCUniversal could still roll out such a deal. 
These types of offerings can allow streamers to accelerate sign-ups in a cost-effective way amid a tough macroeconomic backdrop, which is why Morning Consult predicted last year that bundling will become a greater focus in the streaming wars in 2023. 
Sofia Baig contributed to this analysis.
Kayla Bruun is a senior economist at decision intelligence company Morning Consult, where she analyzes consumer spending, inflation and household finance trends, leveraging the company's proprietary high-frequency data.
Prior to joining Morning Consult, Kayla was a key member of the corporate strategy team at telecommunications company SES, where she produced market intelligence and industry analysis of mobility markets. 
Kayla also served as an economist at IHS Markit, where she covered global services industries, provided price forecasts, produced written analyses and served as a subject-matter expert on client-facing consulting projects. 
Kayla earned a bachelor's degree in economics from Emory University and an MBA with a certificate in nonmarket strategy from Georgetown University's McDonough School of Business.
Follow her on Twitter @KaylaBruun. For speaking opportunities and booking requests, please email [email protected]
Kevin Tran is the senior media & entertainment analyst on the Industry Intelligence team, where he conducts research, authors analyst notes and advises leaders in the media & entertainment industry on how to apply insights to make better business decisions. Prior to Morning Consult, Kevin was a media analyst at Variety Intelligence Platform, Variety's premium subscription service. Kevin graduated from the Haas School of Business undergraduate program at the University of California, Berkeley. @ktran223
For speaking opportunities and booking requests, please email [email protected].
We want to hear from you. Reach out to this author or your Morning Consult team with any questions or comments.
Contact Us