The Peloton Scandal That Wasn't
Amid its latest controversy, the at-home fitness brand hasn't lost stock with consumers or the general public, writes Morning Consult's head of industry intelligence Joanna Piacenza. This serves as the latest lesson in news penetration and public opinion.
And just like that, another 24-hour nontroversy has come to an end.
Consumers' favorability of Peloton remains untouched, according to Morning Consult trend data, despite the high-end exercise company's most recent media scandal.
Peloton appears in HBO's "Sex and the City" reboot, "And Just Like That," which premiered last week and featured the untimely death of main character Mr. Big after he stepped off a Peloton bike, the logo clearly in frame. The unsponsored cameo inspired headlines and spooked investors. The company's share price, already dropping since its May treadmill recall and amid ongoing supply chain issues, took another dip. Peloton responded with a satirical ad that it produced over the weekend starring Chris Noth, the very-much-alive actor who plays Mr. Big.
But amid all this disarray, consumer attitudes didn't budge.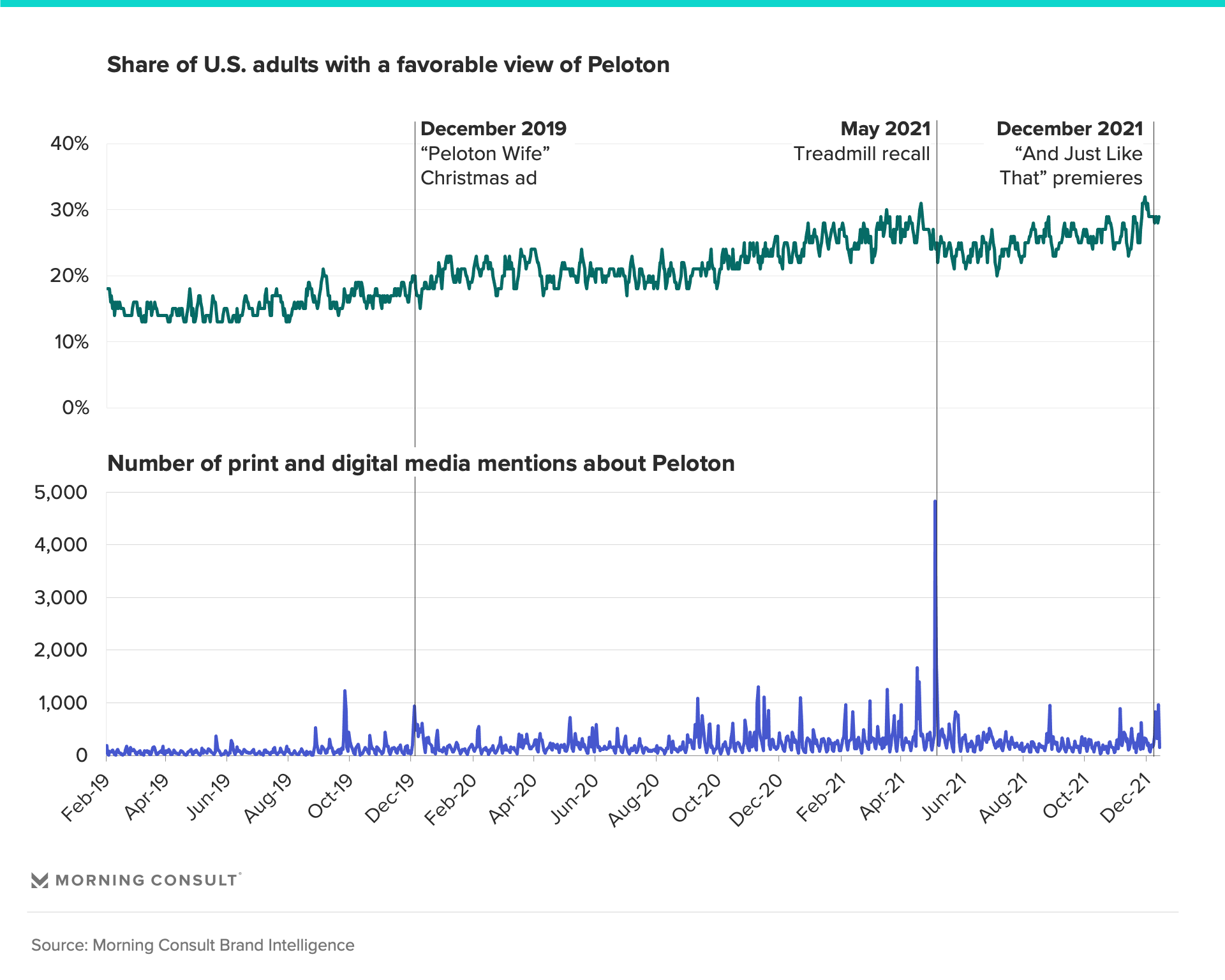 Morning Consult has tracked Peloton's brand metrics for nearly three years, and the company's favorability has remained somewhat steady, scandal and accompanying media coverage or no, although it slipped in the wake of the treadmill recall. Sentiment among Peloton customers — those who report using the brand at least weekly — is similarly stable.
This sort of reaction, or lack thereof, is not uncommon on Morning Consult Brand Intelligence, our flagship platform that tracks thousands of brands in over a dozen countries. Controversies and scandals that seem to take up all the oxygen one week barely make a blip on consumers' radars the next, according to the thousands of interviews Morning Consult conducts daily.
Simply put, news just doesn't break through in the way that many industry leaders and brand stakeholders think it does. (This is apparent in Morning Consult's annual news penetration project, "Seen, Read, Heard.") And when news does break through, it rarely changes public perception of a brand, especially in instances as frivolous as an appearance on a TV show.
When attitudes do shift, they're likely temporary, such as with the United Airlines 2017 scandal involving a passenger who was forcibly removed from a flight, or Nike's partnership with Colin Kaepernick, which tapped into the controversy surrounding the NFL free agent's stance on social justice issues. One important exception is Facebook, whose constant drumbeat of serious blunders has resulted in a steady decline of brand favorability, although its user base has remained largely undeterred.
The data offers a lesson in perspective. It's proof that negative coverage of a brand doesn't necessarily equate to a fleeing consumer base — and it's evidence that leaders should be presenting to investors, who are sometimes skittish enough to turn a nothingburger of a story into a full-blown negative news cycle.
Joanna Piacenza leads Industry Analysis at Morning Consult. Prior to joining Morning Consult, she was an editor at the Public Religion Research Institute, conducting research at the intersection of religion, culture and public policy. Joanna graduated from the University of Wisconsin-Madison with a bachelor's degree in journalism and mass communications and holds a master's degree in religious studies from the University of Colorado Boulder. For speaking opportunities and booking requests, please email [email protected].
We want to hear from you. Reach out to this author or your Morning Consult team with any questions or comments.
Contact Us