A Relocated Sports Team Doesn't Necessarily Mean New Fans
Sports analyst Mark J. Burns explains why relocated and expansion franchises must develop a connection with younger audiences to capture their fandom early in life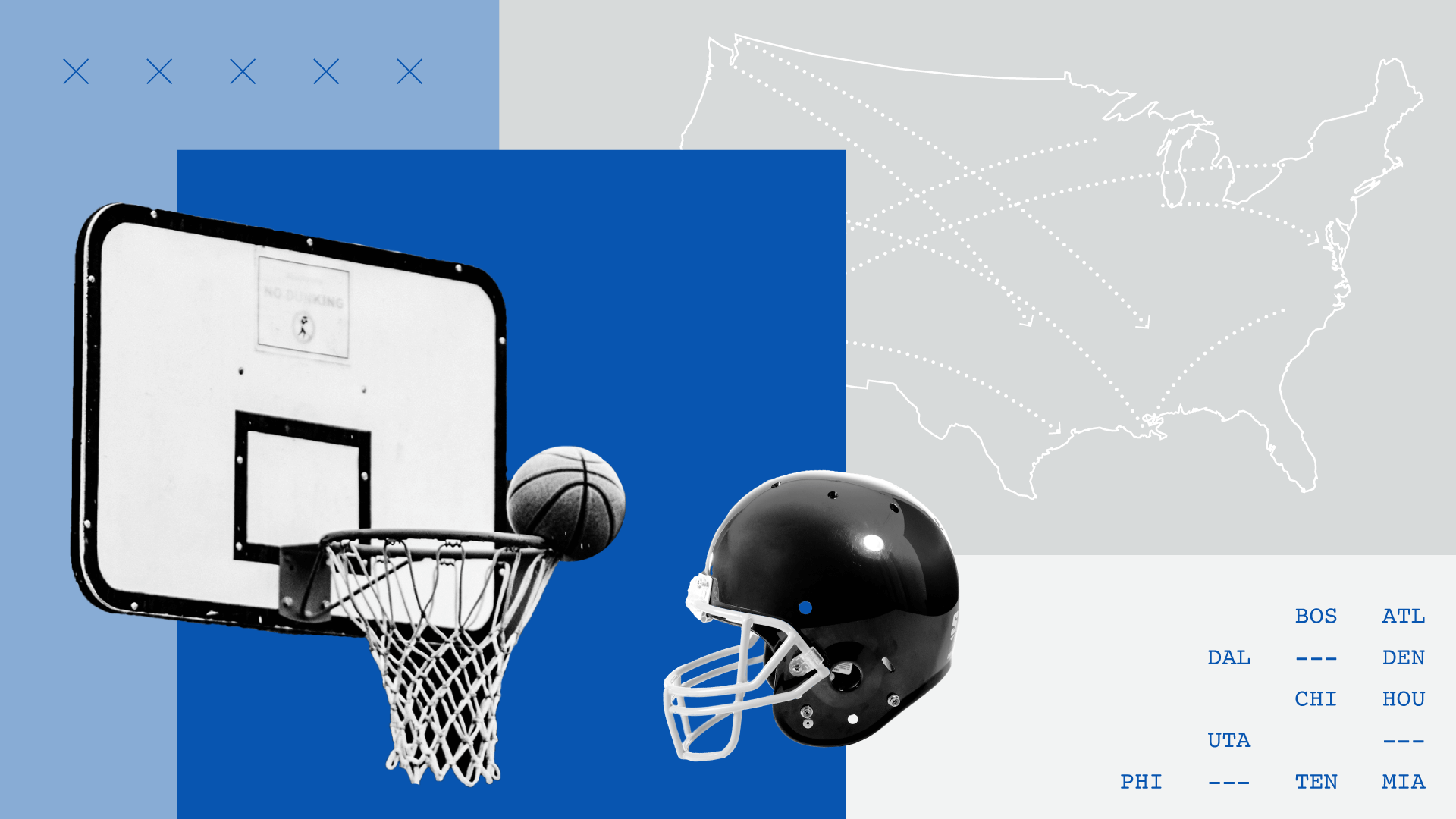 Key Takeaways
Basketball fans are most interested in seeing an expansion NBA franchise in Seattle or Las Vegas in the coming years, while interest in foreign expansion ranks lower. 

More than half of sports fans (55%) said a "major reason" why a sports team is their favorite is because they watched them growing up, followed by the team's consistent performance during the season (34%) and its close proximity (33%).

Relocation isn't a driving factor for fandom: Two-thirds of sports fans said a franchise's move to a nearby city within the past five years had no bearing at all on why a team is their favorite.
For our latest sports data and analysis, sign up for our daily briefing.
The NBA currently sits at 30 franchises, and it hasn't expanded since the 2004-05 season when the now-Charlotte Hornets entered the league. Since then, multiple NBA franchises have relocated to new markets, including the Seattle SuperSonics' move to Oklahoma City in 2008 and the New Jersey Nets' transition to Brooklyn in 2012. 
In recent years, the two cities mentioned most heavily as possible expansion targets have been Seattle and Las Vegas, the latter of which has added NFL and NHL teams since 2017.
New Morning Consult research shows that the NBA's flirtation with both markets mirrors basketball fans' interests: Almost 3 in 5 (56%) said they are either "very" or "somewhat" interested in an NBA expansion franchise in Vegas, the top preferred market in the survey. Nearly half of basketball fans (48%) said the same about the Emerald City, which boasts teams in four of the five major U.S. professional leagues.
Seattle, Las Vegas Top Basketball Fans' List of Preferred New NBA Markets
Share of basketball fans who said whether they would be interested in the creation of a new NBA team or the relocation of an existing franchise to the following markets:
Survey conducted August 3-4, 2023, among 1,178 U.S. basketball fans, with an unweighted margin of error of +/-3 percentage points. Figures may not add up to 100% due to rounding.
Over the years, expansion teams and relocated franchises have found a mixed bag of business success and championships early in their existence, which begs the question of whether they can ultimately be successful at converting new fans, driving more season ticket holders and securing new sponsorship dollars. 
According to the new Morning Consult data, teams that switch markets may not find fandom as quickly as they had hoped, especially among local residents. And long-term success will require more strategic planning and marketing, not simply a change of scenery.
Sports fandom starts early in life 
Over half of sports fans (55%) said the No. 1 "major reason" why a franchise is their favorite is because they watched them growing up, compared with just 13% who said the same about a team that has relocated to a nearby city in the past five years. 
Put another way: 66% of sports fans said a franchise's relocation was "not a reason at all" why a team is their favorite, making it the lowest predictor of fandom among the options included in the survey. 
Top Predictor of Sports Fandom Is Growing Up Watching the Team
Share of sports fans who said each of the following is a reason why a team is their favorite:
Survey conducted August 3-4, 2023, among 1,482 U.S. sports fans, with an unweighted margin of error of +/-3 percentage points. Figures may not add up to 100% due to rounding.
When considering whether to relocate a sports franchise, which could include financing a new venue, industry executives need to weigh how their local constituents — some of whom are likely to become avid or at least casual fans — will react to their consideration for taxpayers' money.
When the Oakland Raiders relocated to Las Vegas, the franchise received $750 million in public funding for the $2 billion Allegiant Stadium, while the Seattle Kraken's ownership group privately financed the renovation of its venue, Climate Pledge Arena, for over $1 billion. The Oakland Athletics have started the process of relocating to Sin City, though it's been an arduous ordeal, complicated by requests for hundreds of millions of dollars in state money.
Our research found that similar shares of sports fans (49%) and U.S. adults (48%) oppose state tax increases to fund new sports venues, a decision that may alienate a core base of fans before a team's first game.
However, pluralities of both sports fans and U.S adults feel that both team owners and the public should fund new stadium projects together. Meanwhile, twice as many sports fans said they believe team owners should be solely responsible for financing a new stadium as those who said it should be the state's responsibility (33% versus 16%). 
Sports team owners and senior executives who are considering relocating a franchise should be proactive in their public messaging if they're seeking taxpayer funding to build a new venue. In addition, stakeholders must either work with a strategic communications agency or tap an experienced team of communications executives to convey what economic and labor effects the franchise will have on the new market, along with how the team's presence will positively impact the community.
So, you still want to relocate your sports team …
Relocating a sports franchise isn't an easy feat. Just ask the Oakland Athletics, who have unsuccessfully tried to build a ballpark in the Bay Area for the past two decades and are inching closer and closer to a move to Vegas. Still, they may be stuck playing in a minor league stadium during the construction phase for their new ballpark.
As the data suggests, a relocated franchise doesn't automatically correspond to newfound fandom. Since sports fans' adoption of their favorite team tends to start at a young age, industry stakeholders should focus on capturing children's attention as soon as possible to have the best chance at keeping their fandom for life.
Specific demographics at scale: Surveying thousands of consumers around the world every day powers our ability to examine and analyze perceptions and habits of more specific demographics at scale, like those featured here.
Why it matters: Leaders need a better understanding of their audiences when making key decisions. Our comprehensive approach to understanding audience profiles complements the "who" of demographics and the "what" of behavioral data with critical insights and analysis on the "why."
CBS Sports is partnering with kid-centric brand Nickelodeon to air an alternative broadcast of Super Bowl LVIII in February — and teams should think creatively, too. They could hold themed games, like Dog Night, Star Wars Night or Disney Night, to target families with young kids — a popular tactic to attract new fans to stadiums. 
Gen Zers in particular are more heavily influenced by friends' and family members' sports fandom compared with other generations. About one-third of the group (32%) said a major reason a team is their favorite is because of their friends and family, just below the 37% who said it's because they grew up watching the franchise. Teams could work with popular celebrities who are already fans to drive brand awareness on digital platforms and through traditional media ahead of a team's first game — a strategy that would resonate not only with Gen Zers, but older generations and families as well. 
For the Vegas Golden Knights, grassroots marketing efforts, including getting involved with the local hockey community, paid off before the franchise's debut in 2017.
Teams can't be assured that fans will come through the turnstiles based on the excitement of their arrival alone. And in some growing markets — like Seattle and Las Vegas, for example — there's now more competition to capture fans' hearts and minds. 
How is your team's value proposition going to be any different than what is currently being offered in the market?
Mark J. Burns is a sports analyst on the Industry Intelligence team, where he conducts research, authors analyst notes and advises leaders in the sports industry on how to apply insights to make better business decisions. Before joining Morning Consult, he served as a beat reporter at Sports Business Journal, covering the business of hockey and soccer. Mark graduated from the University of Michigan with a bachelor's degree in history and holds a Juris Doctor from Belmont University. For speaking opportunities and booking requests, please email [email protected].
We want to hear from you. Reach out to this author or your Morning Consult team with any questions or comments.
Contact Us