An Inside Look at YouTube's Rise as a Sports Destination
Sports analyst Mark J. Burns unpacks why YouTube should be a top-tier focus for sports stakeholders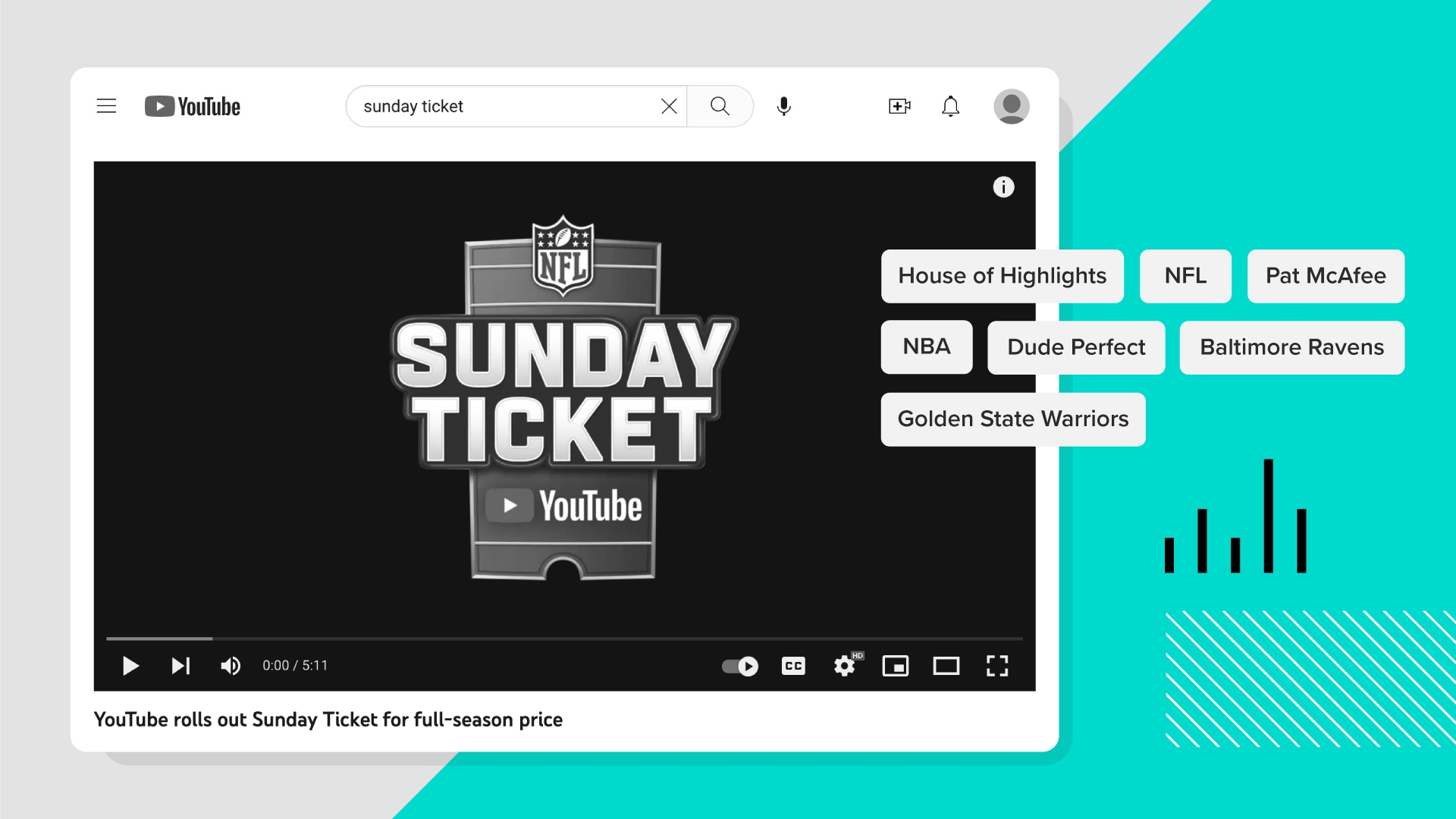 Key Takeaways
More than 2 in 5 sports fans (42%) said they watched livestreams of games or replay videos in the past month on YouTube, making it the most popular video destination.

More than half of sports fans (56%) said they use social media either "often" or "sometimes" to stay updated on game highlights.

Over the past two seasons, more than half of the Golden State Warriors' YouTube video views came from outside of the United States.
For our latest sports news and analysis, sign up for our daily briefing.
Google's YouTube easily boasts one of the largest user bases of any video-sharing platform in the world, but the collective sports business has only recognized its potential in the last few years.
"The significance of YouTube is not quite understood yet, but it's going to be," said John Kosner, president of sports media consulting firm Kosner Media and a 20-year ESPN veteran. "You're moving to the internet as a platform. In the center of that is video with YouTube."
Sports stakeholders previously prioritized other channels, like Facebook, Instagram and Twitter. For example, MLB only granted teams' access to their individual YouTube accounts in 2019, meaning the platform has historically been underutilized across sports. But that has been changing: In 2017, YouTube TV launched, and combined with the rise of video consumption, adoption of connected TVs, the platform's user base and discoverability capabilities, YouTube now has a more permanent place in sports executives' strategies.
Today, YouTube is the equivalent of TV, and it's wading further into sports fans' conscience. The NFL's new media rights deal with YouTube for "Sunday Ticket," reportedly worth around $14 billion over seven years, has only increased the platform's importance.
Beyond live sports rights, YouTube has become a versatile medium to distribute sports highlights, all-access footage, personality-driven videos, short-form content, episodic programming and podcasts.
Jen Millet, chief marketing officer for the Golden State Warriors, told Morning Consult that YouTube remains "player and game highlights driven at its core."
"There's a real drive to see more than just one great dunk or pass," Millet said. "It's more like, 'I want a highlights recap. I don't want to sit through 'SportsCenter' and wait for my team's two-minute highlight of the game.'"
With the sports industry already struggling with Gen Z, it would be prudent for stakeholders to develop a strategy to meet the next generation of fans where they're spending a large amount of their time: YouTube.
YouTube has the golden (Sunday) ticket
A new Morning Consult survey found more than 2 in 5 self-identified sports fans (42%) said they watched livestreams of games or replay videos of games on YouTube in the past month, making it the most popular video destination, followed by Facebook (28%) and Twitch (8%).
Gen Z adults, millennials, Gen Xers and baby boomers all said they incorporate YouTube more into their monthly content diet than other platforms, per the survey. Nielsen data also shows that the video-sharing service is the No. 1 streaming platform by share of time spent viewing.
YouTube Is Sports Fans' Preferred Livestreaming Platform
Shares of respondents who said they watched livestreams or replays of sporting events on any of the following platforms in the past month:
"Other" and "I did not watch in the past month" responses not shown.
Survey conducted May 8-11, 2023, among a representative sample of 2,202 U.S. adults, with an unweighted margin of error of +/-2 percentage points.
All of this confirms why the NFL would partner with YouTube for "Sunday Ticket." The relationship started with highlights and clips before expanding to game previews and recaps — a popular use of YouTube among several major U.S. pro sports leagues — in addition to original programming and interview-style comedic sketches. The NFL joined other major U.S. leagues and teams, such as MLB and LAFC and the Seattle Sounders, MLS clubs that previously signed media rights agreements with YouTube.
Jon Cruz, YouTube's head of global sports partnerships, told Morning Consult that "successful execution of 'Sunday Ticket'" and getting the "requisite number of subscribers" are the main areas of focus for live rights at YouTube. 
"YouTube TV sports viewership, sports viewing on that platform, is a top priority," Cruz said.
Blake Stuchin, the NFL's vice president of digital media business development, said the league's fans increasingly spend their time on YouTube, not only in the United States but also in Germany, Canada, Mexico, the United Kingdom and Brazil. 
"'Sunday Ticket' has always been a premium product and it appeals to particularly an avid fan," Stuchin said, "but in the last several years, it hasn't been as widely available as we'd like it to be. The availability of 'Sunday Ticket' being on YouTube PrimeTime Channels and YouTube TV will make it that much more accessible to our fans than it historically has been on satellite."
Sports Fans Prioritize Highlights, Game Recaps Online
Sports fans who said how often in the past month they watched the following kinds of sports content online:
Survey conducted May 8-11, 2023, among a representative sample of 1,396 self-identified sports fans, with an unweighted margin of error of +/-3 percentage points. Figures may not add up to 100% due to rounding.
"Nearly half of all YouTube viewership now takes place on TVs, which is remarkable," he said. "That's where our long-form programming, with everything from 15-minute game recaps to original shows on YouTube, becomes another great avenue for discovery. The best example of that will be having full games starting the season."
Through the "Sunday Ticket" deal, the NFL can leverage top YouTube creators, like MrBeast, and provide them content opportunities around exclusive access to league tentpole events and games. The NFL and YouTube are launching a "NFL Creator of the Week" initiative, according to Stuchin, where popular YouTubers in fashion, fitness, music and gaming will introduce their audiences to football.
"The creator program is perhaps the biggest aspect of this deal that really matters that people aren't focusing on quite yet," Kosner said. 
Sports highlights a slam dunk on YouTube
Game highlights are the most important type of content that YouTube provides fans. More than half of sports fans (56%) said they use social media either "often" or "sometimes" to stay updated on game highlights, followed by 52% who said the same for game day content and 51% who said the same for team-related news.
1 in 4 Sports Fans Use Social Media 'Often' for Game Highlights
Share of sports fans who said how often they use social media to stay updated on each of the following sports related content:
Survey conducted May 8-11, 2023, among a representative sample of 1,396 self-identified sports fans, with an unweighted margin of error of +/-3 percentage points.
Drew Muller, vice president and general manager of House of Highlights, said the brand's YouTube channel, which has about 9.5 million subscribers, has become a "go-to destination" for NBA fans over the past five years. The NBA, meanwhile, told Morning Consult that its highest-performing YouTube content is its 10-minute game recaps.
The Baltimore Ravens said one of their most-watched YouTube videos this year is a career highlights compilation of new signee Odell Beckham Jr. Other popular Ravens videos have included a six-minute compilation of players picking a Maryland crab, which has received over 415,000 views, and a clip of defensive legends Ed Reed and Ray Lewis teaching high school students how to study game film, which has garnered 1.3 million views.
"YouTube is the engine for our business," said Chad Coleman, chief brand officer for Dude Perfect, a youth-centric content creation brand with nearly 60 million YouTube subscribers.
Coleman said it's a balancing act catering to Dude Perfect's 5 million "really hardcore, devoted fans who will consume everything" and the rest of its subscribers.
"The diversification of content on YouTube has been instrumental in helping our longevity and not just being a flash in the pan," he said of the 14-year-old brand. "It's hard to find lightning in a bottle and usually that starts with a certain niche. For us, it was trick shots."
Dude Perfect, which still produces its trick-shot and stunt-like videos, broadened its usage of YouTube, producing a longer-form variety show, hosting an alternative broadcast during "Thursday Night Football" on Amazon.com Inc.'s Prime Video and exploring mini-documentaries. In May, the group shared a 17-minute video where it broke the world record for the highest basketball shot — it has generated more than 6 million views. 
The Los Angeles Chargers have found success by providing fans an inside look at a new signee's first 24 hours in the city, said Jason Lavine, the organization's vice president of content and production. This behind-the-scenes content has longevity and provides teams with captive audiences that are actively searching for that content, executives said. YouTube is one of the few platforms — digital or linear — where social media strategists and marketers can create long-form evergreen storytelling, which isn't available on other video platforms. Personality-driven programming that also incorporates trending cultural moments is a way for creatives to reach a broader sports audience.
Specific demographics at scale: Surveying thousands of consumers around the world every day powers our ability to examine and analyze perceptions and habits of more specific demographics at scale, like those featured here.
Why it matters: Leaders need a better understanding of their audiences when making key decisions. Our comprehensive approach to understanding audience profiles complements the "who" of demographics and the "what" of behavioral data with critical insights and analysis on the "why."
Launched in 2021, YouTube Shorts, a vertical short-form video feature, has added to the platform's range of offerings for sports stakeholders. One surprising benefit is its ability to bring in new audiences. Millet pointed to Shorts' ability to reach a new Warriors audience: 80% of total YouTube views are male users, but Shorts views skew 78% female. 
Lavine said the Chargers' subscriber growth has "skyrocketed" with the help of Shorts, which the team started to consistently prioritize in December. The short vertical format allows the Chargers to "get reach and get to peoples' phones quicker than a long-form video," he said.
The Chargers' two most popular Shorts feature a young fan, dubbed King Aidan, who initially gained notoriety after ripping his shirt off during a home game on Nov. 27. Both videos have collectively driven over 18 million views and at least 14,000 new subscribers to date.
"If you're a Charger fan and you want to find any video of a press conference, media availability, a highlight or a feature, you're finding it on YouTube all in one place," Lavine said. "It's on a little playlist for you."
Global fandom and revenue opportunities through YouTube
Aside from its versatility, YouTube offers teams and leagues a major opportunity to reach an untapped global audience ready to consume more football and basketball-related programming. 
Stuchin teased a new original YouTube show, which "will target an international audience," as well as plans to engage top YouTubers outside the United States to "expose their audiences to NFL and football," starting with the upcoming season. 
In May, the NFL's Atlanta Falcons secured international marketing rights to Germany as part of the league's global markets program due, in part, to noticeable consumption patterns overseas. Across the Falcons' website, mobile app and YouTube, Germany ranked No. 2 or No. 3 "in terms of audience size and traffic from outside the United States," said Scott Kegley, vice president of digital strategy for AMB Sports and Entertainment, parent organization of the Falcons. He estimated that 15% of the Falcons' YouTube audience is international.
Meanwhile, about 70% of the NBA's YouTube traffic is from outside the United States, with the top international markets including the Philippines, Canada, Brazil and India, according to Bob Carney, the league's senior vice president of social and digital content. He added that the NBA is deep into an exploratory and testing phase about how artificial intelligence tools can help reach different audiences. For example, the NBA could take a game recap for YouTube and, through artificial intelligence, automatically produce a new script, translate it into 10 different languages and generate a new narration for those languages "to truly localize that for our global audience," he said.
For the NBA's Warriors, more than half of their YouTube video views came from outside the United States over the past two seasons. Millet said the team is strategizing ahead of the upcoming campaign about how to maintain the U.S. appeal for its YouTube channel while also reaching a global audience.
"If you're an out-of-market or out-of-country fan, YouTube is one of the only places where you can watch longer-form content and get more Warriors access," said Millet, adding that the NBA franchise, like some other sports teams interviewed, are discussing leveraging popular international YouTubers in the future.
The revenue potential on YouTube shouldn't be ignored either. Millet estimated 70% revenue growth year over year on YouTube, which is the Warriors' and Chargers' biggest source of revenue compared with other social media and video platforms, executives said. The Falcons' saw a 467% spike in year-over-year revenue growth from 2021 to 2022, according to Kegley.
Mark J. Burns is a sports analyst on the Industry Intelligence team, where he conducts research, authors analyst notes and advises leaders in the sports industry on how to apply insights to make better business decisions. Before joining Morning Consult, he served as a beat reporter at Sports Business Journal, covering the business of hockey and soccer. Mark graduated from the University of Michigan with a bachelor's degree in history and holds a Juris Doctor from Belmont University. For speaking opportunities and booking requests, please email [email protected].
We want to hear from you. Reach out to this author or your Morning Consult team with any questions or comments.
Contact Us