Soccer's Uphill Climb to U.S. Popularity Amid Lionel Messi's MLS Arrival
Sports analyst Mark J. Burns unpacks the opportunities and challenges ahead for soccer executives as they strategize how to market toward the American fan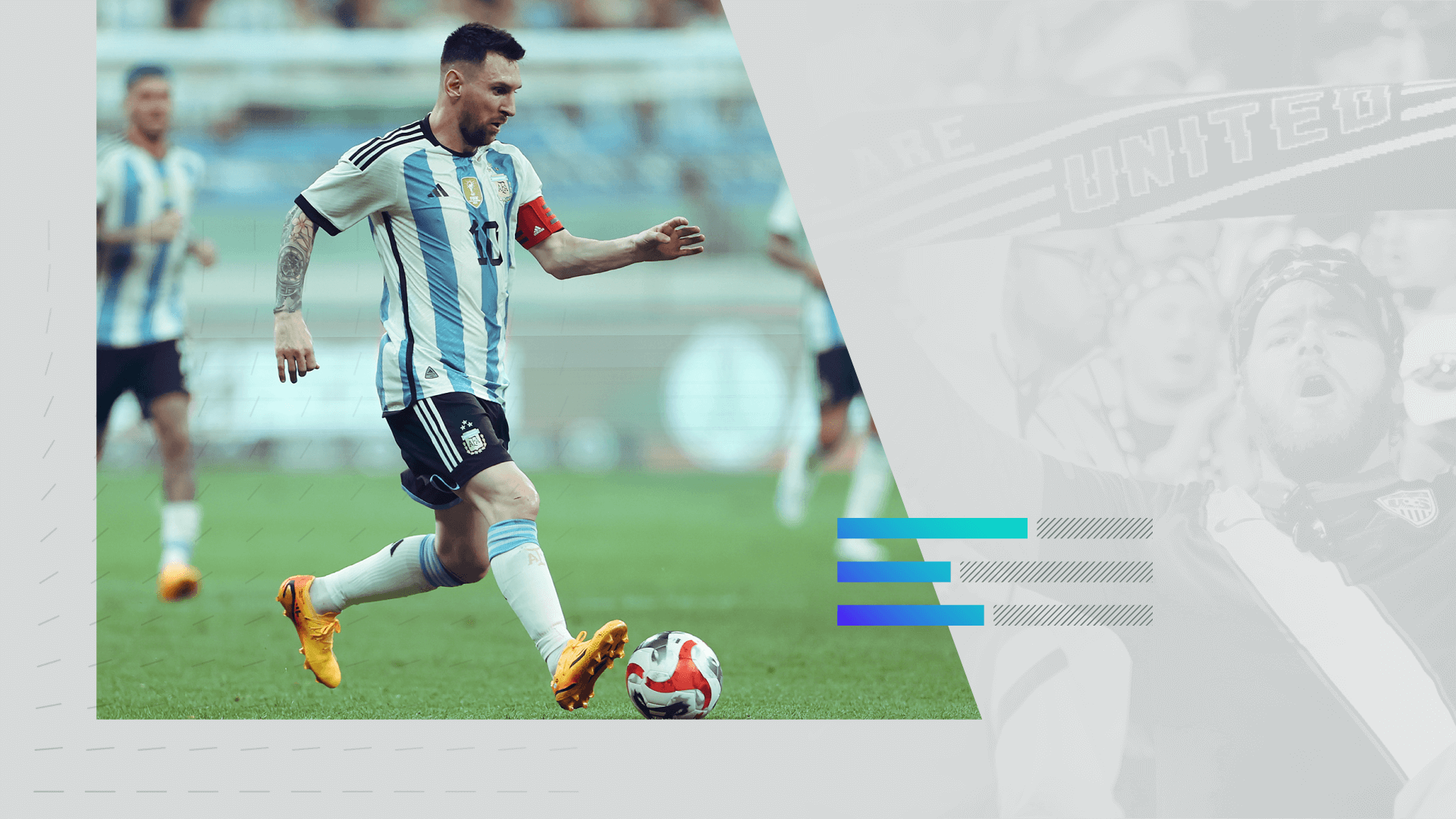 Key Takeaways
Americans' fandom for soccer lags behind other traditional team sports: Only 13% of sports fans said they follow soccer "every day" or "several times a week," compared with 44%, 33% and 32% who said the same for football, baseball and basketball, respectively.

Despite the arrival of Lionel Messi to Major League Soccer's Inter Miami and the North America-based World Cup in 2026, it's hard to ignore the challenges facing U.S. soccer: 39% of sports fans said the No. 1 major reason they rarely follow soccer is because it's boring to watch, followed by 19% who said it is too slow-paced.

U.S. soccer executives should market more toward millennials and Gen Xers, the two generations that account for the most soccer fans, as well as invest more in the players on their teams.
The common narrative associated with American soccer is that it is "the sport of the future" and one with momentum. Expansion is a recurring theme among the top two U.S. professional soccer leagues: MLS recently added a 30th team in San Diego, while the NWSL expects to expand to 16 teams for 2026.
Team valuations continue to soar, too. LAFC became the first MLS franchise to reach the $1 billion valuation mark in 2023; meanwhile, the NWSL has seen record team valuations rise above $50 million with a San Francisco Bay Area expansion team set to begin play in 2024.
There's no denying soccer's growth in North America, which will host the men's FIFA World Cup in 2026, marking the first time three countries — Canada, Mexico and the United States — will host the global tournament. However, new Morning Consult data shows that only 13% of sports fans, defined as those who consume sports on at least a monthly basis, said they follow soccer either "every day" or "several times a week," which is much lower than for other mainstream sports like football, baseball and basketball.
Many of the soccer industry's battles will be tough to win, given that many Americans find the sport boring or too slow-paced. But there are areas of opportunity, whether through outreach to millennials and Gen Xers or focusing more on signing big-name international players.
The average U.S. soccer fan is a liberal, white, male millennial
Some may assume American fans would be more ethnically and racially diverse, given that soccer is the world's most popular sport and domestic leagues like MLS feature players from over 80 countries. But that isn't the reality yet.
Around 7 in 10 soccer fans — defined as those who watch, read about or seek information about the sport at least monthly — are men, while over half identify as white. They also tend to be younger (a plurality are millennials), though not the highest earners (43% earn less than $50,000 annually).
Liberals, Whites, Men and Millennials Identify as Soccer Fans
Demographic profiles of U.S. adults who identify as monthly soccer consumers
Survey conducted June 23-25, 2023, among a sample of roughly 480 U.S. adults who report consuming soccer at least once a month, with an unweighted margin of error of +/-5 percentage points. Figures may not add up to 100% due to rounding.
While sports executives are particularly concerned about reaching Gen Z adults, the soccer industry cannot neglect the other important cohorts who follow the sport domestically. Older generations have passed down their fandom of baseball and football to their children, and the same could hold true with soccer's millennial fans and the Gen Alpha children they're currently raising. What's more, Gen Xers make up about 22% of soccer fans, the second largest share of any generation, and they're likely being overlooked by the soccer industry's outreach to fans.
One potential way to reach out to even more audiences is through gaming: 12% of millennial and Hispanic respondents said they play soccer video games either several times a week or every day, which is nearly twice as much as the average U.S. adult, according to our survey. Marketing could also include partnering with microinfluencers who also identify as soccer fans, and finding creative content collaborations between soccer players and top athletes in other U.S. sports.
Some of soccer's biggest perceived drawbacks are inextricable
Soccer's history in the United States dates back to the 1800s, but the sport's inflexion point was in 1994, when the men's World Cup came to the United States. The tournament's arrival coincided with the creation of Major League Soccer.
Even with the sport's recent momentum, there are challenges ahead, and some of them may be impossible to avoid. Almost 40% of sports fans said the No. 1 "major reason" they rarely follow soccer is because the sport is boring to watch, with 36% of U.S. adults saying the same. The next most-cited deterrent is that the game is too slow (19% of sports fans). Many of the issues surveyed are simply part of the sport and likely won't be fixed.
At the same time, consumers also don't have overwhelmingly strong feelings about what they think could improve the popularity of soccer in the United States. When asked whether various scenarios would make an impact on the sport, roughly a quarter to more than 2 in 5 respondents said they didn't know or had no opinion, or that the scenario would have no impact at all. Again, this is potentially a reflection of a broader lack of interest in the sport.
Of the options that respondents did think would make soccer more popular, the top-ranked scenario would be if the U.S. men's national team performed better at the World Cup. The team's three 2022 World Cup group stage matches averaged 11.71 million viewers on Fox, up 10% from the 2014 tournament, indicating that there's clearly interest among U.S. adults.
Americans See No Clear Path to Soccer Becoming More Popular in the United States
U.S. adults said whether the following scenarios would make soccer more or less popular domestically:
Survey conducted June 23-25, 2023, among a representative sample of 2,203 U.S. adults, with an unweighted margin of error of +/-2 percentage points.
A popular point of discussion is whether soccer's promotion and relegation system — as used in Europe, South America and elsewhere — would drive the sport's popularity in the United States. But our data shows otherwise: Only 20% of U.S. adults said soccer would become more popular domestically if the MLS had such a system, the lowest share of any scenario.
But other improvements within MLS' control are more likely. For example, 30% of adults believe soccer would become more popular in the United States if MLS teams could sign more of the world's top players, tying for second among survey scenarios most likely to boost the sport's popularity.
The Popularity of U.S. Men's National Team Star Christian Pulisic Remains Low
Shares of respondents who said they have a favorable opinion of each of the following soccer organizations or figures:
Survey conducted June 23-25, 2023, among a representative sample of 2,203 U.S. adults, with an unweighted margin of error of +/-2 percentage points.
American soccer still does not have a transcendent player in the same way football has the Kansas City Chiefs' Patrick Mahomes and basketball has the Los Angeles Lakers' LeBron James.
U.S. men's national team star Christian Pulisic — arguably the biggest name in U.S. soccer right now — isn't a household name in the American sports landscape: More than half of sports fans said they have never heard of the Hershey, Pa. native. And it may prove difficult for Pulisic to develop into a U.S. sports star as he reportedly joins Serie A club AC Milan after having played for Premier League side Chelsea since 2019. He also doesn't have the same presence — especially online — as other top athletes.
Developing homegrown talents who remain in the United States and continuing to attract top international stars like Lionel Messi to MLS might prove to be more realistic approaches to growing the sport's popularity domestically.
Messi's arrival to MLS is mixed bag of consumer sentiment

All eyes are now on Messi, who is set to debut with Inter Miami for a Leagues Cup match on July 21. News of the Argentine soccer star joining the MLS side resulted in a social media boom and skyrocketing ticket prices last month.

While Messi's debut will likely be marked by an unprecedented amount of media attention and fan interest in MLS, it remains to be seen how this will continue in 2023 and beyond. Messi's deal extends through 2025, with an option for 2026.

Morning Consult's new data shows that 25% of U.S. adults said they plan to follow an MLS season with Messi playing for Inter Miami either "very" or "somewhat" closely, a 7-point increase from November 2022.
Still, 63% of sports fans said in June that they plan on following an MLS season with Messi playing for Inter Miami either "not too closely" or "not closely at all." Three-quarters of adults (75%) and nearly 1 in 3 soccer fans (32%) said the same. Even among those who have a favorable opinion of MLS, 46% said they won't be following the league too closely, if at all.
Specific demographics at scale: Surveying thousands of consumers around the world every day powers our ability to examine and analyze perceptions and habits of more specific demographics at scale, like those featured here.
Why it matters: Leaders need a better understanding of their audiences when making key decisions. Our comprehensive approach to understanding audience profiles complements the "who" of demographics and the "what" of behavioral data with critical insights and analysis on the "why."
This broader apathy toward MLS should serve as a warning to executives that the world's most popular soccer player may not drive as much interest with the average sports consumer as they had hoped.
In order to maximize the opportunity, the New York Post's Andrew Marchand has proposed "Monday Night Messi," an event MLS could use to promote the 36-year-old Argentine and drive subscriptions to MLS Season Pass on Apple TV. In 2007, when David Beckham left Real Madrid to join the MLS club LA Galaxy, the now-owner of Inter Miami appeared on half a dozen TV channels to "promote our sport," according to Dan Courtemanche, then-senior vice president of MLS.
There's also an opportunity for Inter Miami and MLS to create an all-access docuseries highlighting Messi's first season in the American league to further engage casual and avid sports fans. We've seen success with Netflix's "Drive to Survive" increasing the popularity of Formula One in the United States. Another example might be for soccer stakeholders to invest in content creation for YouTube, which has recently emerged as a top destination for sports programming.
Messi is the most popular soccer player in countries like Brazil and the United Kingdom, so there's an opportunity to leverage his MLS presence to reach fans not only here, but also abroad. Messi's career in the United States may be limited — but the collective soccer industry can use his presence to increase the sport's exposure for years to come.
Mark J. Burns is a sports analyst on the Industry Intelligence team, where he conducts research, authors analyst notes and advises leaders in the sports industry on how to apply insights to make better business decisions. Before joining Morning Consult, he served as a beat reporter at Sports Business Journal, covering the business of hockey and soccer. Mark graduated from the University of Michigan with a bachelor's degree in history and holds a Juris Doctor from Belmont University. For speaking opportunities and booking requests, please email [email protected].
We want to hear from you. Reach out to this author or your Morning Consult team with any questions or comments.
Contact Us