2018 Was the Best of Times or the Worst of Times -- Depending on Your Party
This year was better for most Republicans. Most Democrats disagreed.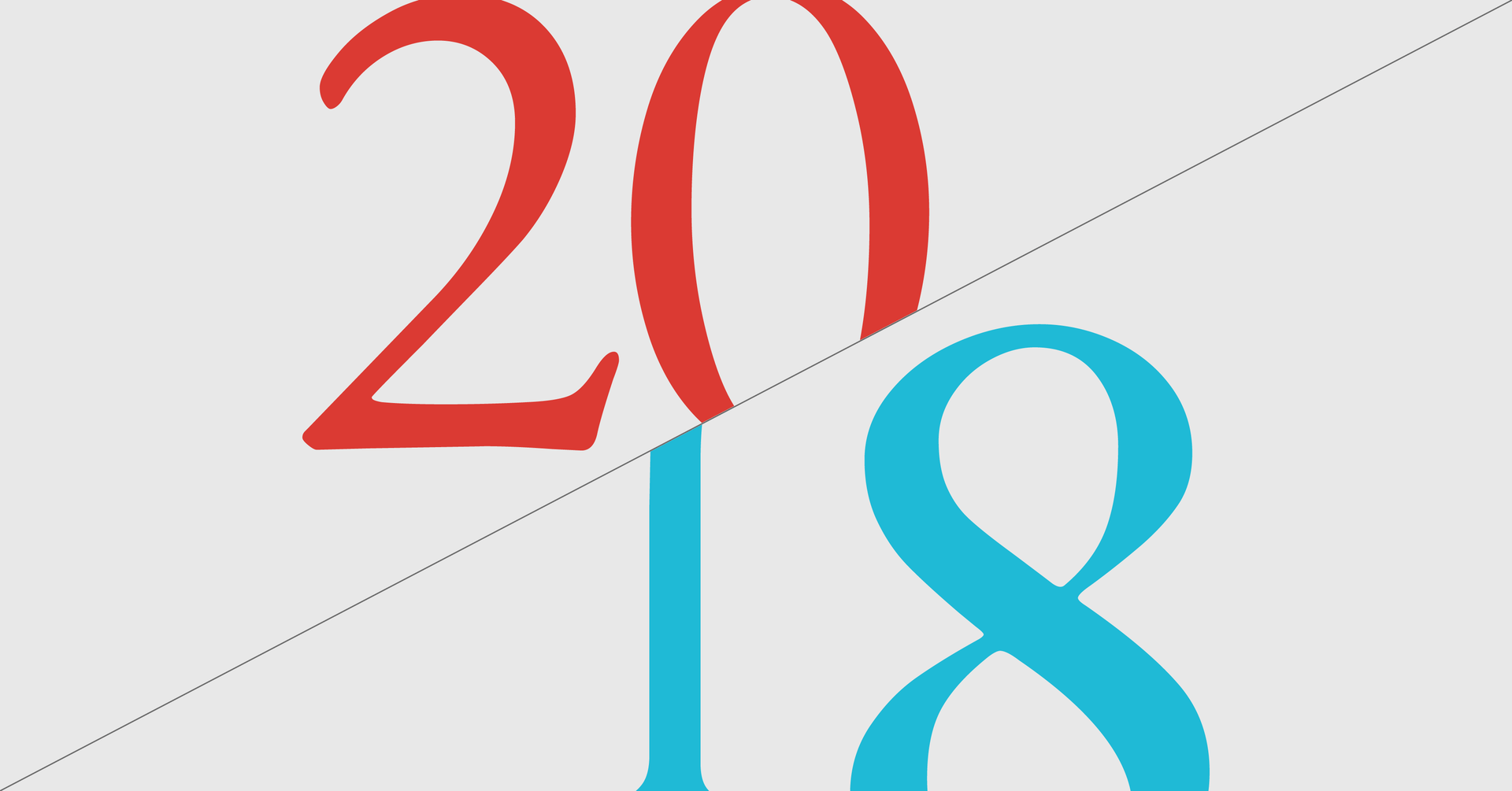 Key Takeaways
58% of Republicans said 2018 was better than 2017, while 51% of Democrats said it was worse.

A smaller share (35%) of Democrats say 2019 will be worse, but that's still more than those who say it will be better (28%)

By a 44-point margin, the public said the partisan divide has worsened in the last year.
How did 2018 go? Americans' answers to that question largely depended on their political leanings.
A new Morning Consult survey finds pervading partisan differences when it comes to reflections on this year, with Republicans and Democrats only strongly agreeing on one thing: They're growing further apart.
And while general views about the direction of the country and progress on policy -- each closely correlated with partisan loyalty -- were more likely to be pessimistic, the poll shows the public has comparatively rosier outlooks on their personal lives.
The second year of President Donald Trump's tenure in the White House was even better than the first for most Republicans (58 percent), while most Democrats (51 percent) said it was worse than 2017.
John Jost, co-director of New York University's Center for Social and Political Behavior, said in an email that this pattern would likely reverse if a Democrat were president. Attitudes among partisans on the direction of the country tend to buoy when their party has the White House, per Gallup analysis stretching back to 2007.
Despite those dire views, Democrats, whose party will take control of the House in January after a 40-seat gain in November's midterm elections, have a slightly more positive outlook about what's to come in 2019.
That's not to say Democrats are optimistic on the whole: While 28 percent said next year will be better, slightly more (35 percent) said it will be worse. But that single-digit deficit in optimism is much smaller than the assessment of 2018: Just 17 percent of Democrats said this year was better than 2017 -- 34 percentage points less than those who said it was worse.
When looking at how specific policies unfurled this year, the general public was more likely to say things have worsened for nearly every topic specified, from immigration reform to education. The Dec. 7-10 survey of 2,202 U.S. adults has a margin of error of 2 points.
Partisan differences were strongest on policy: Democrats said things have worsened overall on every polled policy issue, while Republicans said things improved -- and there was no partisan agreement that any one issue had improved this year.
The only thing where Democrats and Republicans strongly corresponded is on the issue of the partisan divide. Roughly similar shares of Democrats, Republicans and all adults said the divisiveness has gotten worse.
It's a political divide that's years in the making. A 2017 Pew Research Center survey found the gap between the political values of Republicans and Democrats is the largest it's been in the 23 years since the organization started gauging such issues.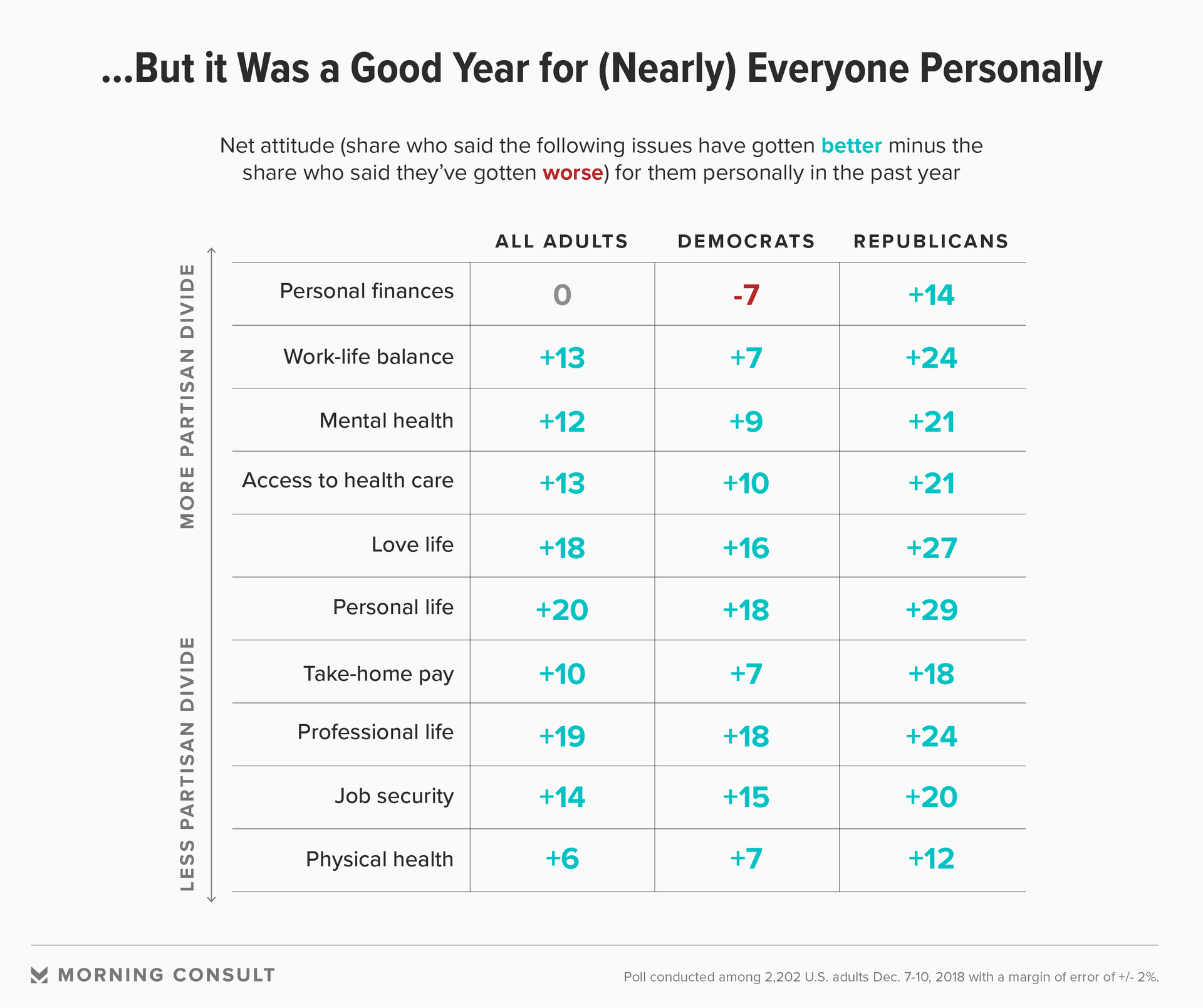 Despite those divides, Americans of all political stripes had more in common when it came to the personal side of life. The average partisan divide for policy issues was 36 points, while Republicans and Democrats were divided by an average of 11 points when reflecting on how the year went personally.
And the public was much more optimistic about how the year went: From job security to physical health, there was no element of personal life for which views worsened on the whole.
Our minds are wired to look at the bright side of things in our personal lives and underestimate the probability of negative things happening, said Tali Sharot, a neuroscientist and professor of cognitive neuroscience at University College London, in a 2012 TED Talk based on her book "Optimism Bias: Why We're Wired to Look on the Bright Side."
"We're optimistic about ourselves; we're optimistic about our kids; we're optimistic about our families," she said. Yet, "we're somewhat pessimistic about the fate of our fellow citizens and the fate of our country."
Sharot said an estimated 80 percent of humans could have this "optimism bias."
And while partisans were much more likely to agree that most aspects of their personal lives were improving, that feeling was still stronger among self-identified Republicans, who had more positive views overall on such topics as their love life, mental health and access to health care.
Joanna Piacenza leads Industry Analysis at Morning Consult. Prior to joining Morning Consult, she was an editor at the Public Religion Research Institute, conducting research at the intersection of religion, culture and public policy. Joanna graduated from the University of Wisconsin-Madison with a bachelor's degree in journalism and mass communications and holds a master's degree in religious studies from the University of Colorado Boulder. For speaking opportunities and booking requests, please email [email protected].
We want to hear from you. Reach out to this author or your Morning Consult team with any questions or comments.
Contact Us