49% of Young Viewers Would Cancel Netflix if It Loses 'Office,' 'Friends,' Disney, Marvel
But analysts doubt the removal of licensed content would lead to big subscriber losses
Key Takeaways
32% of all subscribers in poll say they would cancel their Netflix subscription if "The Office" and "Friends" and films from Marvel and Disney were removed from Netflix.

Three-quarters of time spent watching Netflix by adults 18-34 is spent watching licensed content.
As the streaming market becomes more fragmented, with WarnerMedia, Walt Disney Co. and NBCUniversal all preparing to launch streaming services within the next two years, Netflix Inc. is faced with the very real possibility that some of its most popular licensed shows and movies will leave the service, taking subscribers along with them.
While new polling finds that the youngest subscribers in particular are more likely than other age groups to say they would leave Netflix to follow certain programming, analysts suggest that this may not be that big of an issue for the streaming service.
"The Office" and "Friends" are two of Netflix's most watched shows, with subscribers watching "The Office" for more than 52 billion minutes last year and "Friends" for more than 32 billion minutes, according to Nielsen data cited by Adweek. Losing these shows and other licensed content to streaming services from NBCUniversal and WarnerMedia could impact the viewing habits of younger consumers, who prefer watching licensed content more than their older counterparts. According to Nielsen data cited by Business Insider, while adults ages 35-49 spend 69 percent of their Netflix viewing time watching non-original programming, consumers ages 18-34 spend 75 percent of their time on the platform doing the same.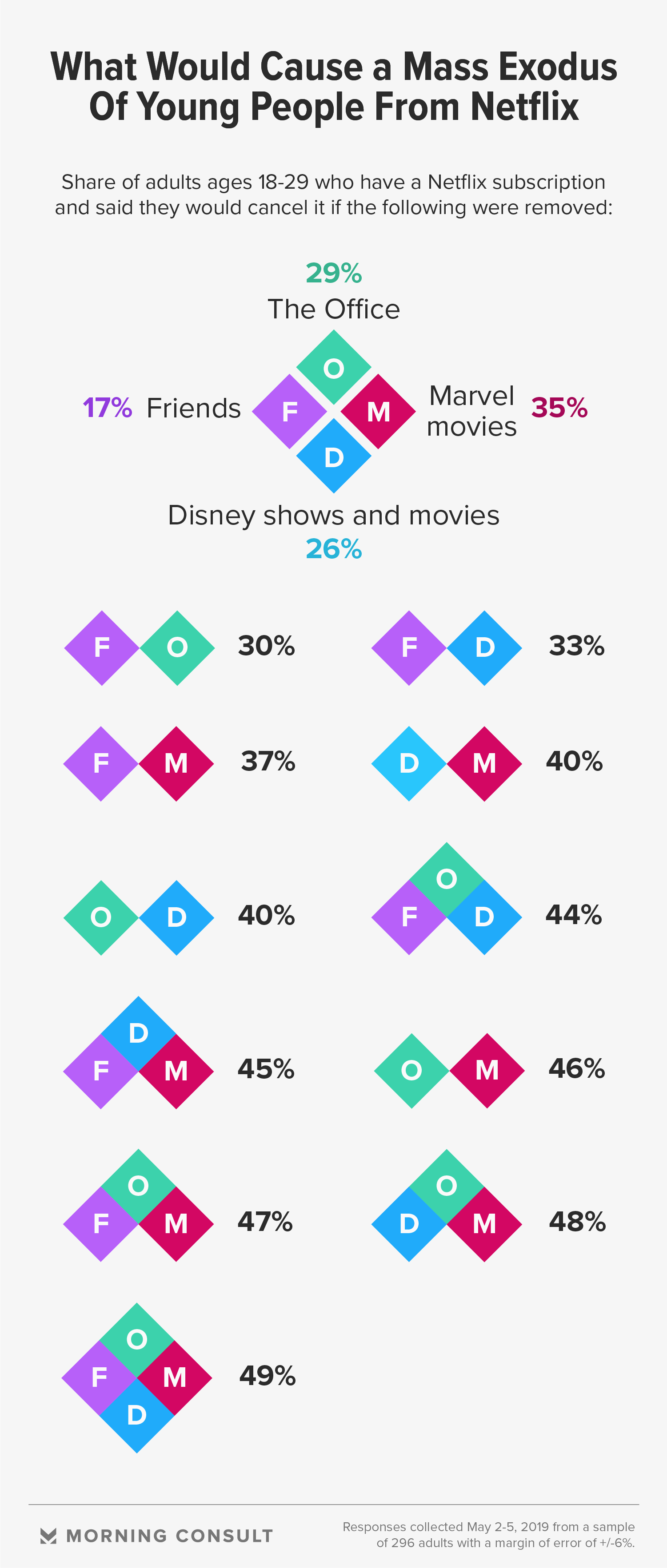 A May 2-5 Morning Consult/The Hollywood Reporter poll found that among Netflix subscribers ages 18-29, nearly half (49 percent) of them would cancel Netflix if "The Office," "Friends," Marvel movies and Disney content were all removed from the service -- compared to 32 percent of all 1,085 subscribers who said the same. The margin of error for the sample of all subscribers was 3 percentage points, while the subsample's margin of error was 6 points.
"The Office" and "Friends" are still on the platform, but Disney has already begun removing content from Netflix as licensing agreements expire and has announced that certain new releases, such as "Captain Marvel" and "Avengers: Endgame," will stream exclusively on the upcoming Disney+ streaming service.
Netflix said by email that in the United States, "The Office" will remain on the platform until at least 2021 and that some Disney and Marvel films released before 2019 will also remain on the platform, but it didn't specify an end date.
Dan Rayburn, an analyst with market research firm Frost & Sullivan, said he doesn't think that Netflix has much to fear in terms of losing subscribers as it loses content.
"Most people have these subscriptions because they watch a wide variety of content and programming," he said. "The fact that they lose one show doesn't typically force them to cancel their subscription."
Brett Sappington, the senior director of research at Parks Associates, added that Netflix's stability among streaming services is to its advantage.
"I suspect that consumers who are subscribing for only one or two series are ultimately not long-term subscribers," he said in an email. He noted that Netflix has lost licensed content before but still retains a low turnover rate. "They have somehow been able to overcome content losses without having huge subscriber losses," he said.
And Rayburn said that what subscribers say can be different from what they actually do: A survey conducted by Streaming Observer earlier this year found that 27 percent of consumers said they would cancel their subscription to Netflix because of a price hike. But the company ended up gaining a net 1.74 million subscribers domestically after the U.S. price increase in the first quarter of 2019.
If Netflix loses these expensive licensing deals (it has been reported that it spent $100 million to keep "Friends" on the platform for another year), it could be a net win for the streaming platform, resulting in what Rayburn calls "free cash" that it can invest in original content.
"Original content is obviously one of the things that Netflix has been very successful at," he said.
In the company's 2019 first-quarter earnings call, Chief Content Officer Ted Sarandos said originals are something "we really pay a lot of attention to," pointing out that the top 10 most watched titles are all Netflix brands."
"We've found that the more Netflix originals we add, the more popular they are with our members," a spokesperson for Netflix told Morning Consult in an email.
Rayburn cautioned that Netflix's lack of product diversity could be a problem after the introduction of Apple TV+ and Disney+, both part of brands with global reach that could provide a ready customer base for the companies' new streaming services.
"Netflix offers the market one thing: a streaming service," he noted. "Disney is a global brand with cruises, hotels, theme parks. Apple has 2 billion devices active in the world. Disney and Apple have advantages there. Netflix has none."
In an April 16 letter to shareholders, Netflix itself addressed the competition it will soon face in the fragmented streaming market, acknowledging the quality of its competitors but saying it doesn't "anticipate that these new entrants will materially affect our growth" due to "the differing nature of our content offerings."
Sarah Shevenock previously worked at Morning Consult as a reporter covering the business of entertainment.
We want to hear from you. Reach out to this author or your Morning Consult team with any questions or comments.
Contact Us