Spotify, Hulu Cut Their Bundle to $9.99, but Consumers Say They Would Pay a Lot More
Analysis shows $16 is the optimal price for a streaming subscription that includes TV/movies plus music
Key Takeaways
66% of poll respondents said they'd be likely to subscribe to a streaming service similar to the Spotify-Hulu offering.

65% said they would be more likely to subscribe to a streaming service if it included an ad-free option.
Spotify SA and Hulu LLC on March 12 dropped the price of their bundle of Spotify Premium and Hulu's ad-supported streaming service to $9.99 a month, from $12.99. But new polling finds that this new bundled cost is well below what consumers consider a fair price for such a service.
A March 14-18 Morning Consult/The Hollywood Reporter poll asked 2,201 adults about their views on the pricing of the kind of streaming services bundle Spotify and Hulu are offering, which is TV and movies plus music.  
An analysis using the Van Westendorp model, which determines an optimum price point for a good or service by considering what prices consumers believe are "too expensive" and "too good to be true," found that for the TV/movies/music bundle, $16 was the optimum price.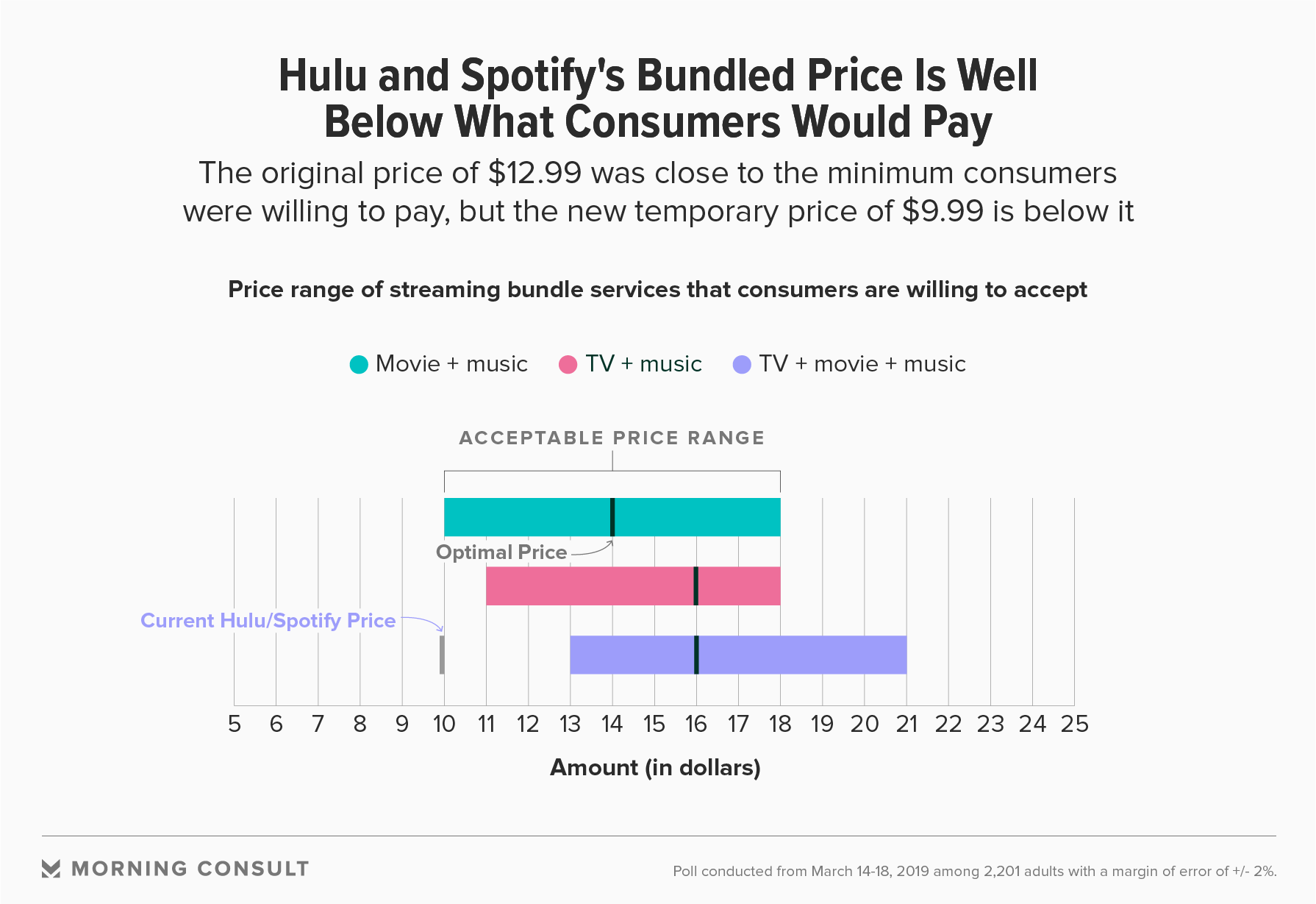 Hulu and Spotify's $9.99 a month price is in effect until June 10. The two companies did not immediately respond to requests for comment.
Consumers generally liked the idea of bundling: 66 percent said they were likely to purchase a movie and TV streaming service that was bundled with a music streaming service, and 63 percent said the option to bundle multiple services under one account would make them more likely to subscribe to a streaming service.  
Brett Sappington, the senior director of research at Parks Associates, said bundling will become more common as streaming services work to set themselves apart from the competition. "We are seeing this occur with services like Sling TV, which offers other streaming services as add-ons to its bundles of channels," he said.
Spotify and Hulu's lower price, Sappington said, draws "new, entry-tier subscribers," providing Hulu with "an easily targetable audience for promoting its higher-tier services" -- such as its ad-free plan -- and increasing its subscription numbers.
The option to go ad-free was important to consumers in the poll, with 65 percent saying that they would be more likely to subscribe to a streaming service if it offered an ad-free option. That compares with the 45 percent who said a discounted but ad-supported service would make them more likely to sign up.
The poll was conducted before Monday's unveiling of Apple TV+, which features only Apple's original content, but it asked people whether they would sign up for the TV and movie streaming service that Apple was rumored to be preparing at the time. While 55 percent of respondents said they own an Apple device, a 49 percent plurality of all adults said they are unlikely to subscribe to Apple's new TV and movie streaming service, whose price has not yet been disclosed.
Apple is also offering a number of different channels for ad-free and on-demand subscriptions as part of its new Apple TV Channels service, but it has not yet said whether it would offer consumers the option to bundle the channels. Apple TV+ is scheduled to start sometime in the fall, while Apple TV Channels will be available in May.
Sarah Shevenock previously worked at Morning Consult as a reporter covering the business of entertainment.
We want to hear from you. Reach out to this author or your Morning Consult team with any questions or comments.
Contact Us