Voters Increasingly OK With Taliban Takeover as Consequence of Military Withdrawal From Afghanistan
Share who say the withdrawal should continue even if the group is left in charge increased 9 points since last week
Key Takeaways
47% said they support withdrawing U.S. military forces from Afghanistan even if the Taliban controls Afghanistan; 45% said the same of creating an opening for terrorists to establish operations.

55% said they support the relocation of Afghans to the United States, but GOP voters are divided.

50% approve of Biden's job performance and 48% disapprove, the worst numbers in 29 surveys throughout his presidency.
The Taliban's abrupt takeover of Kabul has unleashed a multi-pronged debate over President Joe Biden's decision to withdraw the U.S. military from Afghanistan, raising questions about whether Americans are OK with ceding foreign territory to the same forces that harbored the planners of the Sept. 11 terrorist attacks and sharing their own country with the thousands of Afghans who assisted American forces for nearly two decades.
After a week of chaos in Kabul that grappled with both of those issues, a new Morning Consult/Politico poll found growing acceptance of the withdrawal even if the Taliban will be in charge of Afghanistan. The bulk of voters also support the relocation of Afghan civilians to the United States.
According to the Aug. 21-24 survey, more voters than not (47 percent) said they support withdrawing U.S. military forces from Afghanistan even if the Taliban takes control, up 9 percentage points over the course of a week. And a 45 percent plurality said the same when presented with the idea that the withdrawal could create an opening for Al-Qaeda and other terrorist groups to establish operations, up by a similar margin.
The movement since an Aug. 13-16 survey was seen among Democrats, independents and Republicans, though independents are virtually divided and those in the GOP remain inclined to reverse the withdrawal in the face of the two threats. Overall, roughly 2 in 5 voters said they would oppose the withdrawal given the Taliban control or the potential for a terrorist base.
But when they were first asked generally about withdrawal, the survey found 50 percent of voters support and 39 percent oppose Biden's effort – similar to where it was in a survey a week ago, though Democrats have hardened their position in support and Republicans have done the same in opposition, exacerbating the now-divisive nature of an issue that had bipartisan backing in April. Among independents, 46 percent support the withdrawal and 42 percent oppose it.
Biden is not budging amid pushback from allied countries and even concerns raised publicly by some Democrats on Capitol Hill about the military's ability to facilitate the evacuation of U.S. citizens and Afghans from the country by his Aug. 31 deadline, when the Taliban's patience with international efforts to remove people from the country could run thin and threats increase from terrorist groups such as the ISIS faction in Afghanistan.
Biden said Tuesday that "each day of operation brings added risk to our troops," while pledging to get all Americans and as many Afghan allies out of the country as possible." He said he had spoken with military leaders about being able to "adjust" his timetable if necessary, and that "completion of the mission by Aug. 31 depends on continued coordination with the Taliban, including continued access for evacuees to the airport" in Kabul.
The United States' help in evacuating Afghan civilians from the country is a popular notion, supported by roughly 3 in 4 voters, including large shares of Democrats (80 percent), independents (68 percent) and Republicans (71 percent). But preferences of voters change – and larger partisan gaps emerge – when they are asked where those seeking refuge should go.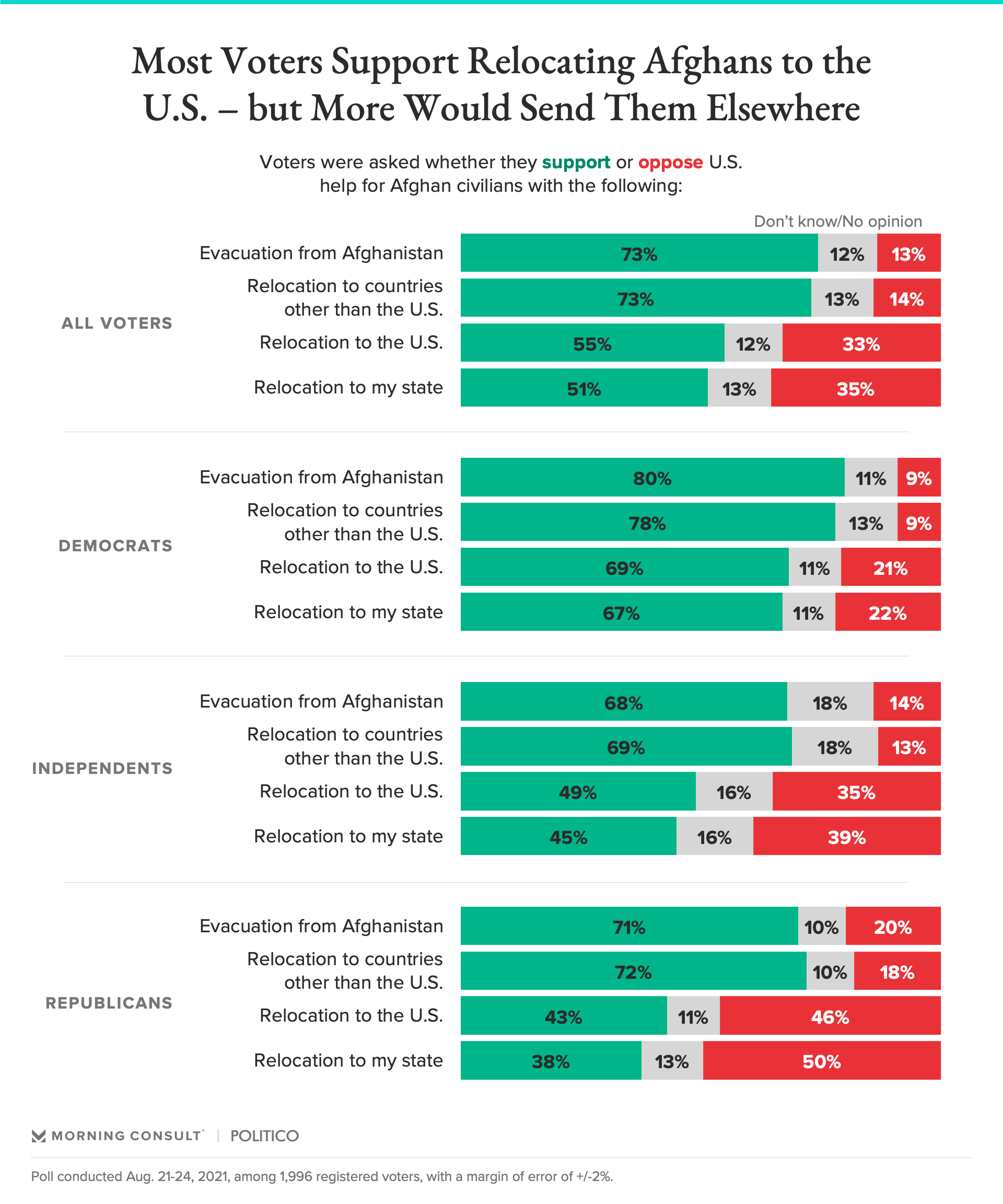 A majority of voters (55 percent) said they would support relocating Afghans to the United States. That backing is driven by nearly 7 in 10 Democrats, compared with 43 percent of Republicans, who are almost evenly divided on the question. Slightly fewer voters (51 percent) support the relocation of Afghan refugees to their own state, including a greater share of Democrats (67 percent), while the bulk of Republicans (50 percent) oppose the proposition.
The position of many GOP voters is at odds with a handful of Republican governors, such as Doug Ducey of Arizona, Larry Hogan of Maryland and Henry McMaster of South Carolina, who have separately suggested that Afghans should be welcomed with open arms, setting up the potential for future domestic political challenges as the thousands of people being airlifted by American forces are processed.
Also on the political front, the chaos that unfolded in Afghanistan coincided with voters' perceptions of Biden himself reaching their lowest point in 29 Morning Consult/Politico surveys conducted during his presidency. According to the latest numbers, 50 percent approve of Biden's job performance (down 2 points since the beginning of August), and 48 percent disapprove (up 2 points over the same time period).
The movement was more dire among independent voters, 58 percent of whom disapprove of the president's job performance, up 10 points since the beginning of August. That augmented troubles he'd already faced with voters in the middle, which aligned with economic woes and the resurgent pandemic.
Eli Yokley is Morning Consult's U.S. politics analyst. Prior to his current role, Eli was Morning Consult's senior reporter covering U.S. politics. Eli joined Morning Consult in 2016 from Roll Call, where he reported on House and Senate campaigns after five years of covering state-level politics in the Show Me State while studying at the University of Missouri in Columbia, including contributions to The New York Times, Politico and The Daily Beast. Follow him on Twitter @eyokley. Interested in connecting with Eli to discuss his analysis or for a media engagement or speaking opportunity? Email [email protected].
We want to hear from you. Reach out to this author or your Morning Consult team with any questions or comments.
Contact Us