After Q3 Surge, Warren Becomes Top Draw for Big Tech Employees' Donations in 2019
Massachusetts senator has raised over $250,000 from workers at Facebook, Apple, Amazon and Alphabet so far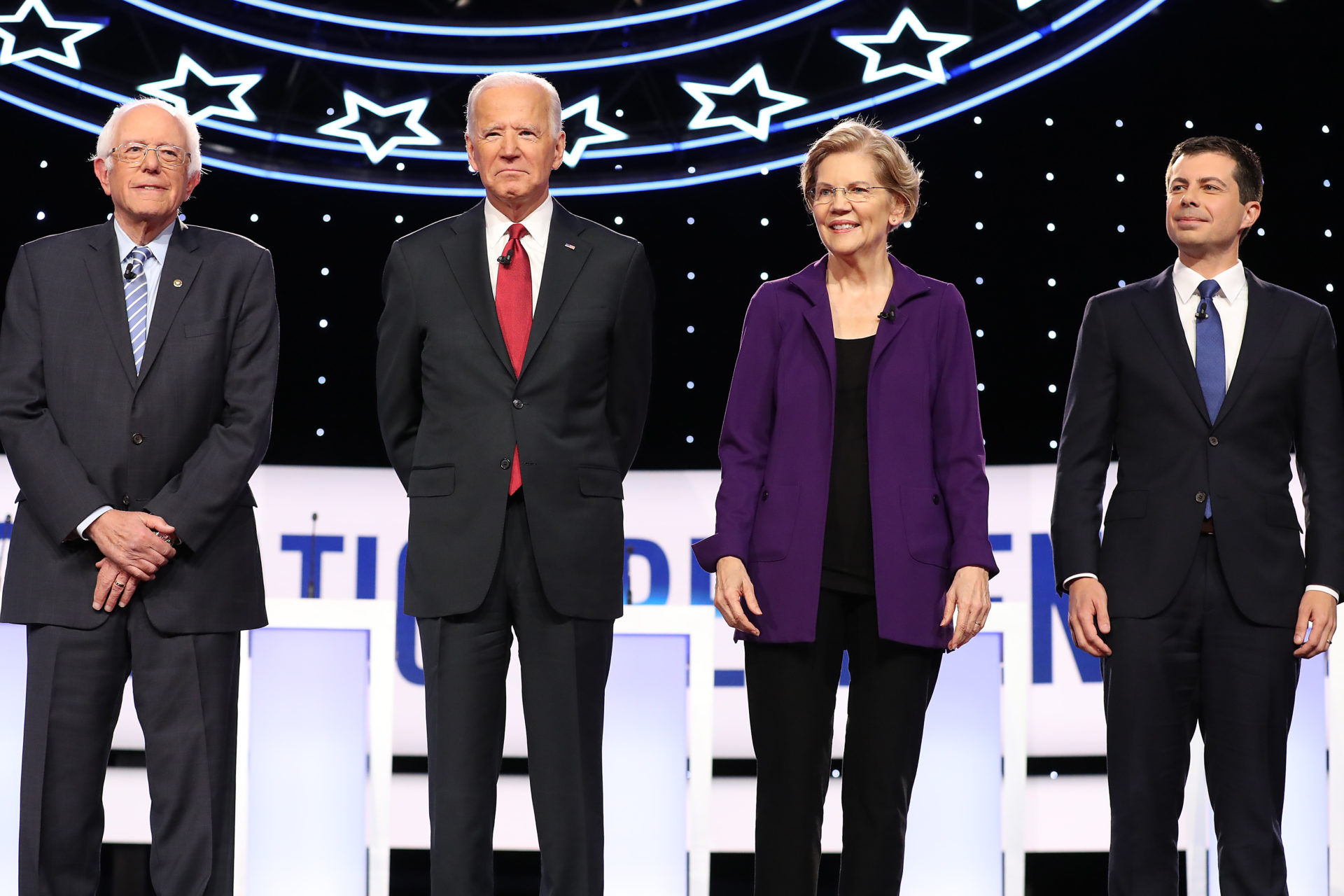 Key Takeaways
Pete Buttigieg ranks second with $237,919 raised to date.

Sen. Bernie Sanders has collected the largest number of donations from tech workers, followed by Warren.
While none of Sen. Elizabeth Warren's fellow Democratic presidential candidates endorsed her tech regulation platform in this month's debate, Big Tech employees don't seem to share their reluctance: Warren's campaign ended the third quarter as the best fundraiser in the primary race so far this year among workers at the companies her plan promises to break up and would bring under increased scrutiny.
Between July and September 2019, the Massachusetts senator raised $125,305 from employees at Facebook Inc., Alphabet Inc., Amazon.com Inc., Apple Inc. and their subsidiaries, capping her most successful quarter yet and bringing her total in that group to $254,717, according to an analysis of receipts filed with the Federal Election Commission on Tuesday.
Based on filings from all three quarters this year, Pete Buttigieg, the mayor of South Bend, Ind., ranks No. 2 with $237,919 in donations so far this year, while Sen. Bernie Sanders (I-Vt.) raised $218,326. 
And the top three candidates far outpace other primary contenders in contributions collected from tech workers, with California Sen. Kamala Harris coming in at No. 4 with $174,844.
But while Sanders has collected less money than Warren or Buttigieg, his donations have come from the largest number of Big Tech employees, with 869 donating to his campaign so far in 2019. Warren has raised money from 660 workers and Buttigieg has collected from 484.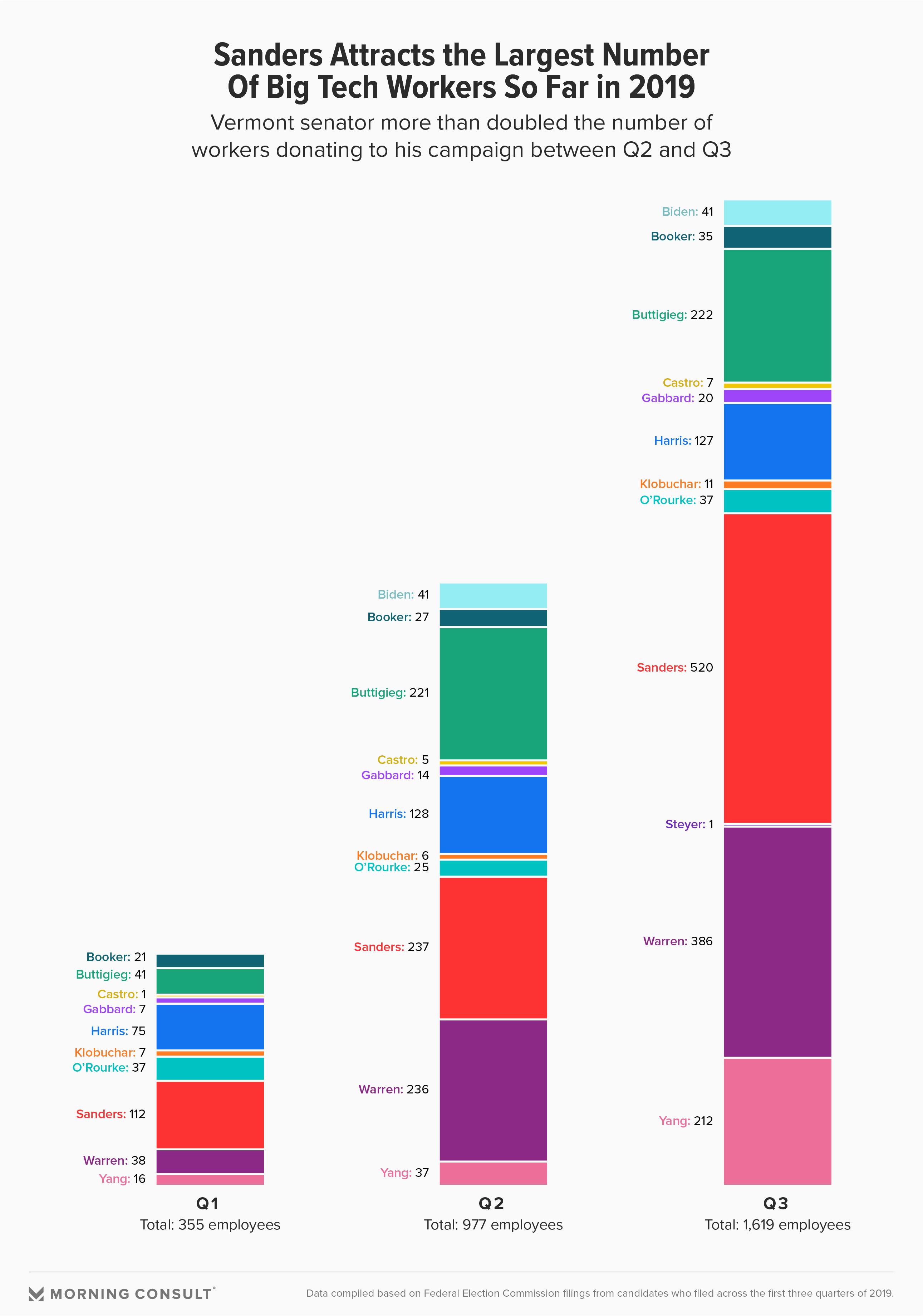 Meanwhile, the campaign of former Vice President Joe Biden, who is the current front-runner in the primary race per Morning Consult polling, has yet to see any substantial contributions from this group of donors: Between the second and third quarters, Biden, who entered the race in April, saw donations from the workers at major tech companies drop 46 percent, from $40,874 to $21,898.
Individuals are able to donate up to $2,800 per election to a candidate under current U.S. law, or a maximum of $5,600 combined between primary and general elections. And quarterly filings include a donor's identity and the date of the contribution only after they have contributed at least $200 in an election cycle.
In the 2020 presidential election, candidates' discussions about tech issues have focused on possible anti-competitive practices by the biggest industry players, the threat of automation, President Donald Trump's use of Twitter and Facebook's political ad policies. And Warren made waves when she rolled out a proposal in March promising to break up Amazon, Facebook and Alphabet. 
Executives from these companies, whose donations are included in the FEC data, haven't exactly welcomed Warren's ideas with open arms, with Facebook Chief Executive Mark Zuckerberg saying in leaked audio obtained by The Verge that if the Massachusetts senator were elected president, he'd expect the company to "have a legal challenge" and win. But despite Zuckerberg's disapproval of the plan, his employees have made up 7.5 percent of Warren's contributions from big tech workers so far this year.
Betsy Hoover, who served as online organizing director for the Obama 2012 campaign, said support for Warren among tech workers makes sense, since both Warren supporters and tech workers include the demographic of "working people who tend to be activists on some of the bolder social issues." 
But Hoover, who is also a co-founder at Higher Ground Labs, an incubator for progressive political tech startups, said it's unclear how exactly that dynamic between Warren's anti-Big Tech platform and their jobs would "shake out." 
Donations also show that workers appear to be chasing the vision laid out by Buttigieg, who has ties to Zuckerberg from their days as classmates at Harvard University and who has received campaign hire recommendations from the Facebook CEO, according to Bloomberg. Despite being outraised by both Warren and Sanders in the most recent quarter, Buttigieg has netted the second-largest haul from big tech workers overall this year.  
And based on the recent data, 25 percent of the contributions donated by Facebook employees this year have gone to Buttigieg -- the largest share from that company among the 12 candidates who were in the most recent presidential debate on Oct. 15. Buttigieg also accounted for 20 percent of contributions from Alphabet workers, which was second to Warren, who got 24 percent. 
Shomik Dutta, co-founder at Higher Ground Labs and a former Democratic campaign fundraiser who raised money for President Barack Obama, said it's important to note that an employee's identity isn't just his or her occupation. 
"I would wager to bet that most of them do think that tech companies have gotten too large, in the same way that most bankers think that some of these banks have gotten too large, and do need to be regulated," Dutta said. "The identities of the workers are so much more rich than the identities of the top executives." 
Data scientist Adam Petrihos contributed to this report. 
Sam Sabin previously worked at Morning Consult as a reporter covering tech.
We want to hear from you. Reach out to this author or your Morning Consult team with any questions or comments.
Contact Us