When It Comes to Trump's Twitter Use, Here's Where People Draw the Lines
Most voters still think the president tweets 'too much,' and 50% say his habit could hurt his re-election bid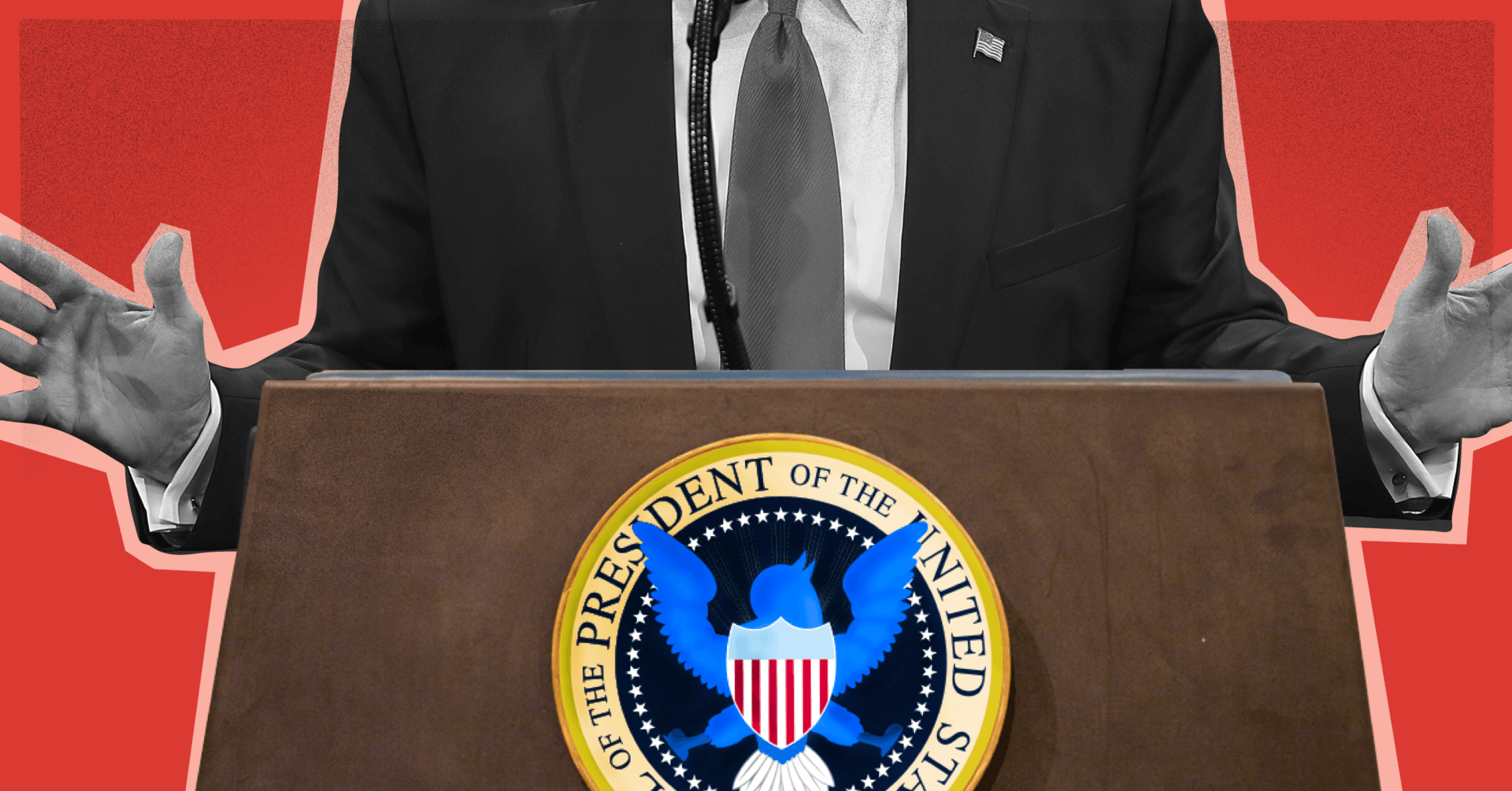 Key Takeaways
72% say the president tweets "too much" -- unchanged from a May 2018 poll.

In a separate survey of social media users, 38% said the U.S. president should be banned for posting or sharing offensive content -- the highest of any public figure category.
Late last month, President Donald Trump posted a series of tweets warning of a second Civil War if he were to be impeached and removed, quoting Pastor Robert Jeffress on "Fox & Friends." The tweet drew criticism from one Republican lawmaker, who said the remark was "beyond repugnant," and sparked calls to ban or suspend Trump's account from people who accused the president of inciting violence. 
And new polling indicates that while voter sentiment that Trump uses Twitter "too much" hasn't changed, social media users might be ready for platforms to hold the president to a higher standard.
According to a new Morning Consult/Politico survey conducted Oct. 7-8, 2019 among 1,991 registered voters, 72 percent of registered voters believe Trump uses Twitter "too much" -- the same share who voiced the belief in May 2018 and up 2 percentage points from the last time the question was asked in April. The survey has a margin of error of 2 points.
And looking ahead to 2020, 50 percent of voters, including 29 percent of Republican voters, said the president's use of Twitter hurts his re-election efforts, with both shares rising 4 points since the April poll.
The ways in which Trump uses Twitter have placed unprecedented pressure on social media companies to determine how to account for politicians and other public figures in their content moderation guidelines. 
And for the most part, the companies at the center of the debate -- Twitter, Facebook Inc., and Google's YouTube -- have opted for a more laissez-faire approach: Last month, executives from both Facebook and YouTube said that posts from politicians that violate their community guidelines won't be removed from the sites because of their news value. And in its June announcement, Twitter said it would start placing notices on newsworthy tweets from government and elected officials, along with political candidates, that violate its rules, rather than removing or suspending the account holder.
But a separate Morning Consult survey suggests the lion's share of social media users would like to see the U.S. president held to a tougher standard -- though experts say doing so might be difficult. 
In a survey conducted Aug. 21-24, 2019, among 2,072 self-identified social media users, 38 percent said the U.S. president should be banned from a platform for posting or sharing offensive content -- tied with politicians with the highest share on a list that includes other public figures, family members and close friends. For comparison, about a third said the same in the case of a business leader or journalist sharing objectionable content.
At the same time, the U.S. president ranked lowest, at 37 percent, on the list of users who should be temporarily suspended from social media sites for sharing or posting offensive content. Users were more likely to say that family members and coworkers should be suspended (52 percent).
Overall, 13 percent of users said the president should not be banned or suspended from social media for offensive posts, while another 13 percent didn't know or had no opinion.
And while little difference exists between Republican and Democratic social media sentiments on whether to suspend the president's social media account for posting or sharing offensive content, party lines are stark on permanently banning the account: Fifty percent of Democrats said the president should be banned from the platform, compared to 26 percent of Republicans.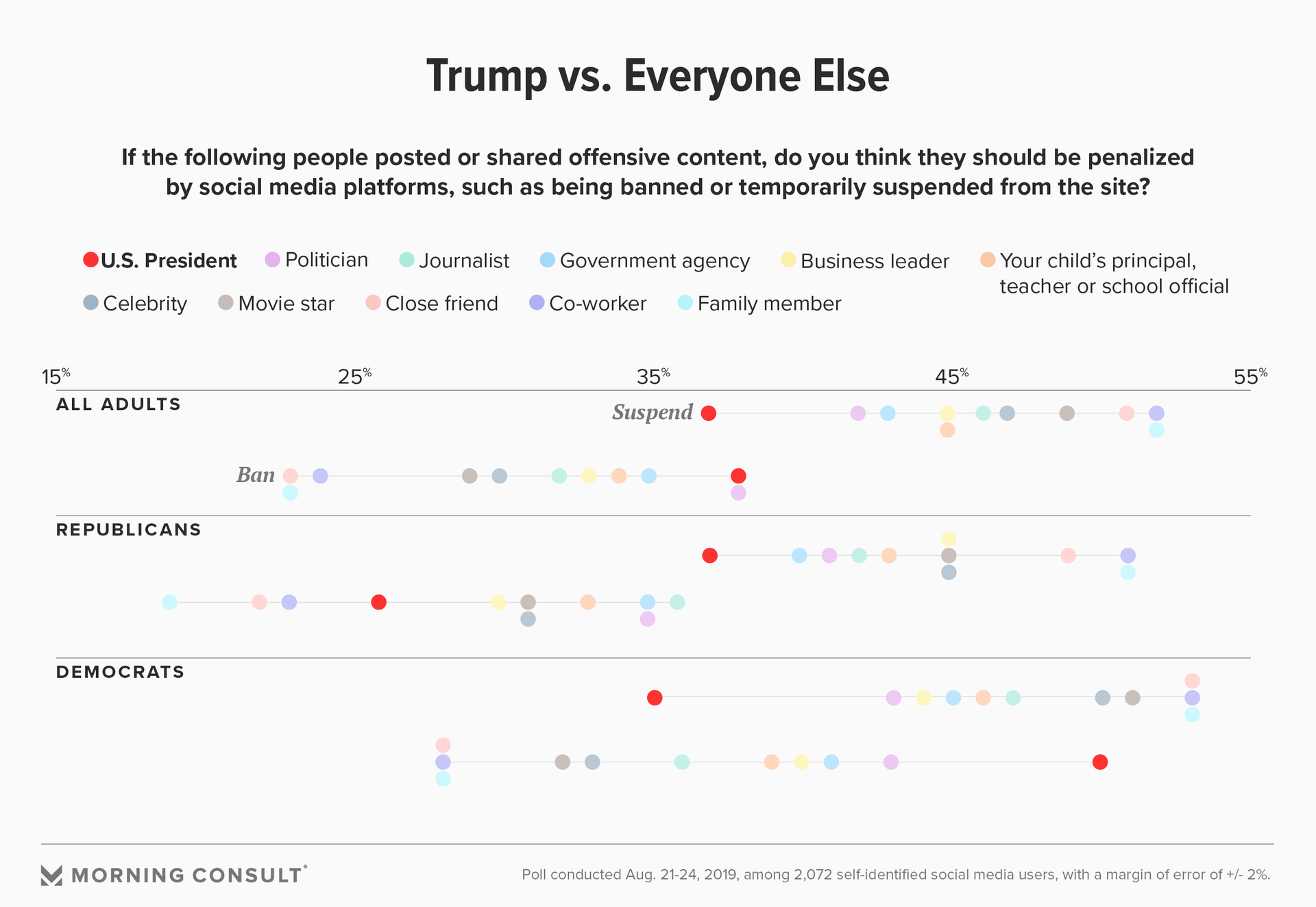 Scott Jennings, co-founder and partner at public relations firm RunSwitch PR and former aide to Senate Majority Leader Mitch McConnell (R-Ky.), said in an email that part of the appeal of Trump's Twitter usage is that it feels like he's "sitting there tapping them out right off the top of his head," though he acknowledged that the president might "be better off if he laid off the tweets."
But Jennings noted that it's nearly impossible for a social media company to regulate how an elected official communicates with his or her constituents. 
"Does anyone really trust unelected tech company officials to decide what speech from our leaders should or shouldn't be censored?" Jennings said.
He added that voters can decide at the ballot box what kind of speech they want from their elected officials, rendering social media's intervention unnecessary. 
But Dipayan Ghosh, co-director of the Digital Platforms and Democracy Project and Shorenstein fellow at the Harvard Kennedy School, said it seems that social media users see the president as a "unique case" for platforms -- one who deserves a different kind of scrutiny. 
The "determination of whether or not someone is a public figure" is almost "an arbitrary line," he said, adding that the platforms' rules typically don't account for the varying levels of visibility among public figures.
Yet Twitter could find itself in a tricky spot when it comes to moderating the president's social media use, said Ghosh, who served as a White House tech policy adviser during the Obama administration. 
In addition to driving revenue for the company through his posts and loyal following, the president "has free speech rights, he has freedom of political expression," he said, putting Twitter on unsteady legal ground. "It's in their interest to do nothing about this situation."
A Twitter spokesperson declined to comment. 
Sam Sabin previously worked at Morning Consult as a reporter covering tech.
We want to hear from you. Reach out to this author or your Morning Consult team with any questions or comments.
Contact Us