Ahead of Trans Woman's Historic Olympic Debut, Americans Weigh in on Transgender Participation in Women's Sports
43% of U.S. adults said trans women should not be allowed to compete in women's sports regardless of testosterone levels
Key Takeaways
23% of U.S. adults said trans women should be allowed to participate in women's sports if their testosterone levels are below a certain threshold.

14% of U.S. adults said trans women should be allowed to participate in women's sports regardless of their testosterone level.

70% of Republicans oppose trans women competing against other female athletes, compared to 38% of independents and 26% of Democrats.
Transgender athletic participation has been a point of contention in American politics in 2021, with the focus primarily on Republican efforts to ban trans girls from competing against other female athletes in school sports. On Monday, however, the issue will take center stage in a very different context: the Olympic Games.
Laurel Hubbard will become the first openly transgender woman to compete in the Olympics when she represents New Zealand in the women's over-87 kg weightlifting event. Her debut comes just days after Quinn, a member of the Canadian women's soccer team, became the first openly transgender athlete to compete in the Olympics. (Quinn, who also identifies as nonbinary, was not openly transgender when they made their first Olympic appearance for the bronze medal-winning Canadian women's team in the 2016 Rio Games.)
Hubbard, who at 43 years old will also be the oldest lifter at the Tokyo Games, reportedly began her transition from male to female in 2013 and first competed internationally in 2017.
Sportsbooks such as DraftKings and FanDuel consider China's Li Wenwen a heavy favorite to win gold, but both are giving Hubbard the second-best odds to win, making her a serious medal contender. If Hubbard takes a place on the podium Monday, it would almost certainly raise the volume on the debate about whether transgender women should be allowed to compete in elite women's sports and the criteria for their eligibility.
U.S. adults already are more likely to oppose than support the idea of a trans woman playing in women's sports. In a Morning Consult survey conducted ahead of the Tokyo Olympic Games, 43 percent of U.S. adults said transgender women should not be allowed to compete against other female athletes regardless of their testosterone level, which serves as the primary basis of the International Olympic Committee's guidelines on whether or not transgender women should be permitted to participate. 
By comparison, 23 percent of respondents said trans women should be allowed to compete in women's sports if their testosterone level falls below a certain threshold, and an additional 14 percent said trans women should be allowed to participate no matter how much testosterone they have in their system. 
The margin of error among the 4,398 U.S. adults surveyed in the July 9-13 poll was 1 percentage point.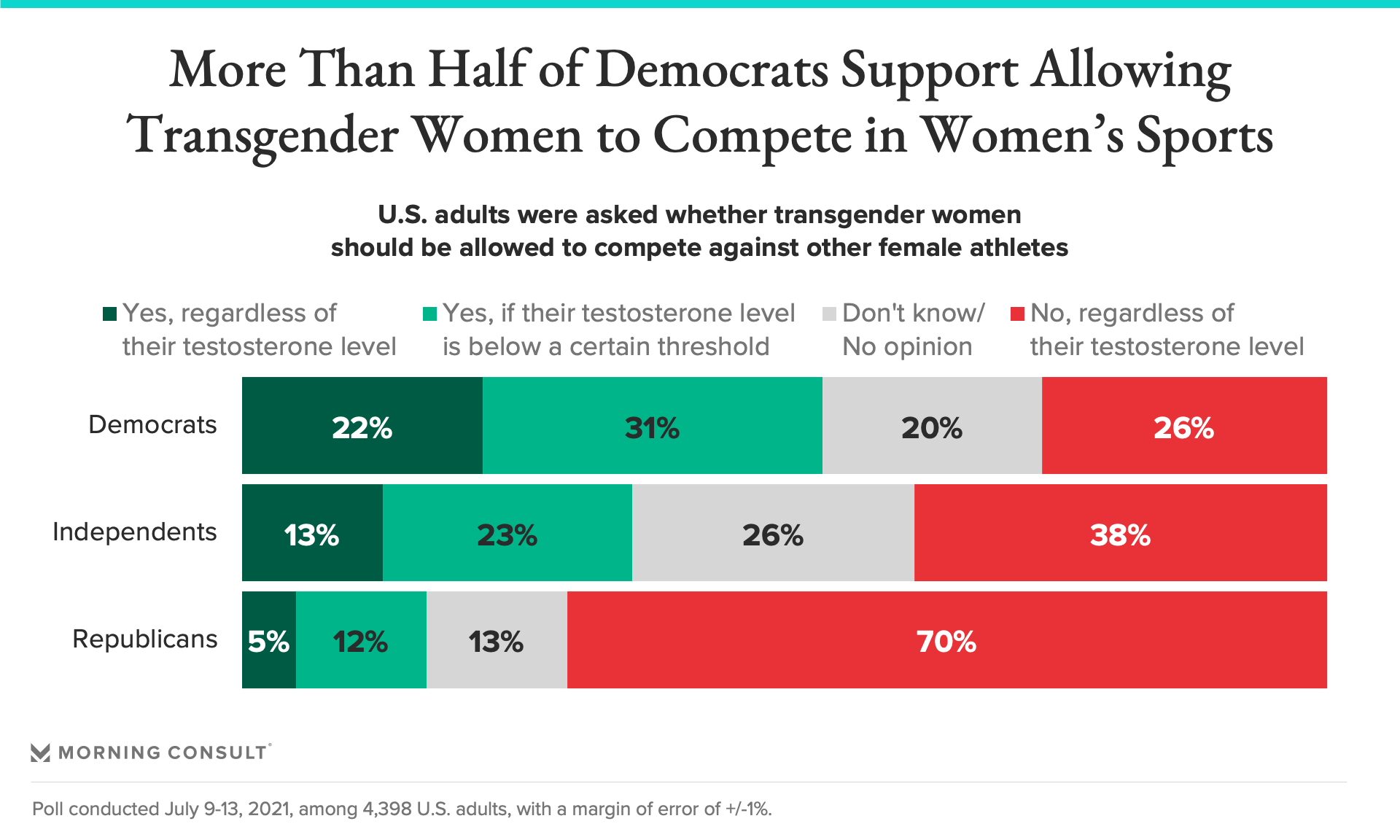 The starkest differences in opinion among U.S. adults on transgender women participating in women's sports could be attributed to political affiliation, with 70 percent of Republicans opposed to participation regardless of testosterone level compared to 38 percent of independents and 26 percent of Democrats. Among Democrats, a testosterone-based policy was the most popular of the three options with 31 percent in support.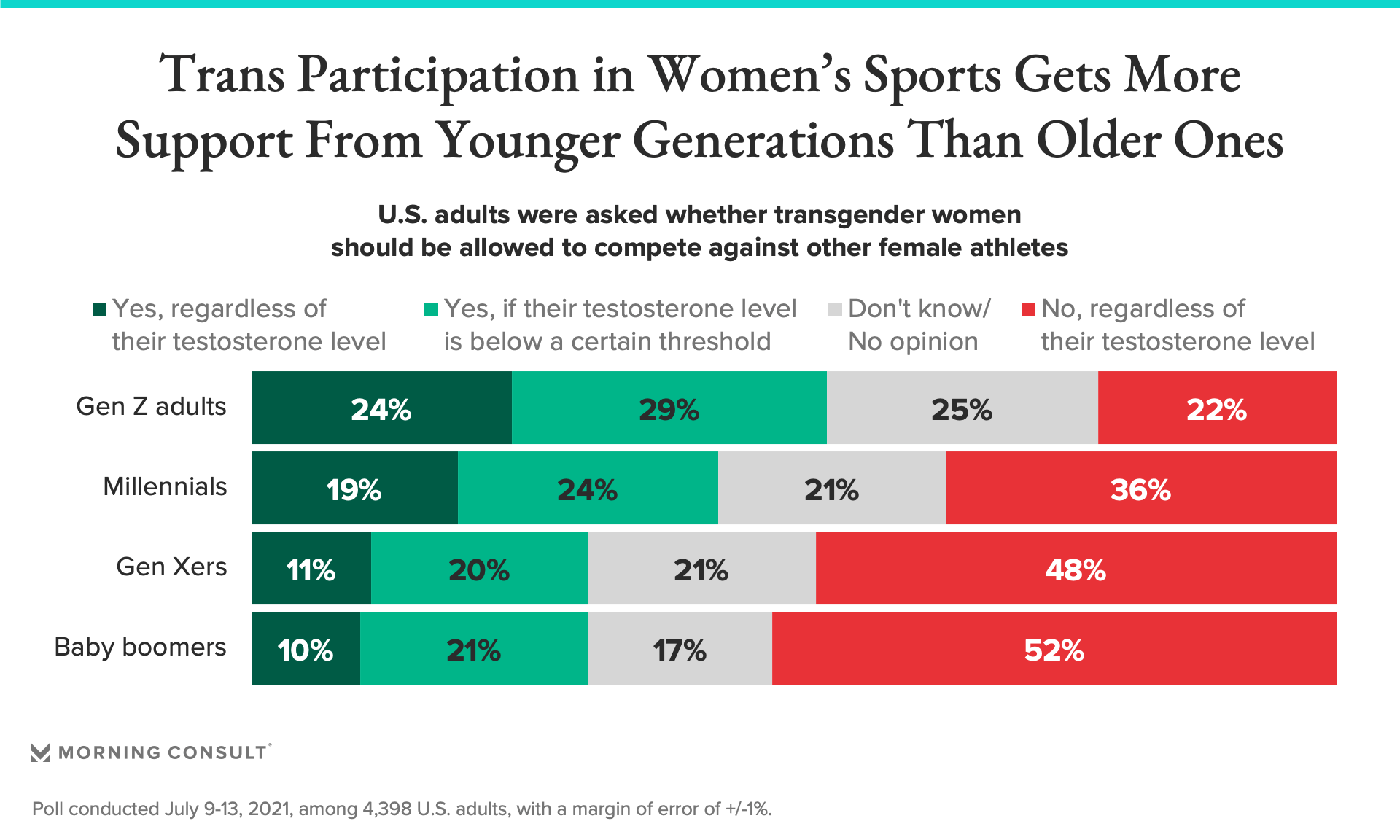 There were also significant differences in opinion based on generation. Both Gen Z adults and millennials were more likely to support participation, either regardless of or based on testosterone level, than to oppose participation altogether, while Gen Xers and baby boomers were more likely to say transgender women shouldn't compete against other women regardless of their testosterone level.
The controversy regarding transgender women's participation in women's sports hinges on the tension between maintaining fair competition and being inclusive. With this in mind, policies implemented by athletic governing bodies generally require individuals transitioning from male to female to undergo hormone therapy to mitigate the physiological advantages that result from going through male puberty.
IOC guidelines used by international federations, including the International Weightlifting Federation, to determine eligibility require transgender women to identify as women for at least four years and maintain total testosterone level in serum below 10 nanomoles per liter for at least 12 months. The IOC established the guidelines in consultation with a panel of experts in 2015 and has said they will be subject to review following the Tokyo Games.
The IOC policy, however, has been criticized for not doing enough to level the playing field, based on research published since its implementation.
Dr. Timothy Roberts, a Kansas City-based physician who conducted a study on the impact of gender-affirming hormones on athletic performance published by the British Journal of Sports Medicine, said in an interview that 12 months of testosterone suppression mandated by the IOC "may not be enough to completely remove the starting baseline advantage that people who have experienced male puberty have over people who experienced female puberty."
"I think that two years on hormone suppression might be a more appropriate timeframe for people competing at the world class, Olympics level," Roberts said.
He also pointed to World Athletics' guideline of 5 nanomoles per liter as a more reasonable testosterone standard.
Roberts said that while he appreciates the desire to maintain a level playing field in elite-level competition, when the fraction of a second or extra killogram can make or break careers, policies regarding transgender participation in youth and school sports should prioritize inclusivity.
"The advantages to the transgender athlete of being allowed to compete, I think, really outweigh the harms to the other competitors," he said.
Alex Silverman previously worked at Morning Consult as a reporter covering the business of sports.
We want to hear from you. Reach out to this author or your Morning Consult team with any questions or comments.
Contact Us