Americans Are Split on Transgender Athletic Participation as Clash Between NCAA, Republicans Looms
40% of U.S. adults support allowing transgender women to play women's sports in college, while 42% oppose
Key Takeaways
About 1 in 3 Americans, including 60% of Republicans, said they "strongly oppose" transgender women playing women's collegiate sports.

57% of Democrats support transgender women being allowed to compete against other women in college, compared to 18% of Republicans.

56% of U.S. adults, including 46% of Democrats, believe transgender women have a competitive advantage in sports over other women.
In statehouses across the country, Republican lawmakers are pushing legislation aimed at preventing transgender girls and women from competing against other female athletes. These efforts have been criticized by Democrats, transgender activists and the NCAA, and new polling shows Americans are divided over the issue.
In a Morning Consult survey conducted April 16-19, 40 percent of U.S. adults said they support allowing transgender women to compete in women's sports at the collegiate level, while 42 percent opposed their participation. Opinions about transgender participation in high school girls' sports and professional women's sports were virtually the same. Nearly 1 in 3 Americans, including 60 percent of Republicans, said they "strongly oppose" allowing transgender women to play sports against other women in college.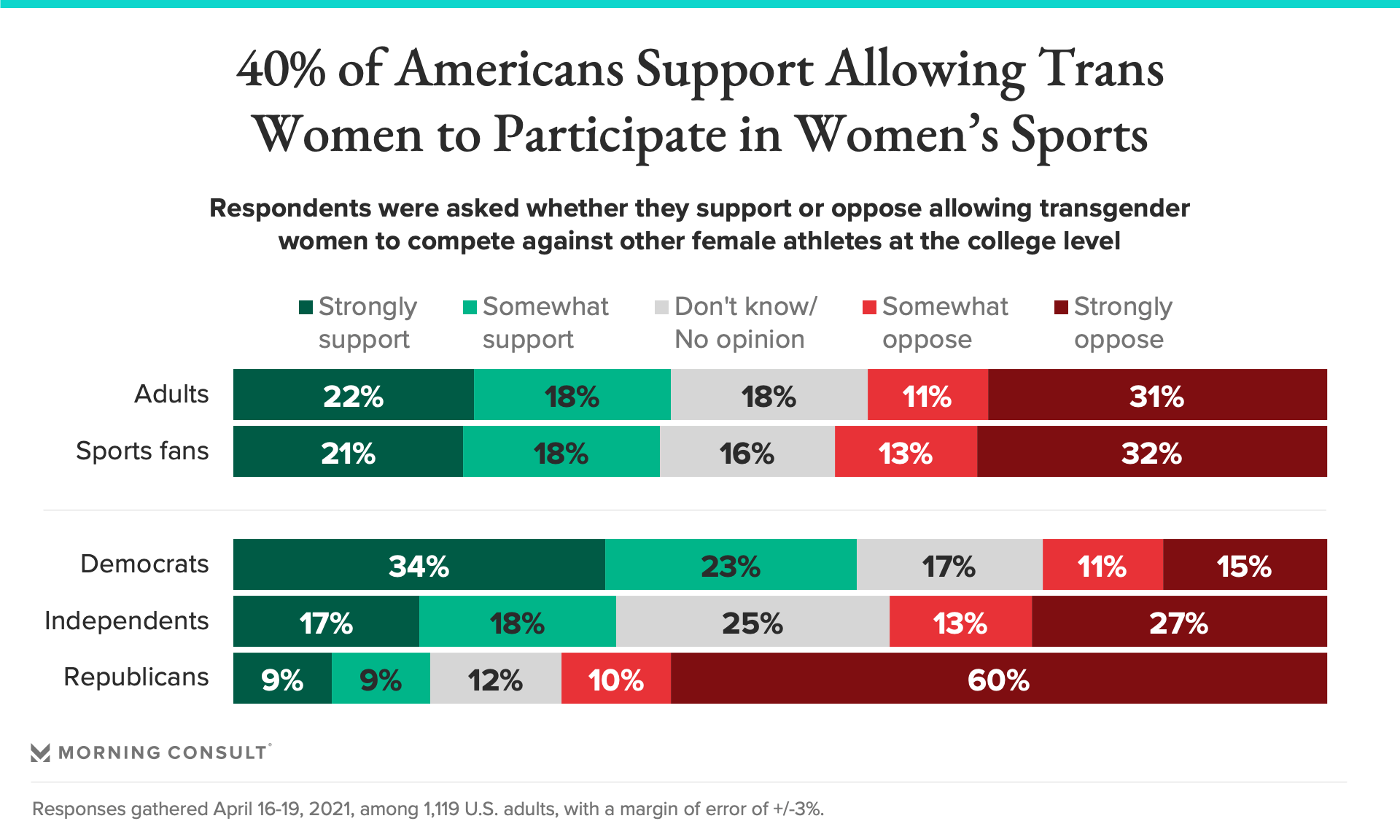 Fifty-seven percent of Democrats said they support allowing transgender women to play women's sports, compared to 35 percent of independents and 18 percent of Republicans. 
Republicans in more than 30 states have introduced transgender sports bills this year, framing them as efforts to preserve the fairness of women's sports. Arkansas, Mississippi and Tennessee have already enacted their policies as law, and numerous other states are fast-tracking their own legislation.
Some of the bills are limited in scope to primary and secondary schools, or K-12, but others, such as the one passed by the Oklahoma House of Representatives this week, would also govern public universities within the state.
The passage of these bills into law seems destined to pit Republican politicans against the NCAA, which issued a statement last week supporting transgender participation in college sports and warning lawmakers that it will only hold events in locations that are "free of discrimination." Under NCAA rules, transgender women are allowed to participate in women's sports after undergoing one year of testosterone suppression treatment. 
In 2016, the NCAA imposed a ban on championships in North Carolina after the state enacted a law requiring transgender people to use public restrooms corresponding with their sex at birth. Only when the state's legislature and governor agreed to repeal the law did the NCAA lift its ban.
MLB has come under fire from conservative lawmakers and fallen out of favor with the Republican base in the past month after moving its All-Star Game out of Atlanta in response to Georgia's enactment of a controversial voting law. Any similar action in college sports on the issue of transgender rights would likely result in similar criticism of the NCAA, which already has its hands full on Capitol Hill with issues related to the compensation of athletes and other potential reform.
Gillian Branstetter, a transgender advocate at the National Women's Law Center, said the NCAA's support is critical to the cause of transgender athletes and advocated for a potential ban on events in states that pass laws limiting their participation.
"The NCAA absolutely has a right and a responsibility to stand up for full and equal participation," Branstetter said. "It's not the NCAA punishing these states -- it's these states punishing athletes within the NCAA, and without good reason."
While college and elite athletics get a lot of attention, the spate of legislation will primarily impact an "already marginalized group of youth," she said.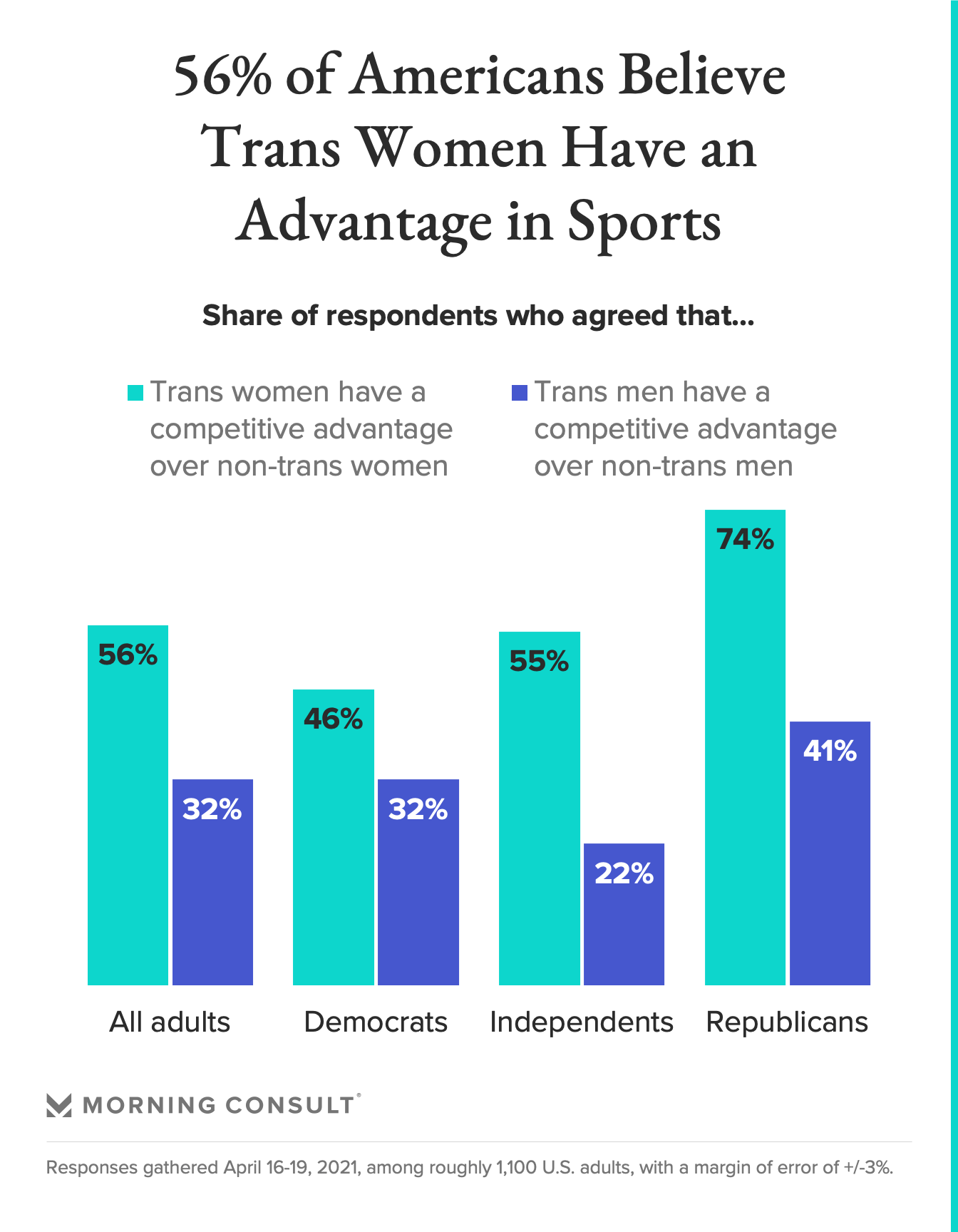 Beth Stelzer, an amateur powerlifter who has testified in support of Republican-backed laws on transgender sports participation in several states, said lawmakers need to prioritize fairness in women's sports over the potential short-term economic impact of losing NCAA events. 
While Americans are fairly evenly split on whether transgender women should be allowed to play women's sports, most believe that transgender women have a competitive advantage over cisgender women, or those whose gender identity matches the one they were assigned at birth. 
Fifty-six percent of adults agreed transgender women generally have an advantage, compared with 21 percent who disagreed with that notion. Even Democrats, 46 percent of whom said transgender women have an advantage, were more likely to agree than disagree that transgender women have an edge over their competition.
Stelzer, who in 2019 started a coalition called Save Women's Sports, said the results indicate that people who share her belief that transgender women's participation in women's sports is unfair are a "silent majority" that has been marginalized in mainstream discourse. 
Branstetter, on the other hand, said she isn't surprised that the survey results weren't overly favorable for transgender athletes, given the right-wing media's "ravenous hunger for misrepresenting trans people." She pointed to misinformation about the results of the 2020 presidential election as an example of how effective conservative outlets are at shaping public opinion, regardless of the truth.
Still, there is reason to believe transgender advocates' most basic messaging is resonating with young Americans. While the bulk of millennials, Gen Xers and baby boomers believed that an individual's gender is determined by their sex at birth, according to the poll, Gen Zers were about twice as likely to say that a person's gender can differ from their birth sex. This represents a significant generational shift in outlook on the legitimacy of gender identity as a concept. 
Alex Silverman previously worked at Morning Consult as a reporter covering the business of sports.
We want to hear from you. Reach out to this author or your Morning Consult team with any questions or comments.
Contact Us