Amid Coronavirus, Voters Reluctant to Fly, but Split on Potential Airline Bailout
Lawmakers considering a bailout for the industry threatened by precipitous drops in demand
Key Takeaways
An increasing share of voters — from 58% to 66% — say they are less likely to travel domestically in the last week, while the share less likely to travel internationally jumped from 65% to 71%.

31% of voters would support a bailout for the airline industry, and 35% would not.

Congressional Democrats are trying to attach conditions — including carbon offset requirements — in any potential bailout package.
While the coronavirus is increasingly making most of the public think twice about flying, they are split on whether the beleaguered airline industry deserves a possible bailout, new Morning Consult data shows. And as demand for flying plummets, carbon emissions from the industry has also plummeted, leaving lawmakers pondering the shape of a bailout package to propose attaching carbon offset requirements that could mean a more permanent emissions drop. 
New Morning Consult data shows that over the course of the last week, reluctance to travel by plane both domestically and internationally has increased among registered voters. In a poll conducted March 13-16, 58 percent of respondents said they were "somewhat less" or "much less" likely to travel by plane domestically, and 65 percent responded the same for international travel by plane. 
But later in the week — as widespread travel restrictions went into effect and social distancing recommendations were announced by government officials — 66 percent of registered voters said they are less likely to travel domestically, and 71 percent are less likely to travel internationally. 
The March 13-16 poll surveyed 1,986 registered voters, and the March 17-20 poll surveyed 1,851 registered voters. Both polls have a margin of error of 2 percentage points.
In the wake of decreased demand in flights due to the coronavirus, Airlines for America — the industry trade group for the leading U.S. airlines — asked the federal government on March 16 for more than $50 billion in assistance, in the form of both loans and grants. The group wrote that cancellations are outpacing new bookings and that the economic impact on both airlines and their employees is "staggering." 
"This crisis hit a previously robust, healthy industry at lightning speed and we remain concerned that the impacts of this crisis will continue to worsen," the group said.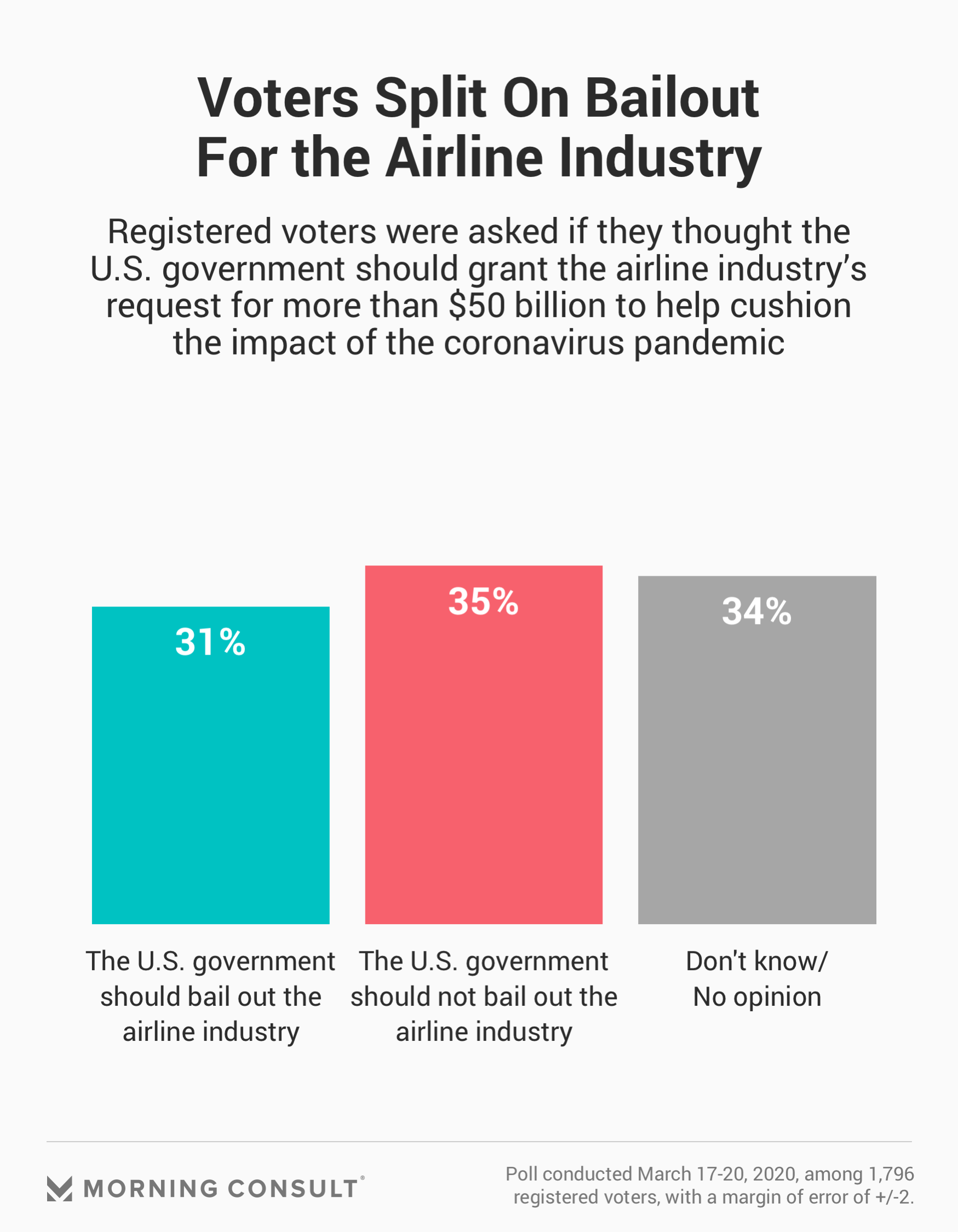 While voters have been relatively receptive to other proposed bailouts in response to the coronavirus, they are split on a stimulus package for airlines, according to a separate Morning Consult poll conducted March 17-20. When asked whether the U.S. government should bail out the airline industry, 31 percent of registered voters said yes, and 35 percent said no. Thirty-four percent answered that they did not know or had no opinion. 
The poll surveyed 1,796 registered voters and has a margin of error of 2 percentage points. 
The drop in flying has come alongside a fall in carbon emissions, especially in places that were the first to institute wide-scale lockdowns. Satellite imagery of China and Italy shows a dramatic clearing of air pollution in recent weeks. 
And until recently, photos of nearly empty planes have reflected the "ghost flight" phenomenon, wherein airlines fly with few or no passengers simply in order for carriers to maintain a hold on their time slots and flight patterns for when demand returns. Last week, the European Commission and the Federal Aviation Administration temporarily suspended rules that require airlines to fly a certain percentage of their flights in order to hold onto their allotted time slots. 
The impact of that waiver — and the drop in demand for flying more broadly — on carbon emissions has yet to be determined, but it will surely mean cleaner skies in the United States. The International Center on Clean Transportation found that carbon emissions from commercial aviation totaled 2.4 percent of global emissions from fossil fuel use in 2018. There has been a 32 percent increase in emissions over the past five years.  
While no one is arguing that an economic shutdown on this scale is an effective solution for pollution or climate change, certain lawmakers are taking steps to make sure the post-coronavirus airline industry is subject to more stringent emissions requirements. 
Sens. Ed Markey (D-Mass.) and Sheldon Whitehouse (D-R.I.) have argued that carbon offsets should be a condition for any bailout of the airline industry. 
"Airlines that want public support should live public values," Whitehouse tweeted on March 17.
Lisa Martine Jenkins previously worked at Morning Consult as a senior reporter covering energy and climate change.
We want to hear from you. Reach out to this author or your Morning Consult team with any questions or comments.
Contact Us