America Was Asked: Who Is the Most Popular Game Show Host?
Alex Trebek of 'Jeopardy!' tops list, followed by Vanna White and Pat Sajak of 'Wheel of Fortune'
Key Takeaways
Half of respondents said they couldn't imagine watching "Jeopardy!" without Alex Trebek as the host.

72% of respondents said they are more likely to watch a game show if they like the host.

Nielsen data shows that host changes typically result in temporary dip in ratings, which eventually recover.
When Alex Trebek revealed his stage 4 pancreatic cancer diagnosis, many fans, including celebrities, took to social media to share get-well wishes for the longtime "Jeopardy!" host, expressing variations of "I can't imagine 'Jeopardy' without him." 
New Morning Consult polling echoes that sentiment, finding that half of respondents say they can't imagine themselves watching the trivia show without its host, with "Jeopardy!" and Trebek ranking as the most popular game show and host respectively. 
"Alex Trebek is clearly identified with 'Jeopardy!,' " said Walter J. Podrazik, TV curator at the Museum of Broadcast Communications in Chicago and co-author of "Watching TV," who described Trebek's constant presence behind the lectern as a factor that has steadied the show and likely contributed to its consistent ratings. 
However, despite concerns about Trebek's possible departure, analysis of viewership data finds that after a hosting change, audiences aren't likely to stay away from a game show for long. And ABC is spending the summer rolling out new game shows featuring a variety of celebrity hosts, offering a new model for game show formats.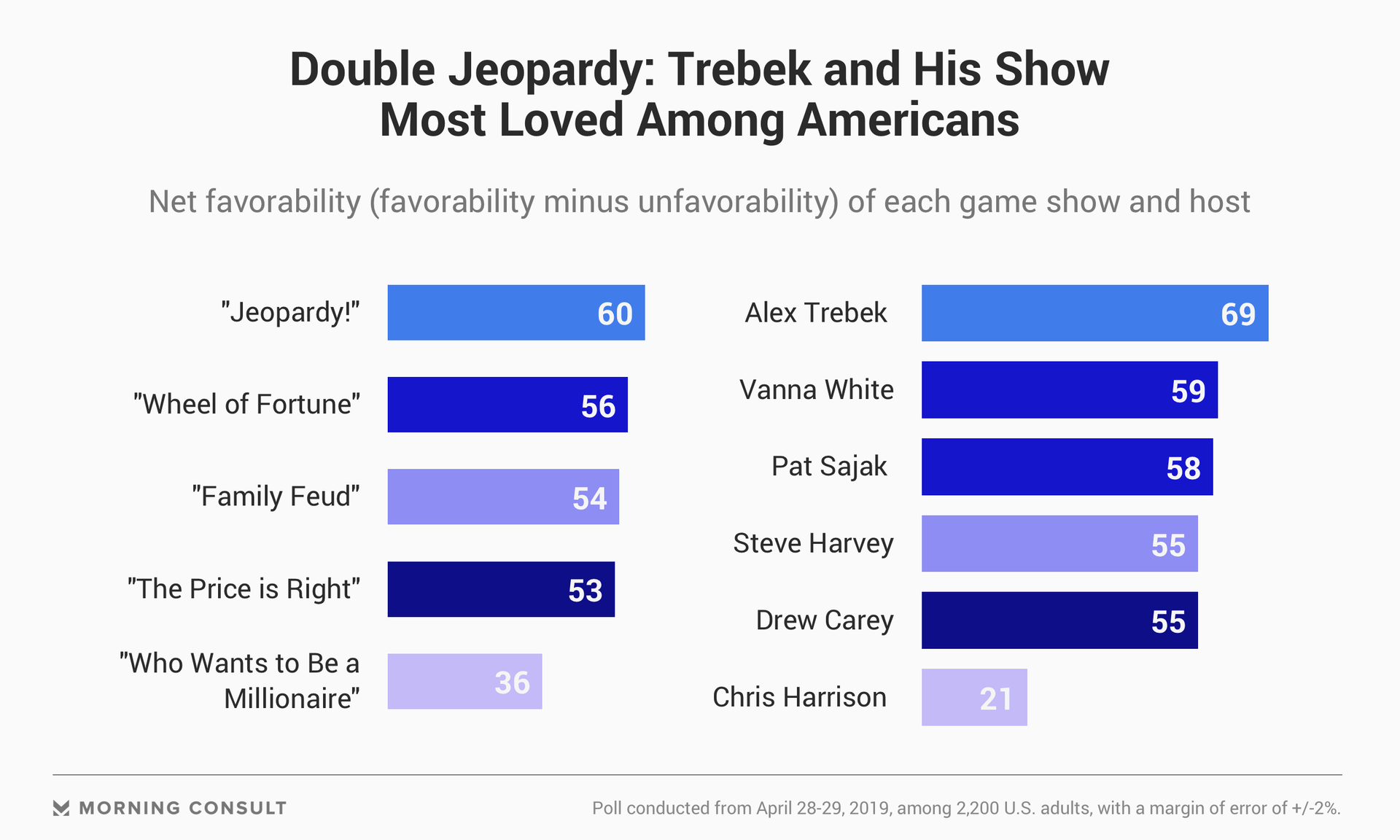 Among long-running game shows, "Jeopardy!" had the highest net favorability, calculated by subtracting the share of unfavorable views from favorable views, in the April 28-29 Morning Consult survey with 60 percentage points, and Trebek had the highest net favorability among game show hosts with 69 points. 
Vanna White and Pat Sajak of "Wheel of Fortune" were the next most favored hosts with net favorabilities of 59 and 58 points respectively. Their show came in second among the game shows included in the survey at 56 points. The poll's margin of error is 2 points. 
Seventy percent of those surveyed said that they closely associated Trebek with the trivia show he has been hosting since 1984, while 67 and 65 percent respectively said the same of White and Sajak. 
According to Podrazik, audiences identify hosts with their game shows partly because of the vibe a good game show host creates. "It's fun. It's pleasant. It's warm. And these hosts are not controversial."
The lack of controversy also means that game shows are a good bet for brand safety for advertisers, according to Jeff Greenfield, chief operating officer and co-founder of C3 Metrics, which measures the effectiveness of digital and traditional media. Greenfield said that game shows, unlike scripted programming, veer "away from any type of controversy." 
Greenfield also cites the "absolutely massive" reach of the genre as a plus, a point supported by Fran Shea, executive vice president of programming and marketing for the Game Show Network. 
Shea noted that advertisers come to her network for its audiences, which "are loyal, consistent and engaged."
And to retain those audiences, good hosts, according to Shea, need to be "warm, relatable and encouraging" and set the pacing and tone of the program. The loss of a host can be problematic, given the role they play in a viewer's daily life. 
"Because many of these shows are daily experiences and even appointment viewing, the hosts become important personalities in the lives of viewers," she said. "The change or loss of a host poses a serious challenge to the producers of the show." 
Nielsen data shows that programs with consistent and, according to Morning Consult polling, highly favored hosts -- including "Wheel of Fortune" and "Jeopardy!" -- have seen steady viewership over the years, hovering around 7 million and 6 million viewers respectively, while other programs, such as "Family Feud," endured hosting changes and fluctuating viewership. 
"Family Feud" eventually recovered audience numbers under Steve Harvey, who has hosted the syndicated show's run since 2010. 
Both Greenfield and Podrazik cite "The Price is Right" as an example of a successful hosting change. In 2007, actor and comedian Drew Carey took over for Bob Barker, who had been the face of the program since it debuted in 1972. 
That year, the combined average audience projection for the 11 a.m. and 11:30 a.m. showings of "The Price is Right" totaled just over 8.4 million viewers, according to Nielsen. In 2008, that number had dropped to just over 7.3 million. However, by 2010, viewership had reached over 7.7 million and has since remained steady.
Podrazik said that "The Price is Right" was able to successfully transition to a new host thanks in part to the fact that Carey was already well-known among audiences for his roles as the host of "Whose Line Is It Anyway?" and the lead in "The Drew Carey Show." 
"He was very comfortable being in a live audience situation," Podrazik said. "He came in and basically did exactly what he had to do as host of that show, and it really did feel seamless." 
ABC has a different tack -- reviving classic game shows as part of its "Summer Fun & Games" lineup, with new versions of "Match Game" and more recently "Card Sharks" and "Press Your Luck," featuring celebrity hosts like Alec Baldwin, Joel McHale and Elizabeth Banks. 
Podrazik said that high-profile hosts are a good way to draw audiences to a show and can be easily replaced with another famous face when they decide to step away from hosting duties. A hosting change of that nature "shouldn't change the equation that much," he said. "As long as you've got that level of the celebrity in there, that's the draw."
But Podrazik cautioned against pursuing celebrities when it comes to replacing Trebek. For a long-running hit, "the celebrity becomes less important," he said. "You want someone who is steady, who is becoming his or her own celebrity simply by virtue of being on the show."
And someone who is likable: The Morning Consult poll found that 72 percent said that they are more likely to watch a game show if they like the host. 
Trebek was already mulling retirement prior to his cancer diagnosis, telling TMZ last year that he thought Los Angeles Kings hockey announcer Alex Faust or CNN legal analyst Laura Coates could be suitable replacements if he leaves after his contract expires in 2020.   
Trebek is "not irreplaceable," Podrazik said, "but he should be carefully replaced."
Sarah Shevenock previously worked at Morning Consult as a reporter covering the business of entertainment.
We want to hear from you. Reach out to this author or your Morning Consult team with any questions or comments.
Contact Us